Michael Xufu Huang started collecting art when he was 16… which honestly, isn't that long ago. Now, just 25 years old, the recent University of Pennsylvania graduate has five years under his belt as the co-founder of the nonprofit private art museum M WOODS, located in Beijing's new 798 Art District, which the entrepreneur described as "the MoMA of China" in this 2016 interview with Artspace. Huang, along with the other founders, Wanwan Lei and her husband Lin Han, has pulled off some ambitious programing since its 2014 inception, courting a mix of Chinese and international artists; the heavy hitters include Ai Weiwei, Tracey Emin, Paul McCarthy, Andy Warhol, and Richard Tuttle, whose show "Introduction to Practice" opens today and will be view through June 16.
But Huang's work with the museum isn't the only reason the collector turns heads. Always dressed impeccably, Huang has a hunger for cutting-edge fashion and design as deep as his quench for new art talent, as evidenced by his Instagram feed, which boasts a jet-setting lifestyle surrounded by expensive art, luxurious locales, and high-profile cultural luminaries and influencers.
So, what is this globe-trotting collector into these days, you ask? We passed that question onto the young trendsetter himself. Below you'll find his answers.
What are you listening to?

Chinese hip hop mostly. There is nothing better than rap in one's mother tongue.
What are you watching?

Well, unfortunately I only have time to watch programs on planes due to my rather busy routine. Regardless, I love watching those ten-minute online videos that recap and summarize movies because I can learn the plot and essence of a movie in an efficient manner. Even if I have watched the entire movie I still tend to find some new inspiration or perspective in these ten-minute videos.
What are you looking at?

I'm always on the hunt for new talent and I have acquired quite a few new artists into my collection in the past few weeks. Moreover, I'm curating an exhibition for one young talent I'm particularly thrilled about during Art Basel Hong Kong. Look out for Zhang Zipiao at Mine Project!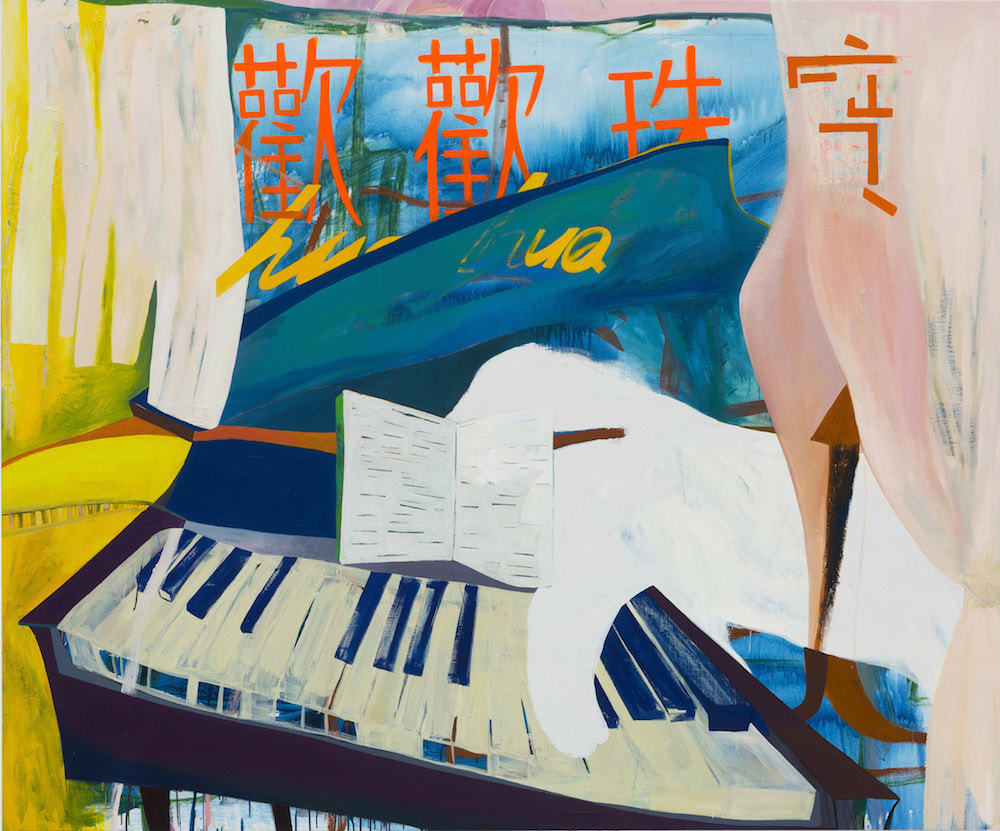 Zhang Zipiao, Window Shopping, 2018. Image via Vacancy Gallery.
What do you like to wear?

I love discovering young fashion designers just like I enjoy scouting young artists. Recently I have been wearing a lot from an emerging Chinese brand called SANS TITRE. The British young designer Daniel Fletcher has been a choice for my wardrobe as well. But for basic clothing I wear Uniqlo mostly.
View this post on Instagram
What are you reading?

Peter Thiel's Zero to One and the novel Call Me By Your Name by Andre Aciman.
Who are you following?

Honestly, I have been incredibly occupied during the past few months by many projects progressing simultaneously. Hence I have been focusing on my own matters and am not particularly inspired by anyone right now.
Which websites do you go to regularly to get inspiration, keep up with current events or trends, learn about new things, etc.?

To embrace the era of image reading and be a member of the screen generation, I mostly just scroll through applications like Instagram and email subscriptions everyday to skim and capture all the information I need.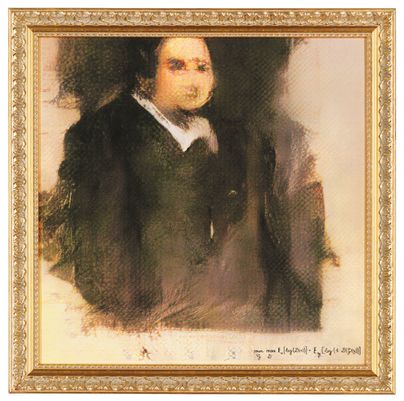 The Portrait of Edmond Belamy, 2018, created by artificial intelligence managed by a Paris-based collective called Obvious, and sold for $432,500. Image via USA Today.
Is there a particular trend (whether in art, food, fashion, music... anything) you have strong feelings for (good or bad) at this moment?

I personally dislike that many things are hyped due to marketing campaigns instead of them actually being valuable. For instance, the unworthy AI painting at Christie's that sold for $400,000 USD last year. I find this tendency is taking place in many industries, and for me it is sorrowful to see that poor taste is being promoted.
RELATED ARTICLES:

Petra Collins' Consumption Habits: Scary Anime, Leopard Print, and More of the "It" Girl's Favorite Things
Collector and M WOODS Co-Founder Michael Xufu Huang's Favorite Works from NADA Miami Beach 2016
Meet Michael Xufu Huang, the 22-Year-Old Museum Co-Founder Who's Building "The MoMA of China"