Now in its 27th year, The Art Show put on by the Art Dealers Association of America is both one of the oldest fairs in the country and one of the few remaining to be sponsored by a gallery member organization, a model that was once the norm. But even as flashier commercial enterprises have risen up around it, the ADAA event has maintained its allure thanks to the quality of its member galleries, the manageable size of the gathering—just 72 booths over four aisles—and the acuity of its curated presentations. 
Of the participants, half use their spaces to focus on the work of a single artist. Subjects range from young headline grabbers like Jacob Kassay (at 303 Gallery) to underappreciated pioneers such as Martha Wilson (at P.P.O.W.) to bona fide superstars of both the outsider (James Castle at Peter Freeman) and insider (Ad Reinhardt at David Zwirner) varieties. Carl Solway's booth has special appeal, presenting photos by Ann Hamilton and letting visitors participate in her ongoing project by having their pictures taken. Below, in alphabetical order, ten more showstoppers on view for the next five days.
Kõji Enokura at Blum & Poe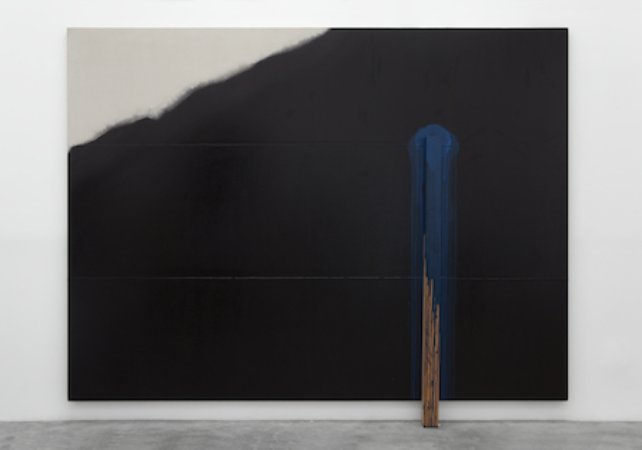 Intervention No. 1, 1987, acrylic on cotton, wood beam
Drawing on last year's retrospective show for Kõji Enokura at the Los Angeles gallery, the works on view here span from documentation and assemblages made early in the artist's career in the 1950s through his more recent constructions incorporating fabric. The artist joined the roster at Blum + Poe as part of a major push in recent years to promote the work of postwar Japanese artists, especially those connected with the Mono-ha movement, which was found parallels in the West in both the rigor of Conceptual art and the materiality of Arte Povera.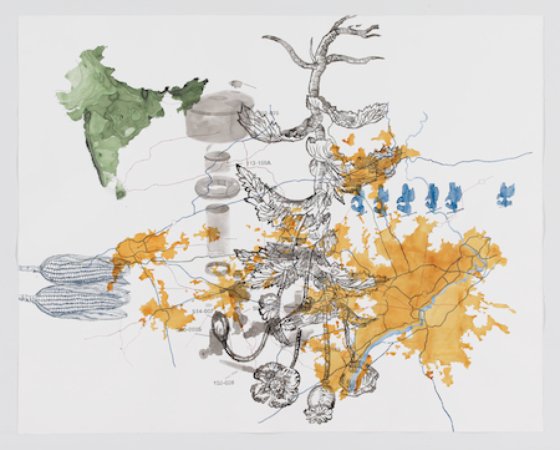 Paine_04, 2012, ink on paper
Brooklyn-based artist Roxy Paine may be best known for his sculptures, including the iconic stainless-steel trees, but he has also incorporated drawing into his practice for more than two decades. Boesky is showing a series of new works, which play on the notion of layering and interconnectivity, both externally in our image saturated culture and internally as as an essential part of the thought processes we use to apprehend the world.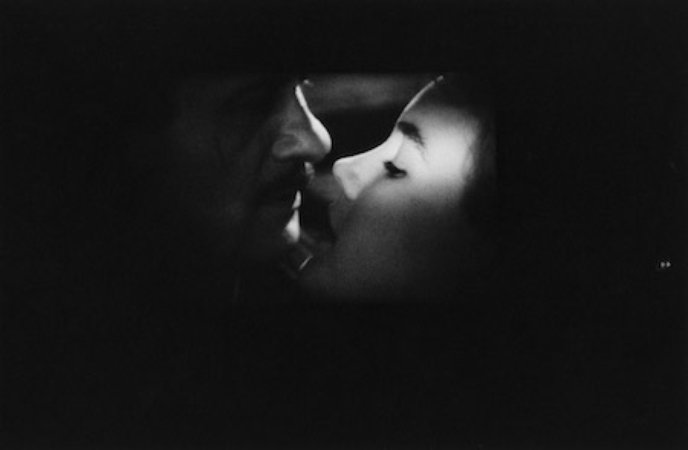 Kiss from "Baby Doll," N.Y.C., 1956, gelatin-silver print
Photographer Diane Arbus produced a staggering range of work given the brevity of her career, as evidenced by the fact that Fraenkel is able to find new ways to look at her portraits even after decades of exposure. In this presentation, the gallery concentrates on her work shooting couples, including several disarmingly poignant images.
Jeff Wall atMarian Goodman Gallery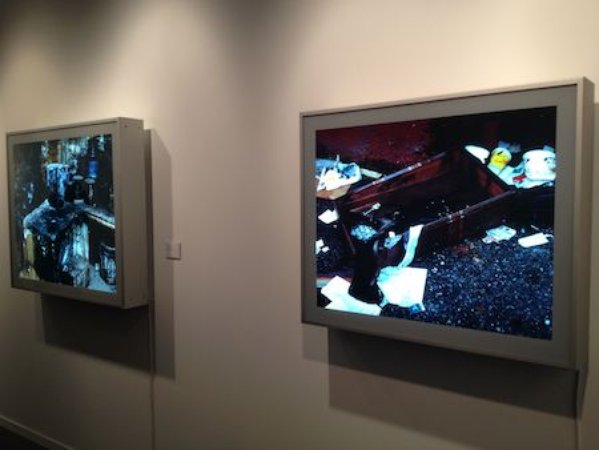 Wall's lightboxes in the Goodman booth
The Canadian Photographer's works here are presented in the familiar light boxes, but are in a smaller format than they are often seen—which fits the minor key of the subjects, more or less documentary images of quotidian bits of street and neglected corners. They function as still lifes, drawing the viewer in for a meditative encounter.
Farifield Porter at Hirschl & Adler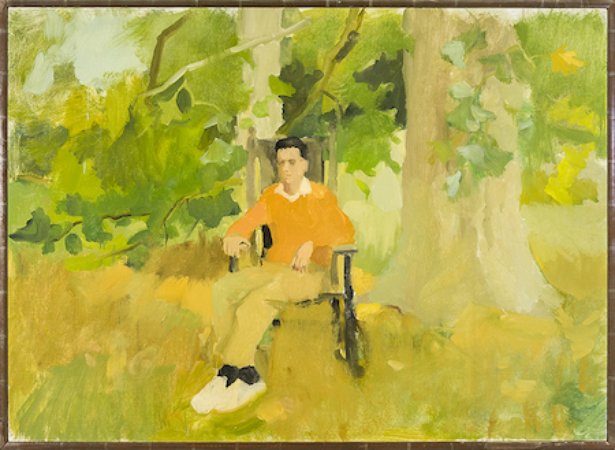 Jimmy Schuyler, 1958-60, oil on canvas
The gallery has represented the Fairfield Porter's estate for nearly 40 years, and here present an impressive selection of paintings and works on paper by the rebellious realist. In the postwar period, when abstraction was ascendant in New York, Porter stuck to lyrical landscapes, portraits of friends, and still lives, that despite their accessibility always have a painterly edge.
Petah Coyne atGalerie Lelong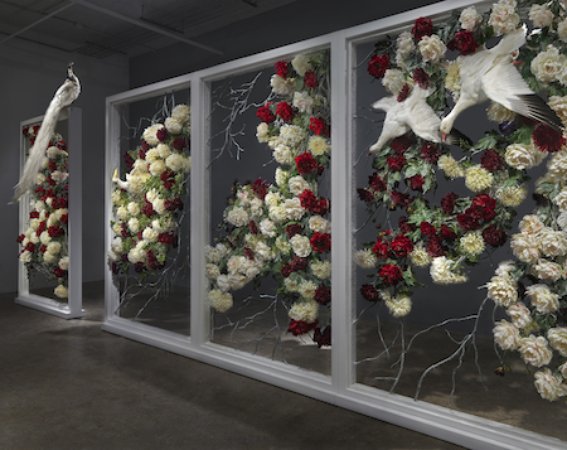 Untitled #1388 (The Unconsoled), 2013-14, mixed media
In three panels spanning the front of Lelong's booth, Petah Coyne has constructed a decorative panel suddenly sprung to life, which takes its title from Ishiguro's dreamlike novel of an amnesiac concert pianist. The relief of wax dipped flowers and taxidermied birds has plenty of gaps, to imply a sense of transparency, yet the eye is unable to focus on anything but the resplendent display that hovers in an emotional state between celebration and mourning.
H.C. Westermann atLennon, Weinberg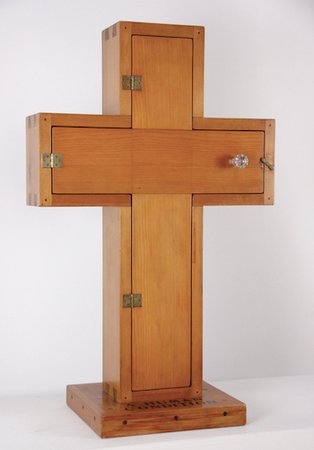 A Human Condition, 1964, pine, brass, and mixed media
H.C. Westermann may be best known for his wood sculptures, which despite his training at the Art Institute of Chicago convey a sense of outsider art, both in their clearly hand-made craftsmanship and in their frequent use a memorial sculptures. Lennon, Weinberg, representing Westermann's estate, is showing a pair of these three-dimensional masterpieces as well as several rare paintings and drawings that seem more engaged with the art currents of the AbEx period. 
Philip TaaffeatLuhring Augustine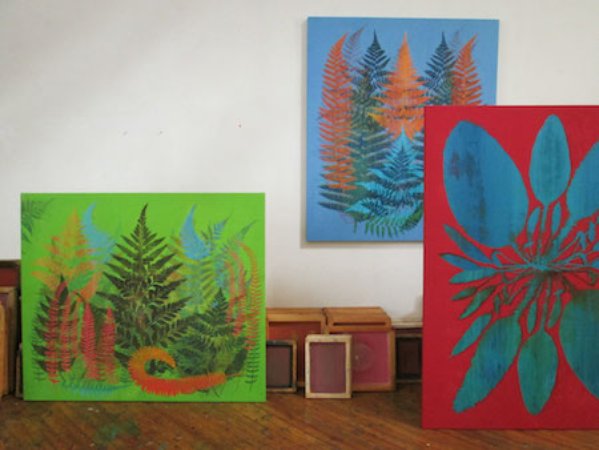 A selection of new works in the artist's studio.
In his paintings and prints, Philip Taaffe has always found an inspired balance between rigidly formal structure and exuberantly free use of color. Fresh from his studio, the half dozen large paintings in Luhring Augustine's booth mix out-of-scale botanical elements to create uncentered compositions that both fight against and embrace the underlying grid.
Dana Schutzat Petzel Gallery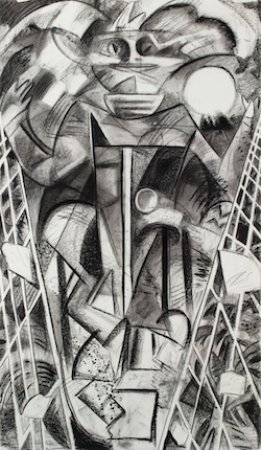 Girl on Horse, 2014, charcoal on paper
Dana Schutz begins her paintings with studies on paper, but she also develops compositions on paper that are never intended to be translated to canvas. Especially striking here are the monochrome charcoal works: deprived of color contrasts and painterly gestures, the underlying cubism comes to the fore. Her masterly sense of line and command of depth of pictorial space are often leavened by a tinge of playfulness in the subject matter.
Charles LeDray atSperone Westwater Gallery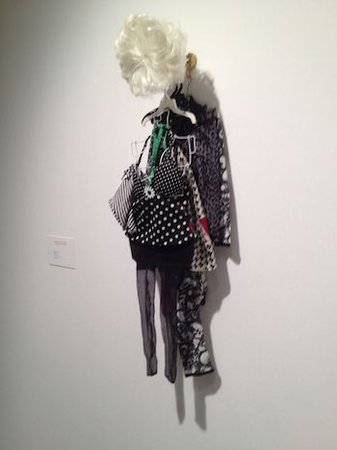 SHE, 2013, mixed media
The burly Charles LeDray is meticulous in crafting his miniatures, throwing tiny pots on a wheel, hand stitching all the clothes, and, once even constructing a mattress from scratch. His care is time-consuming and he hasn't had this significant a show of new work since his survey launched at the ICA Boston in 2010. The half dozen or so works here include a vast array of brightly painted picnic foods laid out on a colorful quilt and the more somber SHE, a compact yet somehow intimidating wardrobe for an unknown character.