From an absorbing work by a rising star to a significant piece by a major artist about to get the hero treatment at MoMA, these are works savvy collectors will be hard-pressed to resist. They were selected by Artspace editors in consultation with VIP client manager Hannah Flegelman. 
*Prices are listed as of August 11, 2015 and are liable to change (as in go up)
BASIM MAGDY
The Annual Migration of the Lonesome and the Regretful (2014)
$2,000*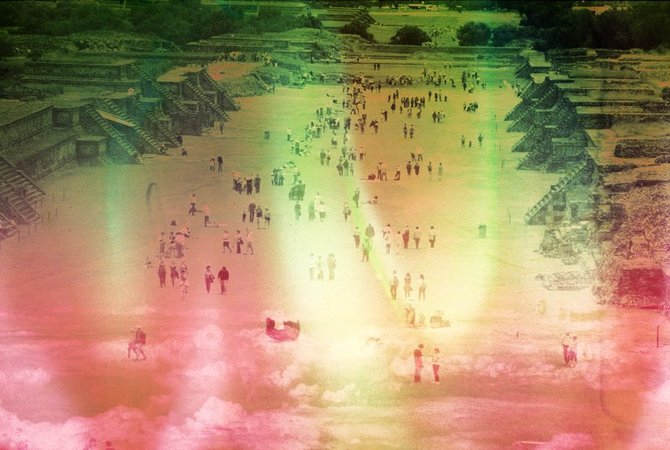 Just how bright a rising star is Basim Magdy? Let's tick off a few of the Egyptian-born, Basel-based 37-year-old's recent achievements: included in the New Museum's "Surround Audience" Triennial, he has also shown in the Sharjah, Istanbul, Montreal, and Yogyakarta biennials and the Palais de Tokyo Triennial; the winner of Deutsche Bank's 2016 "Artist of the Year" award, he has also received the 2014 Abraaj Art Prize and been shortlisted for the 2012 Future Generation Art Prize. Oh, and—overachiever alert—he's also in MoMA's upcoming "New Photography" show, a reliable launching pad for market phenoms. The list of accolades makes sense: Magdy's chromatically exuberant works—mixtures of photography and painting—present alternative histories from the Middle East in a way that is both ravishing and thought provoking. This piece, produced alongside his recent Art in General show and from an edition of 10, is emblematic of his acclaimed work and affordable to boot.
RACHEL HARRISON
Menhir (2007/2014)
$2,000*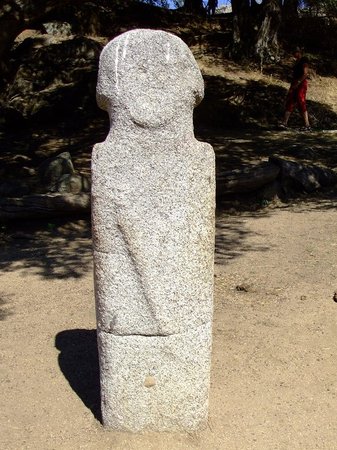 One of America's most respected—and influential—sculptors, as well as one of its coolest, Rachel Harrison did much to invent the "Unmonumental" style of gloopy, dumpster-chic sculpture that blew up in the '90s and is now filtering into the information-packed assemblages of the Internet kids. This photograph of a Corsican menhir from around 3000 BC comes from one of her most important early photographic series, "The Voyage of the Beagle," in which she applied the taxonomical curiosity of Darwin's famous expedition to the different ways in which we human beings have represented ourselves over time. Quirky yet commanding, like the rest of her work, it marks a key chapter in the career of an artist whose acclaim—from her 2008 Whitney Biennial participation to her countless shows around the world year-round to her 2014 New Yorker panegyric by Peter Schjeldahl—only stands to grow over the years.    
BRUCE NAUMAN
Untitled (C.# 66) (1989-90)
$3,000*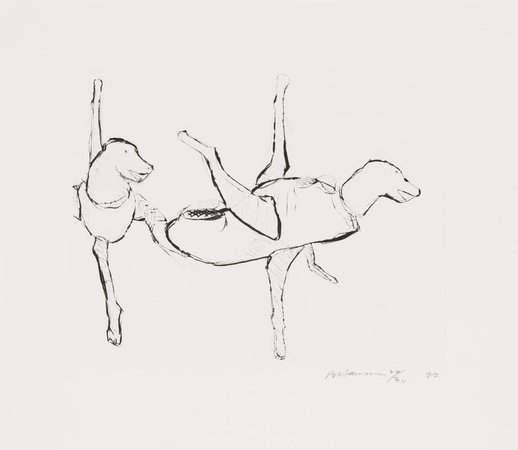 The master of malice, the Svengali of severity, the magus of mind*@$&—Bruce Nauman has made a specialty out of creating art that makes viewers intensely aware of the limits of their minds and their capacities to understand their own experiences. As such, he is the artistic equivalent of a Wittgenstein, compelling us to look at the things that we might otherwise pass over in silence. Sounds important, right? With a Golden Lion win from the 2009 Venice Biennale already in his pocket, Nauman will now receive a 2018 retrospective at MoMA organized by the Modern's most powerful curator, Kathy Halbreich. It's more than likely that that show will feature Three Part Large Animals, a major 1989 sculpture in the museum's collection, and this work on paper is a study for that disconcerting masterpiece. 
JESPER JUST
Untitled (2006)
$5,000*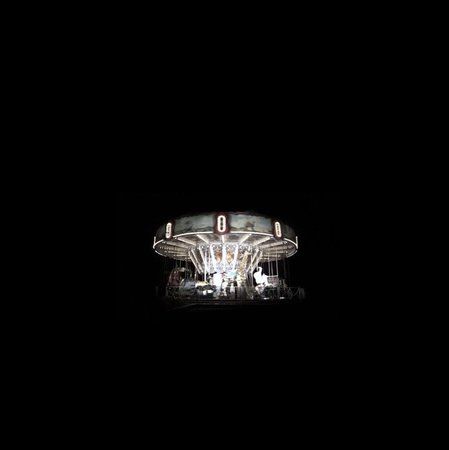 The neo-noirish filmmaker and artist Jesper Just is having a moment, and deservedly so. Having won over critics with his immersive video-and-architecture installation for the Danish Pavilion at the 2013 Venice Biennale, he has now been honored with a special commission for the next Performa (his second) and is currently the subject of a much-praised show at Paris's Palais de Tokyo. This photograph is derived from Just's previous Performa commission, in 2005, which was staged on the festival's opening night.
WILLIAM ANASTASI
Untitled (9.28.10 22:48 9.29.10 15:40) (2010)
$16,000*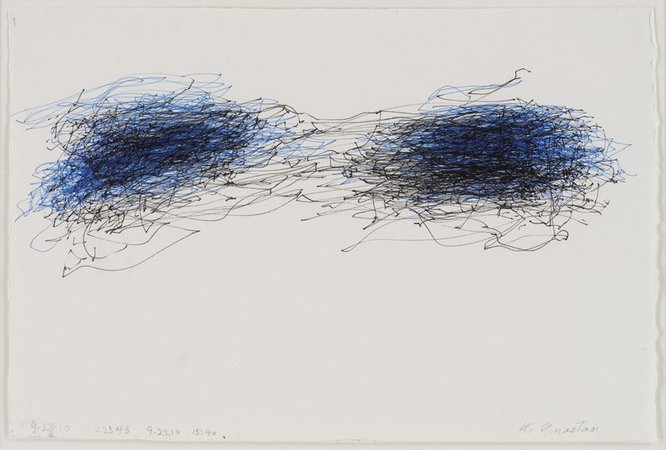 Now in his mid-80s, the artist William Anastasi is a living legend of Minimalism and conceptual art. He is responsible for ground-shifting exhibitions at Virginia Dwan Gallery, and elsewhere in the 1960s, that helped lay out a path for artists from Robert Morris to Urs Fischer. Yet his contributions have been thus far under-appreciated, even though he is represented in museums from MoMA to the Met. Under-appreciated conceptualists can be a bit tough to swallow, but Anastasi's art is extraordinarily lively and pleasing—from his large-scale scrawled-over paintings to his automatic "subway drawings," done one after another on a New York's 1 train while the artist listened to music on heavy black headphones. This piece, with its loping masses of lines that appear like dueling storm clouds or detached neural systems, is a beautiful example of his work rendered in a signature style. 
CORNELIA PARKER
Meteorite lands... in the middle of nowhere hittin... Bethlehem, North Carolina (2001)
$2,447*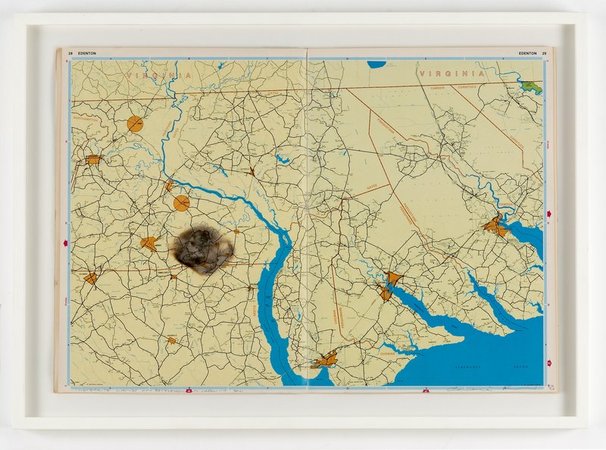 Cornelia Parker's art is not exactly the stuff of modest ambitions. This summer, the British artist has unveiled a gigantic tapestry of the Wikipedia page for the Magna Carta, with passages embroidered by either celebrated figures like Edward Snowden and Jarvis Cocker or by prisoners in her country's penal system; the more than 30-foot-long result is now hanging at the British Library. This piece stems from another project, where she tackled a subject even larger than man's system of self-governance: the precarious place of the Earth's dwellers in a hostile universe that sends down meteorites to scorch the land at regular intervals. Consisting of a map of Virginia, this piece has been hand-scorched by a 400-year-old meteorite that the artist heats until glowing and then burns into the paper.