SANDY KIM
Untitled (2013)
$5,000* 
Ryan McGinley once anointed Sandy Kim as his favorite young photographer (he's called her "the real deal"), and one can see why he's drawn to her work—she's a raunchier female version of him, fearlessly chronicling the intimate lives of members of her uncommonly attractive social circle and radiating devil-may-care vitality. This classically composed photograph of a beautiful girl with a goblet of fruit salad sparks with the artist's sensibility while also revealing a glimpse of her at work (in the mirror at left.) 
ANICKA YI
Incarcerated Scarfaces (2014)
$2,750*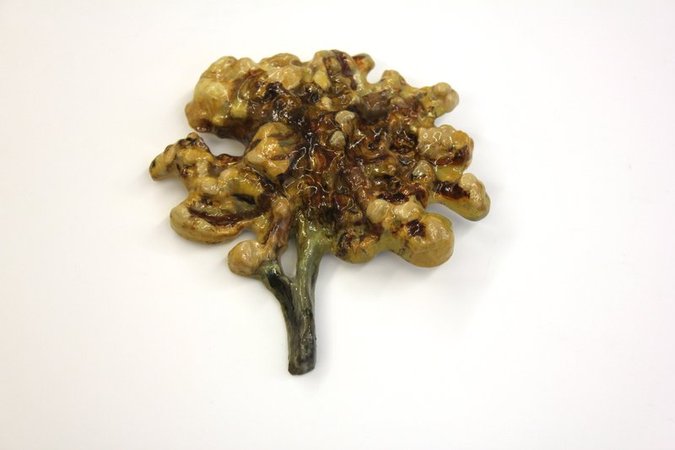 An heir of Dieter Roth by way of Gordon Matta-Clark and Rirkrit Tiravanija, the young and widely admired artist Anicka Yi combines foodstuffs and other odd objects into poetic melanges that sometimes emit an odor, sometimes ooze, and always signal an extraordinary unique talent. (One 2011 piece, for instance, consisted of a cooking pot on an electric burner filled with such ingredients as recalled powdered milk, "abolished math," antidepressants, palm tree essence, shaved sea lice, ground Teva rubber dust, Korean thermal clay, and a Swatch watch.) This piece, a hand-painted ceramic cast of a tempura-fried flower (with a gold pin on the back, allowing it to be worn), is an elegantly subtle expression of the themes explored by the artist, who has a much-anticipated show opening at the Kitchen (appropriately enough) this March.
RYAN MCNAMARA
MEƎM (2013)
$2,000*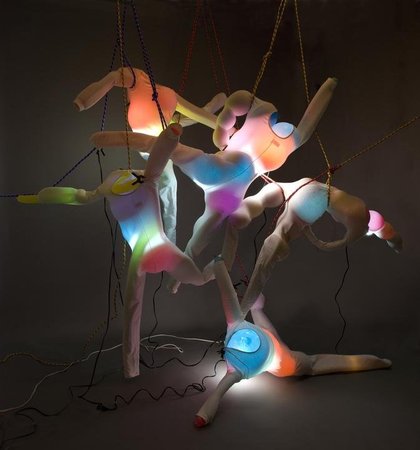 A performance artist who comments on our digital lives in the explicitly embodied medium of dance, Ryan McNamara is a one-man E.A.T.. He has delighted audiences with spectacles like his "MEEM: A Story Ballet About the Internet," which won Performa's 2013 Malcolm McLaren Award for best contribution to the biennial. As his recent Mary Boone show demonstrated, McNamara is increasingly deriving powerfully arresting—meme-worthy, even—artworks from his performances, and this piece, produced by Performa, beautifully advances the themes of his most famous work.  
ROCHELLE FEINSTEIN
Research Park Project (2014)
$23,000*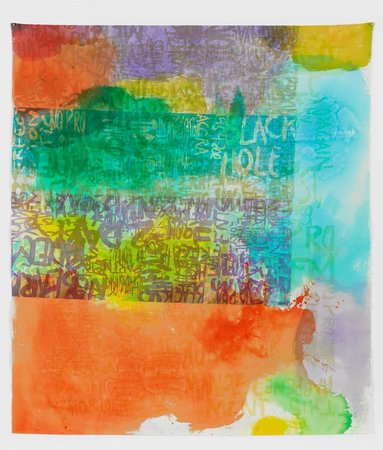 The extraordinary versatile painter Rochelle Feinstein hovers at the edge of abstraction, drawing from photographic, text, or other found sources to create lavishly beautiful compositions that tend to surprise. Her irreverence is pretty cool, considering that she's the chair of Yale University's legendarily high-powered painting and printmaking department. This unique combination of painting and screen-printing, on a free-hanging piece of canvas meant to be affixed to the wall with magnets (included), functions as both a graffiti-scrawled diary of a year in the artist's life and an exuberant expression of chromatic bliss. 
JAMES WELLING
Dürer (2012)
$15,000*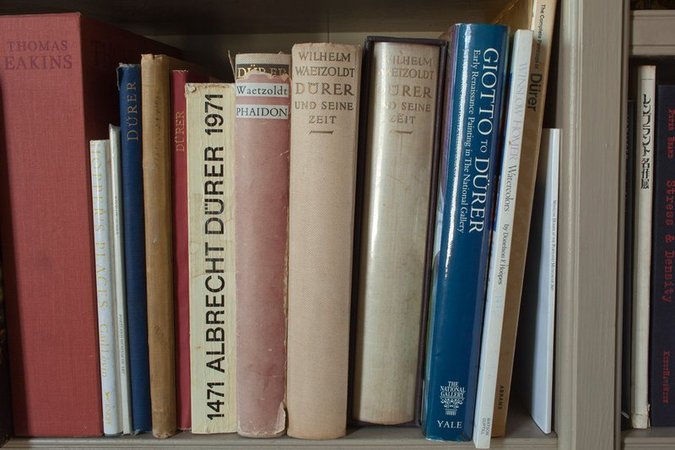 Championed by art-world powerhouses like the scholar Michael Fried, James Welling has been called one of "today's most influential photographers." His conceptual works explore both the history and the new tech-enabled capabilities of the medium. (A dry wit in his work also reminds you that he studied under John Baldessari and Dan Graham.) This subtly power-packed photograph monumentalizes an erudite shelf full of art books, largely devoted to the great Northern Renaissance artist and polymath Albrecht Dürer, with a soft, brownish light that suggests learned contemplation.
ZOE LEONARD
1 Hour Photo & Video (2007/2008)
$2,000*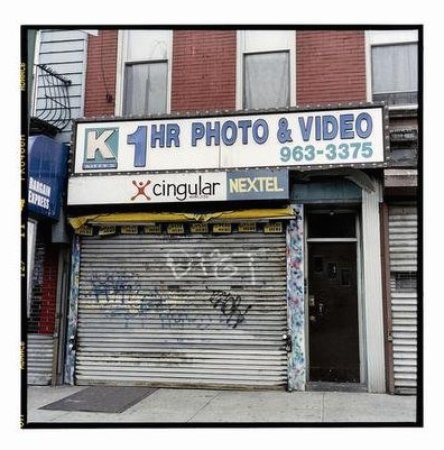 Zoe Leonard has emerged as an exceedingly influential figure in photography, both in her work and through her direction of Bard's photography department. Last year, she won the Whitney Biennial's Bucksbaum Award for a piece that transformed one of the museum's brutalist galleries into a stunning camera obscura. This June, MoMA is going to honor Leonard with a survey that presents, in toto, a series of 412 pictures; in it, she documents the multiethnic shops of the Lower East Side and other distinctive neighborhoods around the world in the anthropological manner of Atget or the Bechers. As a part of this Analogue series (which MoMA acquired into its collection in 2013), this picture is a meditation on the act of photography as well as a portrait of a globalizing world. 
*prices shown are as of February 24, 2015, and may go up due to increased demand