From a statement-making sculpture by one of Mexico's hottest artists to a powerful painting by a pioneering New York collective, these are significant artworks for smart collectors. The following pieces were selected by Artspace editors in consultation with VIP client manager Hannah Flegelman.
LAUREN LULOFF
Figure Looking Out (2014)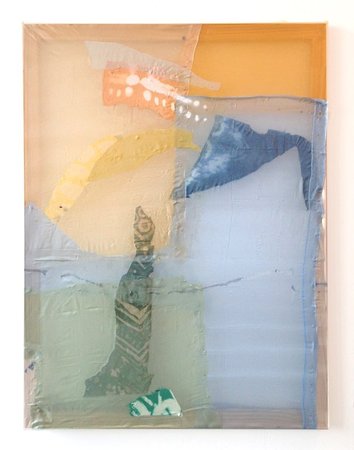 A young member of the burgeoning Bard mafia, the Bushwick-based artist Lauren Luloff has been creating a sensation with quasi-collage, quasi-painting pieces made with bedsheets and other textiles. Her work has been featured in a string of group shows at galleries like CANADA, the Journal, Tanya Bonakdar, and Marlborough that are known for acting as launching pads for novel painterly stars, and the critical establishment has gotten on board in a big way: no less than Roberta Smith has said that a painting of hers "knocked me out," and the Village Voice noted of one show that her works were "selling pretty well, and no wonder: They are some of the loveliest little things you'll find anywhere." This composition of bleached bedsheets, fabric, and oil conveys the joyous colors of a tropical sunset (or perhaps a tropical cocktail), rendered with the gentle finesse that has made Luloff a hotly courted artist among the the sophisticated collectorate (as well as the trend diviners at Art Rank, who spotlighted her as a "Buy Today" artist).
JENNY HOLZER
Selections From Survival Series (1983-85)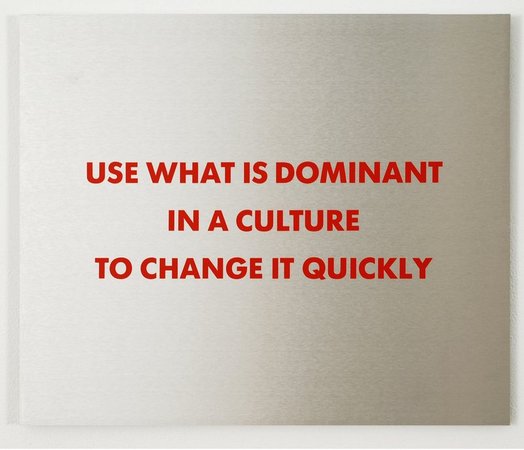 Honored last month for her "profound art" by the Poetry Society of America, the heavily laureled artist Jenny Holzer needs no introduction to even the newest of collector newbies—her powerful text works, seen in museums and public spaces around the world, have long ago been emblazoned on the popular imagination. Her work seems to be constantly on view, and this month is no different; her redacted military communiques are being shown at Hauser & Wirth Somerset and her current "War Paintings" are at Venice's Museo Correr through the fall. This piece from her famed "Survival Series" of the mid-'80s (which she once explained by saying, "The subject of survival seemed like a modern preoccupation") is one of her more uplifting admonitions about the use of power in the public sphere, suggesting as it does the possibility of positive change. Plus, listen to collectors like Alain Servais: Holzer's work is a smart buy.
GENERAL IDEA
Pharme©cology (1994)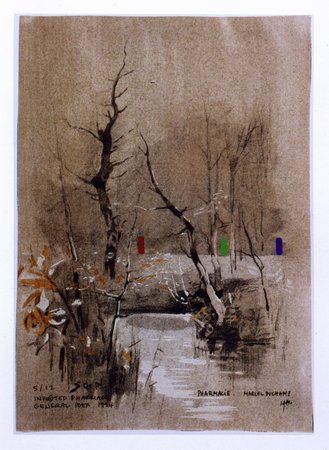 One of the more important—and poignant—art collectives to emerge in 1970s New York, General Idea was established by Felix Partz, Jorge Zontal, and AA Bronson. Initially, their mission was to import elements of the cultural fringe into mainstream America by subverting beauty pageants, talk shows, and other populist vehicles. In the 1980s, however, their focus shifted to the AIDS crisis as the epidemic swept across those fringes to create a horrifying new reality of pills, hospital visits, and death—subjects they bravely, passionately chronicled in their work. (Both Partz and Zontal died from the disease in 1994; the artist AA Bronson is today the director of Printed Matter.) This piece, made in the last year of the collective's existence, is a moving insistence of General Idea's place in the art-historical canon. Its basis is a famous commercial print that Marcel Duchamp found in France and barely altered with two drops of colored paint in 2014, titling it "Pharmacie" and signing it at the bottom as a "readymade"; 80 years later, the artists of General Idea added three more pill-shaped colored brushstrokes and signed their own name at the bottom left, next to the words "Infe©ted Pharmacie." 
JULIE HEFFERNAN
Study for Self-Portrait Dressing Wounds (2012)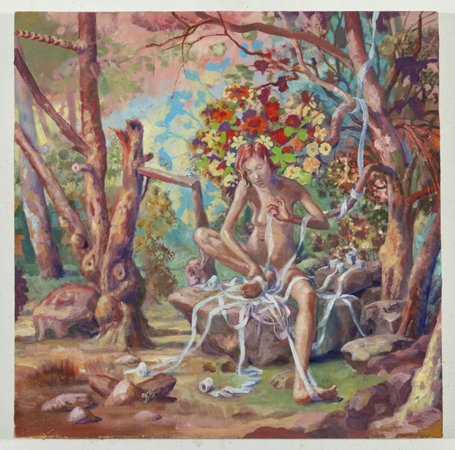 Like Frida Kahlo, the Yale MFA-educated painter Julie Heffernan creates "self-portraits" that are rich in evocative allegory, psychology, and art history. The red-headed "selves" in her paintings could easily have stepped out of a Botticelli, while other elements—or sometimes whole paintings—conjure artists like Hieronymus Bosch and Dorothea Tanning. This piece, a study for a larger 2012 painting, is a blazingly colorful statement that will turn heads and then reward them with plentiful opportunities for close looking and appreciating the details of Heffernan's obsessive style.
IMI KNOEBEL
Anima Mundi 1-4, Ed. I (2010)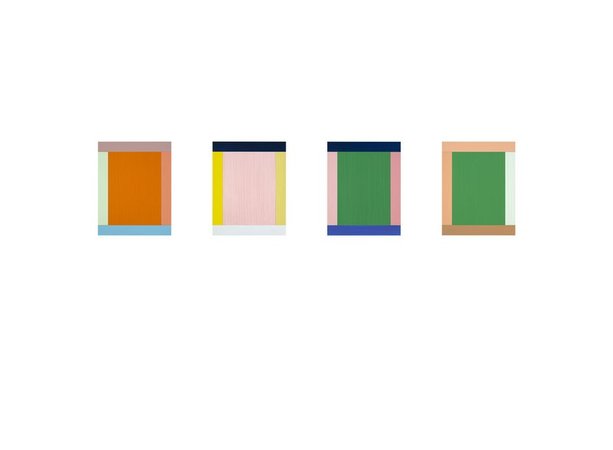 A former protégé of Joseph Beuys who studied with the legendary social sculptor alongside Blinky Palermo and Jörg Immendorff at the Kunstakademie Düsseldorf, Imi Knoebel parted ways with his teacher but followed a path similar to Palermo's—creating abstract compositions with primary colors on small, intimately scaled canvases. (In fact, put a certain Knoebel up next to a certain Palermo and only an expert could tell you which one was which.) Blinky is out of the picture, however (he died in 1977), and Knoebel has moved on from being an tough-minded formalist anchor of intellectual shows like dOCUMENTA (he's been in four) to a newly hip painter who is getting a fresh look from curators and younger artists alike. Exhibited at NADA New York this spring by Galerie Christian Lethert, Knoebel now has a new show coming up this month at White Cube Bermondsey. This suite of four paintings—each irreverently executed on plastic foil—is characterized by the kind of sensitive brushwork that makes his art unexpectedly riveting in close-up.
JOSE DÁVILA
Esfuerzo Común (2014)
A white-hot rising star of the booming Guadalajara art scene, Jose Dávila makes thoughtful yet viscerally punchy work that reaches back into the art-historical canon while simultaneously referencing the culture of his native Mexico. Collectors can't seem to get enough of his work, as successful showings at the last Zona Maco and Art Basel fairs have demonstrated, and the ArtNexus Latin America Art Award-winning artist is primed to have even more visibility in the United States when he debuts a citywide art project in Los Angeles for Pacific Standard Time 2017. (He's also in the current Havana Bienale.) This sculpture, made of panes of glass held in a delicate balance by ratchet straps, uses the raw vocabulary of architectural construction (Dávila trained as an architect) to recall the monumental early gravity-based sculptures of Richard Serra.