From a new piece by one of Los Angeles's most critically adored painters to a canvas by an irresistible art-world jester, these are white-hot works that collectors should snap up fast. The following pieces were selected by Artspace editors in consultation with VIP client manager Hannah Flegelman.
* All prices current as of September 23, 2015



LAURA OWENS
Untitled, 2014
Eight color screenprint, flashe, and screenprinting inks on Stongehenge paper
$2,500*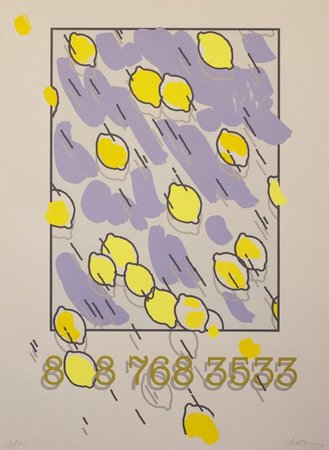 A critical darling who stays one step ahead of her swelling tide of plugged-in fans, Laura Owens has been compared to Sigmar Polke by no less than Peter Schjeldahl (or, on the occasion of MoMA's "Forever Now" show, "Polke mistaking himself for Joan Miró"). Her canvases run the gamut of painterly techniques and bring to life quotidian references from classified ads to cute nature scenes. A technical wizard when it comes to printmaking as well, she kills it in pieces like this marvel of spatial confusion. No wonder she's backed by such cool powerhouse dealers as Gavin Brown, Sadie Coles, and Gisela Capitain.


SCOTT REEDER
Context Burger, 2015
Acrylic, flashe, and ink on canvas
$6,000*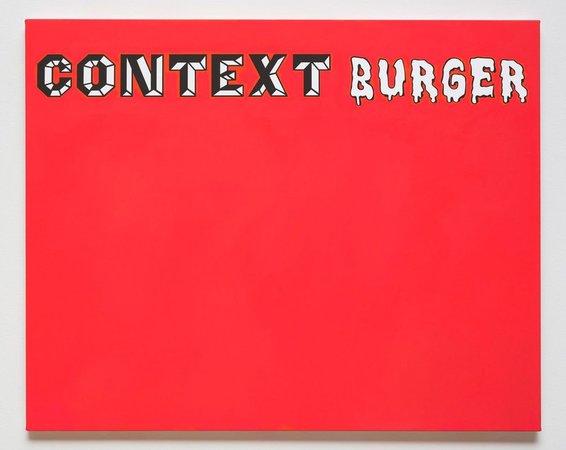 Scott Reeder is that weirdest of combinations: a screwball conceptual wit whose paintings are both visually exciting and truly, double-take-inducingly hilarious. His 2013 show at Lisa Cooley is already a classic of minimal, Richard Wright-esque comedy, with paintings emblazoned with "Post Cats," "J.Peg Life," "Evil Leaf," "Idea Jail," and other deadpan gems (and his super-great list paintings in the back like Alternative Titles for Recent Exhibitions I've Seen, which includes the phrases "Post Good," "Indoor Street Art," "Forgettable Objects Arranges According to Current Trends," and "Believe It or Not, I Own a Computer"). The painting above was the title piece from his recent show at Zach Feuer and Joel Mesler's Retrospective Gallery in Hudson, and, absurd as it might seem, it's highly covetable.


GINA BEAVERS
Ombre Lip Tutorial, 2015
Pigmented linen pulp paint on cotton base sheet and archival gloss
$650*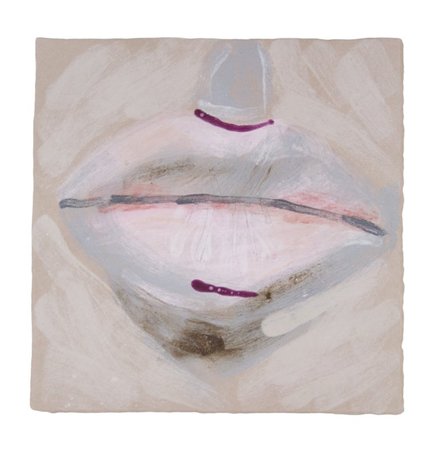 As a female artist amid an all-male generation of Pop painters, Marjorie Strider opted to make her paintings literally pop, with breasts, cherries, lips, and other rounded motifs protruding from the canvas into the viewer's space. Gina Beavers is carrying on this puckish tradition with bravado, creating 3D paintings of nudes and foods that incite deliciously vulgar cravings. (Check out her cheeseburgers, for instance—you'll drool.) In this drawing Beavers continues to explore sculptural volume in the work-on-paper medium, building up these lips with linen pulp and then giving them a seductive layer of "archival gloss."
JEAN-BAPTISTE BERNADET
Flag 3, 2014
Oil on canvas
$2,700*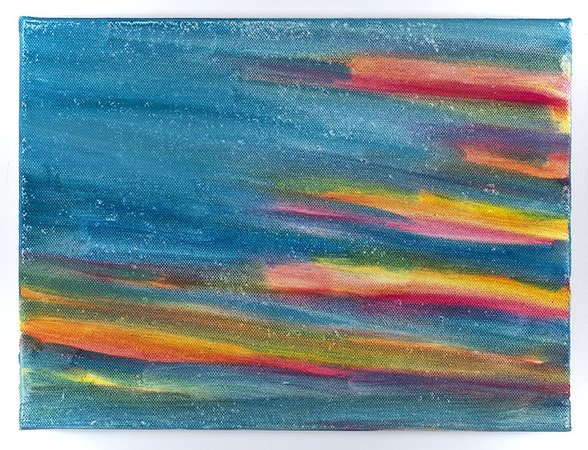 A Belgium-based Parisian who draws his visual inspiration from music in the tradition of synaesthetes like Kandinsky, Jean-Baptiste Bernadette is intent on breathing new life into abstraction—so perhaps one shouldn't mention his works also recall Clifford Still's cosmic tears, Jasper Johns's maps and flags, or even the reflecting pools in Monet's Water Lilies. This painting by Bernadet, who already has a coven of speculators following his every move (propelling one piece to sell for $135,770 at Phillips in June, quadrupling its estimate), is clearly a wispy riff on Old Glory. But somehow it also conjure fragrant memories of a summer evening with suggestions of fireflies buzzing in the mellow heat. 


MARK LECKEY
Grasping & Gasping (Pylons & Nylons and Hooves & Hands and Benson & Hedges), 2014
Digital pigment print onto somerset radiant white velvet 255 gsm paper and silkscreen overlay in 7 colors onto 440 micron clear acetate
$903*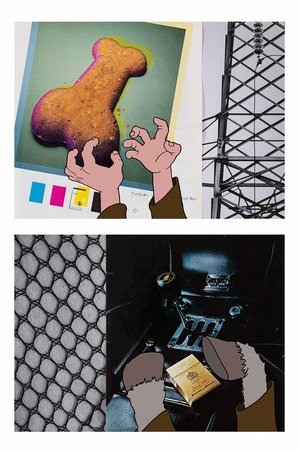 With his pointed English mustache, Van Dyke beard, pendulous earring, and maniacal glint, Mark Leckey looks like nothing so much as a space pirate from a 1970s pulp auteur's imagination. The work of this Turner Prize-winning artist, meanwhile, is of an equally zany, though brain-buzzingly cerebral, cast. Famous first for Fiorucci Made Me Hardcore, his seminal film of British nightclub dance floors over two decades of changing musical tastes, he has a special talent for unpacking the way that lowbrow pop culture ephemera express much larger societal and intellectual trends. (His brilliant 2009 Performa lecture/performance The Long Tail, for instance, explained advancements of digital content dissemination and consumption with the help of his recurring pedagogical sidekick, Felix the Cat.) This diptych, in trademark Leckey fashion, draws a parallel between Benson & Hedges cigarette ads and classic animation techniques, and will afford its lucky buyer hours of surprising compare-and-contrast revelations. 


ELISE FERGUSON
X Cross, 2014
Pigmented plaster on paper
$1,800*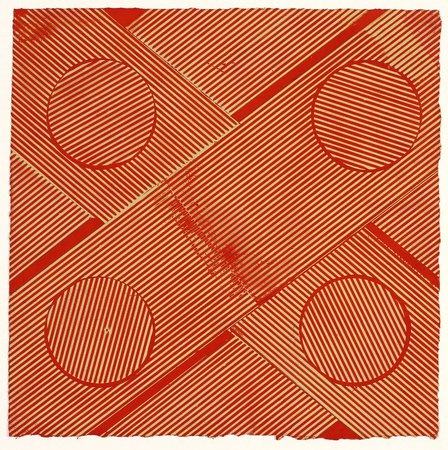 A Chicago-born, Brooklyn-based artist who began to show her work in the early 1990s, Elise Ferguson is now experiencing a new wave of attention for her expertly laid-down paintings; one dealer has described them as "frescoes realized through the lens of geometric abstraction." Last year she won the Northern Trust Purchase Prize at EXPO CHICAGO, and this year she returned to the fair as one half of a two-person booth by Romer Young Gallery. This piece, which hints at her abiding fascination with architecture, is typical of both her vivid style and her accessible price point (which together have made her a favorite of collectors).