If you're reading this and you're feeling lucky, you should know that April 9th is the annual Lucky Draw beneift at SculptureCenter in Long Island City, Queens. Although, let's be honest: you could smash a couple mirrors, cross paths with a troop of black cats, and walk around indoors with an open umbrella all you want and you'd still be hard-pressed to call yourself "unlucky" at the end of the fast-paced raffle-slash-auction, which guarantees that every single attendee goes home with a work of art determined by the luck of the draw. (This also means there are only as many tickets as there are artworks; the event is sold out, but there is a wait list, and $75 tickets are still available for the 'Before, During and After' party.)
It's the perfect opportunity for both novice and well-seasoned collectors to snatch up one of an impressive 220 works by some of the city's most exciting emerging talents. If you're one of the fortunate few who managed to get a ticket in time ($700 for singles, or $1,950 for three), here's our preview of 10 works to keep an eye out for on raffle night.


CARA BENEDETTO'S SPA DAY, 2014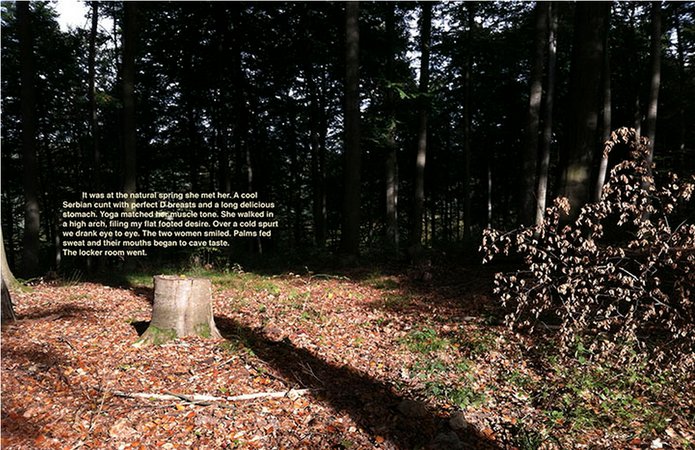 Cara Benedetto has, hands down, one of our favorite artist's websites: straight out of a 1998 GeoCities template, it's a bizzaro mix of stock text, abstruse images, and cryptic hyperlinks. This work is a "photo document" that comes from an enigmatic project titled Castle Lust–Benedetto calls it a "romance novel"—that the artist is launching this winter, which promises to be just as beguiling. Benedetto, who's warped sense of humor and off layouts just might haunt you, is clearly a rising star.
A.K. BURNS'S UNTITLED, 2014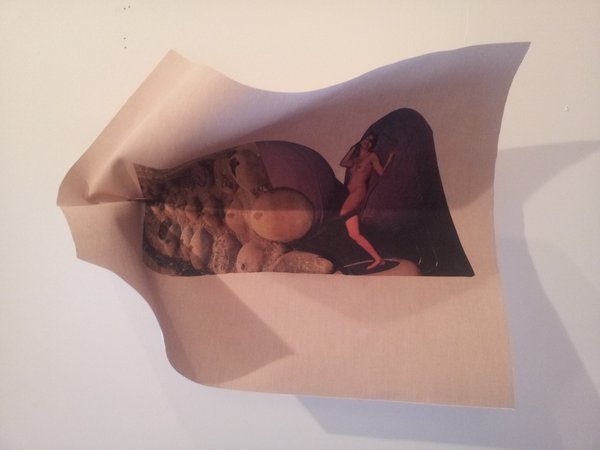 A.K. Burns is a major player in the New York nonprofit arts world: she's one of the founders of W.A.G.E. (Working Artists in the Greater Economy), a collaborator with A.L. Steiner on their collaborative Community Action Center, and one of the editors of Randy magazine. She's also a talented artist who had a solo show at Calicoon Fine Arts last fall. 
STACY FISHER'S BLACK AND WHITE OBJECT, 2011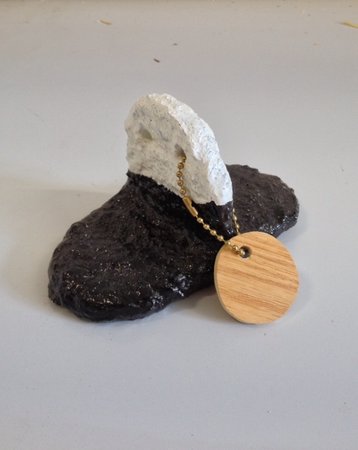 Taking a cue from Donald Judd's "Specific Objects" but enlivened with a little bit of lumpen plasticity a là Claes Oldenburg's 1961 papier-machês, Stacy Fisher's sculptures show the rare combination of style and wit that is increasingly hard to find in today's sculptural climate of hyper-sterile commodity-object assemblage. 
ETHAN GREENBAUM'S BLUSH, BURN, 2013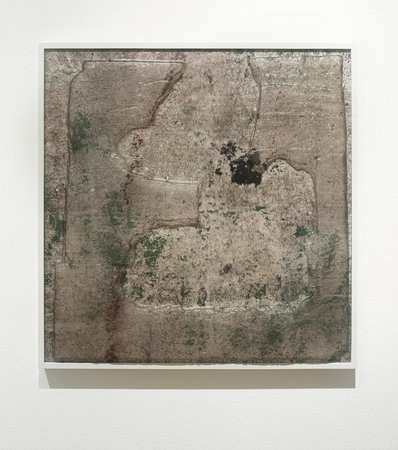 Ethan Greenabum is obsessed with texture. He's a fan of vacuum-forming, substrate prints, and plastic panels, which he uses to create wall works that are weirdly anti-sleek, suggestive of sedimentary urban landscapes—the kind of work you have to see in person to get the full effect.
JAMES HOFF'S FOUNTAIN HEAD, 2012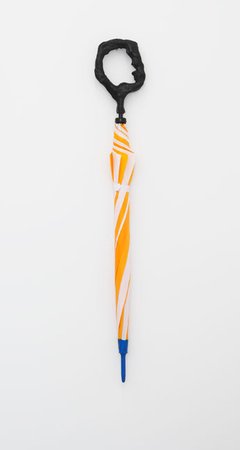 James Hoff is a co-founder of Primary Information, the independent publishers of out-of-print publications, artists' books, and editions. Hoff has a taste for the esoteric: the handles of his umbrella sculptures are modeled in the profile of Russel Arundel, an American businessman who founded a micro-nation off the coast of Nova Scotia. Though Hoff's work is definitely conceptually oriented, it also has an undeniable visual appeal.
PARK MCARTHUR'S RAMP ACCESS LOCATED AT ESSEX STREET, 2014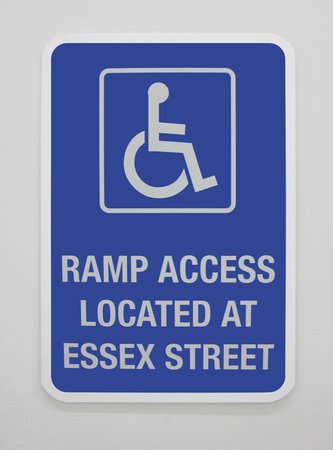 Park McArthur's recent exhibition at Essex Street gallery consisted of wheelchair ramps that the artist lifted from arts institutions around the city. While the ramps were installed at the gallery, they were replaced with these signs, which look almost identical to parking signs you see around town. (The artist herself uses a wheelchair.) More than simply a souvenir of that show, the signs are conceptual artworks unto themselves. Might we suggest hanging this one outside, next to your front door?
CLAES OLDENBURG'S
EQUITABLE BUILDING AS A PENCIL SHARPENER, 1995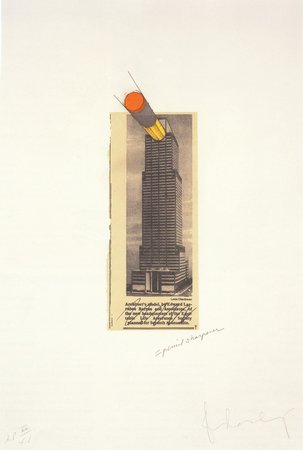 While most of the Lucky Draw artists are up-and-comers, this study from Pace Prints for an unrealized monumental sculpture by Pop hero Claes Oldenburg, one in his series of comically mundane monumental projects (most of which exist only in theoretical form), is an understated gem in the drawing. It's a true steal for the Lucky Draw ticket price.
LETHA WILSON'S ROCK HOLE PUNCH (FLAMING GORGE), 2014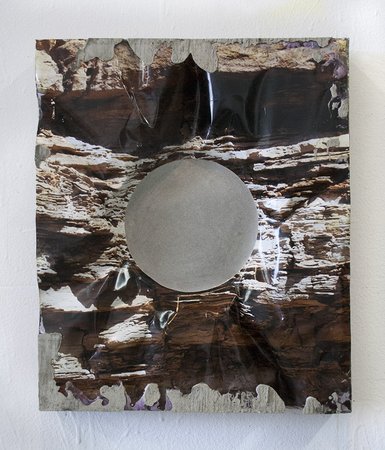 There's something especially appealing about the art object that's undefinable in accepted medium-specific terminology. Bridging photography, collage, sculptural relief, and architectural design, Letha Wilson has shown that she has a special propensity for crafting objects that achieve this effect while appearing deceptively simple. In Wilson's work, photographs of landscape details are mirrored in their presentation: a photograph of a birch tree, for example, is bisected by a 2x4 wood beam, or concrete is poured over a photo of a rock face.
B. WURTZ'S UNTITLED (FETISH), 2013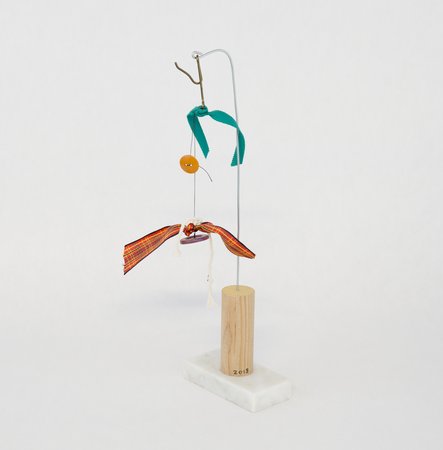 Using found objects that one might expect to see floating in a gutter on the street or tangled in some bushes, B. Wurtz makes sculptures that look like chandeliered phrases of actualized punctuation. Funny, smart, and understatedly beautiful, works like the poingantly titled Untitled (fetish) interrogate our assumptions about what a work of art is supposed to look like.
DAVID BEREZIN'S BABIES IN BAJA, 2013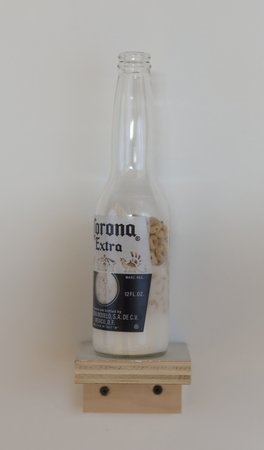 This is some cheerios floating in fake milk inside a Corona bottle. It's called "Babies in Baja." A work of earth-shattering genius? Time will tell. Will you have fun showing it off to your friends at dinner parties? Absolutely. Especially after a couple of beers.