What will be remembered from this year's edition of America's most famous art fair? Well, it marked the advent of Miley Cyrus, whose skin-baring recitation of Led Zepplin and other hits from the '70s, '80s, and '90s—with Wayne Coyne as her costumed accompaniment—was the biggest dose of pure pop celebrity the week has thus far seen. It also, and not unrelatedly, may have been the year that Art Basel finally broke Miami, turning the city into a network of traffic jams snaking out from South Beach into every halfway presentable artery west of the waterline. Along with Miley came a new form of spectacle: the apparaition of 5.1-times Uber surge pricing.
But it was, by many accounts, the most successful week of Art Basel Miami Beach to date, with sales galloping out of the booths and new wealth flying in from Latin America—and not just Brazil, Mexico, and Argentina but also Guatamala and other communities eager to enter the mix. The three best fairs continued to cater to their particular audiences, with Untitled presenting new work that could easily be shopped as cutting-edge decor, NADA offering its typical spread of high-quality fresh art that demands cerebral engagement, and the main fair focusing on its specialty mix of the latest and the greatest art, with a healthy serving of pizzazz. 
Here, below, is a survey of some of the most exciting artworks at Art Basel Miami Beach, notable either for bringing something unusal to the table or rectifying a lacuna in art history.
OSKAR SCHLEMMER
GALERIA LEANDRO NAVARRO (MADRID)
$700,000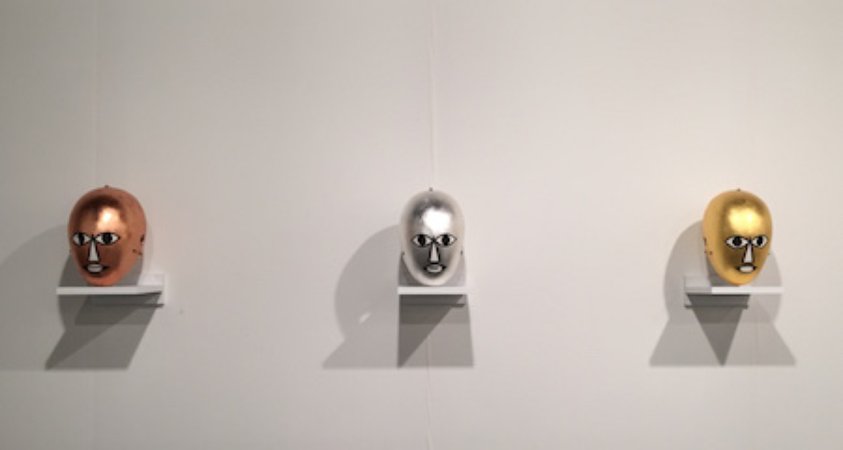 As the head of the Bauhaus's theater department in the 1920s, Oskar Schlemmer became renowned for his ballets—particularly the "Triadic Ballet" of 1922—in which he costumed his dancers in futuristic ensembles that both referenced the rampant mechanization of the time and worked to abstract the body into geometric points in space. Schlemmer was a painter as well and his canvases (one of which, of figures ascending a staircase, famously hangs in a MoMA stairwell) fetch millions at auction, but his ballet costumes, largely composed of papier mâché, were destroyed during World War II. This set of three masks was recreated in 2012 by the artist's grandson, who serves as the head of his estate, and was being offered during the fair exclusively to museums.
HRAIR SARKISSIAN
KALFAYAN GALLERIES (ATHENS, THESSALONIKA)
$17,000 for the two videos, $25,000 for a photographic video still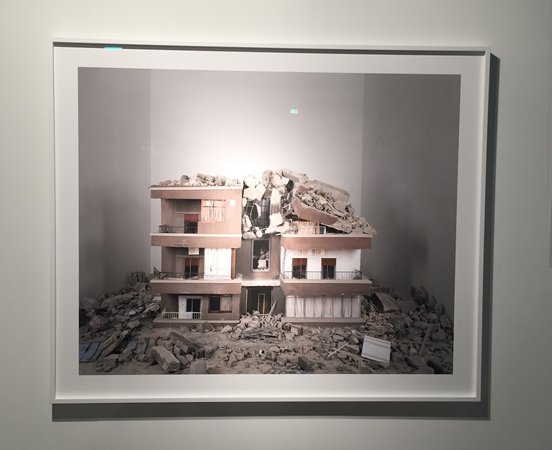 The artist Hrair Sarkissian grew up in Damascus and left for London in 2008, three years before the protests of the Arab Spring ignited the bloody civil war that continues to tear apart the country today. But his parents still live there, in the same ground-floor apartment of a concrete high-rise where he grew up, and in the fair he presented a pair of video works in which he enacts an apotropaic gesture that sums up his fears: after creating a concrete scale model of the building, he uses a sledgehammer to turn it into rubble, sparing only the bottom two floors, with the family home visible at the bottom right (it's the one with curtains in the windows).
The harrowing display is part of the artist's vital body of work exploring day-to-day life in the heart of a region he views as a disintegrating historical construct, with other series of note including his Execution Square photographs of nondescript public places across Syria where early-morning hangings for civil crimes take place—it's in the Tate Modern collection—and his portraits of photographic studios across the Middle East that were featured in the New Museum's recent "Here and Elsewhere" show. Expect to see much more of this artist, who will be prominently featured in the Armory Show's upcoming focus section.
ALEX HUBBARD
MACCARONE (NEW YORK)
$90,000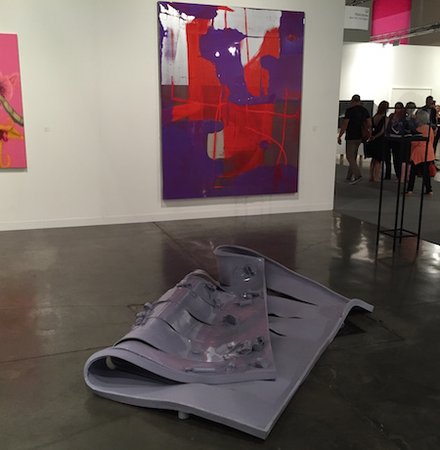 In addition to being a painter of exceptional talent, Alex Hubbard is also a big-time surfer, and over his years of chasing waves from Morocco to Puerto Rico to other beaches around the world he became enamored of the colorful plastic garbage he found in the sand. He began incorporating these pieces of ocean-clogging refuse into a series of "Trash Paintings," and later decided to elaborate on these compositions by casting them in urethane to create a sculptural double. He then bakes these casts in a 10-by-12-foot kiln in his studio until they become soft enough to be malleable, giving him about 30 minutes in which he can contort and slice them into new compositions—a process that reminds him of the time-based considerations of his wet-on-wet paintings. Recently Hubbard moved from New York to Los Angeles, where he'll have even more time to scour the shoreline, and where his enormous new studio in the same building as Maccarone's upcoming outpost (where he'll have the first show) will provide plenty of space to find out what else his paintings can do.
NAOMI FISHER
"DANCARCHY" ART NOVA ARTIST BAR
Around $30,000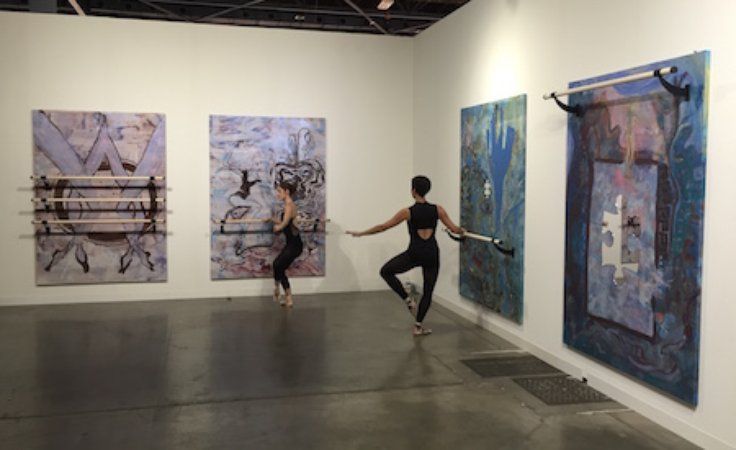 The Miami-based artist Naomi Fisher has no formal dance training—she describes herself as a "party dancer"—but ever since her friends at New York's ever-popular Cafe Dancer asked her to create a mural for the Lower East Side bar she has become obsessed with painting ballet imagery. So when Art Basel asked her to follow up on the semi-hidden artist bar she created with Jim Drain for last year's edition, Fisher decided to run with a pun, making dancy paintings that she outfitted with barres and inviting two ballerinas to use them for exercises while fairgoers tippled cocktails. It's been a good week for Fisher. Ten years ago she and the artist Hernan Bas founded an art space called Bas Fisher International—puns are fun!—and on Monday she heard that she had won a grant from the Knight Foundation to keep the indie project running. 
SAM FRANCIS
ACQUAVELLA (NEW YORK)
$1.8 million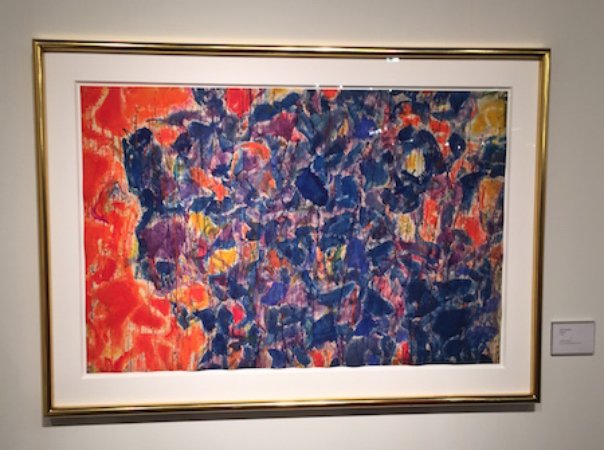 For years the American artist Sam Francis has been the runt of the Ab-Ex litter, seen by the market as an also-ran to the movement's bigger names. This is largely because he absented himself from the storied Cedar Tavern milieu: born in California, Francis studied in Paris with Léger and became associated with the French Taschiste painters, then moved to Tokyo and married a Japanese woman. There he became deeply influenced by the country's tradition of ink painting and Zen Buddhism, and he became a fringe member of the Gutai circle (the above painting, for instance, was purchased by Gutai fonder Jiro Yoshihara).
Since his death in 1994, Francis has experienced success almost entirely oversees, but today the dearth of available Ab-Ex work has combined with a rising vogue for midcentury art movements outside of the U.S. to make the artist—whose work was once regularly bought in at auction—a market sensation. In last month's New York sales, every work that went under the hammer fetched at least twice its estimate. It doesn't hurt that his work is colorful, accessible, and looks great above the couch.
JUSTIN MATHERLY
PAULA COOPER (NEW YORK)
$35,000 for the sculpture, $16,000 for the work on paper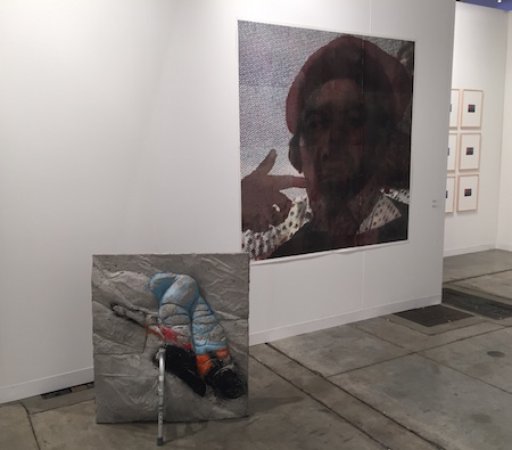 It only took the artist Justin Matherly a few short years to move from the smaller galleries of the Lower East Side to the big leagues of Chelsea, and his raw talent is undeniable. He's best known for his sculptures of medical supplies—walkers and canes, predominantly—and concrete fashioned into forms lifted from antiquity (a piece up in Collins Park references the Belvedere Torso, for instance), and here he shows two new directions in his work. For one, he's added color, spraying pigment into the concrete as it dries. For another, his point of reference has leapt forward a couple millennia, with the image here alluding to a photograph of a fallen Sherpa on Mount Everest.
The work on paper on view at the fair might be similarly new to fans, so here's its backstory: physically exhausted after his 2003 debut at Paula Cooper, Matherly relaxed by immersing himself in Richard Pryor, and here he combined the back cover of one of the comedian's albums with a heroic portrait of Malevich, taken toward the end of his life as he was controversially returning to figuration. (Matherly's studio, according to his dealer, is papered with such heterogenous imagery.) It will be exciting to watch the themes that develop in these new pieces.
JEFF KOONS
GAGOSIAN
$5 million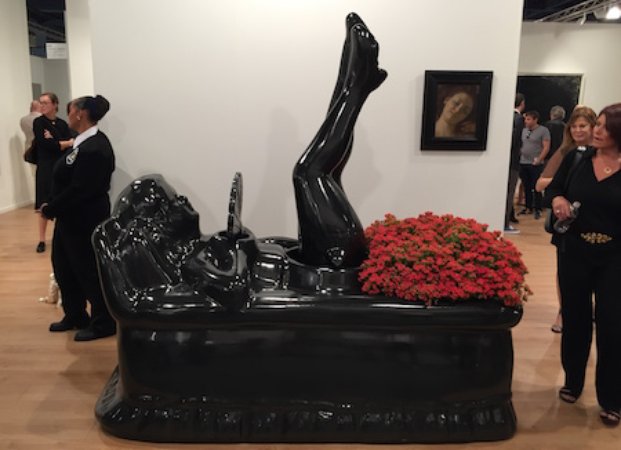 What is there to say about Jeff Koons? He has become such a giant in the culture, and remains so continuously odd, that one is tempted to sit back and observe his career as a prodigy occurring outside of aesthetics, perhaps in some embodied psychological space. This bizarro sculpture renders a novelty ashtray that Koons's father had in the family home—when you put a cigar in the base, here filled with live flowers, the smoke caused the woman's legs to move—as a massive sarcophagus, sculpted from granite with hyperreal precision, so you can see yourself in its polish. Combining notions of home, mortality, ancient ritual, and kitsch, it's actually chilling. Because it's Koons, the legs will actually move, but the mechanics have yet to be worked out, according to a dealer, so after the fair back to the studio it goes. 
NICOLÁS GUAGNINI
BORTOLAMI
$12,000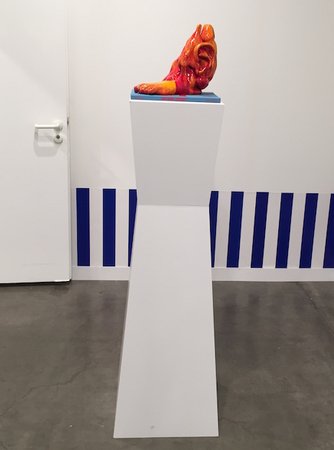 A writer, curator, and filmmaker, Nicolás Guagnini grew up in Argentina during the state terrorism of the Dirty War, and his father was one of the disappeared of 1977. Perhaps as a result, Guagnini takes a tremendously complex view of authority in his work, in which notions of masculinity are inextricably tied up with fascism, and that comes through particularly clearly in his new series of sculptures at the fair. Working with a master glazer in the West Village, the artist taught himself ceramics over the last few years, and began making sculptures that bring together the bits and bobs that tend to fall off of ancient statuary—the noses, the ears, the fingers, the penises—and turning them into brightly glazed sexual fetishes. He then displays them on severe white plinths that evoke fascist architecture, atop art books that he once used simply to keep the plinths from getting scratched but that he now sees as "discursive supports." Ceramics, meanwhile, appeal to Guagnini for a classically Koonsian reason, according to a dealer: they're kitschy, but they'll last forever. 
KOENRAAD DEDOBBELEER
MAI 36 GALERIE (ZÜRICH)
$13,000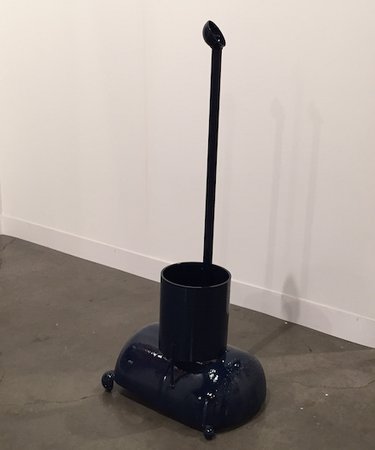 A Belgian artist based in Antwerp, Koenraad Dedobbeleer rummages through flea markets and combs the streets for objects of strange, often humorous affinities to combine into his sculptures, which stand as mute formal totems, waiting to be read into. The titles provide perplexing clues—this one is From the Throes of Tormented Creativity to Exhausted Resolution—but one of his dealers insists that the true content resides in a peculiar strain of Flemish mysticism that Dedobbeleer shares with such fellow natives as Luc Tuymans and Mark Manders. What are these forms of no apparent function? Perhaps they are magic.
JACK EARLY
FERGUS MCCAFFREY (NEW YORK, ST. BARTH)
$15,000-$55,000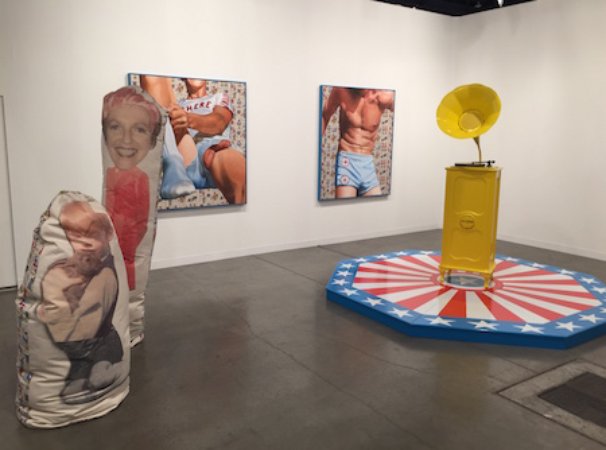 It was an infamous event in recent art history. In 1992, as the provocative art duo of Pruitt-Early was at the height of their meteoric celebrity, they staged a show called "Red, Black, Green, Red, White, and Blue" at the Castelli Gallery that arranged posters of African American pop celebrities into house-shaped configurations on the walls in an attempt to connect the imagery to the legacy of slavery. At the time—the height of the P.C. era—the response from the press was swift and virulent, labeling the show as "racist" and instantaneously rendering the artists persona non grata in the art world. During this traumatic episode, Rob Pruitt and Jack Early, a couple as well as collaborators, split up, with the art and fashion contingent largely taking the side of Pruitt, who six years later returned to favor with his now-legendary Cocaine Buffett, a sorry-not-sorry masterstroke that's almost impossible to fathom today.
Early, on the other hand, went into exile, working as a house painter around New York State, creating music on the side, and abandoning art. Then two things happened. One day, as he was painting a house while humming a tune of his own composition, Early realized he wasn't much of a musician, that he hated painting houses, and that he was an artist. Around the same time, the curator Allison Gingeras included a restaging of the 1992 show in Tate Modern's 2009 "Pop Life" exhibition, signaling a twist in the kabuki saga of art-world acceptance.
At the fair, Fergus McCaffrey gave over their entire booth to the latest of a handful of shows Early has been doing, bringing together 2014 works referencing his experience growing up in the South and coming to terms with his sexuality: there are eroticized paintings of men from the clothing catalogues he looked at, a Victrola playing an autobiographical performance, and a set of bean-bag portraits of the members of the artist's family. While there has yet to be much market interest in Early's comeback, one can't help but wish him success.