Rats get a bad rap in the West. Perhaps deservedly so. They transfer diseases through their saliva, and can survive being flushed down a toilet, treading water for days. And we feel slightly outnumbered by them—it's estimated that as many as five rats per person live in New York City. Despite their unsavory reputation here however, the character of the rodent is actually respected in China, where the rat ranks first in the Chinese zodiac (a repeating 12-year cycle of animals constituting part of the Chinese calendar system). The Zodiacal Rat represents wisdom, intelligence, and because of the rat's rapid reproduction rate, it's also seen as a sign of wealth, surplus, and good fortune.
Due to the contradicting attitudes towards rats in the "East" vs. "West," these animals have typically been depicted differently throughout each culture's art history. In traditional Chinese painting, the rat isn't a disdained creature but is instead often depicted with trailing plants to represent abundance. In contrast, in "Western" art the rat usually symbolizes physical squalor or dishonorable behavior.
This year, 2020, is the Year of the Rat, and according to the horoscope is expected to be a strong, prosperous, and lucky year for almost all Chinese zodiac signs. So get excited! As Chinese New Year approaches this Saturday, January 25, we celebrate the holiday by taking a look at some of our favorite contemporary works of art depicting the resourceful rodent.
AI WEIWEI
Circle of Animals/Zodiac Heads, 2011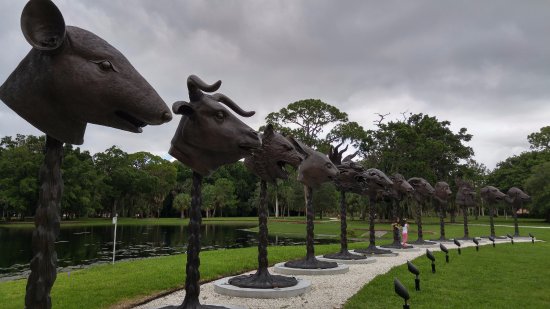 Image via artspace.com
Ai Weiwei's Circle of Animals/Zodiac Heads (2011) is an obvious choice for this list as the series depicts the 12 animal heads of the traditional Chinese zodiac. The sculpture, which comes in both small, gold and large, bronze versions, is a reinterpretation of 12 animal heads that originally decorated a fountain clock in the 18th-century European-style gardens of the Manchu emperor's Summer Palace in Yuanmingyuan, near Beijing. During the Second Opium War, five of the heads were looted by British and French troops, and the other seven heads were later dispersed around the globe, becoming a symbol of disgrace for China. In the 2000s, the original heads began to resurface in the art world, and the head of rat and rabbit were part of the 2009 Paris sale of designer Yves Saint Laurent's collection. A Chinese collector, who bid on the sculptures, refused to pay for them as an act of patriotic protest. Ai's sculpture references this complicated relationship between the West and China, and the idea of real and fake, but in a playful manner that he hopes people can relate to since so many have some kind of connection to the zodiac.
BANKSY
Radar Rat (Dirty Funker LP), 2008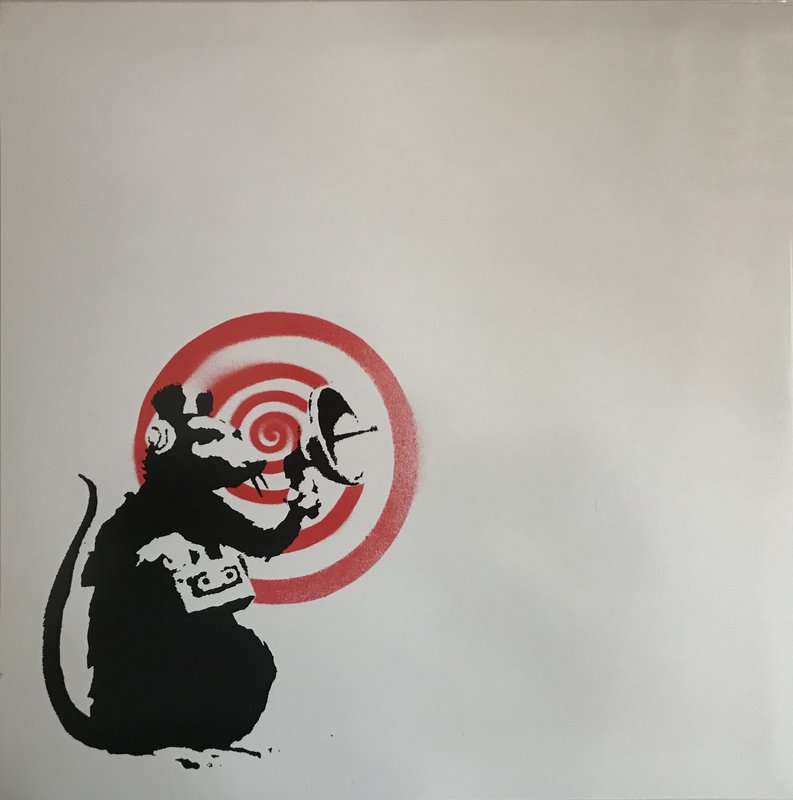 Image via artspace.com
No rat art list would be complete without mysterious British street artist Banksy, who is perhaps best known for his tagging of graffiti rats around the streets of England. Inspired by French graffiti artist Blek le Rat, Banksy utilizes rats as a form of social commentary, stenciling the rodents to include phrases like "Because I'm Worthless" or "Our Time Will Come." His work Radar Rat—which emerged in the London streets and was reproduced on the cover of musician Dirty Funker's 2008 album Future—depicts a rat that's listening to his surroundings, suggesting a critique of increasing government surveillance in London. The re-occurring rats in Banksy's art parallel the uncontrollable rat population, and therefore, can also be seen as a comment on street art culture. Although city officials attempt to paint over illegal graffiti, new tags constantly reappear.
HANNA LIDEN
Self-Portrait with Rat, 2010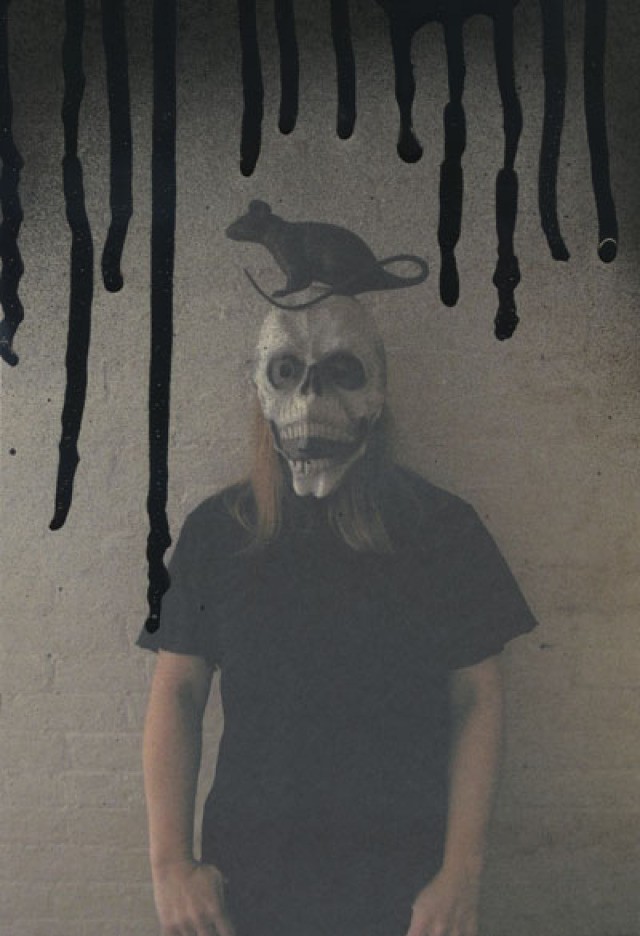 Hanna Liden's Self-Portrait with Rat (2010) is available on Artspace for $350
Rats also appear repeatedly in the work of Swedish-born artist Hanna Liden. Based in New York, Liden's dark, eerie self-portraits and still lifes are mostly shot in her studio. Liden often utilizes elaborate props and masks, as seen in her work Self-Portrait with Rat (2010). Other photographs featuring rats as the subject include Liden's Rat Pyramid (2010) and Haves and Have Nots (Rat Pyramid II) (2010). The artist told Interview that horror movies largely inspired her practice. "I remember being very taken by A Nightmare on Elm Street [1984] as a child. It terrified me" she said. "The other big piece of film was Michael Jackson's "Thriller" [1983]. I loved the scary, campy stuff. I never liked films about dogs and girls and boys and little mermaids and things like that."
ROGER BALLEN
Rats on Kitchen Table, 1999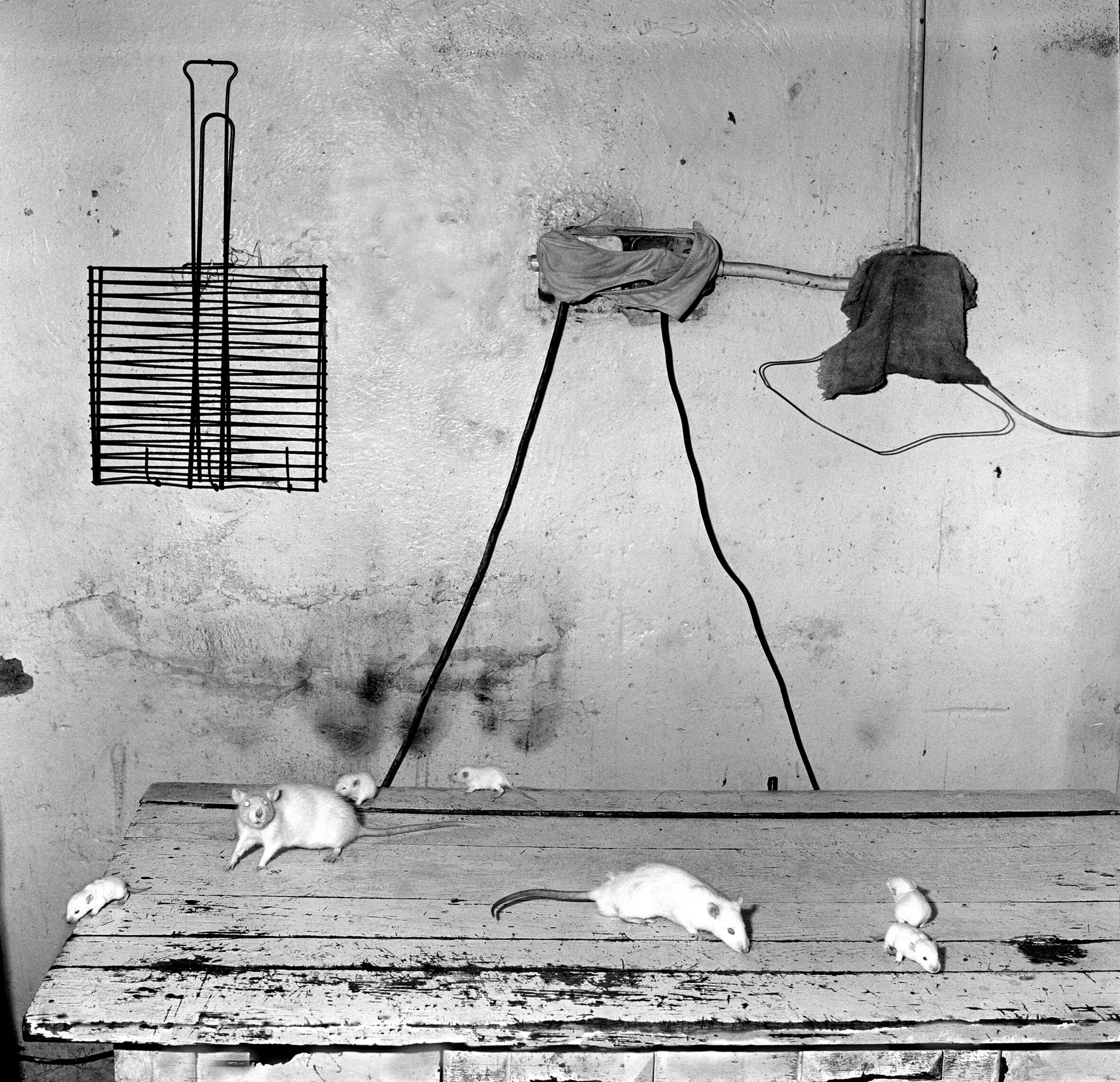 Image via elizabethhoustongallery.com
South African-based analog photographer Roger Ballen's work is black-and-white - the artist says that it offers him a more abstract, interpretive way of portraying the world. The lack of color also adds to the gritty, surreal nature of his images, which often depict chaotic domestic scenes and portraits of rural South Africans that embody the South African counterculture movement known as Zef, taken from the Afrikaans word for "common." Ballen's jarring and sometimes disturbing images, like the rat-infested scene in Rats on Kitchen Table (1999), have led some to describe his work as having an outsider art aesthetic. - a description Ballen flatly rejects. "People ask me what do I think about before I take pictures," he told Phaidon.com "I try to think about nothing, for two reasons: One, I want a silent, relaxed mind, like a cat waiting for the rat."
BRUCE NAUMAN
Learned Helplessness in Rats, 1988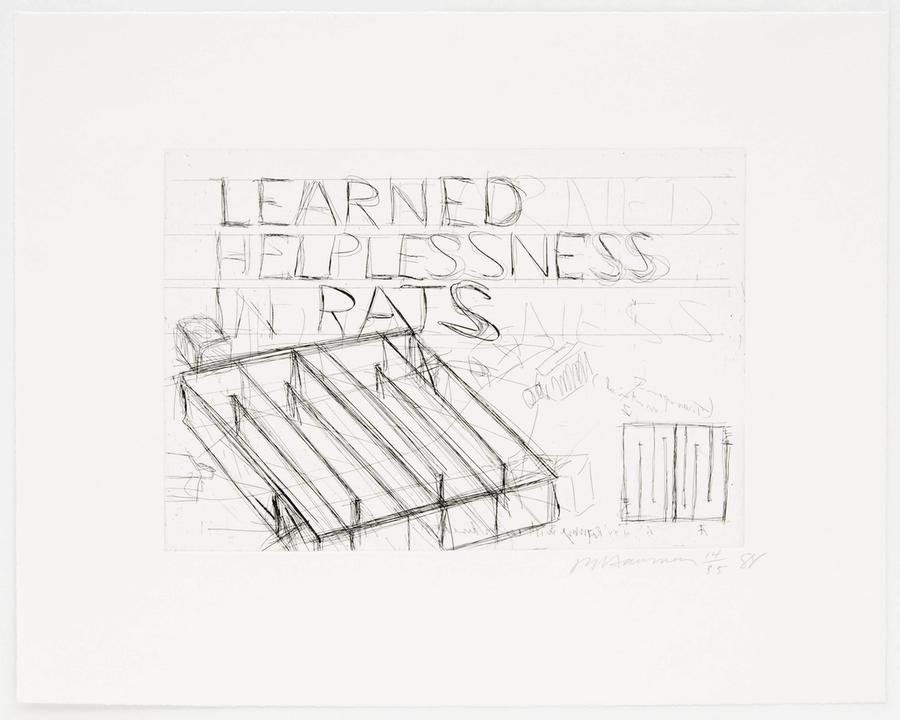 Bruce Nauman's Learned Helplessness in Rats (1988) is available on Artspace for $7,500
American artist Bruce Nauman—who's hard to categorize since his oeuvre includes sculpture, photography, video, drawing, performance, and more—created the etching Learned Helplessness in Rats (1988) as a detailed study for a 1988 video installation titled Learned Helpless in Rats (Rock and Roll Drummer). The piece included a Plexiglas maze in-between two video monitors and a video projector displaying onto a nearby wall. The projected videos showed a rat attempting to escape a maze and a young boy loudly playing the drums, both beings moving in a similar frantic rhythm. Periodically, the video would switch to a live feed from inside the empty maze in the installation. Nauman's work, which mocks a laboratory experiment, questions whether human nature can be improved through controlled environments and behavioral retraining.
KATHARINA FRITSCH
Rat-King, 1993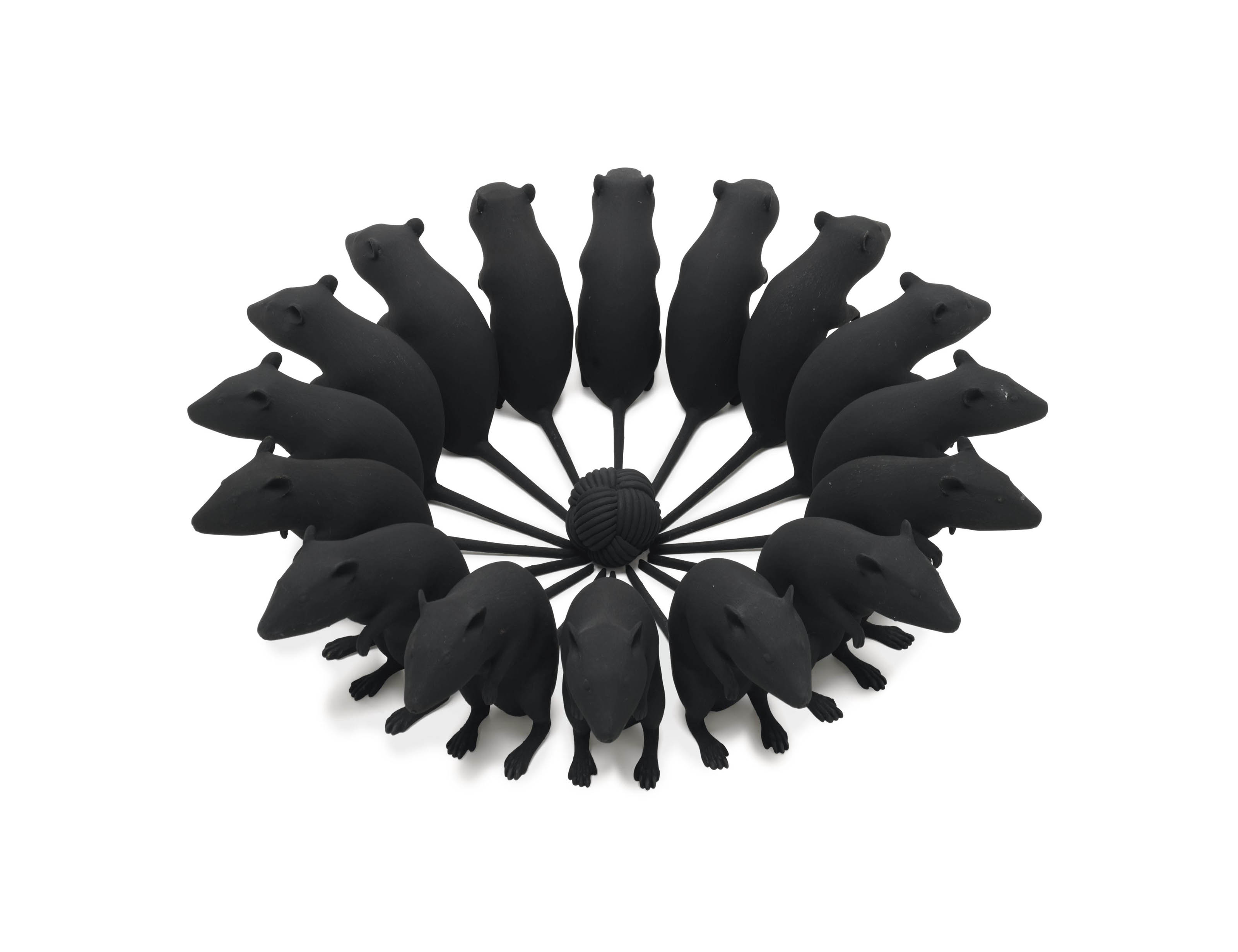 Image via christies.com
Inspired by the alleged phenomenon of a rat-king—where a cluster of rats' tails are entangled, binding them together—German artist Katharina Fritsch's installation explores the power of image and allegory through physically depicting the curious occurrence. In folklore, rat kings are connected with assorted superstitions and were typically viewed as a bad omen. The immense scale of Fritsch's oversized resin-cast rodents, their matte black color, and exaggerated standard features, all contribute to a disquieting viewing experience. Enlivening banal objects with a jarring and uncanny aura is typical of Fritsch's practice.
TIM NOBLE & SUE WEBSTER
Metal Fucking Rats (Version 2), 2007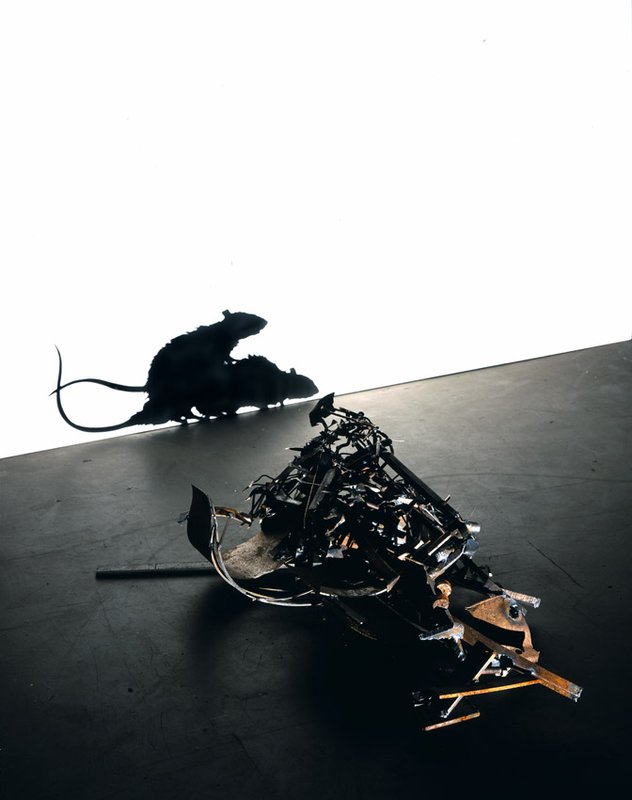 Image via artspace.com
British collaborative duo Tim Noble and Sue Webster, associated with the post-YBA generation of artists, construct assemblages out of every-day objects (including trash) and then cast the work in light to create a projected shadow resembling something identifiable. In the case of their sculpture Metal Fucking Rats (Version 2) (2007), the collection of welded scrap metal is built to project seeming shadows of rats when illuminated. This transformative art practice, showing how abstract forms can turn into figurative ones, reflects the notion of "perceptual psychology," a form of assessment used for psychological patients, such as the Rorschach test.
[Rats-module]
Related Articles
Why Zhang Enli Isn't a Chinese Artist
An Interview With Cai Guo-Qiang
Zhang Huan on How America Made him More Chinese