It's January, the new year is gleaming with possibility, and life is about to take you on innumerable new adventures. Guess what? It's the perfect time to fall deeply, madly in love. With a new artwork! Here are six extraordinary pieces that are sure to tickle your fancy—some at a price too good to pass up, others of such quality that they'll inspire you to make an investment.
Steal
$950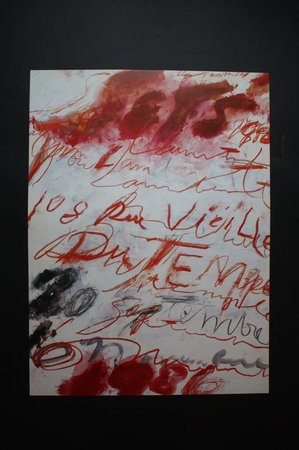 By 1986, the great American artist Cy Twombly had already completed some of his most enduring masterpieces—such as the immortal Fifty Days at Iliam cycle, now at the Philadelphia Museum of Art—but curators like MoMA's Kirk Varnedoe still felt the need to defend his scribbles from my-kid-could-do-that accusations. This lithograph, which Twombly created to announce a show at the old Yvon Lambert gallery in Paris, demonstrates the silliness of such a comparison: suffused with emotion and redolent of either antiquity or the sodden jottings of a poet, his script carries a timeless grandeur. As you can see in this shockingly affordable print, it's also beautiful to behold. 
Splurge
You may not know Peter Blake's name, but you've definitely admired his work before. After all, he's the pioneering British Pop artist who designed the cover for the Beatles' 1967 album Sgt. Pepper's Lonely Hearts Club Band. This piece, rendered on tinplate in the style of vernacular English signage, conveys several of the artist's most famous motifs other than the Fab Four, like the rainbow and the bullseye—exactly the kind of image-objects that his contemporary, Jasper Johns, described as "things the mind already knows."
Steal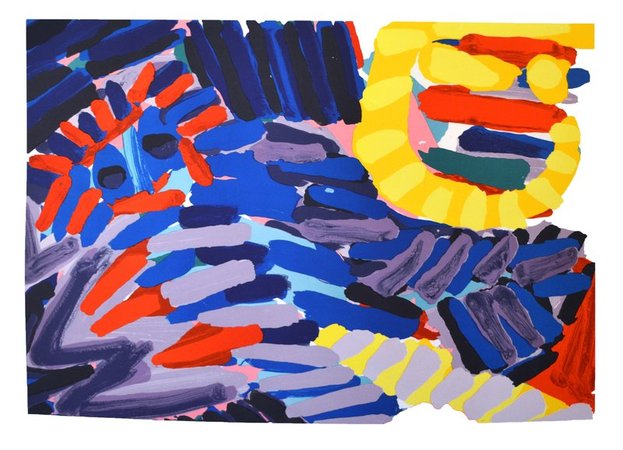 Go ahead, tell your smarter friends that you found a Karel Appel for under $2,000—they might not believe it. A founder of the Northern Europe's legendary, short-lived CoBrA group, Appel spent his career thrusting messy life onto the canvas, abjuring the pictorial niceties of the academic tradition in the interest of freeing the hand from societal convention. This artwork may subvert you and your lucky guests—be prepared.
Splurge
Soft Action, 1979Linocut, relief, stitching, collage on handmade paper by U.S. Paper Mill and Joe Wilfer
$4,500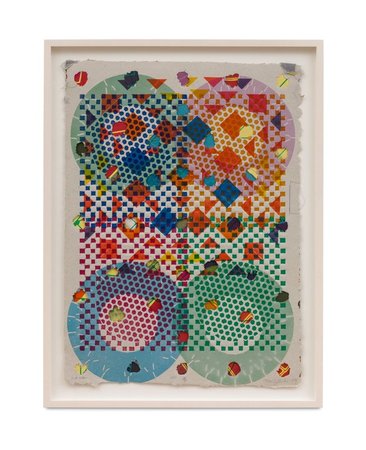 An avant-gardiste who of the 1970s who got his start with a blazing show at Paula Cooper Gallery, Alan Shields became known for hewing paintings from all sorts of crafty odds and ends—sometimes seeming like abstraction by way of the Whole Earth Catalog. Since his premature death a decade ago at the age of 61, Shields has undergone a recent repetitional upswing, and his monumental walk-through painting at Art Basel Unlimited last summer felt weightily important, audacious, and fresh at the same time.