It is naïve to search for tidy themes and geneologies in the hodgepodge offerings of an art fair. Would you, after all, try to assign meaning to or find divine order in a dinner buffet's tasting menu? And yet, even among the vast variety of styles in evidence at this year's Armory Show, certain medium and aesthetic strategies do noticeably repeat from booth to booth, either because they appeal to the artists who employ them or to the deep-pocketed collectors the galleries are trying to woo.
To divine what these tendencies are, we sorted through the kaleidoscopic array of art, from shiny hovering sculptures and a Roombaa vacuum-cleaner installation to some heady post-Internet manipulations. Here's what we found.
BLANK CANVASES
First there was Malevich's 1918 Suprematist Composition: White on White. Then there was Robert Rauschenberg's 1951 White Paintings [three panels]. One after the other, both provocateurs saw their monochrome canvases as the ultimate conclusion of the minimal reduction in art. Game over. But apparently there's more to be said on the subject?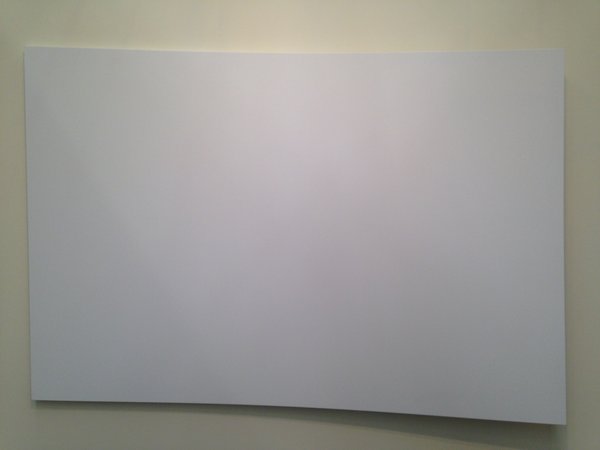 At the Armory, white paintings abound by veteran and up-and-coming artists alike. There is Jessica Dickinson at James Fuentes, Andrew Sutherland at Edel Assanti, Thomas Fougeirol at Praz-Delavallade, Robert Morris at Sprüth Magers, Davide Balula at François Ghebaly (pictured above), and Michelle Grabner at James Cohan. Sure, their muted fields are intense and intellectually stirring investigations of the medium, stripping painting down to its bare essentials, while at the same time functioning as choice décor. Or else maybe gallerists believe visitors' restless eyes deserve a break in a kind of new Eastern-influenced way—like through yoga or meditation—and are offering a quiet, zen moment.
ARE YOU SEEING DOUBLE?
Experiencing a visual overload, this is a question you might find yourself asking at the fair. But more than likely, you needn't worry—you're just encountering one of the fair's many composite photographs.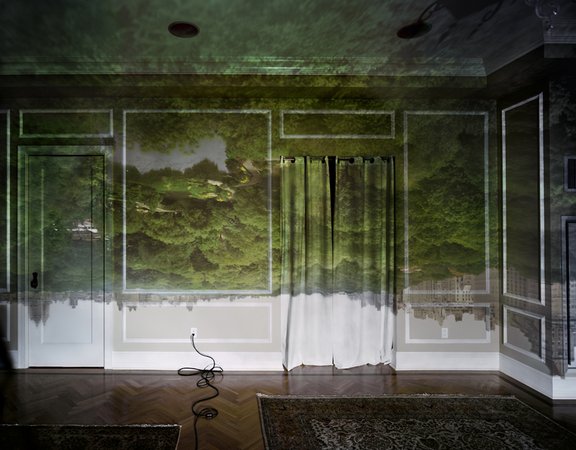 Take Abelardo Morell's 1990s Camera Obscura series showing with Edwynn Houk Gallery, in which the Cuban-born artist converts opulent apartments into giant cameras, projecting the outside scene through a pinhole onto a darkened interior wall. Morell's worlds are reproduced upside-down: building tops kiss the floor, green fields expand across the ceiling. (If you want to experience the effect in person, hoof up to the fourth story of the Whitney to see how Zoe Leonard turned the Cyclops-like Breuer window into a massive camera lens.)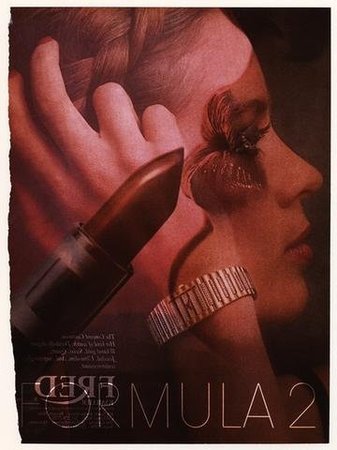 Nearby are Robert Heinecken's camera-less investigations that transpose found photos from magazines, advertisements, and pornography—they're also on view in his MoMA survey. They have an eerier effect than Morell's: while Morell compresses exterior and interior space, Heinecken's intersections collapse the commercial sphere and sexual desire.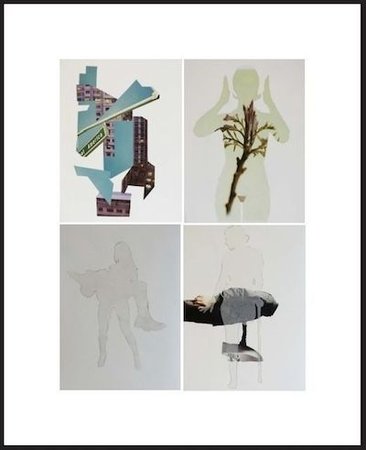 The terrifically influential Turkish artist Horasan, showing with Pi Artworks, achieves a similar balance between creepy and erotic beauty, digitally blending photographs and drawings into strange in-between, hybrid mediums—and worlds. A peeled open anchovy tin reveals a woman's back. A twig sprouts leaves inside another curvy figure.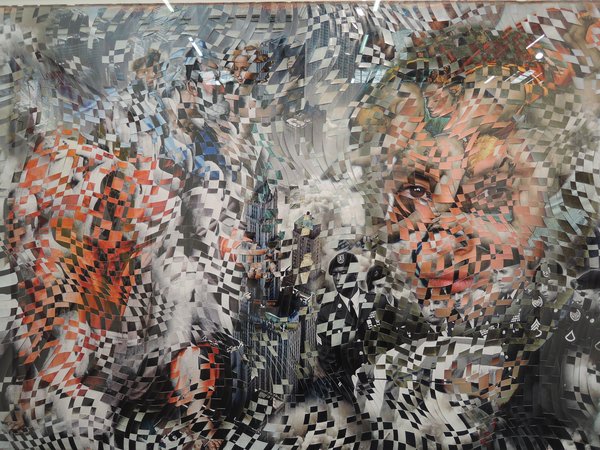 Dinh Q. Lê, showing at P.P.O.W., is doing something a bit different with his work that weaves together different strands of history—quite literally. One of the most prominent artists from Vietnam, Lê threads narrow strips of sliced up photographs (here, images from the Vietnam War, a Michelangelo painting, the Twin Towers) into a new textured whole.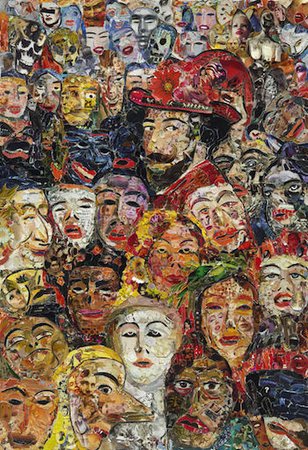 Likewise, Brazilian art star Vik Muniz, showing at Sikkema Jenkins & Co., impeccably reconstructs Western masterpieces by Manet, Carvaggio, and Carracci with thousands of magazine cutouts, on whose surface the eye might ricochet from items as different as Kate Moss's face, an ancient Egyptian tomb, and a tiny pincushion.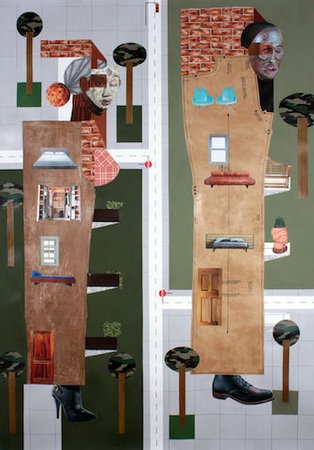 Something of a cross between the jazz-infused world of Romare Bearden and the mass-consumer landscapes of Pop artist Richard Hamilton, the abstract collages of Brooklyn-based artist Derrick Adams at Roberts & Tilton piece together an oddball mix of characters and places. The eye launches from one photo to the next in quick succession, a customary pattern of visual consumption today, like flicking through an endless reel of Facebook photos, Instagram feeds, Tinder candidates.
ATTACK!
Artists did some mean things to canvases in the late 20th century. Ushio Shinohara boxed with them; Andy Warhol peed on one; Sol LeWitt hammered nails into some; and Henk Peeters burned them. Nothing seems to wrest painting out of illusory pictorial realm more than inflicting a nasty blow to it.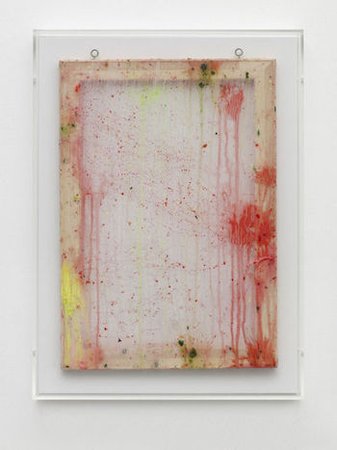 Maybe that's the point at the Armory too, where the aftermath of some damaging encounters were on display. Ken Okiishi—whose work you'll recognize from the third-floor entrace at the Whitney Biennial—here has fired paintball pellets at transparent surfaces, on display at Pilar Corrias.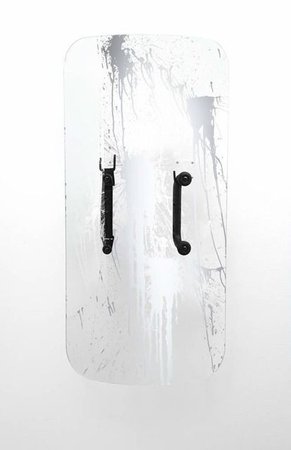 There also seems to have been some sort of futuristic warfare over at Kukje Gallery, where the Brooklyn-based artist Michael Joo's splattered slick body shields with silver drips and threads of paint.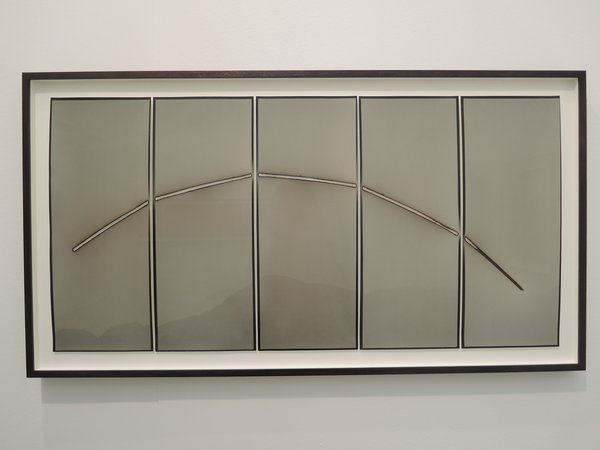 Meanwhile, Chris McCaw at Yossi Milo Gallery has burned the photographic surface in his "Sunburned GSP" series, where thin ashen slits cut across his muted surfaces, bringing a new meaning to the darkroom technique of dodging and burning.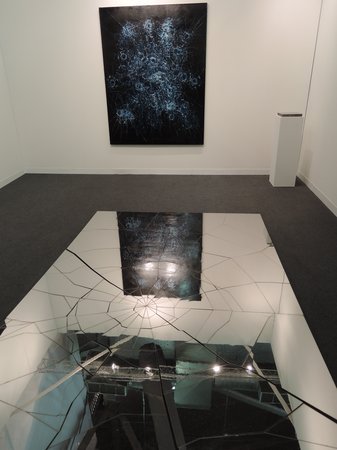 Over in the "Focus: China" section of the fair, Chambers Fine Art presents a fractured sculpture by Zhao Zhao. Inspired by a car crash, the work's web of cracks are like the broken widowshield of the accident. But with its rectangular dimension, the work strikes me more as a cracked iPhone display.
In fact, all of these examples are on slick, shiny surfaces: are the artists attacking the screens we are addicted to, wresting us out of illusory digital space?
FOOD, GLORIOUS FOOD
The Armory offers a glut of visual consumption, with works leveraging images of food to various ends: as indicators of desire, gluttony, sweetness, and other associations conjured by our favorite fuel.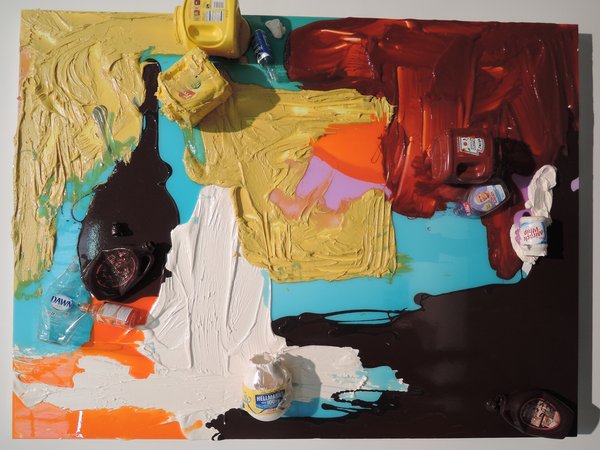 It looks as if Tony Tasset has smeared his canvas with an assortment of condiments.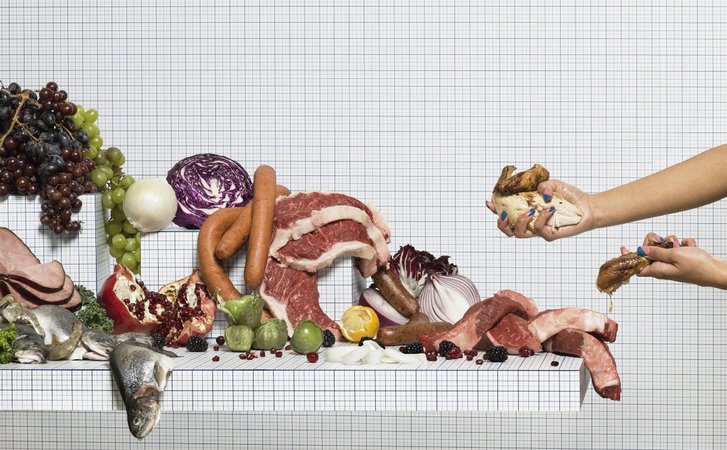 A grotesque feast is laid out across white millimeter-spaced graph paper in Charlie White's still life.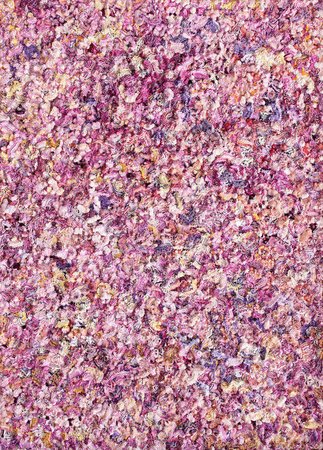 The commissioned artist of "Focus: China," Xu Zhen applies thick impasto paint to his canvases with a frosting applicator used for birthday cakes. Maybe art is too sweet, too easily consumed at art fairs.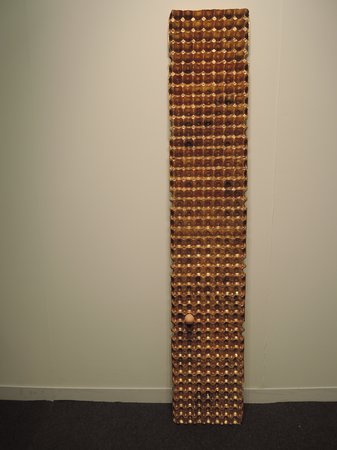 A single egg balances precariously in a waffle container in He Xiangyu's work at Whitespace.
CRYPTIC POETRY
The literary bent of the Whitney Biennial seems to have made an impression too at the Armory.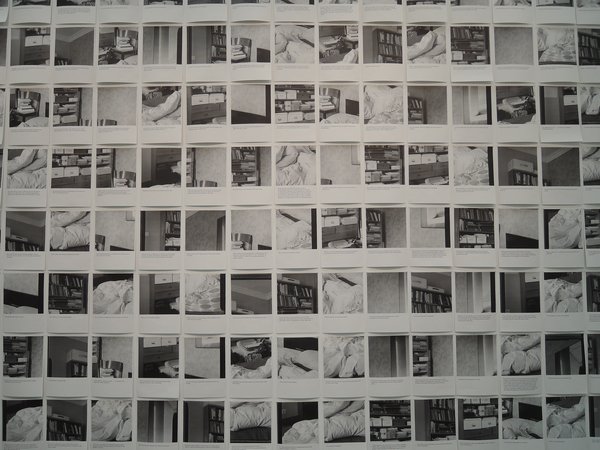 Hungarian artist Dénes Farkas at Ani Molnár Gallery explores the gap between language and action in his wall of annotated polaroid-sized pictures.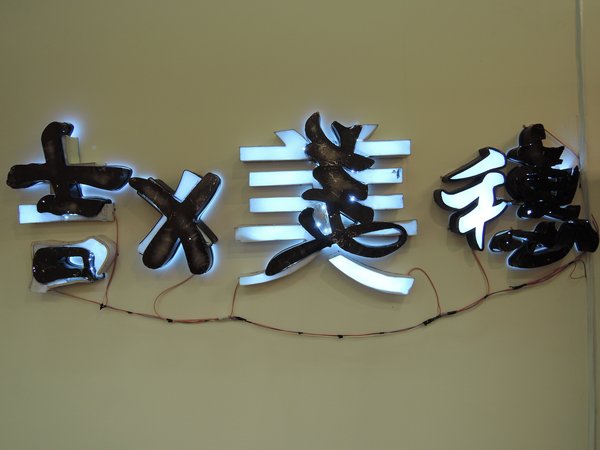 Scoot over Tracey Emin. Chinese artist He An writes words and phrases with cracked neon lights.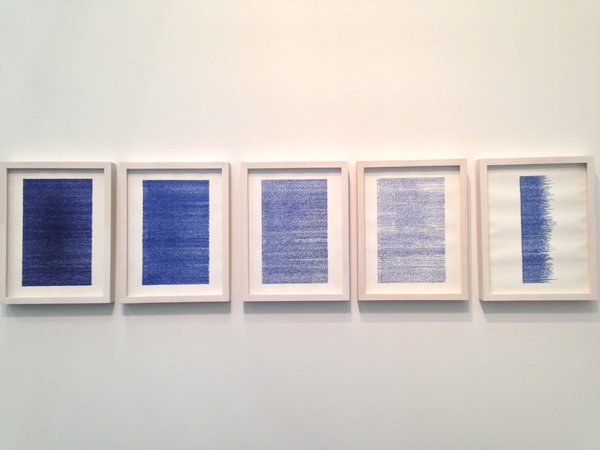 Nina Papaconstantinou's work makes dense lines of poetry illegible, executed in ballpoint pen.

Meanwhile, Hadieh Shafie at Leilia Heller has written notes in Farsi, folding and wrapping the paper into dense sculptures.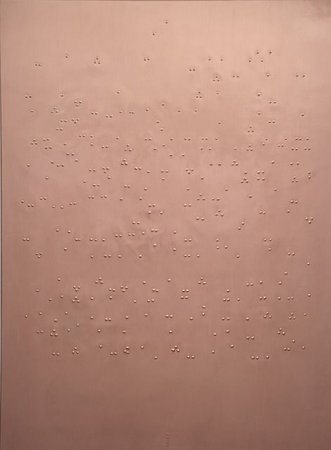 At the same stall is perhaps the most beautiful and elusive investigation of language and sensorial experience. Pouran Jinchi has hammered braille-like symbols into these copper panels in the 2014 series Hammered 1-5 (The Blind Owl).