Lives and Works
New York, NY
Education
Whitney Independent Study Program, New York, NY, 1973
BA Art History and Psychology, Columbia University, New York, NY, 1972
Based in New York City since the late 1960s, Walter Robinson has enjoyed a dynamic career as a painter, critic, writer, and editor, the last of which capacities he pursued as the founding editor of Artnet Magazine. Though his artistic practice has not yet achieved the same level of recognition as that of his peers (early colleagues include Pictures Generation artists Cindy Sherman and Richard Prince), Robinson is recognized for his deftly executed, colorful paintings. His work has been included in landmark New York exhibitions ranging from the downtown guerrilla "Real Estate Show" of 1980 to the recent "Bad Conscience" exhibit, which was held at Metro Pictures and curated by the artist John Miller. Robinson's style has been linked to Postmodernism and Neo-Expressionism, but perhaps most importantly, his painting project is concerned with the aesthetics of commodity culture. So being, the artist engages low consumer-oriented subjects along the lines of hamburgers, liquor bottles, Chase Bank, fashion models, cliché romantic scenarios, pornography, and the like.
"I want my paintings to insinuate the viewer into an economy of desire," explains Robinson. "The dynamic is like a feedback loop, with biological and social dimensions. You have imagery that is designed to sell, both by nature and culture, and you have objects—paintings—that are about the hungers they represent."
Robinson was born in Wilmington, Delaware in 1950 and grew up in Tulsa, Oklahoma. He moved to New York in 1968 to attend Columbia University, where he studied art history and psychology. After he graduated, in 1972, Robinson enrolled in the Whitney Independent Study Program, and during the 1980s, he was a member of CoLab. Robinson was a contributing editor at Art in America from 1978 to 1997, a cofounder (with Edit DeAk) of Art-Rite magazine in the 1970s, and the art editor of The East Village Eye through the 1980s. Later, he was the correspondent for "Art Gallery Beat" in the late 1990s and is the author of Instant Art History (Ballantine, 1994). He has exhibited his art at the New Museum and the Drawing Center in New York, among numerous other galleries, art fairs, and institutions. Robinson writes a regular column for the Artspace Magazine.
There are currently no works by this artist.
Follow
Walter Robinson
to get alerts when new works are added!
Articles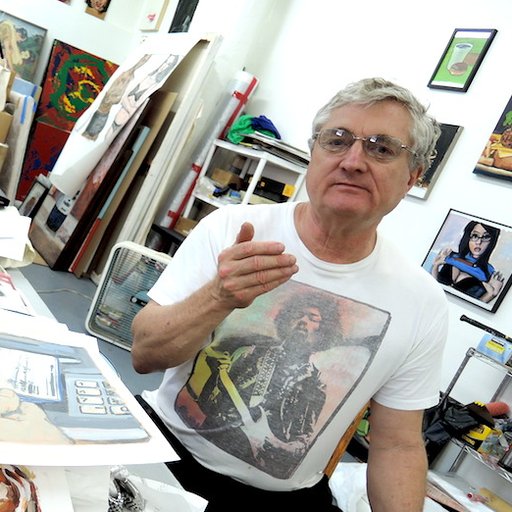 Artist-Critic Walter Robinson on Painting Desire