Since Trump became our President back in the dark, punishing November of 2016, the art world has been playing a cringey game of catch-up as it attempts to ascertain what role it played or didn't play in this particular cultural degradation. To a greater extent, creatives have been forced in the intervening years to grapple with the reach of visual protest under late capitalist neoliberalism—what change can a painting or sculpture really effect, anyway? A new brand of incisive 'wokeness' is starting to bubble to the surface of artspeak, however, one that requires authentic interrogation. At the foundation of this treatment lies a "follow the money" ethos, which has led to a variety of high-profile comeuppances for ultra-rich art benefactors. Just ask Warren Kanders, or the Sackler family, not that they've experienced any financial hardship as part of the pushback to their, uh, crimes against humanity. Still, is it all too little, too late? Or, perhaps more insidiously, does this new breed of moralizing revulsion amount to a well-intentioned but deeply willful misunderstanding of art history?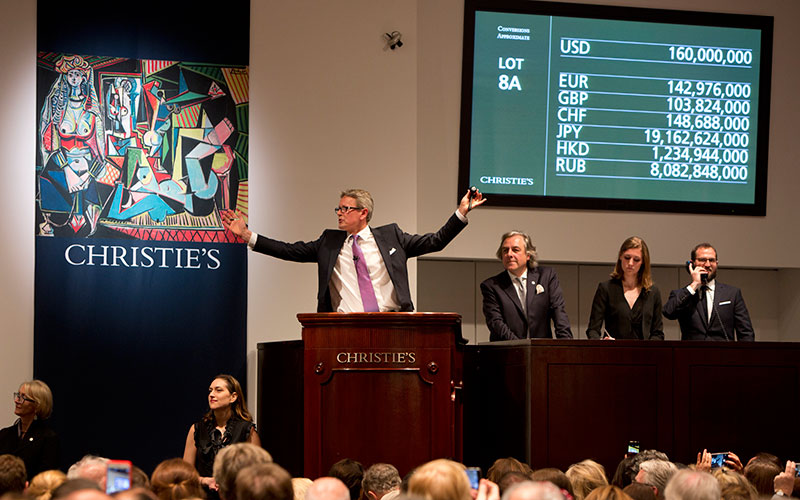 Christie's market floor via Christie's
In an unfocused, self-aggrandizing 2018 essay for Vulture, Roberta Smith's husband reviewed the art market documentary The Price of Everything through the lens of his own rarified Aspen dinner party interactions. After half-heartedly calling out a super-collector for voting Republican (a billionaire? Voting conservative? Shocking.) Mr. Roberta Smith recounted, "Down the table, meanwhile, it got worse. A woman married to one of the world's largest machine-gun manufacturers babbled about being adamantly against any kind of gun control. The three artists present, two gallerists and I were astonished and began arguing with this the group... but they all gawked at us like we were just dumb clucks who should shut up and stick to art." Later, he opined, "Probably more than half of all current collectors, advisors, auction people, and others in the art world are Republican. And voted for Trump".
Which...yeah. Of course.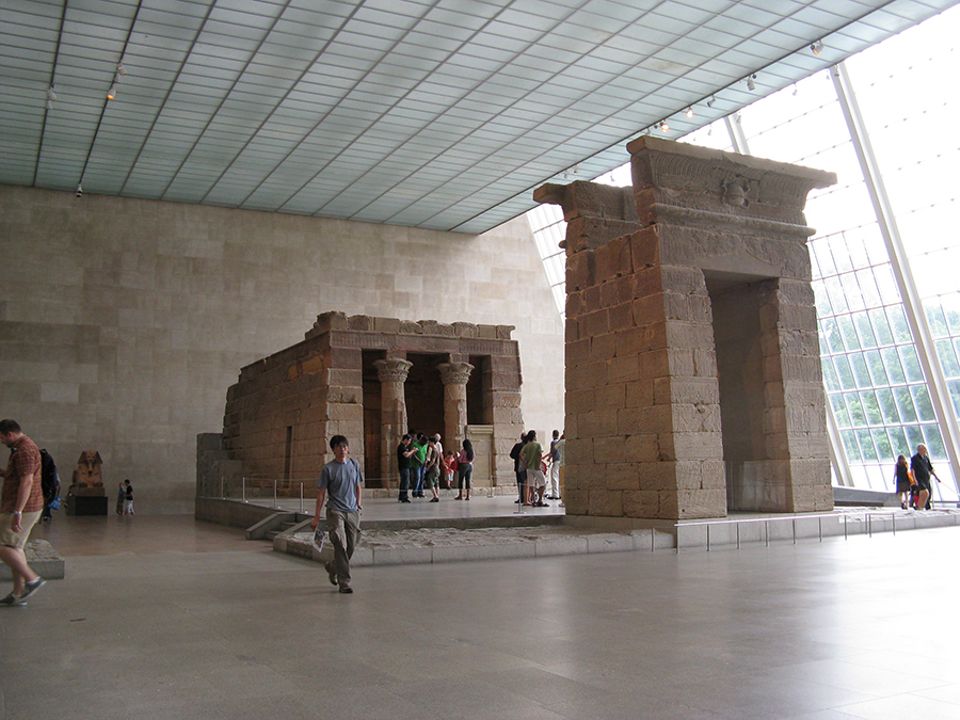 The Sackler wing of the Met via Art Newspaper
Why is it surprising that a woman whose fortune relies on the sale of AK-47s is an NRA member, and why is no one asking how she got at that table in the first place? Maybe because art is and has always been a luxury flex, a tool of the state, and a roundabout method of accrual exploited by the the power-hungry and ladder-climbing du jour. None of this is news. Even renaissance masterpieces were commissioned directly by the church or members of the nobility. In her book, Dark Side of the Boom: The Excesses of the Art Market in the 21st Century, Georgina Adam tracks the modern painting trade back to 17th century Dutch Republic, where the absence of monarchical or church patronage created a domestic genre painting open market. In the early 20th century, she further notes, Baron Joseph Duveen made a huge amount of money selling Old Master works he plucked from broke European aristocrats to American industrialists. The economic liberalization of China and India in the late twentieth century in confluence with the fall of communism in Eastern Europe gave rise not only to new, expanded markets, but also to a glut of private museums, which functioned not just as status symbols, but state-approved means for lucrative real estate development. It's notable that Christie's auction house was purchased in 1998 by the owner of luxury retail conglomerate Kering, whose lineup includes Gucci and Balenciaga. Cut to 2019, where Jeff Koons bunnies are selling for 90 million dollars a pop. This is a through-line, not a departure.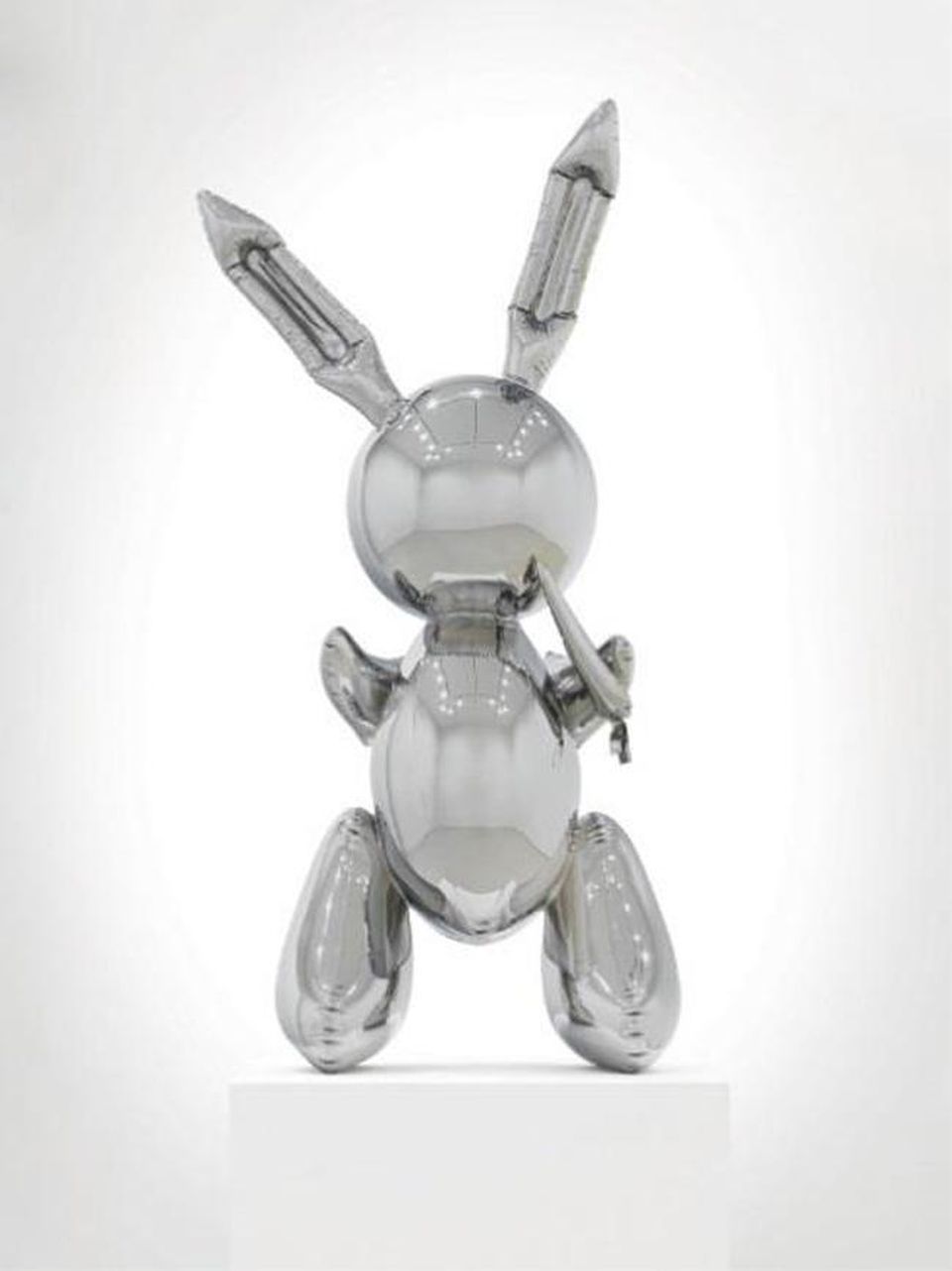 Jeff Koons' "Bunny" 1986 via Forbes
As such, the notion that art is a necessary public good in danger of corruption by financial black magic feels a little reductive. With this in mind, it seems useful to revisit the rise of the Medici dynasty, the 15th century banking family who were effectively responsible for both monopolizing and transforming Florence into the art and commerce center of the Western world for nearly three hundred years.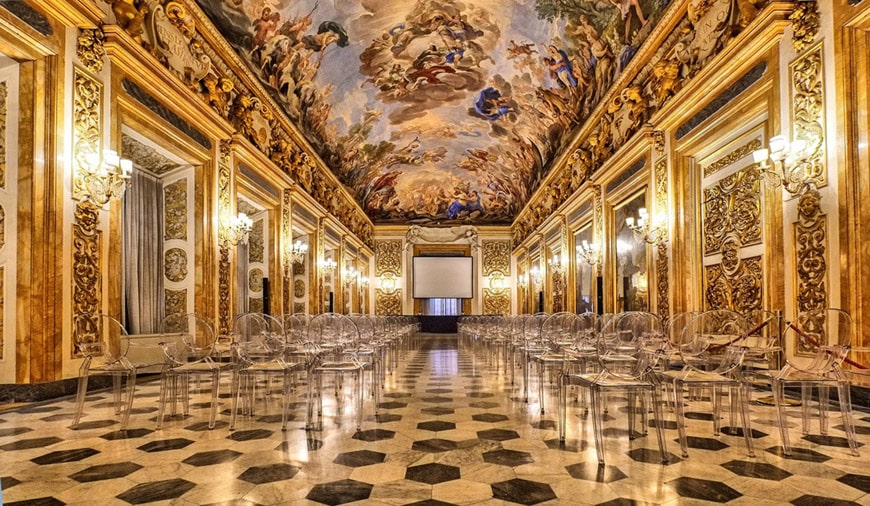 Medici Palace via VisitTuscany
In the middle of the fifteenth-century Florence, the Medici were at the height of their influence, lead by the visionary Cosimo, who had risen from relative Tuscan obscurity to a business magnate with matrimonial ties to the seated Pope. After his death in 1494, he was hailed by the Florentines as Pater Patriae, or Father of the Country, an identity that was bolstered by literally palatial displays of wealth. He was also responsible for connecting the family to the lay confraternity of the Compagnia de'Magi, a social club of well-to-do Florentines who fashioned their acts of social philanthropy after the three kings, a configuration that inspired one of the Medicis' first acts of artistic propaganda. Either Cosimo or his son, Piero, commissioned a circular panel of the storied Magi adoration by Fra Angelico and Filippo Lippi, an explicit depiction of the family as benevolent religious figures destined for greatness. This heavy-handed allegorical infusion of personal narrative with showpieces fast became a family tradition. Take Lorenzo de'Medici's childbirth tray depicting Petrarch's Triumph of Fame, or Lorenzo's eventual placement of idealized portraits in the opulent Florentine cathedral he bankrolled.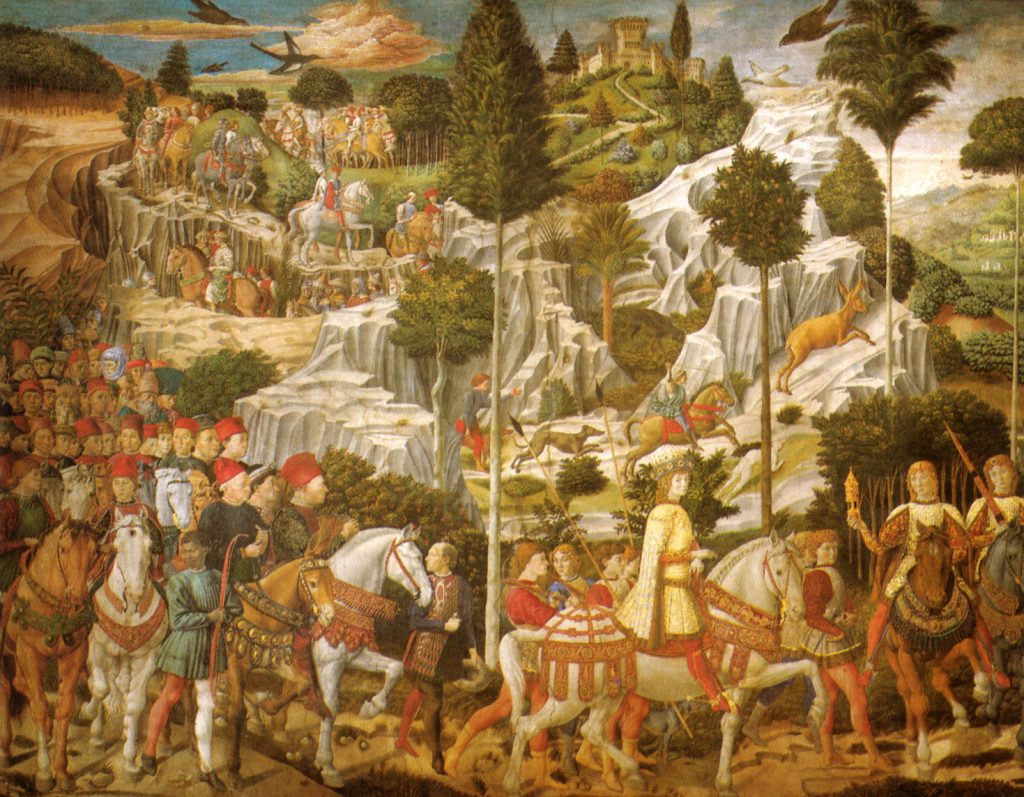 Fresco Cycle , Magi Chapel via Love From Tuscany
Medals, coins, outdoor statues, and fountains were created ad nauseum in the Medici family image, flooding every imaginable public space in the city. Michelangelo and Botticelli regularly stayed with the family, essentially rendering them in-house talent. Lorenzo, otherwise known as Il Magnifico, (subtle) often used art as a means of promoting foreign policy; bronze reliefs of Alexander the Great and Darius, King of Persia, were sent to then-King of Hungary Matthias Corvinus in hopes of furthering a political alliance. In 1513, Lorenzo's son, Giovanni de'Medici, became Pope Leo X, stationing the Medici line at the heart of Western culture, a position that amplified an already ostentatious relationship with art patronage. Enter pieces like the foot-washing earthenware bowls depicting the Medicis as gods, or the de'Rossi Sardonyx cameo displaying the Medicis' 'conquering hero' allure.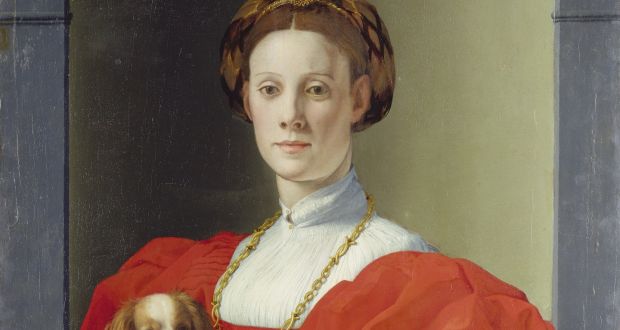 Lady in Red by Bronzino, 1525 via IrishTimes
The Medici patronage tradition reached a crescendo in the practices of Cosimo I, the first member of the Medici family to be crowned a Duke. His ascendancy to the rule of Florence in 1537 oversaw some of the most heavy-duty implementation of allegory of the era, like an outdoor cameo featuring Cosimo I and his wife, Eleonora, gazing up at a trumpeting goddess of Fame floating overhead. The cameo is a distinct reference to Imperial Roman frontispieces, making its subtext all the more clear. Cosimo I was not just a duke, but a deity, a supreme leader, and a demigod. The Medicis owned Florence, and their art patronage helped relay the message to any member of the citizenry with functioning eyeballs. In an era where literacy was a privilege few could afford, religious or mythological messaging was not only an essential tool, but an indispensable means of hegemonic consolidation. Parisian curator Nicolas Sainte Fare Garnot has noted, "The Medici needed images, particularly portraits, to establish their power. They used portraits as a propaganda weapon." And weapons, by the way, were a huge part of why the Medicis thrived; in the two brief periods (1492-1513 and 1527-1530, respectively) where Medici rule was interrupted by mutinous troops, it was a series of calculated usurpations and assassinations that placed family members back at the figurative helm.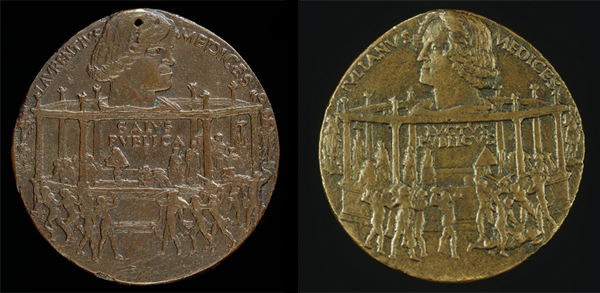 Medici Medals via Italian Renaissance Learning Resources
Suffice it to say, it was a Medici who created the proportional model for taxation, despite not holding any official political office at the time. It was a Medici who transformed the way lending, spending, and government involvement in banking functioned. The modern monetary system bloomed not just alongside artistic agglomeration, but directly because of the social capital it afforded those willing to utilize creative production for clout. In summation: Renaissance art was not merely an arbitrarily gorgeous collective outpouring of humanist ethos, it was a project of power, one that created a blueprint for our current deregulated, increasingly criminal art market climate. It's always been about the money, and the money has always been the symptom of larger, interconnected lapses in social ethics. Our role in dismantling these models begs to be tested.
RELATED ARTICLES:
Get Your Money, Girl: Meet Rosalba Carriera, The First Woman Artist Millionaire You've Never Heard Of
The Evolution of the Artist's Studio, From Renaissance Bottega to Assembly Line