Myths (derived from the Greek muthos , meaning "story"), are tales from a distant past. Telling of romance and tragedy, gods and heroes––myths depict an elaborate fantasy world–– from stories of the Cyclops, the one-eyed giant blinded by Odysseus, or the Minotaur, the half-man and half-bull who was born from a queen's seething passion. These ancient stories are fictitious in narrative, and yet, are they really so far removed from our everyday human experiences?
Mythologies of ancient civilizations are continually returned to and referenced. Says art historian James Cahill, in the introduction to Phaidon's recently published Flying Too Close to the Sun: Myths in Art from Classical to Contemporary , "[myths] are known to us through countless post-classical sources––Renaissance plays, Freudian psychoanalysis, Hollywood epics, Disney cartoons, advertisements, songs, sayings. And, of course, art."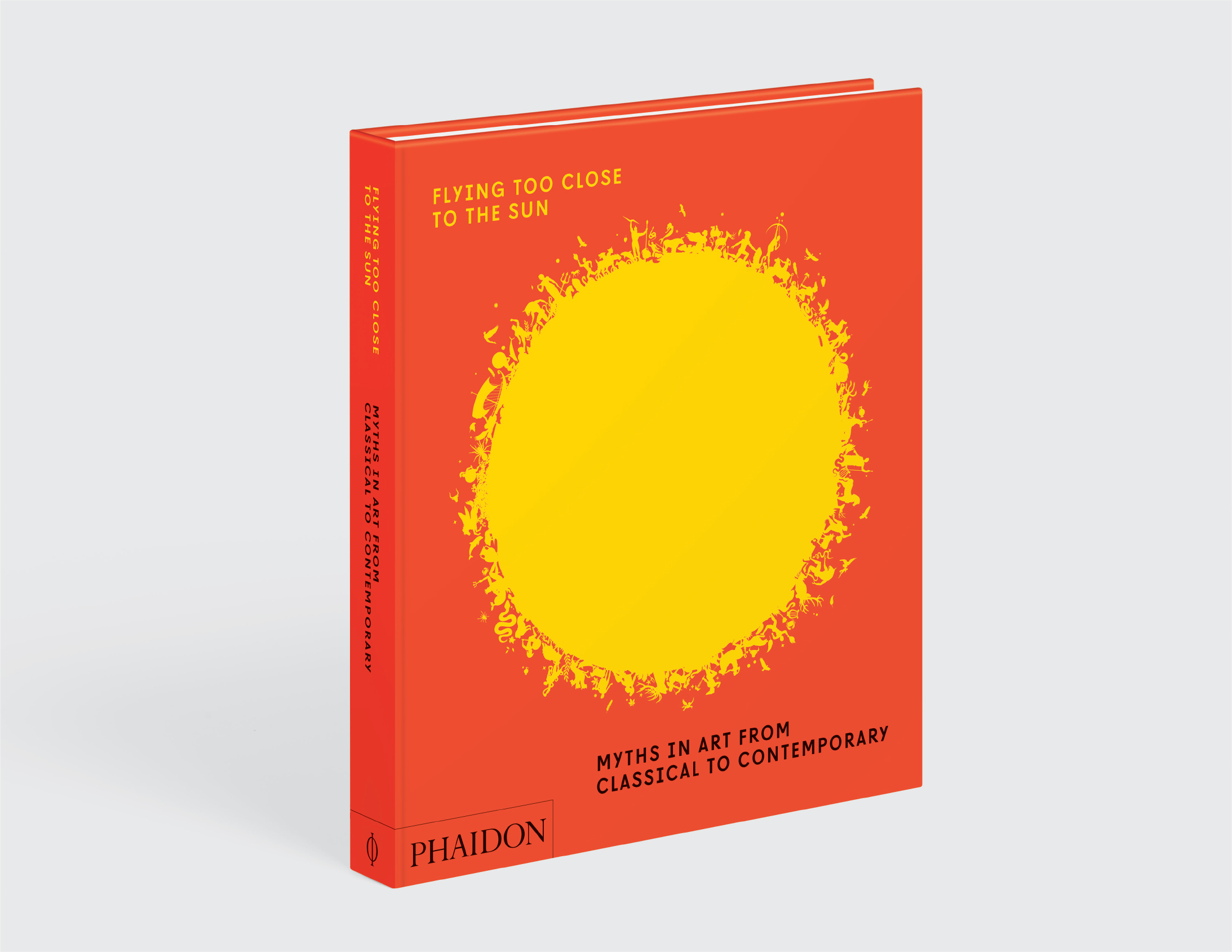 Flying too Close Too the Sun is available on Artspace for $59

Mythology is so prevalent in art because it resonates across time, embodying new forms while keeping a recognizable base. Like art, it has the capacity to compress past and present. Writes Cahill, "Human folly and desire are refracted into an unbelievable fable––a boy flying on handmade wings, say––but they are no less recognizable for that. Mythology demands to be transplanted into the present, reinterpreted according to present day ideas or anxieties. In the process, it offers a means of either cloaking or confronting real life––or both."
The following excerpts from Phaidon's Flying Too Close to the Sun, highlight the works of ten contemporary artists who found inspiration in ancient mythologies.
CHRIS BURDEN
Icarus , 1973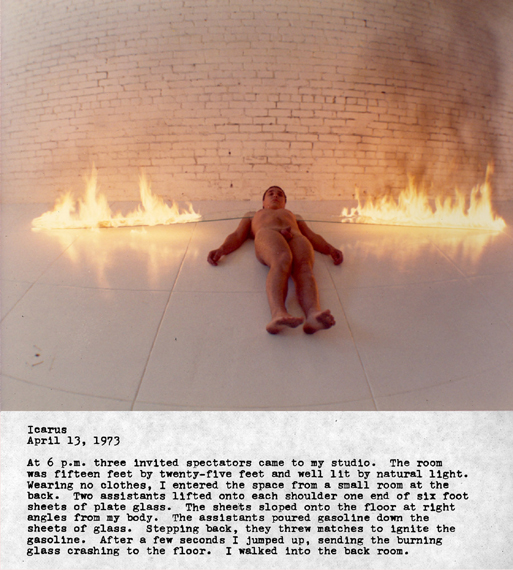 Image courtesy of the Gagosian Gallery
When Los Angeles artist Chris Burden (1946–2015) performed Icarus , assistants lifted on to each of his shoulders the end of a six-foot sheet of glass, with each sheet sloping to the floor at right angles to his torso. After spilling gasoline over the glass, the assistants set it alight. Within a few seconds, Burden jumped up, so that the burning glass crashed to the floor. Burden recorded his recreation of the moment when the sun destroyed Icarus' wings in his own words alongside photographs and '"relics"—the broken glass is now in the collection of The Museum of Modern Art in New York. The myth of Daedalus and Icarus is a warning against hubris, a warning not to mimic the gods—not to fly too close to the sun. For an artist who consistently pushed boundaries, this moral was of less pertinence than the potent image of the fiery wings, intended to shock an American audience desensitized by the horror of the Vietnam War. In the early 1970s, Burden set out to test the psychological and physical limits of the artist—most famously in Shoot (1971), when he had a friend shoot him in the arm with a rifle, but also crawling over broken glass ( Through the Night Softly , 1973), having himself nailed to a VW Beetle ( Trans-Fixed , 1974) and being kicked down two flights of stairs ( Kunst-Kick , 1974).
BRUCE NAUMAN
Feet of Clay, 1966‒7/1970/2007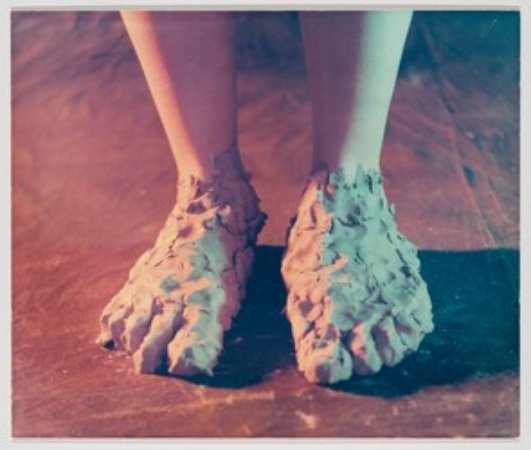 Bruce Nauman, "Feet of Clay," Image courtesy of the Whitney Museum of American Art
The origins of the phrase "feet of clay" are biblical, but the words can also evoke the mythology of the Titan Prometheus, who sculpted humans out of clay. This photograph by the American Bruce Nauman (born 1941) is taken from the series Eleven Color Photographs— including the better-known Self Portrait as a Fountain–– which explores the relationship between image and language, taking cues from popular puns and turns of phrase. To have "feet of clay" is to have a hidden flaw or character defect unbeknownst to those who admire you. Like others from the series, and indeed much of Nauman's output during the later 1960s, the image comprises a tightly cropped close-up of the artist's body, here covered in a roughly applied sheath of clay. A literal visual rendition of such a phrase counteracts its mythological associations and biblical origin, a typical inversion for an artist making photographic works with his own body in the studio, exploiting the banality of plain speech to explore the functions of language. This was an early work by an artist considered to be one of the most influential among a generation of post-Minimalists who emerged in the late 1960s.
DAVID MEDALLA
Cosmic Pandora Micro-Box, 2010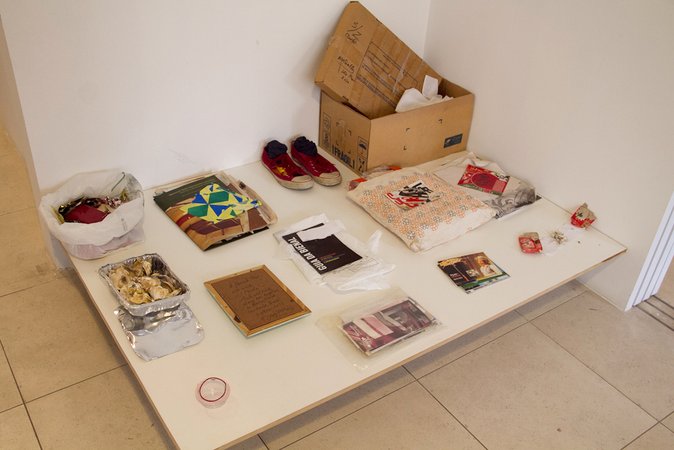 David Medalla, "Cosmic Pandora Micro-Box," Image courtesy of Newcity Brazil
During a residency in Brazil, the Filipino artist David Medalla (born 1942) collected objects that related to his stay, and displayed them as a collection. Some related to the artist's body––his socks, bunched neatly on top of his shoes; a foil package of discarded oyster shells, the flesh eaten––and others to his travels, including a wrapped bar of soap from a hotel, a jar of calligrapher's ink and pamphlets for exhibitions. A framed three-dimensional artwork entitled Paula , found on a street in Sao Paulo, also became part of Medalla's collection. Certain affinities can be traced among these ordinary objects gathered together, from form (circles, geometric patterns) to function (packaging, drawing). Presented with their container, an ordinary cardboard box, the objects act like relics, stand-ins for the artist's body as he negotiates unfamiliar territory. By referencing Pandora in the title of his piece, Medalla creates a link with the mythological box (or urn) from which the hapless woman released all the evils of the world. Here, though, the objects stand for the unexpected beauty of ordinary things, a whimsical and celebratory twist on the divine punishment of the gods.
RINEKE DIJKSTRA
Kolobrzeg, Poland, July 26, 1992, 1992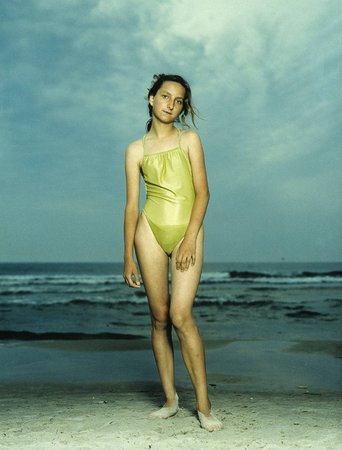 Rineke Dijkstra, "Kolobrzeg," Image courtesy of the Tate
Dutch photographer Rineke Dijkstra (born 1959) is best known for her Beach Portraits , a series of large-format portraits of children and adolescents made on beaches, mainly in Eastern Europe, between 1992 and 1998. Each is characterized by the intensity and directness of the subject's gaze; the consistency of the composition draws attention to subtle differences in clothing, pose and demeanor, perhaps inviting a consideration of the internal lives of these boys and girls at a transitional, awkward period of their lives. The curved pose of this Polish girl recalls the contrapposto stance of Venus in Botticelli's The Birth of Venus , a painting so famous that one might assume the reference is deliberate. It may be coincidental here––a fortunate accident of graceful awkwardness from a young girl confronted by the camera, at once self-assured and self-conscious, confident and vulnerable. Dijkstra has said of this series, "As I was looking for uninhibited poses, I didn't give my subjects much direction. By concentrating on the posture, gaze and gestures, these images result in something that resonates between the posed and the natural." Aphrodite, goddess of love, represents an ideal of female beauty in both classical Greek sculpture and Renaissance painting, but Dijkstra rejects this idealizing notion, using the objectivity of the lens to make a portrait that finds beauty in the real.
RICHARD PRINCE
Untitled, 2012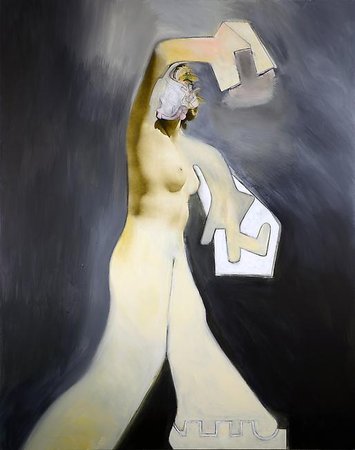 Image courtesy of the artist
Untitled, by the American Richard Prince (born 1949) depicts a softly lit female nude torso in grisaille inkjet print overpainted and extended with hefty, club-like appendages for arms and legs. One of the leading proponents of appropriation art emerging in the 1970s, Prince continually tests and reframes the power of visual codes, whether from advertising, popular culture or art history. The contrast established by the grafting of thick, pseudo-modernist growths onto photographic erotic nudes is one of gender, where both stem from art historical paragons of sexual difference. The voracious sexuality and hallmark stylization of Picasso's depictions of women are evoked by the abstract marks, speaking of a modernist painterly machismo, while the soft-focus female nudes establish woman as anonymous muse, sexual object and aesthetic ideal. Daphne's metamorphosis into a tree to escape lusty Apollo's sexual advances is echoed as the female torso mutates into abstract limbs, while the alternation of photographic and abstract modes creates a collision of genders defined by modernist art historical stereotypes. The image appears to sample definitive representations of Apollo and Daphne such as that by Baroque sculptor Gianlorenzo Bernini.
FELIX GONZALEZ-TORRES
'Untitled' (Orpheus, Twice), 1991
Feliz Gonzales-Torres, "Untitled" (Orpheus Twice) , Image courtesy of The Guardian
This work was made in the year that Felix Gonzalez-Torres (1957–96) lost his long-term partner to an AIDS-related illness, five years before his own death. The reference to Orpheus in the title, and therefore to the loss of his lover, Eurydice, is often interpreted through the artist's personal loss, while discouraging a solely autobiographical reading. The deceptively simple work comprises two identical mirrors that appear like doorways––to the Underworld? There is seemingly no narrative to the minimalist work, yet it is in a sense a staging of the myth itself. At any time, the viewer can only manage to find a single reflection, with the imagined second reflection out of reach––like Eurydice, the vanished other. The mirrors also obviously evoke the myth of Narcissus, but titling the work for Orpheus complicates this reference, bringing to mind the lesser-known part of the Orpheus myth, in which the loss of Eurydice leads Orpheus to reject heterosexual love in favor of homosexuality and eventually to his murder by Dionysos' maenads, angered by Orpheus' chastising of their promiscuity. Like much of Gonzalez-Torres work, 'Untitled' (Orpheus, Twice) is at once simple and complicated, serious and gently humorous, a formally beautiful yet politically charged piece––and a heartbreaking invocation of love and loss.
MARY REID KELLEY WITH PATRICK KELLEY
Priapus Agonistes, 2013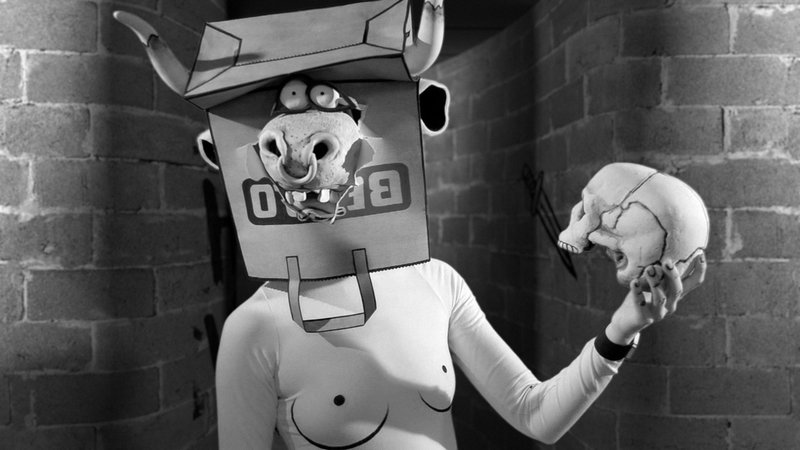 Image courtesy of The Samuel Dorsky Museum of Art
In Priapus Agonistes, the American artist-poet Mary Reid Kelley (born 1979) gives the Minotaur myth a female-focused reinterpretation, presenting the monstrous protagonist––the result of Pasiphaë's transgression with a bull––as half-cow, half-woman. Part of a trilogy exploring the story of the Minotaur's, the video parodies classical Greek drama in its use of a chorus and masks, while weaving references to contemporary popular culture, literature and religion into a multilayered tragicomedy. Kelley plays all the characters herself, employing props, wigs and cartoon-like costumes. Made in collaboration with her partner, Patrick Kelley, in black and white, the video combines drawing, animation and live performance with a bawdy yet erudite narrative in rhyming verse and spoken word. Priapus Agonistes opens with an annual volleyball match between rival church teams, in which the losers will be sacrificed to the Minotaur. In a labyrinth below the gymnasium, the cow-woman hybrid is depicted as a lonely, absurd figure who gets lost trying to find the lavatory. Deluded, she believes herself to be blessed with greatness and beauty and her victims' obscene graffiti to be admiring tributes. But beneath the bravado lies vulnerability; she questions her family's rejection. The video concludes with the erection-toting minor fertility god Priapus––full of smutty puns––stepping up to despatch the beast in place of the noble warrior Theseus.
DAMIEN HIRST
Metamorphosis, 2016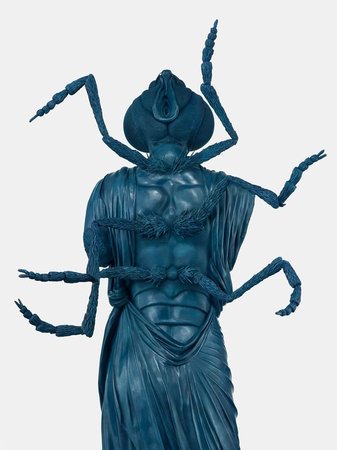 Damien Hirst, "Metamorphosis," Image courtesy of Artimage
In this sculpture, one of hundreds of artworks in the spectacular exhibition Treasures from the Wreck of the Unbelievable , held to coincide with the 2017 Venice Biennale, Damien Hirst (born 1965) twists the myth of Arachne, who was transformed into a spider after challenging Athena to a weaving contest. Here, the female figure has morphed into a monstrous fly: the insect's legs protrude from the young woman's back and from beneath her clinging classical drapery, and her head has been replaced by the multiple eyes and mandible of a fly. The artist has suggested that the Arachne myth "can be read as a parable on the power of art and the age-old antagonism between creativity and authority," and his transformation of the woman not into a spider but into a spider's victim tweaks the story further. The show itself is a rumination on fiction and faith, the artworks part of an imaginary treasure recovered from a make-believe ancient ship. Hirst's reworking of mythological figures and stories—from the shield of Achilles to Kronos devouring his children––in a contemporary exhibition that has been called cynical and nihilistic, a 'Discovery Channel pastiche' for the post-truth, alternative-facts world, nevertheless says a great deal about the enduring relevance of classical myth.
MAURIZIO CATTELAN
America, 2016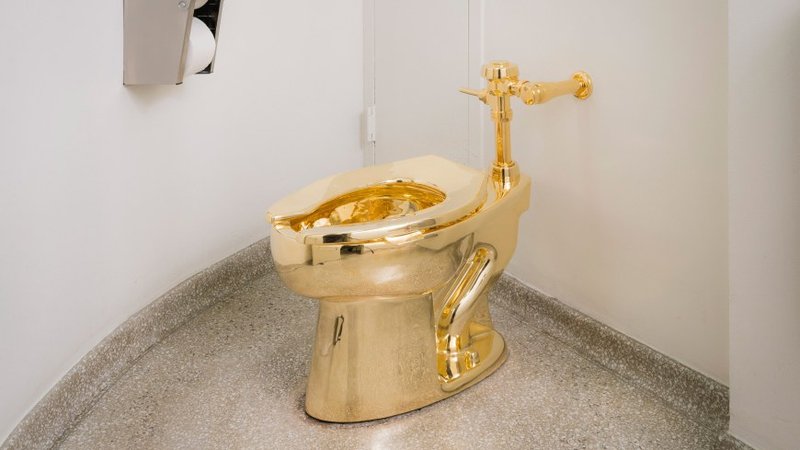 Maurizio Cattelan, America , Image courtesy of the Guggenheim Museum
Encouraging users to defecate on America is a typically bombastic gesture from the Italian artist Maurizio Cattelan (born 1960), who has built a career on such provocations, which are no less conceptually rigorous for their humor and sensationalism. The first work produced after five years of retirement, America was initially installed at the Guggenheim in New York and is an exact and functional facsimile of the institution's regular facilities cast in solid 18 carat gold. Located in a gender-neutral rest room, the participatory and interactive work was available for use by anyone visiting the museum during a near yearlong exhibition. Requiring cleaning every fifteen minutes, America was used by more than 100,000 visitors. Conceived in 2015, the year Donald Trump announced his bid for the United States presidency, the work was installed shortly before the successful conclusion of his election campaign. A man known for gilded real estate and golden fixtures, the work tangentially suggests Trump as a latter-day Midas while also making a strongly democratic gesture, affording the public an intimate experience that emphasizes the common humanity of our biology. Aside from its political connotations, America has a venerable art historical lineage, evoking associations with both Marcel Duchamp's Fountain (1917) and Piero Manzoni's Artist's Shit (1961).
JEFF KOONS
Gazing Ball (Ariadne), 2013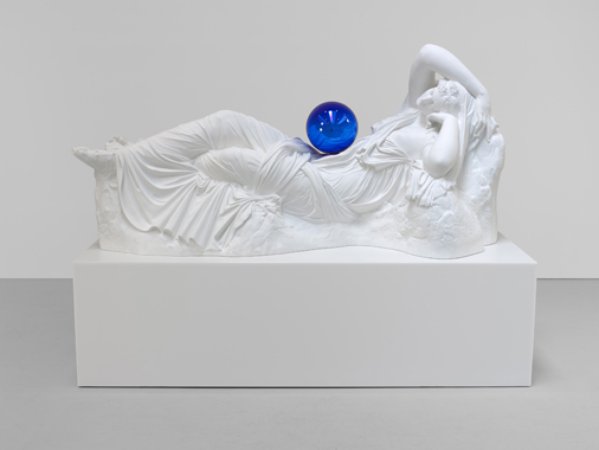 Jeff Koons, Gazing Ball (Ariadne) , Image courtesy of the artist
The Gazing Ball series is a parodic ode to Greco-Roman history via the genre of garden ornamentation. In it, Jeff Koons (born 1955) references celebrated ancient sculptures of figures such as Venus, Apollo and the centaurs, alongside decidedly non-classical objects including mailboxes and snowmen. Each pristine plaster cast is adorned with a reflective glass sphere. Gazing Ball (Ariadne) is modeled on the Vatican's Sleeping Ariadne (opposite), which was itself probably based on an earlier Hellenistic sculpture, now lost. Thought to depict the sleeping Ariadne abandoned on Naxos, the sculpture was installed in the early sixteenth century as a fountain in the Belevedere Courtyard. In Koons' version, marble is replaced by white plaster, a lighter, cheaper, swifter-to-reproduce material reminiscent of the ornaments one might find in a modern garden centre. To this Koons adds a decorative element inspired by suburban American garden fashions: the gazing ball. Hand-blown from blue glass, Koons' orbs are perhaps more evocative of those made on the islands around Venice than those mass-produced today for the lower end of the garden ornament market. The costly creation of a modern master of materiality and canny commentator on cultural consumption, Koons' Ariadne sleeps on, blissfully unaware of her precarious position between beauty and bathos.
RELATED ARTICLES:
How Duchamp, Kusama, & Basquait Take Selfies: 27 Contemporary Self-Portraits
7 Contemporary Drawings that Revitalize the Medium
[related-works-module]