Like all things, artworks sometimes get lost. Fire, theft, war, and even shipwrecks have been to blame for the disappearance of famous artworks—some of which resurface years later, some of which are lost forever. In Phaidon's recently released book The Museum of Lost Art, author Noah Charney unearths hundreds of lost artworks from antiquity to the present, along with the mysterious stories that explain why and how it all went wrong. In the excerpt fro the book below, read up on eight (mostly) contemporary artworks that made it into the "museum" of lost art.
ROBERT RAUSCHENBERG
Erased de Kooning Drawing, 1953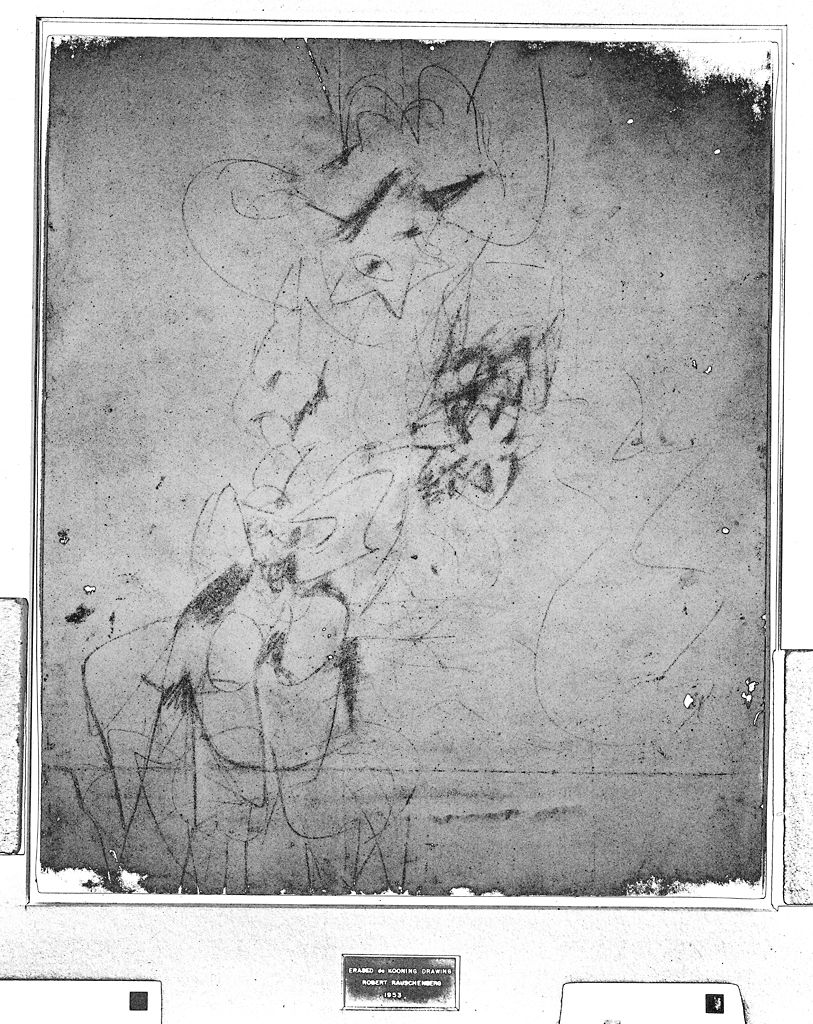 A digitally enhanced infared scan of Rauschenberg's Erased de Kooning Drawing, showing traces of the original drawing. Image via Artsy.
While traveling through Europe and North Africa in 1952–3, Robert Rauschenberg gathered interesting bits of trash to arrange in early collages of the sort that he would later call "combines," which would make him famous. He sold what he could, primarily through galleries in Florence and Rome, but rather than have to seek storage for them, or ship them back to his home in the Unites States, he dumped many of the unsold ones into the river Arno in Florence. Only thirty-eight from this period are known to survive. In 1953 he also did a sort of performance artwork in which he acquired a drawing by the Abstract Expressionist Willem de Kooning and erased it, calling the resulting blank piece of paper Erased de KooningDrawing. The San Francisco Museum of Modern Art catalogue entry for this work, which they acquired in 1998, reads "drawing… traces of drawing media on paper with label and gilded frame." There were no known photographs of the de Kooning drawing prior to its erasure, but the museum conservators used digital technology to enhance the traces of what had been erased.
Rauschenberg's action, which one writer described as "genteel iconoclasm," is loaded with symbolism. A collector is entitled to destroy art that he has legally purchased, but if an artist destroys the work of another artist, the result is a new work of art. In this particular case, de Kooning approved beforehand. Rauschenberg is said to have gone to de Kooning's studio and expressed his interest in erasing one of his drawings as an artistic act; de Kooning, intrigued, offered him one. In fact, the older artist played along eagerly, deciding that it was not sufficient to give Rauschenberg a drawing he would have discarded anyway, nor one in pencil, which was too easy to erase completely. Instead, he provided a multimedia work that included both ink and crayon. Rauschenberg devoted a month of off-and-on rubbing to get the paper mostly clear.
HEATHER BENNING
Field Doll, 2007 Heather Benning, The Dollhouse: Fire #2, 2013, Image courtesy of the artist, via Phaidon.
CHRIS OFILI
Captain Shit and the Legend of the Black Stars
One of the many artworks destroyed in the Momart fire. Image via The Guardian
A contemporary example of the destruction of art by fire occurred on May 24, 2004 in Leyton, east London, at the Momart Storage Warehouse, a space used by numerous artists and galleries for storage of artworks and archival material. Almost all of the contents of the warehouse (with a value of some 50 million pounds sterling) were destroyed, including works owned by the collector Charles Saatchi, works by William Redgrave (whose son, Chris, Salvaged thirty of 228 bronze sculptures stored there), works by Jake and Dinos Chapman, Chris Ofili, Gavin Turk, Damien Hirst, Tracey Emin and many others.
UNKNOWN
The Croatian Apoxyomenos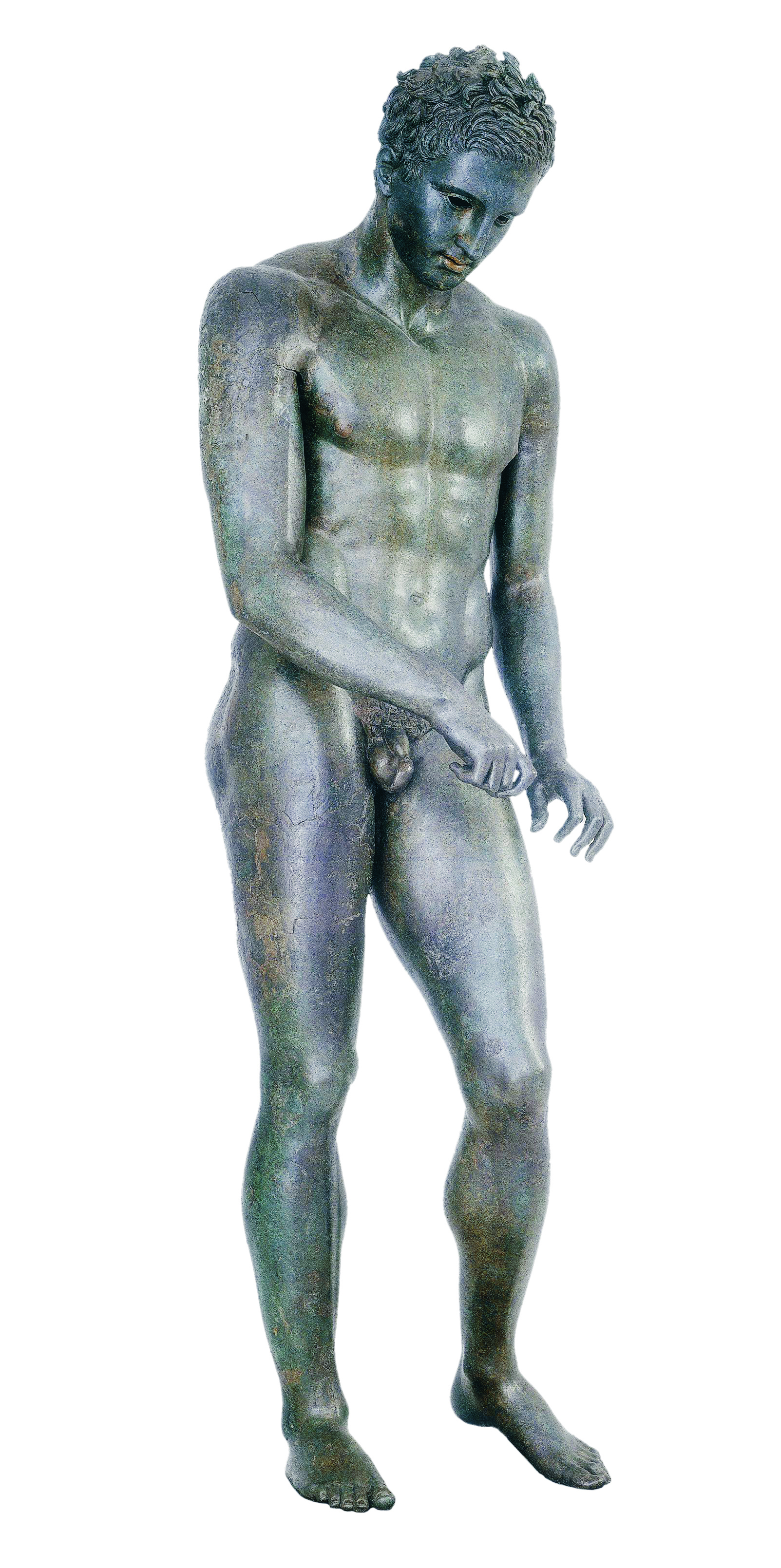 Photo: Alinari, via Phaidon
While fire almost always irreparably destroys art, water can both destroy and preserve it. We have water to thank for the salvation and preservation of countless sculptures of the ancient world. Metal artworks were all too often recycled—melted down like the bronze beams from the ceiling of the Pantheon portico, which Bernini appropriated to cast his monumental Baldachin inside Saint Peter's, or like the ancient bronzes turned by the Ottoman Turks into cannonballs. But bronze sculptures that were lost at sea, taken to the bottom in shipwrecks, remained preserved—often in an excellent state. Indeed, most surviving large-scale ancient bronze sculptures have been preserved through the good fortune of having been shipwrecked, for example the Croation Apoxyomenos, discovered in 1996 near the Lošinj in the northern Adriatic; the Riace Warriors, found off the Calabrian coast of southern Italy in 1972; the Artemision Zeus (or Poseidon), recovered from the sea off of northern Euboia in Greece in 1926; and others. Works of stone are also largely unharmed by centuries of even millennia submerged on the sea floor.
RICHARD SERRA
Titled Arc, 1981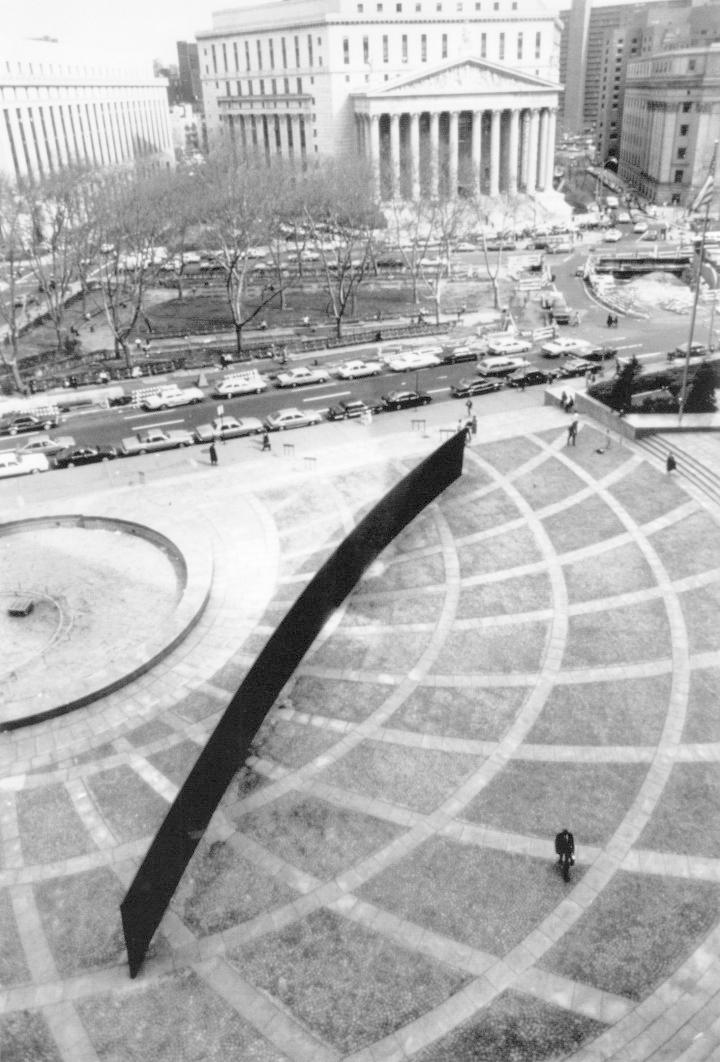 Image via publicdelivery.org
Richard Serra's 1981 Titled Arc was commissioned for the plaza in front of the Jacob K. Javits Federal Building in Manhattan, as part of the federal Arts in Architecture program. But the COR-ten steel ribbon, 120 feet long and 12 feet tall, was considered by many to be an imposition, requiring pedestrians to take a long tilted arc path around the sculpture, rather than simply crossing the plaza directly. It was removed in 1989 at the end of a high-profile trial in which Serra argued that Titled Arc's location was integral to its meaning, and that it could not exist if it were moved elsewhere. At a 1985 public hearing to discuss the issue, 122 people testified in favor of the work and 58 against it; those in favor included artists Claes Oldenburg, Keith Haring, and Philip Glass. It was a landmark case of artists arguing in court in support of another artist's work, with an air of the death penalty about it—the death of an artwork. A five-person jury voted 4-1 to remove the sculpture and, after an appeal, it was dismantled. It is said to be in storage, with the artist wishing it never be displayed again.
ROBERT SMITHSON
Spiral Jetty, 1970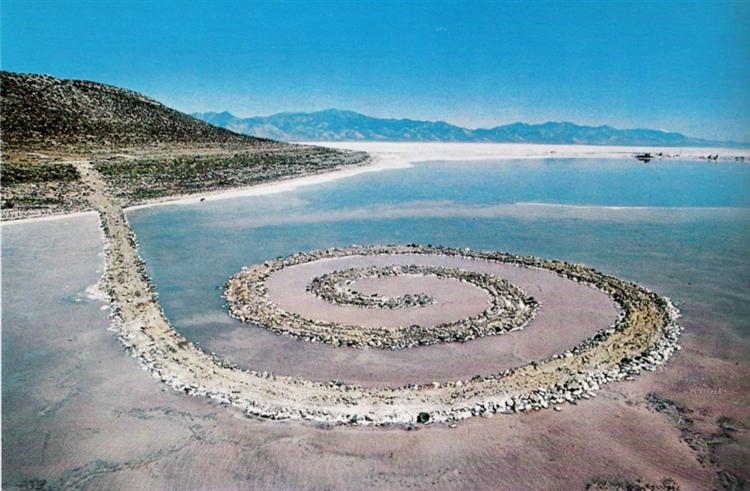 Image via wikiart
Off Rozel Point on the shore of the Great Salt Lake in Utah, a masterpiece by sculptor Robert Smithson is slowly vanishing. Spiral Jetty was built in 1970 of earth, water, the salt crystals that dust the lake like snowfall, and 6,650 tons of local basalt rock. From the sky, it resembles the tendril of a fern, or a bishop's mitre. Some 1,500 feet long and 15 feet wide, it was never meant to last forever. When wind, rain, and erosion have completed their work on his piece of land, it will disappear. Regular intervention could maintain it, but that was not Smithson's wish. By 1999, when Spiral Jetty was donated by Smithson's estate to the Dia Art Foundation, this work of art was lost. The waters of the lake hd risen, and the rock and earth from which it was built had eroded to the point that it was submerged. A few years later the waters receded, and it re-emerged after almost thirty years. Lost art found—only to be lost again. Smithson wanted nature to run its course. When it was ready to swallow to disperse his sculpture, so it should be.
KAZIMIR MALEVICH
Black Square, 1915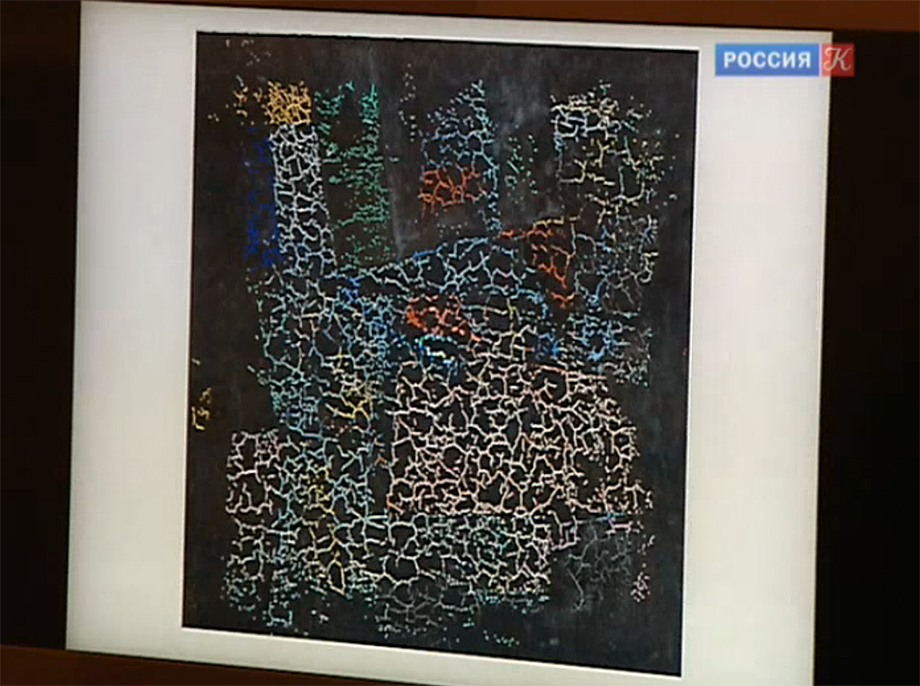 A painting underneath Black Square. Image via tvkultura.ru
In 2015, X-rays taken of Kazimir Malevich's iconic Black Square (1915; Malevich back-dated many works, so this date is debated) revealed not one, but two hidden paintings beneath it. The lowest, original image on the canvas is described as a colorful Cubo-Futurist work, with which Malevich experimented around 1910; the style melded the Cubist technique of fracturing an image into geometric forms seen from multiple points of view with Futurist concepts of breaking free from the past and striving for entirely new aesthetic vocabularies. On top of that painting, but beneath Black Square, a proto-Suprematist composition was revealed. Suprematism is the movement spearheaded by Malevich, which rejected representational art in favor of monolithic geometric forms—of which Black Square was the textbook example. Largely erased from the white space around Black Square, conservators also found a bit of Russian text in Malevich's hand, which seems to read, "Negroes battling in a cave." This has been interpreted as the concept behind Black Square, perhaps inspired by an 1897 painting, also a black square, by the French writer Alphonse Allais, entitled Negroes Fighting in a Cellar at Midnight.
WILLEM de KOONING
Women-Ochre, 1944-5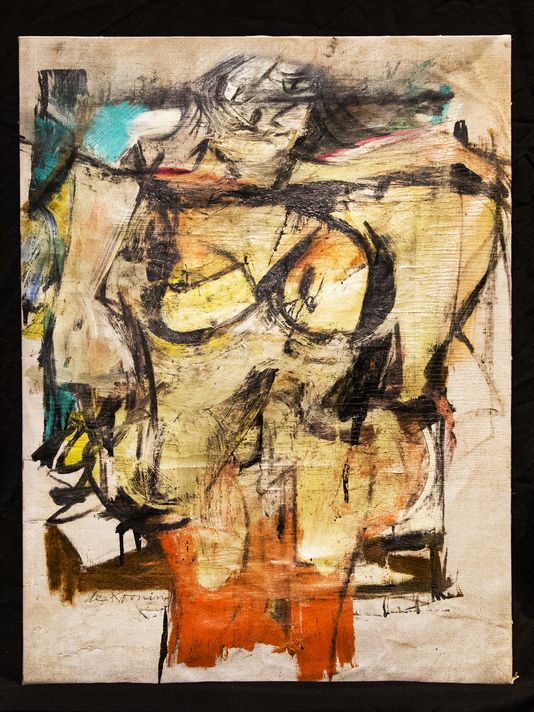 Image via AZcentral.com
There are some categories of lost art that allow optimism. Theft, above all, offers hope, as even thieves know that their stolen objects are of high value only if they are preserved. Police tend not to take seriously any threat to knowingly destroy an artwork if, for instance, a ransom goes unpaid, because unlike a kidnap victim, the artwork cannot tattle on the thieves if it is recovered, and obliterating the object renders it valueless—it's like setting fire to a bag full of cash, benefiting no one. Theft is always preferable to damage or destruction, because at least the object exists and may be found again. It happened as recently as the summer of 2017, when the owners of New Mexico furniture and antiques shop bought a painting as part of an estate sale. When several customers asked if it was a work by Willem de Kooning, they did some research and soon suspected that the painting was Women-Ochre (1944-5), which had been stolen from the University of Arizona Museum of Art in 1985. It had hung in a suburban bedroom in a cheap gold frame for thirty years. Valued at more than 100 million dollars, it is now back in display at the museum.
RELATED ARTICLE:
Are You Sitting on the Next Garage Sale Masterpiece?: 6 Fortunate Folks Who Unknowingly Found Famous Artworks