Art history doesn't always run in a straight line; movements, schools and influences in art come and go. A few years ago the serious, earnest style of abstract painting associated with Robert Ryman fell from vogue, in favour of figuration and deconstructive artistry.
However, as the art historian and author of Phaidon's new Robert Ryman book Vittorio Colaizzi, Assistant Professor of Art History at Old Dominion University, argues in this exchange, many in the art world are returning to the American artist's work to rediscover "painting's concrete self-evidence".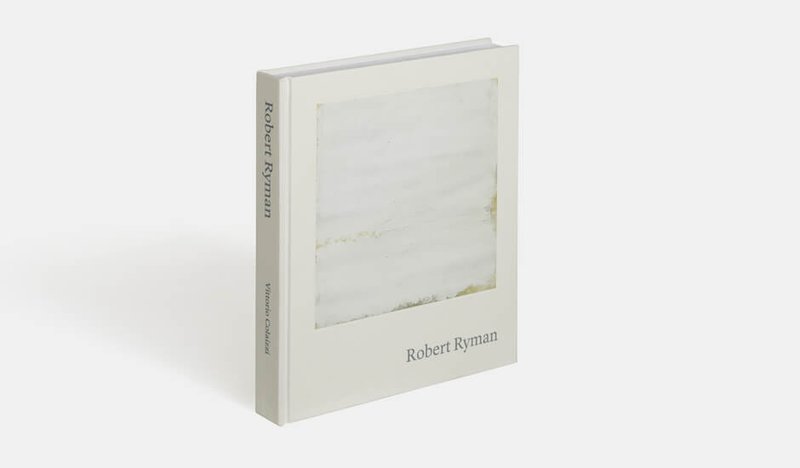 Robert Ryman by Phaidon. Available on Artspace for $150
On why the artist is just now gaining so much attention, Colaizzi says, "a number of abstract painters of various ages, some no longer living, are receiving deserved attention now, as we are realizing the complexity of the ongoing story of modernist painting. Even the narrative of the fractured narrative is fracturing, as modernist idioms in abstract painting such as gesture, color, composition, and barely veiled referentiality prove fruitful and vital. I am thinking of painters such as Marina Adams, Jack Whitten , Amy Feldman, Moira Dryer—more than I can name. We're in a period now when the deconstructive, parodic impulse has subsided, and painters are mining modernism for its values of asserting agency and privileging difficulty, even hermeticism, as productive ways of being, as ethical ways of being, because they are critical. And the political situation, certainly in America, demands that we remain critical.
"I wanted to show that Ryman is a pioneer and remains a model in the area of abstract painting that is historically grounded but not hamstrung, not paralyzed by irony and doubt brought about by the supposed end of modernism's project of distillation, which was never what it was about anyway. He practices modernism as an open-ended project of concentration and elaboration. (Unlike many others, I am not at all threatened or alarmed by Yve-Alain Bois's claim that he is the last modernist painter, because this condition of last-ness is a condition of modernism itself, that Ryman infuses with beauty, precisely through the unparalleled intensity of his simultaneous concentration and elaboration.)
"Taken together, Ryman's work makes us look critically at what we think we know about painting (that it should show something, a picture or story within its borders) and also at what we think we know about Ryman's work (that it is all white), because there is incredible variety in terms of colour and composition. Through the selections I made in the book, I of course want to accurately show the trajectory of his career, but I also want to show, through highlighting some of the more active and colourful works that occur over the years and that prefigure some of the idiosyncratic abstract painting being made today, I want to show that Ryman is not the white-painting-guy, but a painter committed to revealing, and indeed savouring painting's concrete self-evidence, which unfolds in space and time, but which is nevertheless elusive."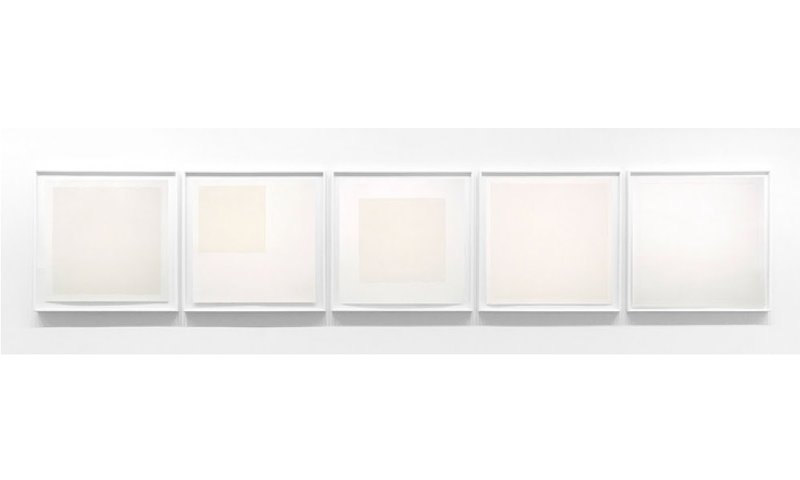 Four Aquatints and One Etching (1990-1991) is available on Artspace for $40,000 - $50,000
Some casual gallery goers still find Ryman's paintings difficult to engage with. What's the solution? We asked Colaizzi and he came up with a novel suggestion, as he explained to us below.
"He would definitely not like this answer, but for the unfamiliar or sceptical viewer, the best way to approach Ryman's work is to think of it as sculpture. What do we value in sculpture? The relationships of forms and materials in real space; contrasts of texture, scale, even of colour (of materials). In Ryman's work you get all this, in a relatively low relief. What is not immediately apparent is what we usually expect from painting: imagery. This is why people feel cheated. They feel that the accomplishment of a painter rests on her or his ability to invent and render an elaborate visual anecdote.
"Ryman's invention takes place in both a conceptual (pardon the clumsy term) and a performative realm. He re-orients what painting can be (conceptual), and with each painting, he executes (performative) a unique object, whose uniqueness comes from the particular nature and sequence of paint application. I believe Robert Storr was the first to compare this to separate performances of the same musical score.
"Ryman asks us to "see painting" in another way. This is a phrase he uses, which I cite in my introduction, "The Seeing of Painting." And this is why he would not agree with my advice to—only initially—approach the work as sculpture. Because once you can see that there is not nothing, but something to see, an assemblage of worked material, then you can recognize that this is painting. It is the application of paint in such a way that leaves clear traces of itself, calling attention to, not a fictional space constrained within the picture plane, but a space on and around the receptive plane that is continuous with the space we inhabit.
"But this isn't enough. Ryman has been upping the ante from early in his career by, alongside his usual all-over approach, occasionally applying the paint in concentrated areas, appearing to make shapes, which would seem to resolve into pictorial relationships of abstraction (a term Ryman finds unsatisfactory).
"This is an aspect I emphasize in my book that I think no one else has, and it serves as a kind of answer or other side of the coin to Yve-Alain Bois's brilliant analysis of Ryman's non-compositional approach, whereby the lingering abstract expressionist subjectivity that still haunts his painting is regulated into orderly rows and preordained processes.
"However, because of the variations and sheer beauty of the whole endeavour, the pure objectivity that was part of modernism's longstanding ambitions is never attained. That's a quick paraphrase of Bois's argument from around 1981, and he has subsequently emphasized Ryman's beauty and material experimentation. In any case the imperative, within abstract painting, to somehow supersede invention through a systematic approach, remains; we see it in the galleries today. I argue that Ryman's urgent relevance to contemporary painting is that he makes strange and wonderful images by attending only to the process of painting, by not fretting about the image.
Ryman's towering body of work is all the more impressive when you consider that he moved to New York not to paint, but to play jazz. How did a young music fan become one of the USA's most influential artists? Colaizzi explains.
"No reasonable, practical, mature adult would waste years of his life and untold amounts of money on supplies to make things that are on the border of non-existence as art, as painting. Ryman's single-minded commitment to his vision is in opposition to cultural values of economic productivity that have been in place for centuries.
"He did not get discouraged by his own obscurity and the indifference of the art world to his work from 1952 to 1967, when he had his first solo exhibition at the Bianchini gallery. It is true that he appeared in some group shows in 1965 and '66, including "Systemic Painting" at the Guggenheim, and tarried with some Tenth Street co-ops in the 1950s, but it was not until the late 1960s that the attention he received, especially from European curators got his public career going.
"I honestly don't know how much he was already predisposed to be dogged and indefatigable—it is pretty gutsy for a 22-year-old from Nashville, Tennessee, fresh out of a stint in army consisting of band concerts across the southern U.S., to hop on a bus to New York to pursue his dream of playing the jazz saxophone—but he has credited his instructor, Lennie Tristano, for instilling the value of commitment to one's art over careerism.
"I kind of answered that question backwards. He came to New York to play jazz, got a job as guard at the Museum of Modern Art, became inspired by the paintings he saw there, and made the switch from music to painting, but not, as I argue, without retaining a time-based approach to painting as an activity-in-itself rather than as a means to an image. After his early, self-taught and precocious abstract expressionist paintings resolved into the first recognizably Ryman-esque conglomerations of multiple white strokes in the late 1950s and early 1960s, his work was unmanageable both to recently-canonized gestural painting and dawning minimalism, because of its bluntness, and so he soldiered on. It is only years later that these paintings became visible."
Colaizzi's book Robert Ryman is available on Artspace for $150.