The following is excerpted from Phaidon's recently published Steve McCurry Untold: The Stories Behind the Photographs , the only book to tell the fascinating stories behind McCurry's most iconic photographs. It explores the travels, methods, and magic that gave birth to his evocative images, delving deep into the true stories behind McCurry's most important assignments for National Geographic and beyond—including his reunion with the now-legendary 'Afghan Girl'. Each story includes McCurry's first-hand account alongside specially commissioned essays, ephemera, and personal photographs from his private archive.
Few people know the name of Sharbat Gula, yet her image is instantly familiar. Steve McCurry's photograph of the young refugee, taken years before even he learned the name of his subject, came to sum up the tragedy of Afghanistan and the dignity of its people in the face of war and exile. The image, known simply as The Afghan Girl , eventually became the most recognized photograph in the history of National Geographic magazine, after it appeared on the cover in June 1985.
Steve McCurry's relationship with Afghanistan is densely interwoven with his career as a photographer. In 1979, the 29-year-old met two mujahideen fighters in northern Pakistan and secretly accompanied them across the border to photograph the civil war developing in Afghanistan between insurgents and the Soviet-supported government in Kabul. The images that emerged launched his career as a documentary photographer, and subsequent trips to the Afghan war zone resulted in his being awarded, in 1980, the Robert Capa Gold Medal for best photographic reporting. By 1982, the conflict was routine headline news, and McCurry was firmly established in many editors' minds as the photographer of choice to cover it. Then in 1984, while he was traveling across the subcontinent working on projects covering the monsoon and the Indian railways, he was approached by National Geographic magazine with an assignment to photograph a feature article exploring the increasing numbers of refugee camps that had grown up along the Afghan-Pakistan border. Later that year he journeyed to the Northwest Frontier Province of Pakistan, and from August to November explored many of the 30 or so refugee camps that had been set up just outside Peshawar.
Steve McCurry in monsoon floods, Porbandar, India, 1983. © Steve McCurry/Magnum Photos via Phaidon.
Some of the camps had been in place for years, but they still offered little in the way of protection from summer heat or freezing winters. Families often lived five, six, or seven to a tent or hut, with miles to walk for water and only small fires to keep them warm. Yet, as McCurry's pictures show, life went on—Turkoman refugees continued to make traditional carpets, selling them on the streets of Peshawar, and temporary classrooms were set up in tents. Despite these efforts by the camp-dwellers to establish a routine and some sense of normality in their day-to-day lives, the war across the border was never far away. Hospitals set up by the Red Cross treated a steady stream of refugees, and a number of rehabilitation centers tried to help those who had lost limbs, usually to land mines.
As McCurry walked around the Nasir Bagh refugee camp, he heard young voices coming from a tent and realized it was being used as a girl's school, with a class in progress. He peered in and asked the teacher if he might be allowed to observe and take some pictures. She agreed. As he surveyed the group of students he noticed off in a corner one particular child with piercing eyes. "I spotted this young girl, whose name I learned years later was Sharbat Gula. She had an intense, haunted look, a really penetrating gaze—and yet she was only about twelve years old. She was very shy, and I thought if I photographed other children first she would be more likely to agree because at some point she wouldn't want to be left out." McCurry took pictures of two girls, waiting for the portrait he was really interested in. "There must have been about fifteen girls there. They were all very young, and they were doing what school children do all over the world—running around, making noise, and stirring up a lot of dust. But in that brief moment when I photographed Gula I didn't hear the noise or see the other kids. It was very powerful." The connection was a fleeting one. "I guess she was as curious about me as I was about her, because she had never been photographed and had probably never seen a camera. After a few moments she got up and walked away, but for an instant everything was right—the light, the background, and the expression in her eyes."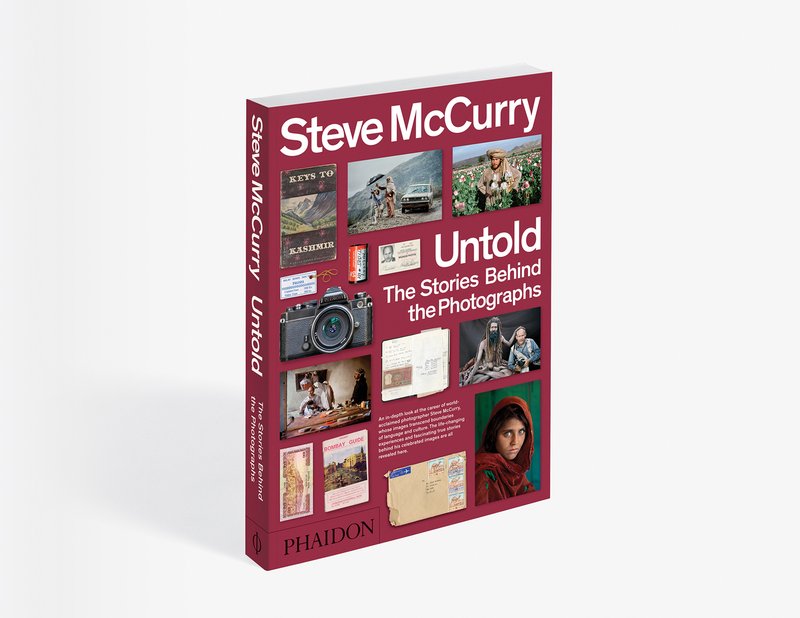 Steve McCurry Untold: The Stories Behind the Photographs is available on Artspace for $39
McCurry's iconic approach to photographing people is encapsulated in this portrait. He meets his subjects face-to-face, close enough to forge a connection, however fleeting. "I like to work with people, not take pictures surreptitiously. It's important to establish a relationship of courtesy and interest, to get close enough to look a person in the eye and speak to them. The eyes are so expressive; they say so much about who a person is and what they're going through. I want them to look right at me so that contact with me becomes contact with the people who will see the photograph." McCurry knows the enduring power of a portrait to reach out to the viewer, to connect with another person across time and space, but in addition to suggesting physical closeness his photographs also illustrate technical mastery. "I like to work in low light and shadows, and I tend to underexpose in order to obtain richer, more saturated colors. Where there's a somber feel to my photos, it's deliberate. I like a rich, dark look."
It was not until McCurry returned to New York and saw his image of Sharbat Gula that he realized how strong it was. "There's a quality to the picture, an ambiguity in her expression, that is intensely striking. Not quite a smile, not quite a frown, a mixture of curiosity and wariness in her eyes that people respond to." The image was not the only photograph McCurry took of the little girl. "There was another frame," he recalls, "that National Geographic was going to use." The picture editor had originally wanted to publish a picture of Gula holding up her shawl to cover the lower part of her face, but still revealing her remarkable eyes. It was a less haunting image, capturing a vivacious spirit common to children around the world. But Bill Garrett, the magazine's editor at the time, always reviewed the 'seconds'—photographs that had not been chosen for publication by the picture editor. He said, "I remember clearly, Steve's now famous Afghan girl picture was in the 'seconds.' As soon as I saw it, I just knew it was an amazing image." Garrett overruled the picture editor's selection, and McCurry's photograph appeared on the cover. Garrett recalls, "Readers loved it. The response was immediate. Steve took this young girl's picture one morning in a refugee camp in Pakistan, and he created an image that has captivated millions of people around the world. Those haunting green eyes just stared out from the magazine cover, capturing the girl's plight and our gaze."
© Steve McCurry/Magnum Photos via Phaidon.
There are a number of images in the history of photography that have caught the public imagination and became something more than just the record of a moment. These photographs connect with the viewer in a deeply emotional way and have the ability to keep doing so with each new generation—photographs such as Robert Capa's Death of a Loyalist Soldier , 1936, Dorthea Lange's Migrant Mother , 1936 or Alberto Korda's Che Guevara , 1960. The Afghan Girl , the title by which McCurry's photograph was known before the subject's name was discovered, has achieved a similar status. For millions she represents the suffering of children in war and the consequences of conflict on ordinary people; but at the same time it is an image of resilient beauty, radiating out of the appalling conditions in which she has found herself. There is a subtle mixture of strength and vulnerability about the portrait. In one sense, a child returns McCurry's gaze; she appears almost bewildered at having her picture taken. As McCurry says, "Her exact emotions in this picture have always been a bit of a mystery, and you could read the portrait in numerous ways." It is that multiplicity of readings—a quality of all iconic works—that sustains repeated viewings, each time offering the viewer something new. It is no surprise that the portrait has been referred to as a "modern Mona Lisa."
Seventeen years after his visit to the refugee camps, McCurry returned with a National Geographic Television film crew to some of the locations he had photographed for the 1985 article, with the idea of trying to track down the Afghan Girl. The terrorist attacks in the United States on September 11, 2001, and the invasion of Afghanistan the following month, had brought renewed tension to the region, but in January 2002, after months of gathering information and arranging contacts, McCurry and the team arrived in Pakistan. The refugee camp near Peshawar where McCurry had photographed Sharbut Gula was due to be demolished, and they realized they had begun their search just in time. They started by showing the photograph to tribal elders and camp authorities, and as word spread, several women came forward claiming to be the girl in the picture, clearly assuming that there might be some financial reward involved. "We found one girl whom most of the crew was the Afghan Girl. I wasn't so sure. Her eyes were dark brown, and the Afghan Girl's eyes were green. Then I remembered the small scar on the Afghan Girl's straight nose, visible in the photograph. This girl's nose was shorter and flatter and didn't have a scar."
As the search continued, McCurry and the Pakistani journalist Rahimullah Yusufzai, who was the same Pashtun tribe as the camp residents, talked to hundreds of people. They heard rumors that the Afghan Girl had died or been killed, and McCurry and the team were on the verge of giving up when a man claimed not only to remember the girl but said, "I know where her brother, Khashar Khan, lives." He said that the girl—now a married woman—was in one of the most dangerous areas of Afghanistan, near the caves being shelled by American forces, but he agreed to try to bring her and her brother across the boarder. After a hazardous ten-hour journey, Sharbat Gula and her family arrived in the small village where McCurry and the documentary team were waiting.
[related-works-module]
Local custom dictated that one of the few women on the production team meet with her first. As soon as the associate producer entered the small, dark room where they were to speak, she saw the woman's bright eyes and knew that this was indeed the schoolgirl that McCurry had photographed in 1984. She discovered that the woman's name was Sharbat Gula, which means "sweet-water flower girl" in Pashtu, and she negotiated with the family to allow McCurry to meet and perhaps photograph her. Despite the photographer's feelings of elation and relief at finally finding the subject of the image that for almost 20 years had been one of the key works in his oeuvre, he did not spend long with Sharbat Gula. "Our conversation then was brief, and unemotional. She remembered me, because our last meeting was the only time in her life she had ever been photographed, and I was possibly the only foreigner she'd ever come in contact with. When she saw the photo for the first time, she was a little embarrassed by her red shawl. A cooking fire had burnt it, she said. I explained how so many people had been moved by her picture, and I think she was pleased, but I'm not sure the photograph or the power of her image really meant that much to her or was entirely understood. Magazines, newspapers, television are not part of her world. Her parents had been killed, and she had lived in a very sequestered life; she didn't really have any contact with people outside of her husband and children, in-laws and local friends. Her reactions at the time seemed to be a mixture of indifference and embarrassment, with a bit of curiosity or bewilderment.
McCurry explained to Sharbat Gula how famous the original image had become and how a follow-up image could update the world about Afghanistan's continuing plight. Eventually, she agreed to be photographed again. McCurry recalls being shocked by her appearance as she removed her veil. "I still had an image of her as a twelve-year-old girl, and this was a woman of thirty, one who'd lived a very hard life. People age quickly in the conditions she'd been living in, and it was a little discomfiting to compare the mature Sharbat Gula with the unchanging face in the photograph." McCurry's new images appeared as a National Geographic feature, and cover in April 2002.
The 2002 follow up to Gula's story. Image via Mashable
McCurry has visited Afghanistan numerous times over the 30 years since he was first smuggled over the border by the muhajadeen, and he has developed a deep understanding of the difficulties the nation faces. "When you visit a place so many times, you can't help but see the problems and want to call them to the attention of the world, even if it is only a nominal gesture." His image of the Afghan Girl helped to do that. Moreover, McCurry thought it only just that Sharbat Gula, the subject of one of the most iconic pictures of the late twentieth century, should receive some recompense, although neither she nor her family made any mention of money. He and National Geographic helped to arrange immediate medical treatment for her husband and her three children, and at Sharbat Gula's request he bought a sewing machine while he was there, so that her daughter could learn a valuable skill. "I made it clear to her that we wanted to take steps to help her." Over the years, McCurry has provided assistance to Sharbat Gula and her family in various ways, and National Geographic funded her and her husband's trip to Mecca on the hajj. "This was her life-long dream, and without that picture it would never have happened. It was a good feeling to be able to finally give something back to her."
McCurry also saw the opportunity to help on a wider scale. "After we rediscovered the Afghan Girl there was renewed interest in the original photo and the plight of Sharbat Gula. I felt it was an opportunity to reach out to the others in order to bring some help to the people of the area." National Geographic decided to create The Afghan Girl's Fund, which worked with nonprofit organizations to provide educational opportunities for Afghan girls and young women; in 2008 the scope was broadened to include boys, and the name was changed to The Afghan Children's Fund. "When I look into the eyes of the Afghan children," McCurry says, "I see a tough, hearty people, full of dignity and fortitude. Life there is harsh and unforgiving, but they accept challenges with resilience and a sense of humor. My hope for them, and for children anywhere in the world, is a solid primary education and adequate health care. Every child has the right to those two basic things."
A look inside Steve McCurry Untold , showing the 2002 portrait of Sharbat Gula with her child.

Since that first meeting in 1984, the Afghan Girl has continued to fascinate. "We still receive a lot of letters," says McCurry, "as well as paintings and drawings based on the picture. People have wanted to send her money or clothes; some even wanted to marry her. Almost every day since this picture was published we have had requests for its use in various ways, or from people wanting to contact her." For any image to become iconic, it needs to speak directly to the viewer, and to offer a connection both individual and universal. In this regard, the Afghan Girl was always more than just a photograph of a young schoolgirl. It was about the struggle of a nation at war, and the life of its people, and in its depth it symbolizes McCurry's approach to photography as whole. As Antony Bannon, Director of the International Museum of Photography and Film, in Rochester, New York, once noted: "The picture is the emblem of McCurry's career and is consistent with his objective as a documentary photographer: to depict through the lives of others concerns that are universal and comment on the human condition."
RELATED ARTICLES:
From California Conceptualism to Weimaraners in Wigs: A Studio Visit with William Wegman
"The Portrait is Always Dependent on the Moment": Read What Annie Leibovitz Wrote About Becoming a Photography Icon
What Was Photo Secession? Photography's Battle with Painting
How Nan Goldin's Snapshots of Sex, Drugs, and Death Redefined Photography