Despite the democratization of self-representation in "selfie culture" (anyone with a phone can take and share their own portrait), portraiture has not always been as inclusive as we think of it today. Up until the nineteenth century, portraiture was a privilege that belonged exclusively to the aristocracy. But with the invention of photography, the social nature of portraiture changed fundamentally. Cheaper, collectively available, and triumphing the illusion of painting with realism, photographic portraiture was opened up to a new class of diverse subjects.
However despite the medium's supposed democratic nature, portraiture soon became a tool of racial categorization and ethnographic "Othering." In other words, the photographic portrait became the means to document the "visible truth" of the differences between bodies. Today, queer artists have re-appropriated the medium in order to reclaim the right to represent themselves using very tool that demarcated them as "Other." This week we look at three queer artists from Phaidon's Art & Queer Culture who are "queering" classical portraiture in photography in order to challenge the camera's categorization of bodies, gender and skin color.
- Amelia Ames
HEATHER CASSILS & ROBIN BLACK


Heather Cassils & Robin Black, Advertisement (Homage to Benglis) , 2011
Fascinated by Lynda Benglis 's notorious double-headed dildo advertisement in Artforum , Heather Cassils decided to turn her own body into the phallus rather than holding a phallus in front of her body. To sculpt the body photographed here, Cassils altered her diet to add twenty-three pounds of muscle in as many weeks, took regular doses of steroids, and worked out relentlessly. In doing so, she not only paid homage to Benglis but also reversed the narrative trajectory of Eleanor Antin 's 1972 conceptual piece Carved: A Traditional Sculpture , in which Antin recorded herself daily as she starved in order to chisel a thinner, more fashionable body. In Advertisement (Homage to Benglis) , Cassils transforms a woman's body into a riveting transgender spectacle of white hypermasculine androgyny, a confounding image that Cassils and Black then circulated by means of a zine, LadyFace/ManBody , which in turn moved through the internet on various transgender and gay blogs.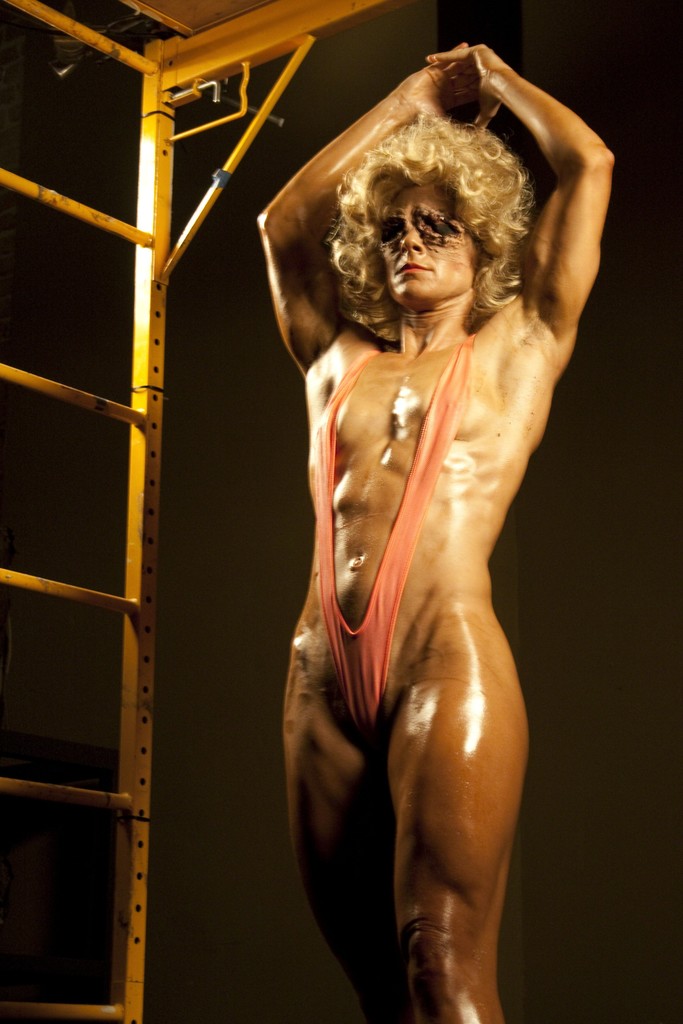 Heather Cassils, still from Hard Times , 2010
LAURA AGUILAR

Laura Aguilar, Nature Self Portrait #7 , 1996
Since the early 1990s, photographer Laura Aguilar has worked to create her own version of "queer raza" by unsettling smugly positive depictions of both the Chicano and gay Los Angeles communities. In the series of nudes from which this photograph is taken, Aguilar adds to her representational challenges the resplendently overweight female body. In this photograph, woman occupies the space of nature with a body that is the polar opposite of the cultural ideal. The raking sun theatricalizes her flesh, producing a deeply shadowed indentation in the small of her back and a dramatic cleft between her buttocks. Aguilar both references and unsettles seventies lesbian- feminist goddess worship. The weight of her form echoes the weight of the boulders in the foreground, and they, in turn, tell us that the nature in which she sits is a road track in the desert partially blocked by boulders.
Laura Aguilar, Three Eagles Flying , 1990
Zanele Muholi, Puleng Mahalti, Embekweni, Paarl , 2009

"The reality," says Zanele Muholi , "is that black lesbians are targeted with brutal oppression in the South African townships and surrounding areas." In "Faces and Phases," the extended series that includes this image, Muholi uses portraiture to create an archive of resistance to hate crimes such as "curative rape." She set out to make positive images of black South Africans—lesbians, women, and transmen—in order to register a queer presence in the visual record and to honor the victims of hate crimes. (Indeed, some of her subjects died of anti-queer violence before the photographs were exhibited.) The individuals photographed represent various occupations and hail from various townships. They also trouble stereotypes of lesbian and female appearance. Muholi's subject here—Puleng Mahlati—could be biologically female or a transman. We see only wide shoulders, a jacket usually worn by men, a stunning head and an utterly self-possessed gaze aimed directly at the viewer.
Zanele Muholi, Miss Lesbian I , 2009
[related-works-module]