Vitamin T: Threads and Textiles in Contemporary Art, is, per the introduction, "the latest in Phaidon's long-running series of surveys that present recent developments in visual art through the lens of a specific medium." In the past, textile work was a form of classed and gendered labor––women and domestic workers sewed blankets, made clothes or rugs. Textile work was thus relegated to being a "craft," not an artform, until feminist artists like Ree Morton pushed back against these labels in the 1970s. Vitamin T foregrounds the formal innovation of contemporary textile artists, looking at how they knot, scrunch, and crochet materials ranging from silk to hair, creating what curator Jenelle Porter calls "radical, nonrepresentational large- scale sculpture."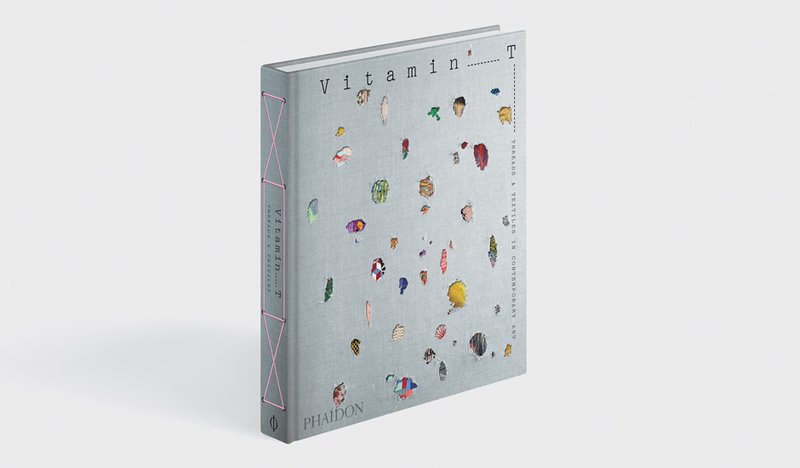 Vitamin T is available on Artspace for $75
Here, we've excerpted text from the book that focuses on five artists who have truly pushed the envelop, taking textile to new heights.
Dancing on the George Washington Bridge by Faith Ringgold (1988), image via the artist's website
Using appliqué as her medium since 1980––when she made her first quilt with her mother, Echoes of Harlem––Faith Ringgold patches together brightly coloured blankets onto which she paints figurative scenes that reflect her own history, using the neologism 'story- quilts' to classify these. She also crafts masks and soft sculptures using materials such as velvet and shells; Moma in a Chair Reading to Her Three Children (1980) is a sculpture that includes a tiny stitched storybook––written by Ringgold herself––titled "Do You Love Me?" from which Moma recites to her wide-eyed babies.
As a young black woman growing up in Harlem, she battled racism and sexism, initially being refused entry into City College School of Liberal Arts to major in art because she was female––a technicality she fought and won. Identity and gender politics are literally sewn into the fabric of her work, from her homage to the gay rights activist Marlon Riggs to her depiction of Martin Luther King Jr. in a Birmingham jail in Alabama, not to mention her own work as an activist, protesting in the 1960s and 1970s with critic Lucy Lippard against male-dominated exhibitions at New York's Whitney Museum of American Art. Quilting, too, is inextricable from its historical relationship with slavery in America, black women on plantations often gathering to sew, sing and support one another. Coming to Jones Road Part II #7 Our Secret Wedding in the Woods (2010) depicts a couple being married by a minister, accompanied by a small congregation under a canopy of yellow and green leaves, with a carpet of flowers underfoot that rises as floating golden petals, the flat picture plane filled with little stars. Its mood is one of joy and reverence, a private, even magic moment to which we bear witness.
Tar Beach (Part I from the Woman on a Bridge series) by Faith Ringgold (1988), image via the Guggenheim
The second in the "Coming to Jones Road" series, which she started in 1999, is about Aunt Emmy––based on Ringgold's great-grandmother––who escapes a plantation in search of liberation from slavery. Jones Road refers both to Ringgold's maiden name and to the New Jersey address to which she moved in the early 1990s, where she experienced hate and hostility. The Jones Road story, conversely, is one of optimism and hope, the will for progress winning out over the tainted reality––after all, although often fiction, creative writing provides tangible models from which we can learn and apply to the everyday. This work, like most of Ringgold's storyquilts, is surrounded by a border inscribed with the tale. Visiting Amsterdam's Rijksmuseum in 1972, she saw Tibetan thangkas––paintings on cloth with a silk brocade frame. Captivated by their composition, she began to integrate this ancient format into her own work, narratives enclosing her painted world, which draws so potently from the real one
NOTHING #06 (NICHTS!) by Cosima Von Bonin (2010), image via Vitamin T
It's logical that we try to make sense of things, because we want to understand the world around us and, with this knowledge, we think we have control. So what if everything were actually senseless: where might we then end up? In a 2018 interview with The Brooklyn Rail, Cosima von Bonin quoted artist Mike Kelley in describing her practice as "somehow a making sense of senseless things––you take this and you take that and in the end it's poetry and it's a piece of art." Like Kelley, who often worked with soft materials, von Bonin uses fabric to make a strange and seemingly absurd host of characters, which come together to describe the world. They do this using the visual language of fantasy––a subversive strategy to liberate us from any illusions that we may have about the world.
Take, for example, her 2018 exhibition "What if it Barks?" at Petzel Gallery in New York. Her larger than life sculptures gathered in a circle to face one another, séance-style. Led by a giant stitched orca sitting at a writing desk, the other protagonists included mackerel, lobsters and sharks, some wrapped with black-and-white chequered loin cloths (or were they cooking aprons?), further accessorized with yellow chains, red scarves and pink smiley-face handbags. Blue sharks emerged from buckets, their angry mouths wide open with sharp teeth biting into grenades fashioned from lumberjack shirts––a dangerous kind of kitsch. And if this sounds surreal, it was; but if it sounds whimsical, then think again, for there is a seriousness in seeing works such as AU PAIRS (2018), a pink trolley loaded with further soft-fabric missiles, interspersed with squidgy lobster claws and stripy show-jumping poles. The work hits different registers: at once suggestive of the animal life being slowly extinguished as we sieve the seas, and of the children's futures being destroyed by war, while politicians insist that they care––"au pair"––about our futures while deploying another bomb or ordering another prawn cocktail (with extra sauce please).
Installation shot from "Who's Exploiting Who in the Deep Sea" by Cosima Von Bonin (2017), image via Mousse Magazine
Von Bonin's large-scale fabric collages, including NOTHING #06 (NICHTS!) (2010), mimic the format of traditional paintings while presenting the world in soft focus. Within a rolling landscape of green meadows and red picnic-cloth mountains, white spherical trees look like little empty speech bubbles that blankly emerge next to the flowing river. Any life beneath is rendered speechless and, as such, voiceless. The cartoonish image, which wittily nods to the history of landscape painting, suggests a loss of substance and memory as the world morphs into a two-dimensional plane, devoid of any depth. Once you've finished smiling at their playful surface charm, the works leave you with an uncanny sense of solemnity, as you realize that you too might be laughing and sticking your head in the sand, while the world around you slowly starts to implode.
Overstood by Sanford Biggers (2017), image via Vitamin T
What does it mean when found material is removed from its original context and repurposed as contemporary art? How does the function of that recycled material change? What if anything remains of its original spirit? Crucial questions for those interested in how "craft" or "applied-arts" materials are incorporated into the field of contemporary art, these queries lie at the beating heart of Sanford Biggers's syncretic artworks. As an artist who works primarily with cast-offs including patchwork quilts, glitter, sequins and other textiles, the Los Angeles-born, Harlem-based Biggers is explicit about acknowledging the debt he owes to the processes, labor and history behind his unsung source material. "I consider myself a late collaborator, working with this patchwork [material] that goes over a span of decades and generations," Biggers told Architectural Digest in 2017. "No matter how you slice it, it is an American story on a material level."
Fascinated with textiles from a young age––after his cousin, the painter and muralist John Biggers, returned from Ghana bearing the gift of African cloth––Biggers incorporated fabric into his work for the first time in 2009. That was the year he was commissioned to create an artwork destined for a decidedly non-traditional space: the Mother Bethel African Methodist Episcopal Church in Philadelphia, Pennsylvania. The church, Biggers noted, had served as a stop on the Underground Railroad, the covert network of people and safe houses that helped fugitive slaves escape the southern United States and reach the northern American states and Canada in the nineteenth century. His research uncovered an equivocal if inspiring story: the tall tale that quilts once functioned as coded signposts, giving direction to escaped slaves. While apocryphal, the idea grew in the artist's mind as a formal challenge. Eventually he began collecting and painting directly on seventeenth-, eighteenth- and nineteenth-century quilts.
Everyday a Sunset Dies by Sanford Biggers (2014), image via Paper Magazine
The fruits of Biggers's fundamentally composite practice are fully evident in wall-mounted works like Binghi (2017) and Negerplastik (2016). While both pieces repurpose antique quilts, they layer meanings and material onto the originals by adding tar, glitter, cotton fabric fragments and acrylic, as well as complex historical and cultural references to the artist's painterly motifs. Take the first work: a wooded nightscape, its title refers to the African word "Nayabinghi," a term of overlapping spiritual and political meanings in the Rastafarian religion. The second work––featuring an African-inspired statuette on a red, white and blue geometric background–– connects back to Europe's first-ever published treatise on African art. Penned by Carl Einstein (an acquaintance of Picasso), it put forth a bogus corpus of "Negro Sculpture," which itself spun off a global industry of African-made tchotkes very much like the one Biggers's pictures.
Installation shot of "Gratitude" by Ernesto Neto (2014), image via the Aspen Art Museum
To experience one of Ernesto Neto's environments is, to paraphrase Vladimir Nabokov on synesthesia, to hear color, to taste sound and, quite literally, to feel visual stimuli in the shape of curved appendages, taut contours and soft, pliant surfaces. No wonder the artist consistently emphasizes one aspect of his practice above all––the importance of cross-sensory connections in his increasingly harmonious oeuvre. "For me, mind and body are one thing, always together," the Brazilian-born, Rio de Janeiro-based sculptor told BOMB magazine in 2000. "I believe in the sensual body, and it is through the movement of such body-minds that we connect the things in this world, in life––the way we touch, the way we feel, the way we think and the way we deal."
Inspired by Minimalism, Arte Povera and, most significantly, the Brazilian Neo-Concrete artists Lygia Clark and Hélio Oiticica––who pushed European-inspired art from pure abstraction to open-ended social interaction in the 1960s and 1970s––Neto has pioneered the creation of large-scale biomorphic installations that employ, among other materials, stretchy diaphanous textiles, styrofoam pellets and pungent spices to create immersive environments that are also, in part, aestheticized chill-out zones. Neto designs his architectural forms to be easy on the eyes and soft to the touch. Additionally, they are intended to serve as all-enveloping sensoria that propose atmospheric alternatives to the daily grind.
Navedenga by Ernesto Neto (1998), image via the Museum of Modern Art
"We are constantly receiving information," Neto declared apropos of his Museo Guggenheim Bilbao survey exhibition in 2014, which he aptly titled "The Body That Carries Me," continuing, "but I want this to be a place where we stop thinking, where we take refuge in art. I think that not thinking is healthy; it's like breathing life itself." Among the most prominent works exhibited in Bilbao was the interactive A vida é um corpo do quai fazemos parte (Life Is a Body We Are a Part Of, 2012). A suspended, walkway-like work made from plastic balls and hand-crocheted material, the sculpture is intended to hold together both male (the walkway) and female components (the suspension system) in what the artist considers to be a fundamentally biological union. In 2016 the artist produced a similarly immersive environment at Helsinki's Kiasma Museum of Contemporary Art. Titled Yube bushka / Cabeca da jiboia, maos para estar junto (Boa head, hands to be together), the installation combined woven tensile elements, net-like forms, plush carpeting and sewn seats, among other elements, to pay homage to the Huni Kuin, an indigenous Amazonian people whose existence is threatened by the encroachment of modern civilization. Neto's tribute to their culture underscores his fundamental nous: his art is committed to a fully integrated understanding of the world.
Koco at the Bodega by Tschabalala Self (2017), image via Vitamin T
"You don't have to use paint to make a painting," the artist Tschabalala Self observed in an interview with Galerie Magazine. Her encompassing approach to materials has been a defining characteristic of Self's practice, with a determination to explore the dynamics of identity. Self's work centres on depictions of the black female body. Her images are constructed by combining paint, fabric and other forms of pigment to create rich, exuberant depictions of a range of characters who represent various modalities of black female expression. Her characters are loving, imperious, dynamic, sometimes they are even surrealistic, or fantastic, as in images such as Pussyfoot (2016), which evokes an Afro-futurist milieu, positing a form of Black feminine identity for a post- or trans-human age.
Self's rise to prominence has been rapid, having graduated from Yale's MFA programme in 2015. Her 2017 exhibition at London's Pilar Corrias, "Bodega Run," has seen Self expanding her practice, both in terms of her use of materials as well as moving off the canvas to embrace aspects of installation. She created an immersive environment in which her images could come to life and where the viewer would be directly confronted by the lives of people who are often excluded from spaces of high culture.
Milk Chocolate by Tschabalala Self (2017), image via the artist's website
The use of fabric in these works, and across Self's oeuvre, serves to redefine the relationship of pigment to surface, using found colour. This creates its own surface instead of simply resting on canvas as a mere grounding. It also complicates the geometries of the historical picture plane, repurposing tools like perspective to create new, unstable points of visual reference and address. Such multidimensionality is both a conceptual and a formal concern in Self's practice. "A stereotype is a flat character with two dimensions," Self noted in a W Magazine article. "I confront those stereotypical images by making round, multidimensional characters with complicated desires, inner dialogues, and psychology." The psychological depth Self seeks to convey is underwritten by the multiple layers of pigment and fabric that she applies to her canvases in her attempt to "show a real spectrum of human emotions."
"The pursuit of psychological significance in Self's work also extends to the audience receiving the work. Self frequently speaks of the importance of who receives the images she produces and how. The works thus investigate the power of the viewer's gaze and even interrogate the viewer's presuppositions, position and potential agendas, but they also seek to establish dialogues that allow expanded possibilities for identity, and its performance, to emerge.
[related-works-module]
RELATED ARTICLES:
8 "Rules" to Becoming a Successful Artist, And Why They're Near Impossible to Follow Without Inherited Wealth
Slime Mold, Glow-in-the-Dark Bunnies, and "Victimless Leather": 9 BioArtists You Should Know
6 Reasons to Collect Eco-Feminist Chilean Artist Cecilia Vicuña