Artist duo and married couple Christo and Jeanne-Claude––known for their large-scale works of environmental art––were born on the exact same day. They met in Paris in October of 1958. He was painting a portrait of Jeanne-Claude's mother, and was initially attracted to Joyce, Jeanne-Claude's sister––not least because Jeanne-Claude was engaged to someone else. It didn't last. Jeanne-Claude became pregnant by Christo soon before her wedding; she ran away with Christo immediately after her honeymoon, kept her hair dyed red (her husband had chosen the color), and said she became an artist out of love for her husband. If he had been a dentist, she pointed out, she would have become a dentist as well.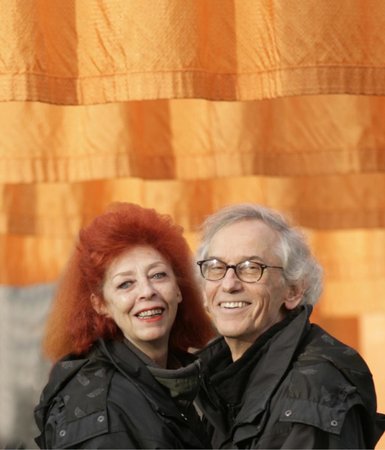 Christo and Jeanne Claude in front of one of the gates, image via Artnet
While critics have tacked various meanings onto Jeanne-Claude and Christo's works, the couple has consistently claimed that they make art to provide pleasure, joy, and, at most, environmental détournement. Many of these projects involve wrapping existing structures––the Reichstag building in Berlin, the Pont Neuf bridge in Paris––and even aspects of nature: islands, trees. Once the course of the project ends, the wrappings are removed, and the artwork disappears, as Christo pointed out in Mark Getlein's Living With Art. "Do you know that I don't have any artworks that exist? They all go away when they're finished. Only the preparatory drawings, and collages are left, giving my works an almost legendary character. I think it takes much greater courage to create things to be gone than to create things that will remain."
That being said, the couple's work was hardly apolitical, as evidenced by their 1962 piece Rideu de Fer (Iron Curtain), made in protest against the Berlin Wall. Then again, their later willingness to collaborate with global arms dealers and former New York Mayor Michael Bloomberg––whose "Stop and Frisk" policing policy unfairly targeted black and brown New Yorkers––complicated this legacy, as did two deaths caused by their 1991 piece, The Umbrellas.
Below, here's a list of our favorite works by Christo and Jeanne-Claude.
RIDEU DE FER
Paris, France
1962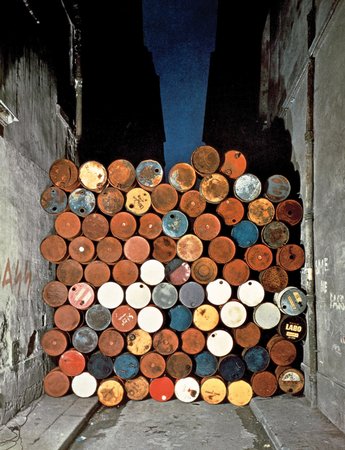 Rideu de Fer by Christo and Jeanne-Claude (1962), image via the artists' website
It was 1962: the Berlin Wall had just been built, dividing communist East Germany from capitalist West Germany; a year after that, Parisian police attacked 30,000 Algerians protesting against French colonization in what came to be known as the Paris Massacre of 1961. In 1998, the French government acknowledged 40 deaths, although unofficial estimates range from 100 to 300 victims, including those who were deliberately drowned as police threw demonstrators into the river Seine.
In response, Jeanne-Claude and Christo, in one of their first large-scale collaborations, blockaded the Rue Visconti, one of Paris's narrowest streets, with 89 found metal oil barrels, a twelve-foot barricade which blocked foot and car traffic between Rue Bonaparte and Rue de Seine. "This 'iron curtain' can be used as a barricade during a period of public work in the street, or to transform the street into a dead end," the artists said. "Finally its principle can be extended to a whole area or an entire city." Since the work had been created without a permit (and likely because of its political message also), police threatened to take the piece down; Jeanne-Claude convinced them to let it stand for a few more hours––ultimately, it remained for eight hours total before getting dismantled by the cops.
5,600 CUBICMETER PACKAGE
Kassel, Germany
1967-68

5,600 Cubicmeter Package by Christo and Jeanne-Claude (1967-8), image via the artists website
Christo and Jeanne-Claude's piece for Documenta 4 in Kassel looked like a monumental tapeworm. The artists had wanted to build an inflatable sculpture that wouldn't need an external skeleton––a process that was finally realized thanks to what were then the most powerful cranes in Europe, which raised the piece to 280 feet for a total of ten hours. As the piece came down, it looked like a building crashing in slow motion and with zero damage, or a slender blimp deflating. At the time, it was the largest inflatable structure without an external skeleton ever constructed. Its $70,000 cost was (except for $3,000) financed by the couple via sales of their preparatory drawings and collages.
WRAPPED COAST
Sydney, Australia
1968-69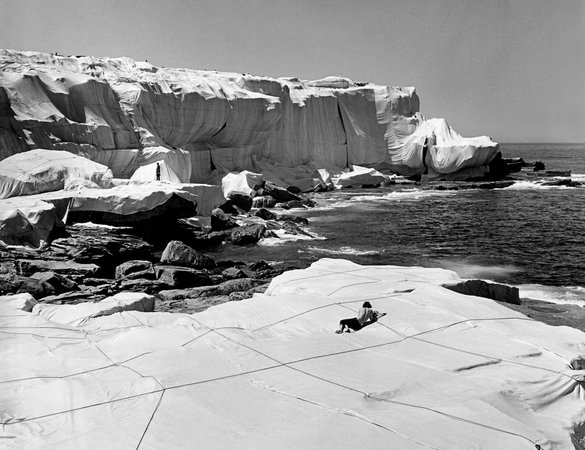 Wrapped Coast by Christo and Jeanne-Claude (1968-9), image via the artists website
For ten weeks of of 1969, one and a half miles of Australian coastline was wrapped in 92,000 square meters of what's been described as "92,900 square metres of erosion-control fabric, lashed to the cliffs with 35 miles of polypropylene rope. A team of 15 professional mountain climbers and 110 workers were lead by a retired major from the Army Corps of Engineers worked for four weeks to wrap the coastline." This time, the couple was legally allowed to make their piece––they had been invited to Sydney by Australian collector John Kaldor, and had permission from Prince Henry Hospital. The artwork ended up being larger than Mt. Rushmore, requiring over an hour to walk from one end of it to the other.

WRAPPED TREES
Riehen, Switzerland
1997-98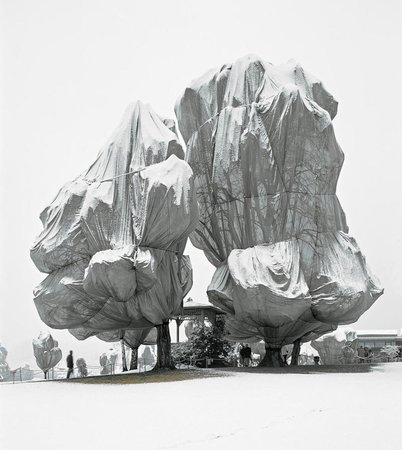 Wrapped Trees by Christo and Jeanne-Claude (1997-8), image the Art Stack
Most of Christo and Jeanne-Claude's projects required years, sometimes even decades of preparation, and Wrapped Trees was no exception. But after 32 years of planning, the couple finally wrapped 178 trees in in Berower Park, located in Riehen, Switzerland. In a (logistically-intensive) effort to maintain the shapes of each individual tree, a unique pattern had to be made for each tree, so that the branches would push the wrapping outwards instead of just clinging or dripping off it.
The end result is beautiful––the trees become giant jellyfish, their branches transformed into a nervous system that became only visible when the materials were backlit by the sun. When the wind blew, the branches did also. As with all of the couple's projects, Wrapped Trees was self-financed, and the materials were all recycled when they were taken down.
WRAPPED REICHSTAG
Berlin, Germany
1971-1995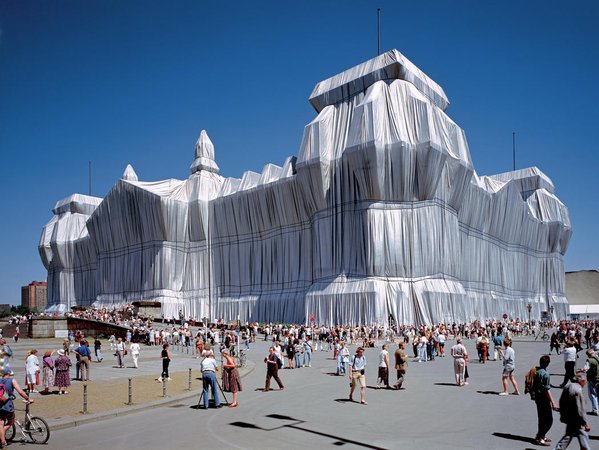 Wrapped Reichstag by Christo and Jeanne-Claude (1971-1995), image via the Tate
Berlin's Reichstag building has played a significant role in German history. Its construction began in 1871, after the reunification of Germany, but was only finished in 1916, as the words "Dem Deutschen Volke" ("To the German People") were inscribed on the main façade of the building, much to the chagrin of Wilhelm II, who opposed the inscription's democratic message. After World War I ended and Wilhelm abdicated, the new republic was was declared on one of the Reichstag's balconies. The building caught on fire in 1933, while Germany was under Nazi control, for still unexplained reasons. The Nazis took the fire to suspend the laws of the 1919 Weimar Constitution, arresting Communists without a warrant and increasing police violence. The Reichstag fire was also used to fan anxieties about a communist takeover of Germany, which Hitler––who positioned himself as an anti-Communist––used to gain favor in the west. During the Cold War, the building was physically within West Berlin, but only a few feet from (and totally visible from) the border wall, although, at the time, the building was unused and partially destroyed, since the seat of the West German government had moved to Bonn in 1949.
After Germany reunified in 1990, both Berlin and the nation more generally were looking for new forms of national identity––and so, in 1995, Jeanne-Claude and Christo were invited to wrap the Reichstag. The wrapping took five weeks of construction, just under 300,000 square feet of fireproof polypropylene fabric covered by an aluminum layer, about ten miles of rope, and 90 professional climbers to install it. It was unveiled to five million visitors on July 7th. In this case, the couple pointed out, the use of fabric reflected the Reichstag's frequently shifting physical and political status, a position of flux despite its architectural monumentality: "Fabric, like clothing or skin, is fragile; it translates the unique quality of impermanence."
THE GATES
New York, NY
1979-2005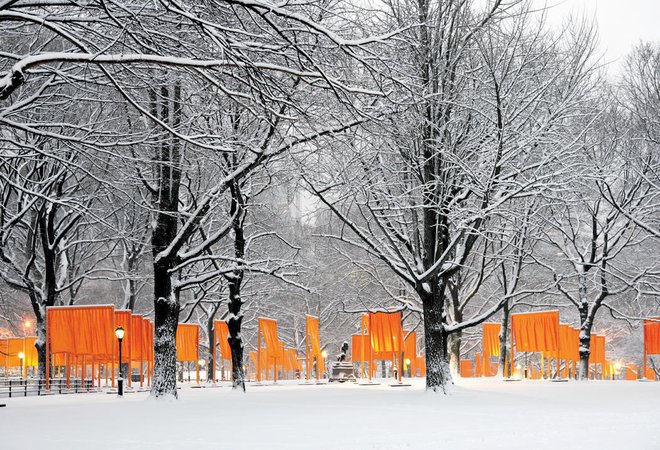 The Gates by Christo and Jeanne-Claude (1979-2005), image via the artists' website
In 2005, then-Mayor Michael Bloomberg unveiled Jeanne-Claude and Christo's newest project, The Gates, by announcing that the city expected the artwork to bring $80 million in tourism dollars from visitors raring to see the new public artwork. The project was convenient for Bloomberg's efforts to rehabilitate a post-9/11 New York City while simultaneously shrinking its social spending, including arts programs: Christo and Jeanne-Claude would, as with all their previous projects, self-finance, even offering to pay for extra police officers, while attracting tourists during a low-tourism month during a low-tourism decade.
The piece was composed of 7,503 gates, which were 16 feet tall and max 18 feet wide, snaking across 25 different walkways throughout Central Park. Saffron-colored fabric panels hung from the top part of the gates, resting about seven feet above the ground. "It has no purpose," Christo said, once again rejecting attempts to tack deeper meanings onto his and Jeanne-Claude's works. "It is not a symbol. It is not a message. It is only a work of art."
FLOATING PIERS
Lake Iseo, Italy
2014-16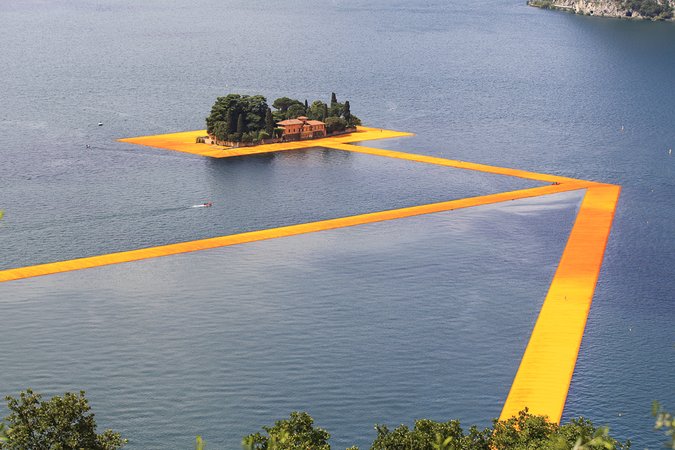 Floating Piers by Christo (2014-6), image via the artists' website
First conceived by Christo and Jeanne-Claude in 1970, Floating Piers was Christo's first large-scale project since The Gates in 2005, and since Jeanne-Claude passed away of a brain aneurysm in 2009. From June 18 to July 3, 2016, visitors were able to stroll across Lake Iseo on a series of walkways made of around 200,000 polyethylene cubes covered with 750,000 square feet of bright yellow fabric: 1.9 miles of piers moved on the water; another 0.93 miles of golden fabric continued along the pedestrian streets in Sulzano and Peschiera Maraglio. The project could also be viewed from the nearby mountain range, which provided a birds eye view.
"Like all our projects, The Floating Piers was absolutely free and open to the public," said Christo. "There were no tickets, no openings, no reservations and no owners. The Floating Piers were an extension of the street and belonged to everyone… Those who experienced The Floating Piers felt like they were walking on water––or perhaps the back of a whale. The light and water transformed the bright yellow fabric to shades of red and gold throughout the sixteen days." While Christo argued that the project was self-funded, like the rest of his and Jeanne-Claude's oeuvre, the Beretta family, which manufactures arms for global distribution, gave logistical assistance, including donating the use of their private island, which is where the project ended up––like a golden carpet that literally led you to the locked doors of the Beretta mansion. On the day the walkway opened to the public, Beretta's Facebook page posted, "A small island, belonging to the Beretta family, plays a leading role in an art installation. Next time someone tells you guns don't make art…"
RELATED ARTICLES:
Slime Mold, Glow-in-the-Dark Bunnies, and "Victimless Leather": 9 BioArtists You Should Know
Art You Should Know: 7 21st-Century Masterpieces
From "Ew" to a View: How a Former Staten Island Landfill Could Reprsent the Future of Art in Parks