You may know Bjarne Melgaard  as the most famous artist to emerge in Norway since Edvard Munch, as is frequently said, and if you've seen his expletive-laced canvases, scandalous installations, and extremely risqué literary incitements, you may be able to guess why. A 46-year-old provocateur, Melgaard has developed a reputation for defying social norms across the globe: he was born in Australia in 1967 and raised in Oslo, then studied at the Academy of Fine Arts in Warsaw before finally earning his MFA at Oslo's Academy of Fine Arts in 1991; after living in Spain for a while, he now operates a cavernous studio in Brooklyn.
Though the artist has Scandinavian roots, his work speaks to globalized taboos and challenges the way we look at and experience art—via the gallery space, the viral online world, and the artist's identity itself. Here we take a closer took at the defining characteristics of the wild, unsafe world of Melgaard's art, which always precariously skirts the line between fantasy and reality.
PREPARE TO BE SHOCKED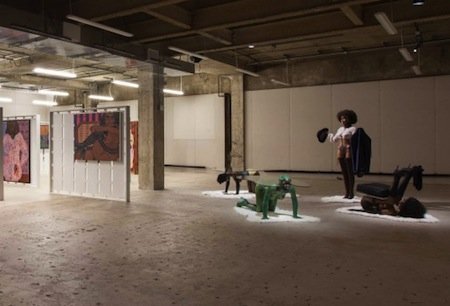 Melgaard's "Gang Bust" show at Venus Over Manhattan
Perhaps the first thing to know about Melgaard is that, beneath the cuddly surfaces of his work, the themes he explores and the strategies he employs are not for the faint of heart. For instance, the name of his website? Stabfrenzy.com, with a litany of violent, sordid topics to match. But the takeaway isn't purely shock value—he probes taboos with an interest in seeing what makes them tick, and what so often attracts us, as implicated viewers, to subjects that are horrific, depraved, and abject. In his collaged paintings of text and found objects, for example, he includes confessional notes from drug addicts and, at their most extreme, gay men who fetishize having AIDS. Race is also a target of Melgaard's, who produced a show last year at Venus Over Manhattan under the pseudonym B.F.B.C.I. (one of his many aliases, and you can look it up yourself) that featured his pornographic paintings of cartoonishly explicit black couples alongside canvases by the great William N. Copley.
The body of work went largely unremarked-upon until one of its sculptural components, a chair supported by a mannequin of a black woman in S&M gear (based on Allen Jones's famous originals involving white women), appeared under the posterior of a certain glamorous Russian art personality in photographs that surfaced on the web…on Martin Luther King Jr. Day. The incident known as "chairgate," in which the blogosphere reacted in outrage to the work that Melgaard's dealer said existed "to destabilize and unhinge our hardened and crusty notions of race and sex and power," only launched the artist to a new state of renown. How else does he shock? By incorporating live animals in his gallery shows, from the chihuahuas he dressed in baby clothes for his New York debut to the tiger cubs he put on display at Ramiken Crucible in 2012. 
A MAN OF LETTERS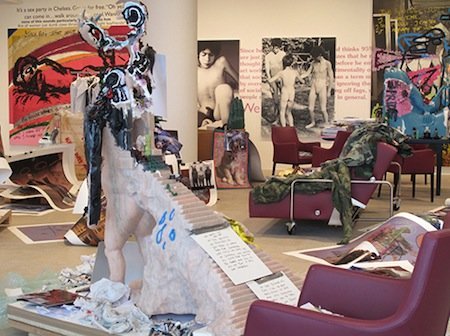 "The Synthetic Slut: A Novel in Progress" at Greene Naftali
As generous as Melgaard is with his provocative images, he is equally prolific with his staggering literary output—a new novel sometimes accompanies the opening of a show. That was the case in late 2012, when his sprawling installation-art show "A New Novel" at Luxembourg & Dayan included stacks of a book of the same name, which laid out the themes of the exhibition, from a murder in a sex dungeon to a drug-fueled bacchanal. (The show indeed proved of interest to the literary community: Charles McGrath, former editor of the New York Times Book Review and deputy editor of The New Yorker, covered it for the Grey Lady.) Melgaard's novelistic tendencies fuse with his art in intriguing ways, and often become indistinguishable, with purely art-based shows being titled as if they were novels.
This was the case with his 2010 show at Greene Naftali, "The Synthetic Slut: A Novel in Progress," in which literary elements were on display as profane writing intermingling with paintings on the walls, and with installations that combined written notes with assorted ephemera. Other names for these undertakings include "A Kidwhore in Manhattan: A Novel," "The Sadistic Skater," "More Pricks Than Kicks," "The Myth of a Young Washingmachine," "The Mutilation of the Apes," and "Life Is a Lonely Buffalo." How does he manage to create such voluminous textual output? It helps that he runs a pseudonymous gallery, print shop, and publisher in Oslo called Rod Bianco.
TELL ME ABOUT THE EPHEMERA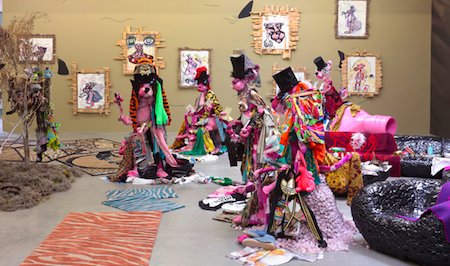 "Ignorant Transparencies" at Gavin Brown's Enterprise
Melgaard's installations, collaged works, and writing are filled with bits of disposable flotsam from pop culture, from haute couture clothing samples (complete with tags) to plush kids' toys to objects from hip-hop and sneakerhead culture to the kinds of swag you could bring home from shopping sprees at Duane Reade and Hot Topic (bottles of Pepto Bismol, cheap cosmetics, novelty t-shirts, fanciful bongs). The artist is particularly drawn to Adidas's more avant-garde designs, but he also collaborates with upstart designers Eckhaus Latta, and has a taste for neo-baroque high-fashion labels like Givenchy and Rick Owens. (He also likes Issey Miyake's geometrically patterned Bao Bao handbags.) Pop culture characters play major roles in Melgaard's work too, particularly the Pink Panther, who frequently appears as the artist's alter ego.
So, what pulls this all together? For Melgaard, it's all about ungovernable appetite. This was memorably expressed in his debut show at Gavin Brown's Enterprise last year in which one room was filled with bloodshot-eyed statues of the Pink Panther clutching meth pipes and was draped shamanistically in the finery of high/low fashion, antacid pills, head-shop trophies (bandanas covered in marijuana leaves, socks that say "fuck"), lots of art books, loudly colored tracksuits, and other symptoms of the obsessive pursuit of transient pleasures through drugs, sex, and consumerism. The impossible, deeply human quest for satiety can be found reflected in these works.
PAINTERLINESS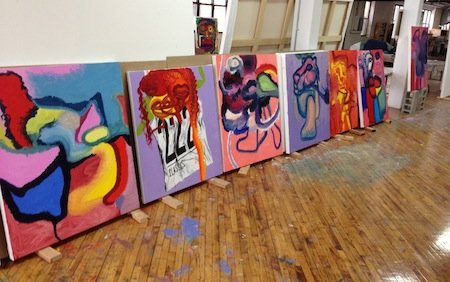 Paintings in Melgaard's Brooklyn studio
With all these other qualities to his work vying for attention, it can be easy to overlook the fact that the paintings one finds intermingled with Melgaard's more vociferous provocations are really very good. His approach has evolved over the years and owes a significant debt to postwar German painters like Kippenberger who, while caroming between styles, sustained interest in thick, bold lines, bright artificial colors, text, and cartoonish figures. Lately he has been working on heavily impastoed canvases that have a stucco-like surface of little waves of paint, but even in these largely abstracted compositions, it's possible to discern the expert draftsmanship that informs all of his visual work (look at the sureness of his drawings and prints). The technically accomplished paintings provide one avenue to the secret of Melgaard's career: beneath the bravado and flash of his more arresting stunts lies an artist of remarkable seriousness, insight, and mastery.