Ah, summer, the season of love, intrigue, and awkward tan lines (if you're one of those lucky people who actually tans, that is. Leave the lobsters amongst us alone, please). On the subject of lust, if art history has taught us anything, it's that painters, sculptors and their creative compatriots are not necessarily the smartest dating options available, unless you're cruising for a lawsuit or particularly harrowing anecdote for your forthcoming memoir. Still, the rollercoaster might be worth it if you can finagle an artistic commemoration out of the deal, you know, to make up for all that pesky emotional scarring and exposure to toxic chemicals. While the concept of a "muse" may feel like a cultural cliche at this point, its origins harken back to Ancient Greece and the nine inspirational goddesses of art and poetry, children of Mnemosyne, the raven-haired mythological steward of Memory. In Latin, to "carry a muse" was an idiomatic expression of creative skill; today, as society slowly warms to the concept of human rights as more than an afterthought, at least in the court of public opinion, the role of a muse feels correctly complicated— fraught, even. When we cast our collective gaze to the past, rhythms that once seemed romantic or salacious now ring decidedly more exploitative as time marches on; perhaps we are finally approaching a cognizance of power dynamics as they intersect with the cult of the image.
In one of the most confusing essays The Guardian has ever had the privilege of publishing, career contrarian Germaine Greer described the history of the muse in visual art as "the feminine part of the male artist, with which he must have intercourse if he is to bring into being a new work. She is the anima to his animus, the yin to his yang, except that, in a reversal of gender roles, she penetrates or inspires him and he gestates and brings forth, from the womb of the mind." While that take might work for...someone, somewhere, it's perhaps more useful for our contemporary framing to center a collaborative spirit of exchange between parties, flavored by the residue of love, or at very least a generative, mutual fascination.
With all that in mind, what does it really mean to revisit the painterly muses of yesteryear in 2019? Does this impulse constitute a convenient historical rewrite, or does it cater to our most prurient interests? Maybe a mixture of the two, for sure, but there's immediate humanity at play, also, a yearning for the kind of narrative that swells and trills with all the orchestral thoroughfare we've come to need from art practice and its attendant magic.
To be depicted is to be remembered, but at what cost?
Here are five fascinating peeks into the history of the muse.


BERTHE MORISOT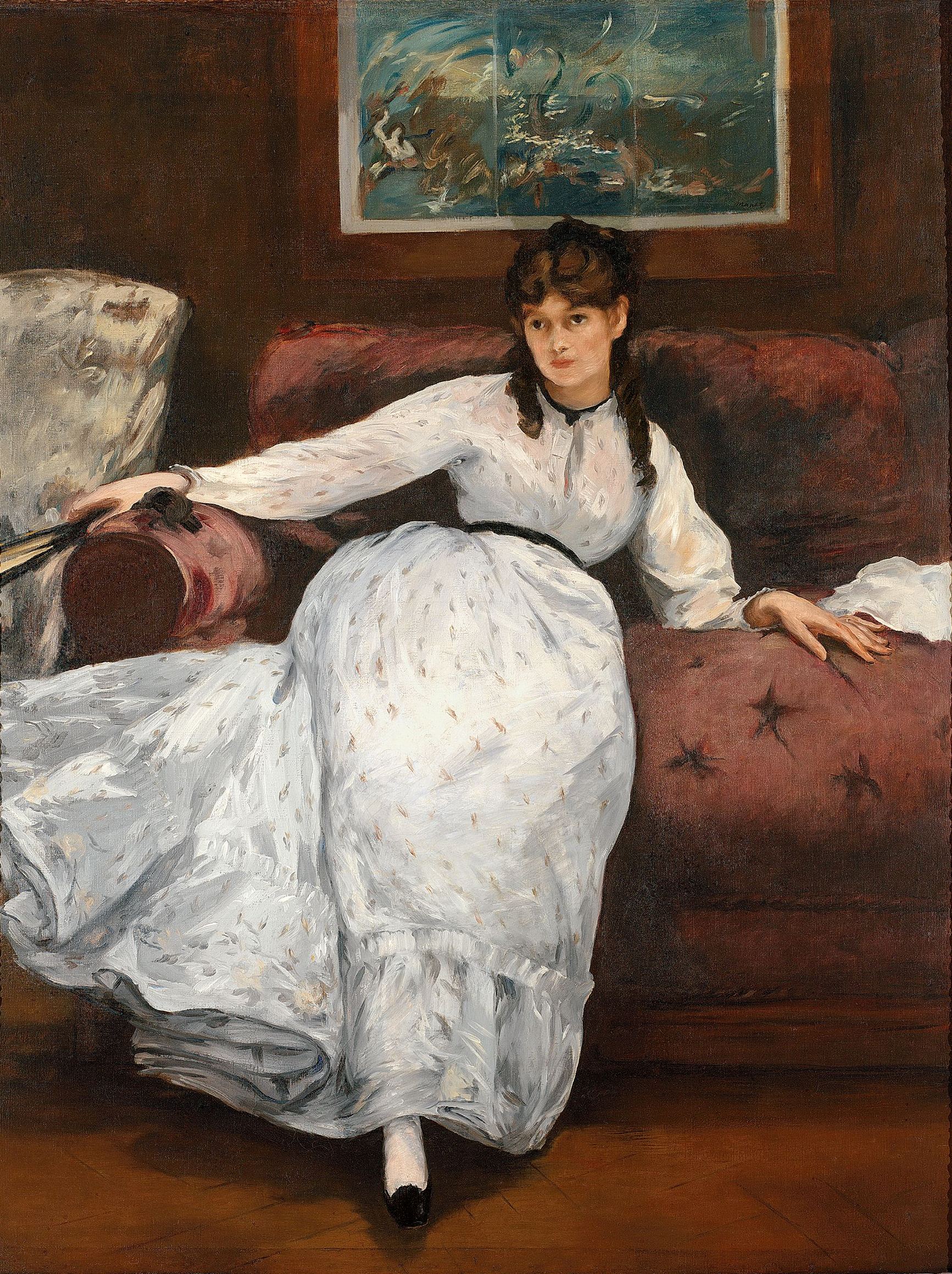 "Le Repose", 1870 via Wikipedia
In 19th century Paris, female members of the haute bourgeoisie led desperately sequestered lives; it was considered obscene to leave the house without a guardian, much less pose for a painting. As such, Morisot's infatuation with Eduard Manet, one that resulted in nearly a dozen portraits of her between 1868 and 1874, very nearly compromised her social standing as an upper class Parisienne. So did her art practice, which was sensitive, rigorous, and consistently dismissed by critics of her day as the efforts of a dilettante. Today, history recognizes Morisot as the first woman Impressionist, a significant creative force who came about her title honestly—Jean-Honore Fragonard was her great grandfather, she trained under Jean-Baptiste-Camille Corot, and she was the most exhibited painter of her requisite movement before its rise to mainstream approval in the late 1870s. Still, while many museums boast her work in their collections, she's consistently undersung alongside her male peers, which, while not necessarily surprising, adds layers of intrigue to her relationship with her aforementioned mentor and possible lover, Manet.
We only know the broad strokes, so to speak, as Morisot burned much of the her most revealing correspondence; Morisot eventually married Manet's brother at the painter's suggestion, but she spent most of her 20s striving for Edouard's affections, leading to long bouts of depression and crushing self-doubt. Her wedding took place in her early 30s, a scandal for a woman of her station, and she evidently agreed to the match to save face; she was notorious for bucking every other eligible suitor in town. By all accounts, Manet's own status as a married man didn't prevent him from objectifying his models—take the now infamous Victorine Meurent, a fellow painter whose own work was overshadowed by Manet's frank portrayals of her nude body, prompting art writers to describe her as "a female gorilla" and a "red-head of perfect ugliness" in print. His depictions of Morisot appeared kid-gloved by comparison, most likely because of her class ascription; while rumors may have rumbled around Paris about Morisot, Manet's sensitive portrayals never invited the level of stigma that haunted Meurent. As the two painters' artistic intimacy bloomed, their interpersonal toxicity grew alongside; Manet famously announced to George Moore, "my sister-in-law would not have existed without me." Moore also confirmed that "Berthe would have married Manet if Manet had not been married already," and her diaristic itemizations of his every response and reaction further underscored his hold on her heart. Later in life, she would write, "I do not think any man would ever treat a woman as his equal, and it is all I ask, because I know my worth," describing her entanglement with Manet as "impossible." While it can never be determined whether or not there was anything physical between them, the "did they or didn't they" conversation feels extraneous; Morisot was Manet's muse in life, love, and art, and while his creative impact on her was enormous, her influence on his practice held significance, as well. She introduced him to plein air painting, softer color, and a looser hand. Once she married his brother, Morisot stopped sitting for Manet altogether, apart from one portrait in 1874, where her engagement ring is on full and concerted display.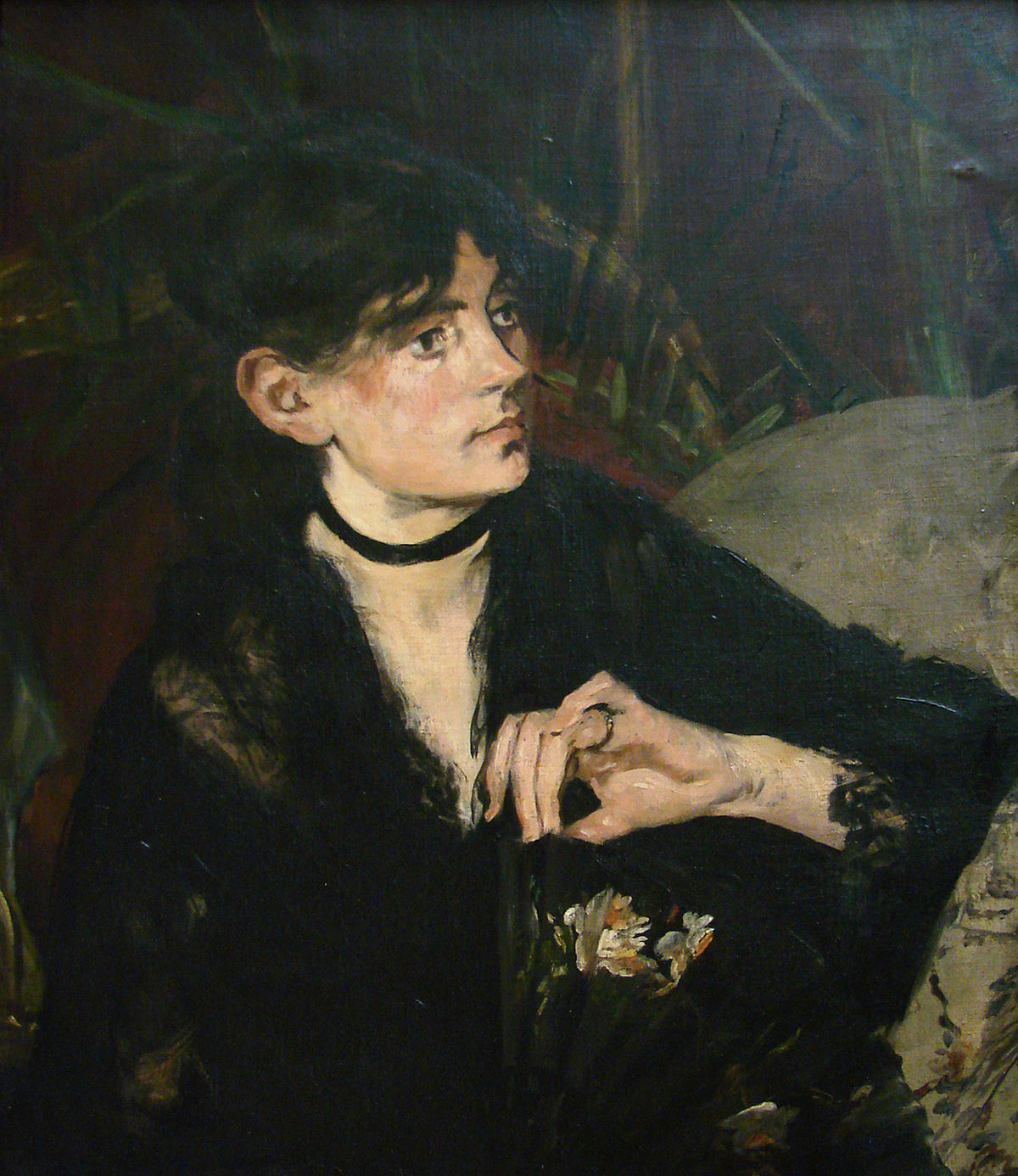 "Berthe Morisot with a Fan", 1874, via Morisot Online



ILONA STALLER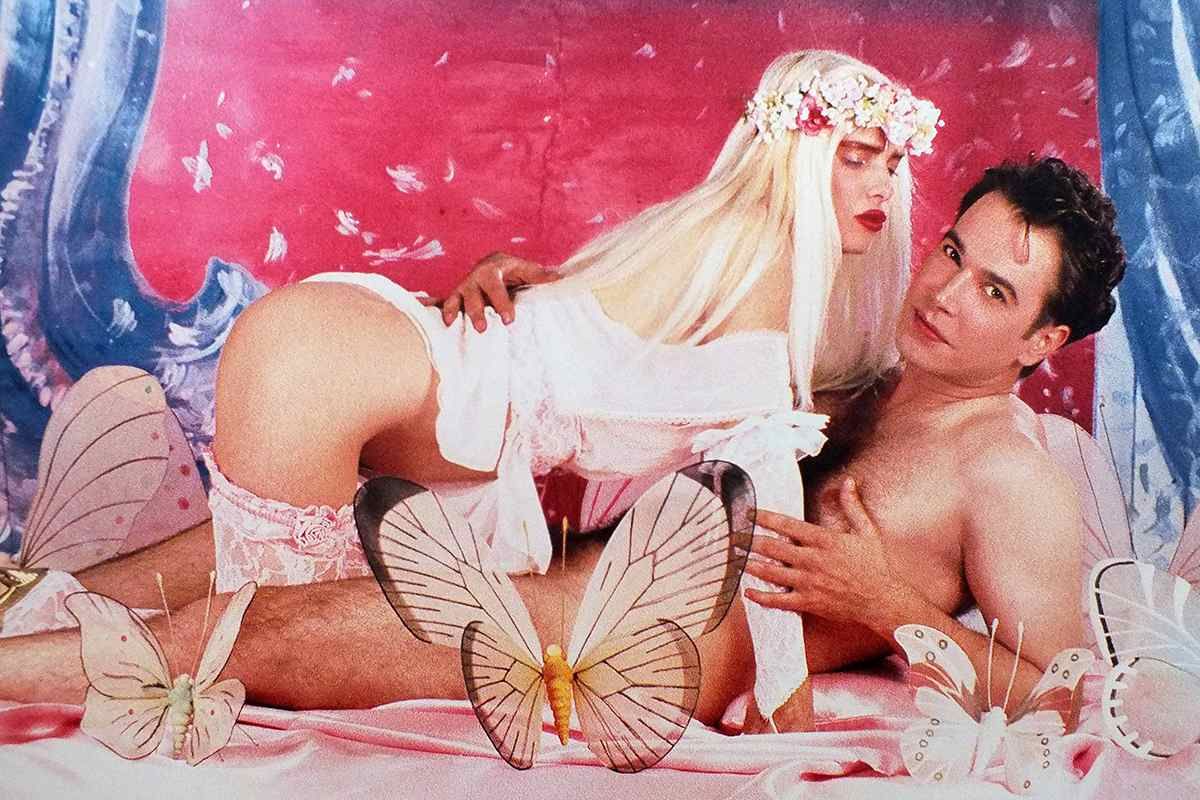 "Made in Heaven", 1989, via Tate Modern
So, Jeff Koons is… he's a character, for sure, and it's always been a little difficult to discern the level of sincerity at play in his work and words. When Koons began dating Ilona Staller, better known as the "La Cicciolina," queen of the Italian adult film industry, in 1987, it seemed as if he had met his match in terms of deliberately postmodern taboo-boxing; not only did Staller have the distinction of owning the first breasts brandished live on Italian TV, she had just been elected to Italian parliament as a staunchly libertarian Partito Radicale candidate, wherein she famously offered to have sex with Saddam Hussein in return for peace in Iraq. Koons, on the other hand, used his relationship with Staller to validate a Whitney Museum-sponsored billboard project in which he portrayed himself as a porn star, allegedly for... artistic reasons. His photography project with Staller, Made In Heaven, now lives in infamy as the single tackiest example of TMI to ever grace the white cube. Staller, a smart, strange, authentic libertine with a wide-ranging, bizarre career to match (check out her pop singles), gave Koons the raunchy legitimacy he needed to boost his early '90s profile after a career slump, but he turned out to be less than desirable husband. After their marriage in 1990 and subsequent birth of their child, Ludwig, in 1992, Staller cited Koons' penchant for watching videos online at the expense of any other form of contact grounds for divorce just six years later, eventually leading to a decade-long, gnarly custody battle that would briefly land Staller in prison, even though it appeared that Koons maintained a standing allergy to child support. While Koons used Staller to heighten his aesthetic dedication, Staller seems to be the true provocateur between the two, consistently putting her weight behind sexual liberatory causes and speaking truth to power, even laboring under the long shadow of the chrome-plated balloon animal that defined fourteen years of her life.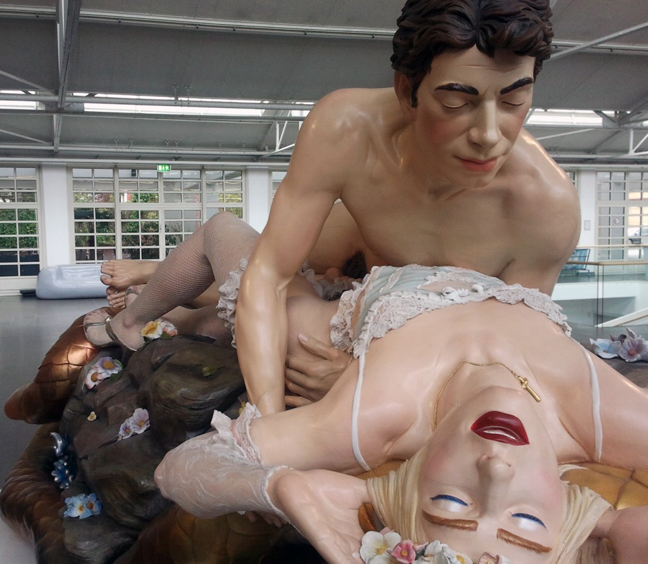 "Jeff and Ilona (Made in Heaven)", 1990, via Itsliquid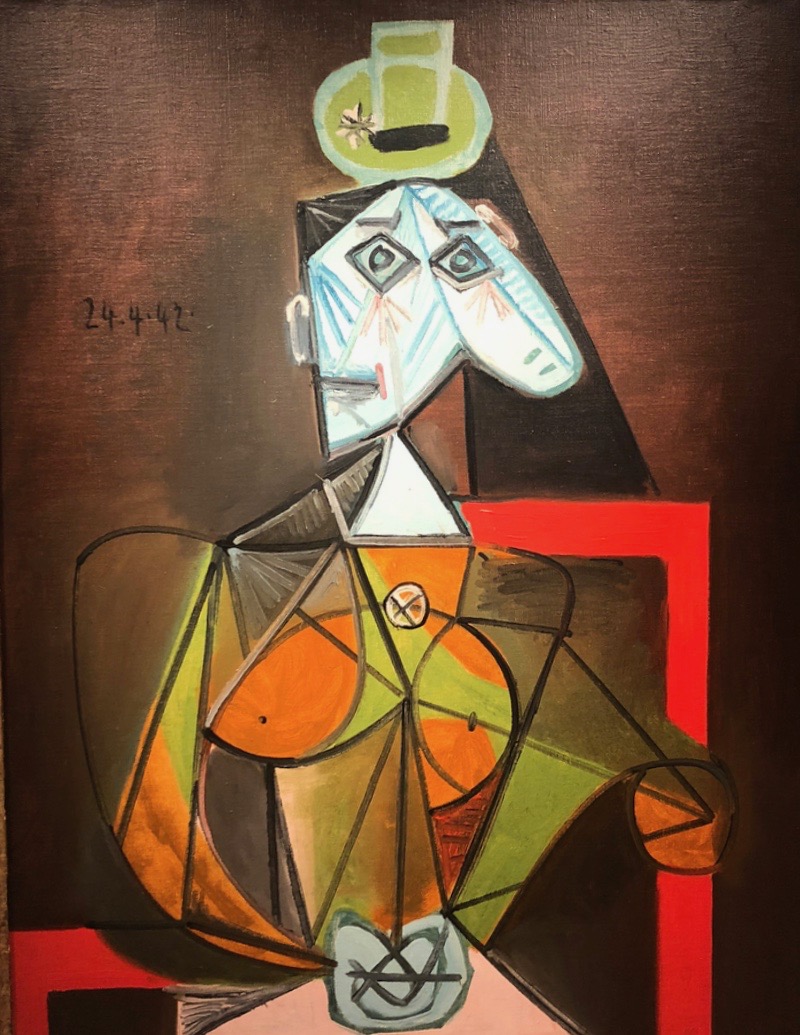 "Femme dans un fauteuil", 1942, via ArtMarket Monitor
Much has been written about Pablo Picasso's womanizing ways, but his unbelievably bold transgressions always seem worth a revisit. (He famously proclaimed that "women are machines for suffering," which seems less like the studied observations of a creative genius than the deluded justification of a serial abuser). The legendary Cubist painter met French photographer, painter, and poet Dora Maar, born Henriette Theordora Markovitch, at the end of 1935 while she was on assignment on the set of Jean Renoir's film The Crime of Monsieur Lange. Their subsequent affair, spurred by her coverage of Picasso's Guernica, would last nearly a decade, overlapping not only with his ill-fated by never dissolved marriage to first wife Olga Khoklova, but also his equally cruel treatment of mistress Marie-Therese Walter, who bore his child and eventually committed suicide after Picasso abandoned her for Maar. Picasso's treatment of Maar was similarly controlling and vile; he forced Marr and Walter to physically fight each other on one recorded occasion, and beat Maar mercilessly with utter impunity. To add insult to literal injury, he also insisted that her artistic practice look exactly like his, pushing her to abandon directions in her own paintings that felt organic to her vision. Their relationship ended in 1943, at which point she began to piece of her life and health back together. Maar spent her final years painting her own, distinct work in a house purchased for her by Picasso in Menerbes, Vaucluse, punctuating her studio discipline with clandestine visits to Jacques Lacan for electroshock therapy, illegal at the time. While she is primarily remembered today as one of Picasso's many lovers and perhaps his most pathos-laden painterly inspiration, her legacy has included a range of shows, featuring both her photography and painting, at a variety of venues throughout France.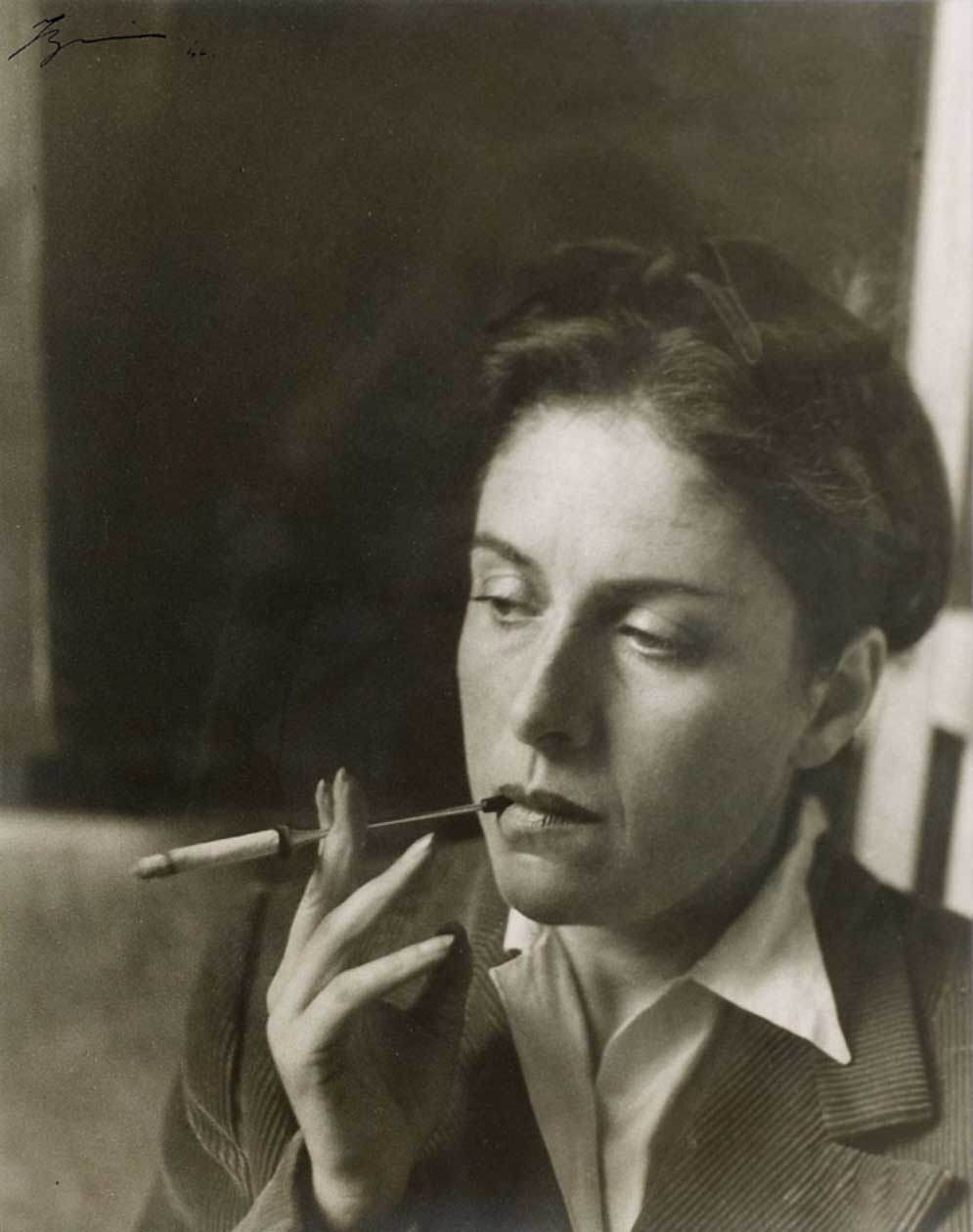 "Portrait of Dora Maar" via The Vampire's Wife
RELATED ARTICLE: The Picasso Problem: Why We Shouldn't Separate the Art From the Artist's Misogyny
MARIO MINNITI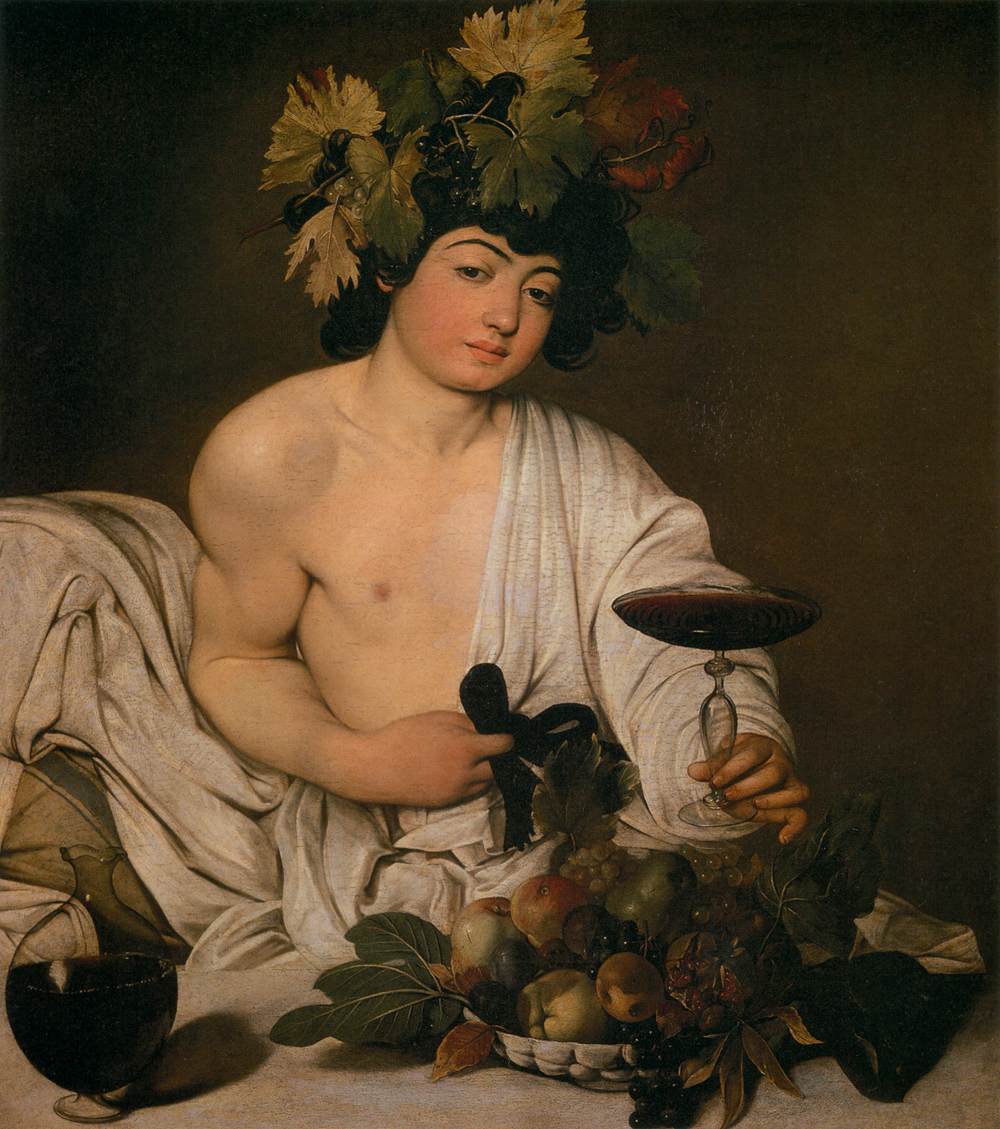 "Bacchus", 1595, via Uffizi Gallery
It almost goes without saying that late Renaissance chiaroscuro prince Caravaggio had a little bit of an issue with impulse control; after making a name for himself in his Milan-adjacent hometown, Caravaggio became one of the most renowned and controversial artists in Rome, but after killing a man in a street fight in 1606, was forced to flee the city and return south, where he died of fever in Porto Ercole at the age of 39. His deeply homoerotic 1602 masterpiece, Victorious Cupid, landed him in some hot water with the state when rival contemporaries of the artist's claimed it more or less amounted to a personal confession of sodomy, grounds for execution at the time. His troubles with the law didn't end there, however; when he wasn't getting arrested for fighting, he was evading the law for carrying unlicensed swords, cloak-slashing, throwing plates of artichokes at unsuspecting waiters, and taunting the police. Still, before his much-deserved banishment, Caravaggio found a needed source of stability through patron and friend Cardinal Francesco Maria del Monte, who commissioned more than 40 pieces from the temperamental painter, many of which were stipulated to center attractive, nubile young men. Enter Mario Minniti, teenage friend, companion, and frequent subject of Caravaggio's luscious mythological allegories. Their relationship was treated as an open secret, and it's known that while Minnito fled to Sicily following Caravaggio's exile in 1606, he actually sheltered his lover and mentor for three years while he was on the run. Minniti grew into a successful local artisan in Sicily, establishing the Minniti painting workshop, famed for handsome, collaborative religious commissions. In his 2011 biography, Caravaggio, a Life Sacred and Profane, critic Andrew Graham-Dixon bristled at the cultural assumption that the artist may have been gay, blaming our collective misunderstanding of visual allegory for these vicious rumors.
Which… okay.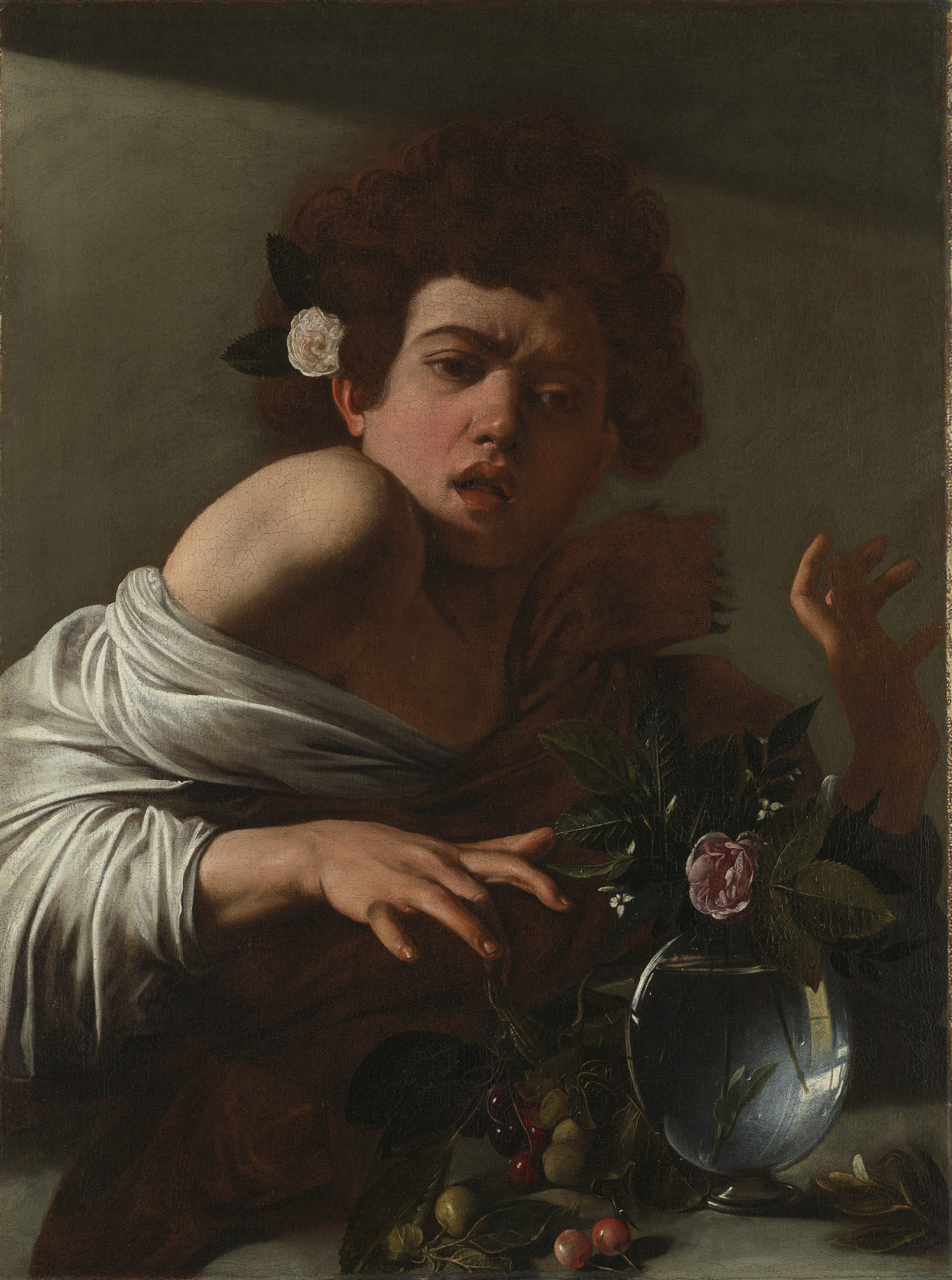 "Boy Bitten by Lizard", 1593, via National Gallery UK

Sure.
"Boy with a Basket of Fruit", 1593, via LA Times

Totally baseless.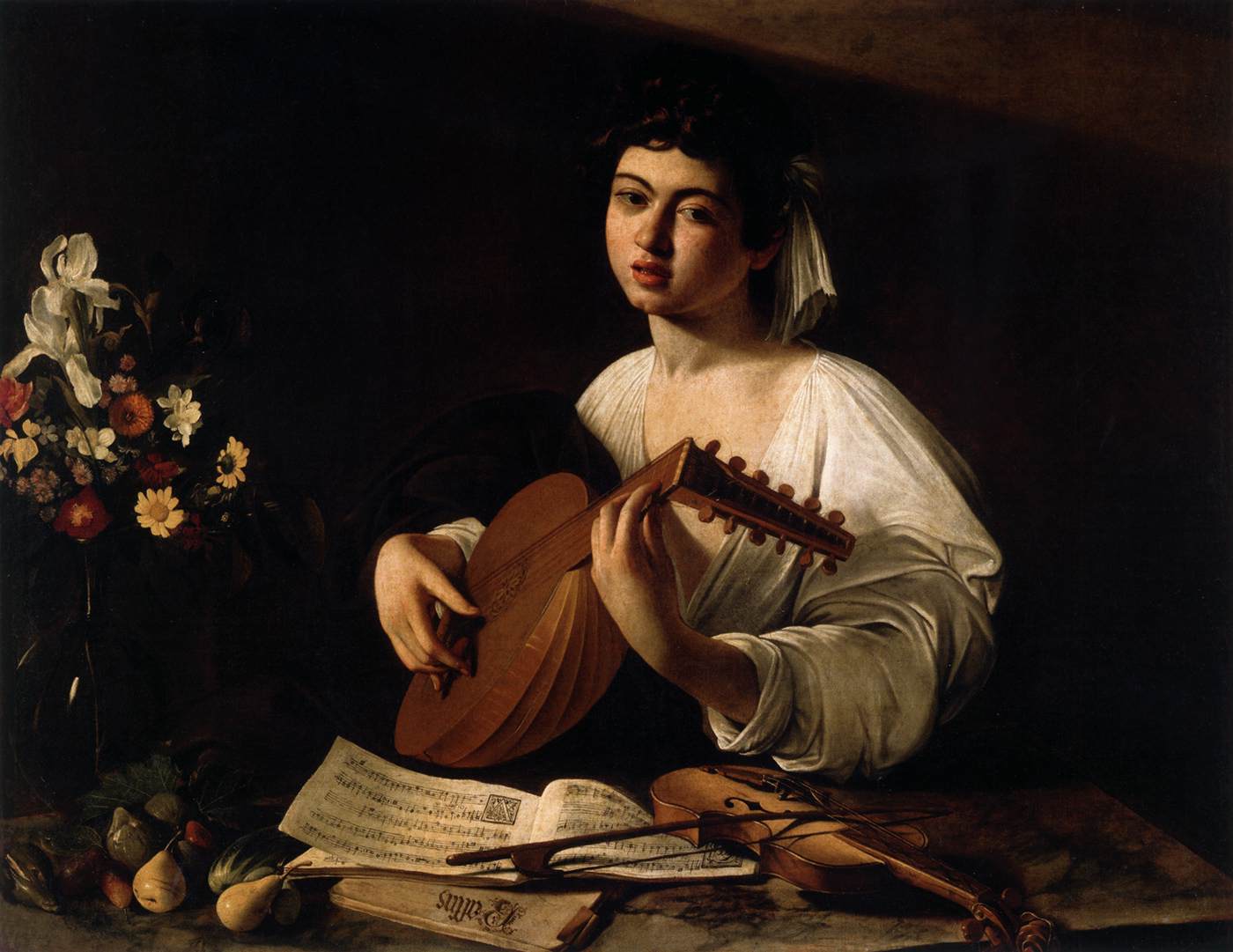 "Lute Player", 1595, via Hermitage
Thanks, Andrew.
RELATED ARTICLES: