Nothing says Americana like the artist Ed Ruscha, whose fascination with gauzy California light, the cinematic open road, and the typographical beauty of the English language has motivated an expansive and lauded career. Influenced heavily by Duchamp, pop-art, and the movies, his work often feels like a collision between art and cinema, with the Hollywood sign subsumed by the hills or imagined film-stills splitting title cards between frames. From his depictions of the gas stations in route from the artist's residence in California to his childhood home in Oklahoma City (Twentysix Gasoline Stations) to his enigmatic text-based messages, Ruscha is the singular icon of his own hard-edged brand of California Pop.
Here are seven artists who share Ruscha's iconoclastic spirit, his adoration for the open road, and his ever-critical language-based art. 
To browse even more Ruscha-influenced artists, browse the full collection here.
Petrol Station (green / black), 1998, available on Artspace for $3,376
Ralf Peters is a conceptual photographer who uses digital manipulation to make places and objects seem unfamiliar. His series, Petrol Stations, is reminiscent of Ruscha's work on the same subject, with three-quarter views providing similar, if more restrained, emphasis on the unique geometry of the gas station. Photographed at night—and with overexposed highlights hiding logos, signs, and text—context is removed, depicting the stations isolated in an ethereal, nondescript place where they act more as signifiers than as distinct locations.
The End, 2011, available on Artspace for $300
Ruscha expanded on his text-based practice in 1991 when he began his The End series, which involved damaged film projections featuring the words "The End"—suggesting that each is the final frame of some imagined film. Whereas Ruscha's series incorporated scratches and gothic type to suggest age, and monochromatic backgrounds, Luke Butler's more ironic take incorporates "AN L. BUTLER PICTURE" and opaque roman numerals over turbulent seas more evocative of '60s Nouvelle Vague than of decay, providing a scene we might like to inhabit instead of a passing memory we'd rather forget.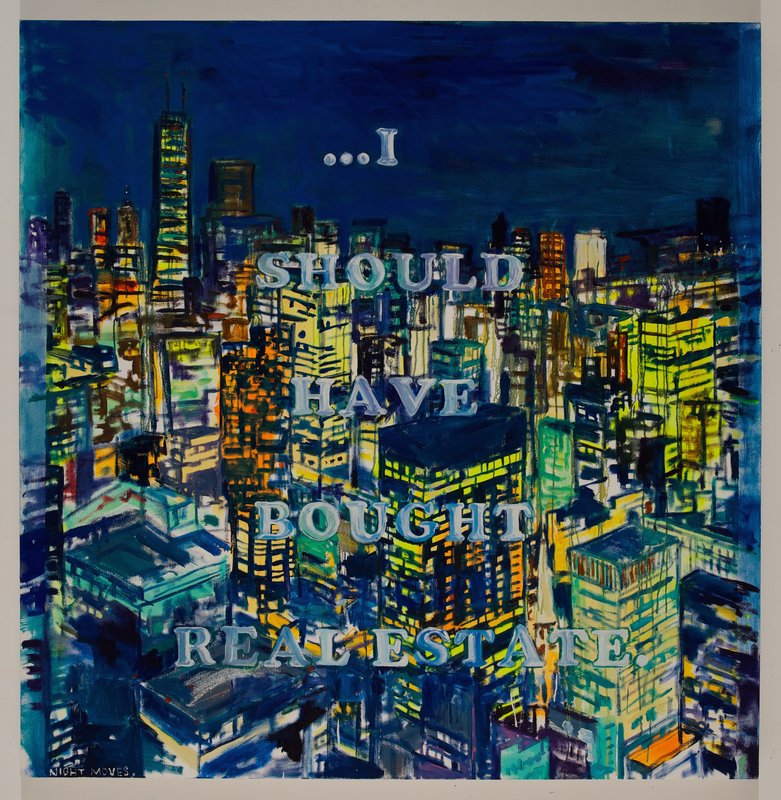 Night Moves, 2014, available on Artspace for $18,000
David Kramer recontextualizes advertising iconography, using its glossy tropes as pithy societal critique. Much in the way that Ruscha's text-based work evokes the poetics of the American landscape—they're like the snips of phrases you might see plastered across billboards as you criss-cross your way across the country—Kramer takes text just as familiar to us, juxtaposing our nonchalant consumerist impulse with the intensity of the cityscape to create an unexpectedly lively image.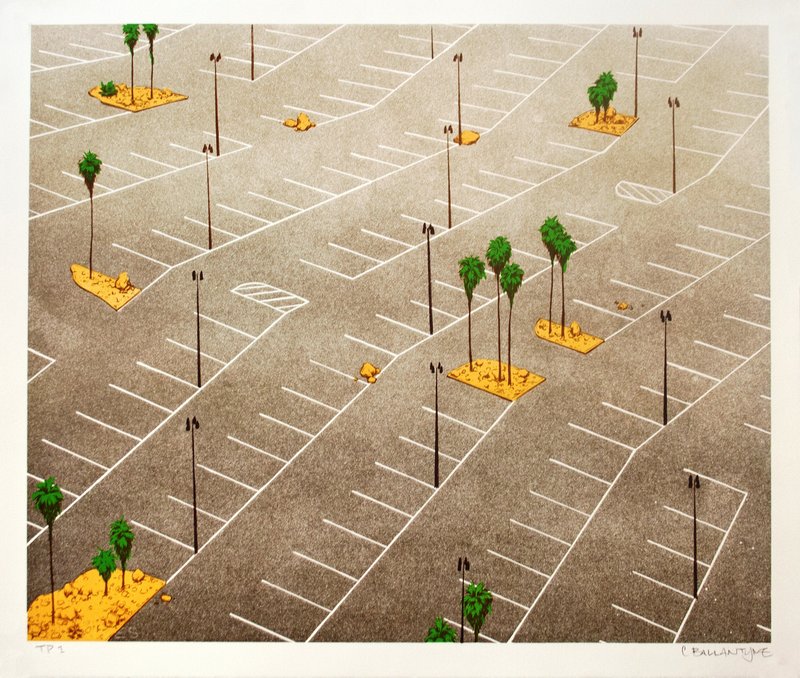 Parking Lot with Palm Trees, 2013, available on Artspace for $800
Following 1962's Twentysix Gasoline Stations, Ruscha took to the air and produced another artist's book in 1967, Thirtyfour Parking Lots in Los Angeles. From an aerial perspective, blacktops appear to black-out parts of the cityscape, dwarfing whatever attraction they're meant to serve. Chris Ballantyne's Parking Lot with Palm Trees feels like an idealized update to Ruscha's more detached views—colorful palm trees embedded in bright yellow sand make the mundane inviting, and feel expansive instead of constrained.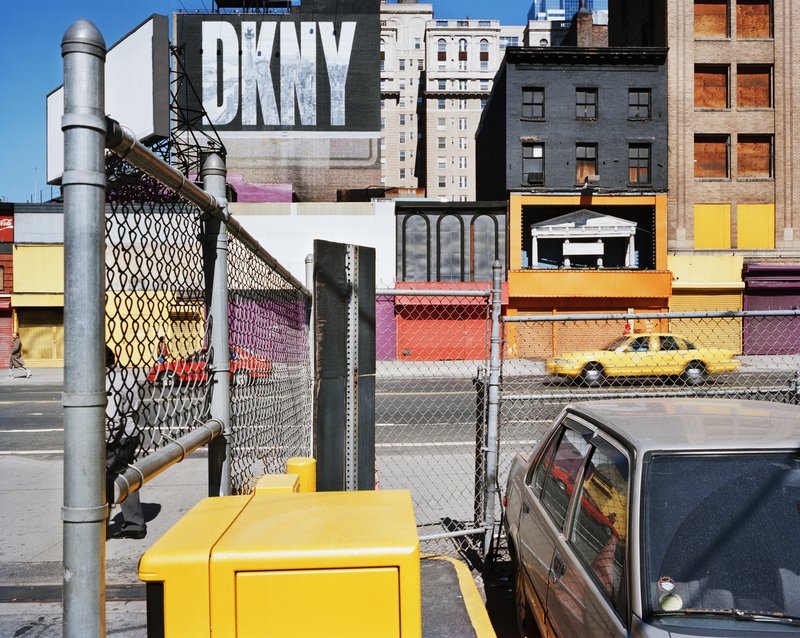 42nd Street and Eighth Avenue, from the Times Square portfolio published May 18, 1997, 1997 is available on Artspace for $1,500

Ruscha's Every Building on the Sunset Strip (1966) depicts, well, every building on the Sunset Strip in Los Angeles. Lauded for its conceptual choice to remove… choice, the series employed the "objective" eye of the indiscriminate camera and the arbitrary printing facilities of average drugstores. This avant-garde methodology along with the series' unique 25-foot fold-out accordion construction helped bring Ruscha acclaim for reinventing and reinvigorating the artist's book. Lars Tunbjörk's photograph of this semi-abandoned section of Times Square (before it was "revitalized") looks like it might as well be an excerpt from Every Building on 42nd Street, as if Ruscha's Every Building… had been exquisitely printed in color, set in New York, and produced 31 years later. Here, New York looks more like a sun-drenched Hollywood backlot with little towering over the nondescript storefronts except for, fittingly, a giant billboard.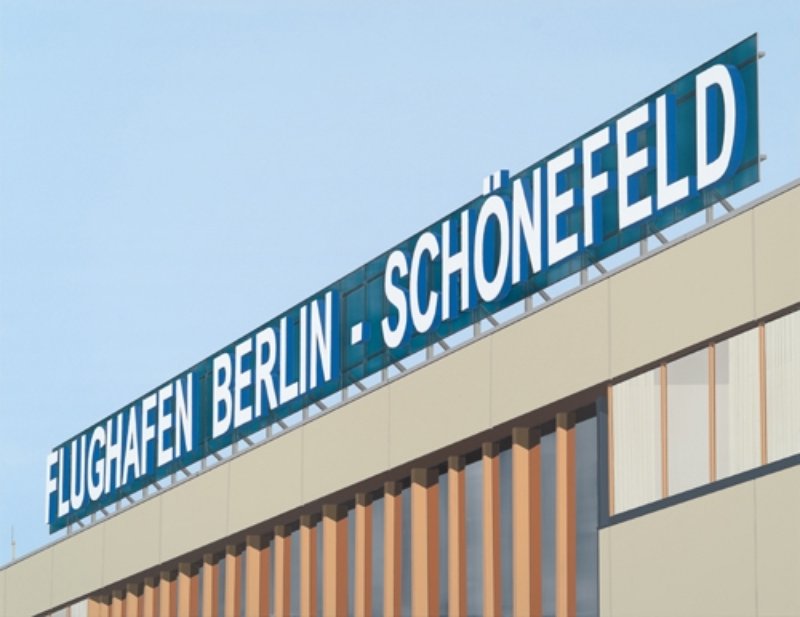 Berlin Schonefeld, 2009, available on Artspace for $20,000
Daniel Rich is a painter who uses a sign painter's tools—like stencils and enamel on diabond—to create flat, graphic renderings of international buildings, suggesting that the internal workings of governments shape the physical environments that people inhabit. Although ordered on the surface, these images reveal a provocative undercurrent of social commentary. His series on three airports examine the lingering vestiges of an East/West German divide. They are evocative of the hard-lined shapes and forms of Ruscha's Standard Oil paintings, but with more subdued colors.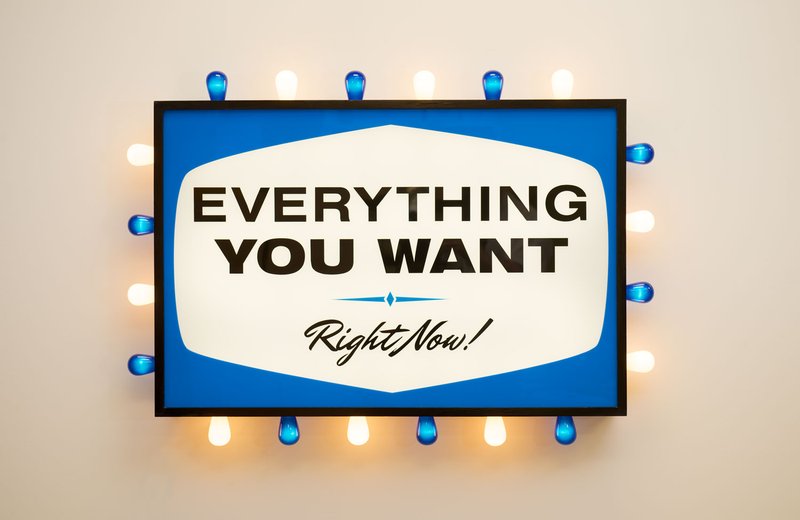 Everything You Want, Right Now, 2011/2013 is available on Artspace for $12,000
Steve Lambert takes commercial speech to its logical conclusion. Like Ruscha, his text-based practice makes subversive social commentary into a spectacle, and asks, why not make it as outlandish as possible? Employing a retro Americana aesthetic paired with generic, consumerist proclamations, Lambert elicits humor from a seemingly simple juxtapositions.
[related-works-module]