This guide was originally published by The Creative Independent, a resource of emotional and practical guidance for artists that focuses on the trials and tribulations of bringing creative work to life.
If you yourself are an emerging artist, you've likely picked up a few tips here and there, but for the most part, there is no "user manual" for getting started with galleries, collectors, and beyond. To that end, I've taken insights from my experience working in the art world and running a gallery over the last decade, and distilled some tips for a few common scenarios you're likely to encounter: showing work with a gallery, heading to an art fair, hosting studio visits, and completing commissions for collectors.
In Part 1, I went over what you'll need to know to navigate a relationship with a gallery. Here, I'll tell you everything you need to know about hosting a studio visit and getting commissioned to produce a piece. (Stay tuned for the third and final part, where I describe art fair etiquette—just in time for NADA New York!)
HOW TO HOST A STUDIO VISIT
Opening your studio to a curator, gallerist, writer, or collector can be an exciting and nerve-wracking endeavor. Here are a few rules of operation that may be helpful in taking full advantage of this opportunity.
What to have on view
Show a few things, but not everything. Depending on the nature of your visit, have examples of different bodies of work—or a tight group of one body of work—for your visitor to see. You might want to ask them in advance if there are particular pieces or series' that they're interested in seeing, so you can pull it out before they arrive.
Talking about your work
Know how to explain the origins of and ideas behind your work succinctly, but don't feel like you have to have an explanation for every mark and gesture. These people are trained in looking at art, and by allowing room for dialogue with them, you might learn something you hadn't seen in your work previously. Quiet looking is a good thing!
Creating the right environment
Don't have expectations or goals for an opportunity to come out of the visit other than meeting the person and discussing your work. You can't force a show, sale, or representation. On the flip side, if your guest does propose a sale, commission, or other opportunity, don't feel put on the spot—if you need more time to consider their offer, you can always ask to follow up with them at a later date. Remember that the guest you've invited is actually very grateful for your time, and cognizant that in sharing your work with them you are making yourself vulnerable. Offer snacks and/or a drink! That can help set the tone by making the visit more friendly and inviting.
Following up
Post-visit, be sure to follow up with a thank-you note or email. It's likely your visitor will do the same!
HOW TO CREATE A COMMISSION
Often, visits with collectors can result in commissions—an exciting opportunity for both you and the collector. You get to make something new with the condition that it will be purchased, and the collector gets their own unique piece. Here are a few good rules to live by when agreeing to a commission, to make sure everyone is on the same page.
Site visits
In some instances, a commission may require one or more site visits to a collector's home or the location where the piece will be installed. If this involves travel outside your city, it's reasonable to expect the collector to cover your transit as part of the commission process.
Deadlines
Determine how long it will take you to create this piece—then add three more weeks. It's always better to be safe than sorry when promising to create a new piece for a collector, and managing expectations is imperative.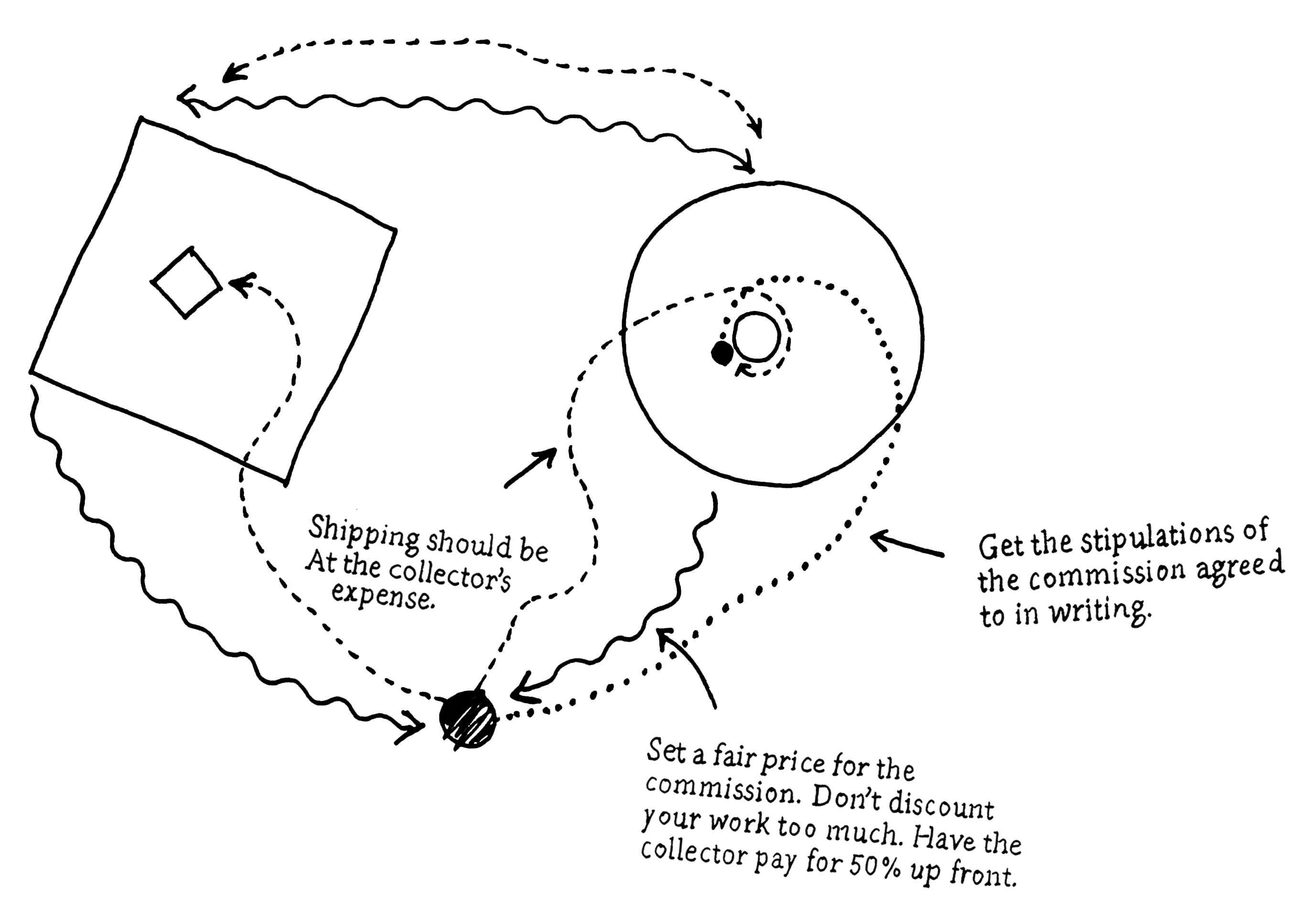 Pricing
If you've shown at a gallery before, remember that just because you're selling the work directly to the collector, you shouldn't discount it by 50 percent (i.e. by removing the gallery's commission). Doing this devalues your work overall, and makes it hard for future galleries to sell to collectors who know they can get the work for cheaper straight from you. So, make sure you set a reasonable price for the commission. Note that often, collectors will pay slightly more for a commission since it's being made specifically for them.
Downpayment
Have the collector pay for 50 percent up front. This 50 percent should be non-refundable in the event that you finish the piece, and the collector doesn't like what you've made. I've almost never seen this happen; however, once you've spent a significant amount of time making something you wouldn't have made otherwise, you should be fairly compensated for your time. (This is your job, after all.)
Once the piece is finished, if the collector is happy, you should expect to receive the remaining 50 percent in advance of shipping the piece.
Shipping
Shipping is at the collector's expense. But, if you feel so inclined or if it's necessary, offer to install the piece in its final location. It's up to you whether you do this complimentary, or if you add a fee. If you require a team, it's reasonable to expect the collector to compensate your team.
Get it in writing
Finally, all of the above should be agreed to in writing before you start creating the commission. Always be sure that the terms are clearly laid out so that both parties know what is expected of them. These can be written out as a single Term Sheet, or, depending on your relationship with the client, an email exchange that clearly stipulates the terms everyone is agreeing to can also work.
Hopefully, these tips for common situations are helpful guidance as you step into the art world. Remember, as other questions come up, your community of peers is always a great sounding board. Be sure to check in with each other and ask for help when you need it—as I said earlier, there's no manual for entering the art world, so be sure to soak up and share your experiences!
RELATED ARTICLES:
How to Nail the Studio Visit: Expert Advice on What Artists Should Do (and Not Do) to Make an Impression