Summer is almost here! For many New Yorkers, that only means one thing: weekend getaways in the East End of Long Island. While in recent years the Hamptons have become somewhat of a playground for Manhattan's elite, with crops of new hip restaurants and shops popping up each year, one thing that has remained true of the summer hub: it has long been host to a plethora of cool art. For decades, artists have flocked out to the East End for some peace and quiet; the landscape offering a haven from the bustling, overcrowded city.
Among the artists who built homes and studios in the picturesque countryside were notable names like Robert Rauschenberg, Jackson Pollock, Lee Krasner, Dan Flavin, Roy Lichtenstein, and Elaine de Kooning. Nowadays, there are a number of galleries and spaces keeping the artistic spirit alive, representing both established and up-and-coming artists. Honoring the surrounding landscape and its rich history, many of these local spaces offer a more aesthetically naturalistic and community-based approach to the gallery experience. Here are some of the local spots that should not be missed.
EAST HAMPTON

Eric Firestone Gallery
4 Newtown Ln, East Hampton, NY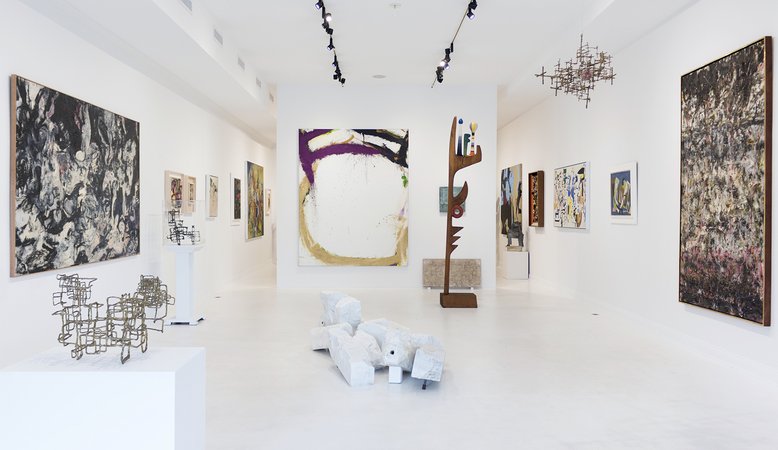 "Montauk Highway: Postwar Abstraction in the Hamptons" at Eric Firestone Gallery August 2017, Image courtesy of Eric Firestone Gallery
Halsey McKay Gallery
79 Newtown Lane, East Hampton, NY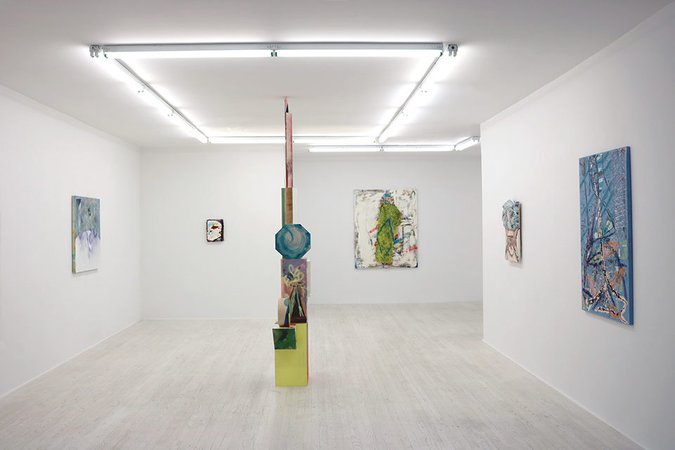 Image via Halsey McKay Gallery
A relatively rare example of a very commercial artist-run gallery, Halsey McKay was founded in 2011 by curator Hilary Schaffner and artist Ryan Wallace. Since its inception, Halsey McKay has presented a number of experimental shows featuring an eclectic range of international artists, including Ryan Travis Christian, Patrick Brennan, Elise Ferguson, Colby Bird, Ted Gahl, Glen Baldridge, and Lauren Luloff. This summer, the gallery has an exciting line-up of group exhibitions, including a show titled "Converter" (opening May 19) which will feature works from artists Jerediah Caesar, Graham Collins, Elias Hansen, Rosy Keyser, Augustus Nazzaro, and Jessica Vaughn.


East Hampton Shed
30 Blue Jay Way, East Hampton, NY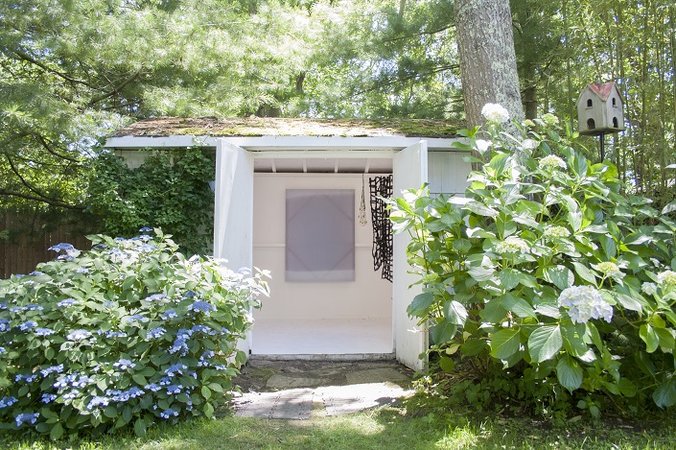 "Stain" Installation, image courtesy of the East Hampton Shed
A great example of resourceful ingenuity, East Hampton Shed is literally a shed-cum-gallery, founded by Hadley Vogel in the backyard of her parent's book bindery. This summer, the gallery will exhibit a retrospective titled "Moondog," which will feature works by every artist who has previously exhibited at The Shed. Known for featuring up-and-coming artists, the artists included in the show include Landon Metz, Rebecca Ward, Jean-Baptiste Bernadet, Quay Quinn Wolf, and more. The show runs through July 22.

Harper's Books
87 Newtown Lane, East Hampton, NY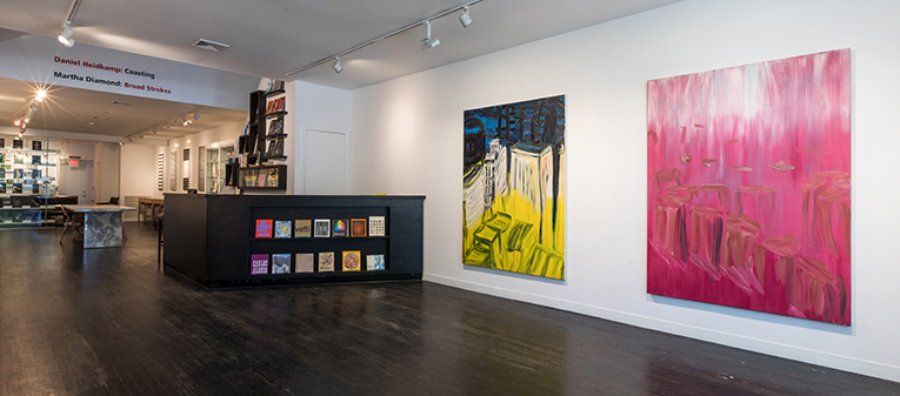 Image courtesy of Harper's Books
For the past two decades, Harper's Books has been one of the premier cultural hubs of the Hamptons. If sipping on an espresso or a glass of Prosecco and perusing through some amazing art books sounds up your alley, this is the spot for you. With a selection of rare books, art, and photographic works, the used book store houses tons of hidden treasures and also doubles as a gallery. What's not to love? This month, the space will feature a solo exhibition from photographer Maryam Eisler, titled "The Sublime Feminine" (opening May 26). In 2010 the gallery expanded to include a New York City location at 51 E 74th St., which is presently showing an exciting solo exhibition of Susumu Kamijo, titled "I'll Walk You Tomorrow."
Rental Gallery
87 Newtown Ln, East Hampton, NY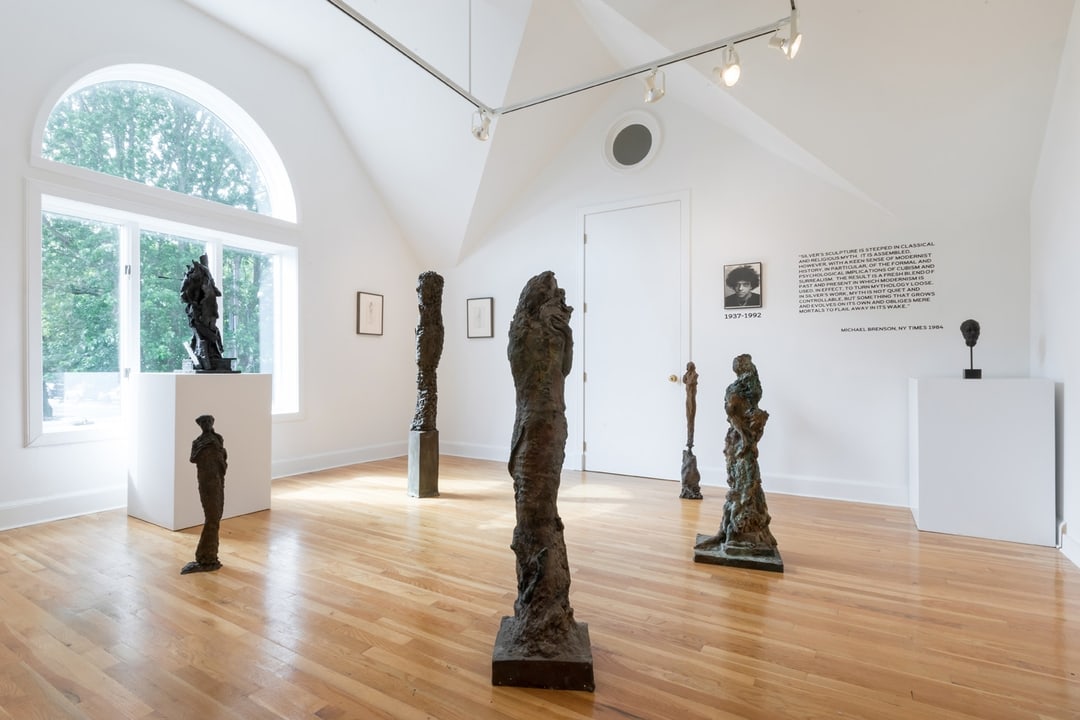 Jonathan Silver at Rental Gallery. Image courtesy of the gallery and artist.
Right next door to Harper's Books is Rental Gallery, run by Joel Mesler (formerly of Untitled Gallery and Mesler/Feuer), who moved his business (and his family) from Manhattan to East Hampton just last year. In an interview the dealer did with Artspace's Loney Abrams, Melser discusses the failing lower east side gallery model and his decision to move to the Hamptons: "Being able to jump out of that paradigm and that model [associated with mid-tier galleries like Mesler/Feuer] was totally liberating... When I found out that Glenn Horowitz's old space was available in East Hampton, it was kind of a no-brainer. Once I crunched all the numbers and figured out if it could work, I had to do it." Now in its second year, Rental Gallery is gearing up for summer with a solo exhibition of Billy Sullivan's painted portraits, opening on the 19th of this month, and on view until June 17.
Pollock Krasner House
830 Springs Fireplace Rd, East Hampton, NY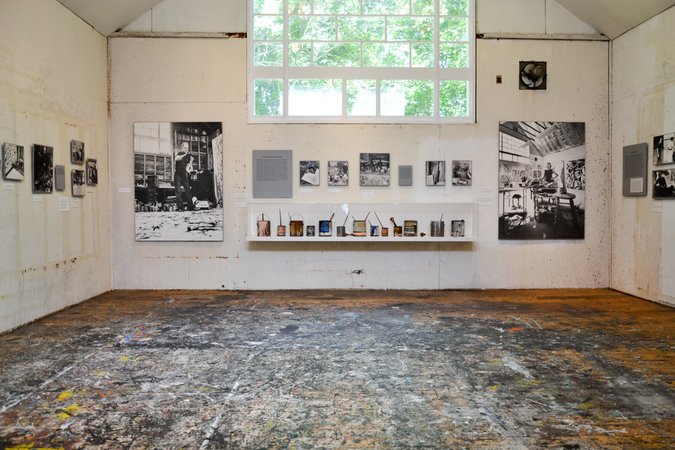 Image courtesy of Gucki
One of the greatest hidden gems of the Hamptons is the residence of the late Abstract Expressionist painters Jackson Pollock (1912-1956) and Lee Krasner (1908-1984). In 1945 Krasner and Pollock married and moved from New York City to Eastern Long Island and purchased a home with a loan from art dealer Peggy Guggenheim. The sprawling property, now a National Historical Landmark, is well preserved with many artifacts from the couple's life together. Behind the house, which is still filled with everything that was in the house when Krasner passed away, is the studio where the two worked. Visitors are invited to walk on the splatter-painted floors (with provided slippers). The property is open Thursday through Saturday for guided tours, by reservation only.
To keep the momentum of nostalgia going, be sure to head to Green River Cemetery, where both Pollock and Krasner are buried alongside a number of influential painters, poets, writers, architects and musicians including Frank O'Hara, Ad Reinhardt, Jean Stafford, James Brooks, and Elaine de Kooning. Bring a Ouija Board for extra kicks.

The Fireplace Project
851 Springs Fireplace Road, East Hampton, New York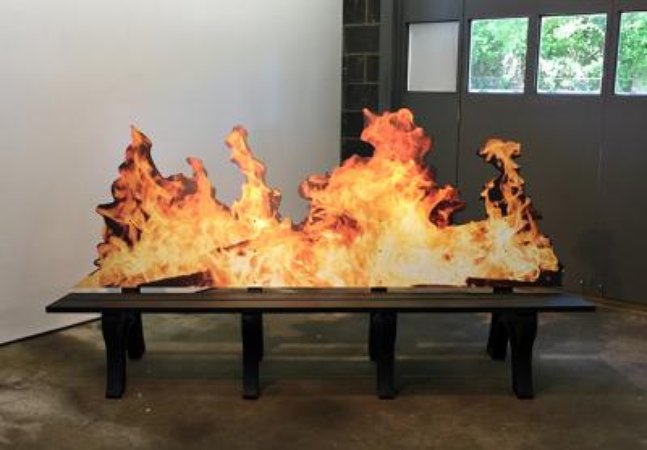 Peter Sutherland's "Kingsford (Long)" is part of his "Santa Carla" at The Fireplace Project, image courtesy of The East Hampton Star
Across the street from the Pollock Krasner house sits garage-turned-contemporary art gallery The Fireplace Project. Featuring an array of solo exhibitions, salon-style group shows, and artist's projects, the gallery takes a non-traditional approach to curation. "We do not represent artists," writes director and curator Edsel Williams, "we present (them)." This summer, the gallery presents a salon-style group show curated by Williams called "9999" (June 8-July 8), where works will be sold for no more than $10,000; followed by solo exhibitions of Naama Tsabar (July 13-August 15) and Lucien Smith (August 10-September 9).
---
MONTAUK

Boo-Hooray Summer Rental
805 Montauk Highway, Montauk, New York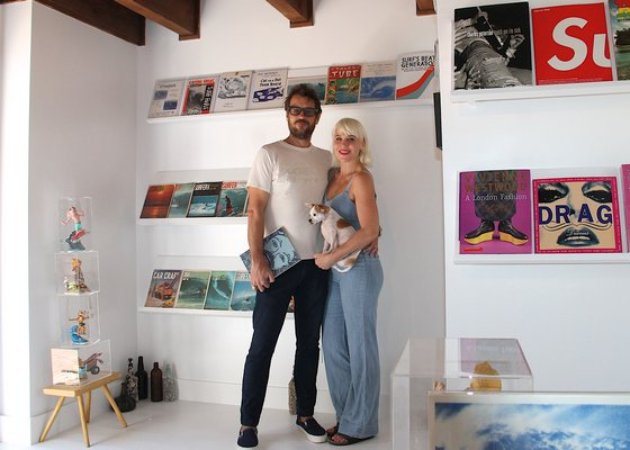 Image courtesy of 27 East
Since its inception in lower Manhattan (located at 153 Lafayette Street), gallery space Boo-Hooray has been dedicated to preserving and exhibiting important cultural documents and ephemera which mark the major movements of the 20th and 21st century. Founders Johan Kugelberg and Dr. Lila Wolfe specialize in collecting rare books, records, catalogs, zines, posters, and photographs. Last year, the couple brought their downtown sensibilities out east and opened a pop-up location which they've aptly named the Boo-Hooray Summer Rental. With a sign designed by New York street artist Baron Von Fancy and a stunning collection of cultural relics sourced from Columbia and Yale's rare book and manuscript libraries, along with an exciting line-up of exhibitions featuring works from artistic legends Jane Dickson, Pat McCarthy, Ben Morea, Jonas Mekas, Stu Gazi, Lizzi Bougatsos, to a solo show of the late Alan Vega's self-portraits, this spot is not one to be missed.
---
AMAGANSETT

Karma Gallery
249 Montauk Hwy, Amagansett, NY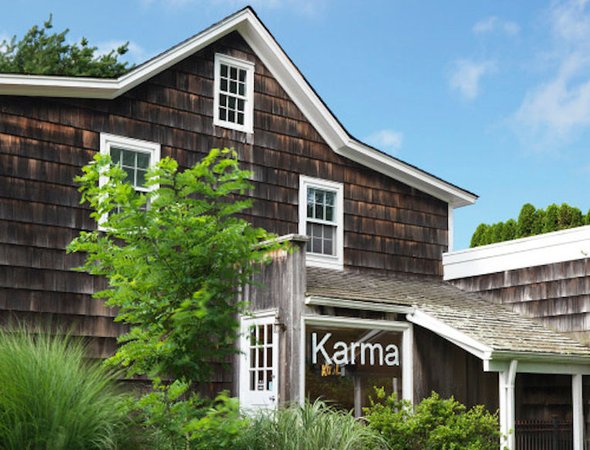 Image courtesy of Goop
A mainstay of lower Manhattan gallery/bookstores, Karma Bookstore Gallery (founded by Brendan Dugan) specializes in collecting rare books and exhibiting the hottest up-and-coming contemporary artists. In 2012 the gallery opened a summer outpost in a two-storied shingled house on Amagansett's Main Street, and has featured a number of major contemprary artists including Roe Ethridge, Elizabeth Peyton, Collier Schorr, and Jordan Wolfson.
---
BRIDGEHAMPTON

Dan Flavin Institute
23 Corwith Ave, Bridgehampton, NY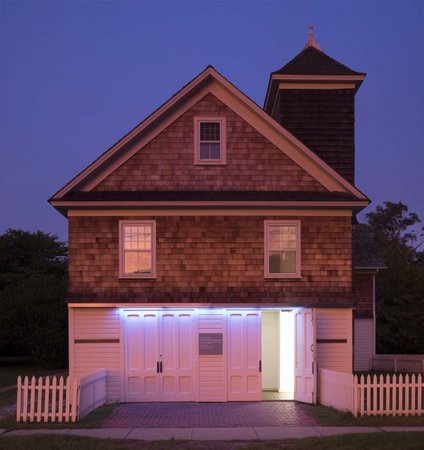 Image courtesy of the Dan Flavin Institute
Among the many artists who retreated to the Hamptons during the summer months was contemporary artist Dan Flavin. In 1983, the artist worked with the The Dia Art Foundation to transform an unassuming shingled building originally built as a fire station in 1908 into an exhibition space. Now the space is home to a number of the artist's signature fluorescent light works, and features rotating exhibitions on the ground floor. The interior design of the space is a collaboration between Flavin, the architect Richard Gluckman and the Dia's director of operations, Jim Schaeufele.
---
SOUTH HAMPTON
Parrish Art Museum
279 Montauk Hwy, Water Mill

Image courtesy of Vanity Fair
Founded in 1897, the Parrish Art Museum has long been a staple of the artistic community of Long Island's East End. What was once a small art gallery has expanded into one of the United States's premier art museums, with over 2,600 works ranging from the 19th century to the present from established modern and contemporary artists including Dan Flavin, Roy Lichtenstein, Eric Fischl, Lee Krasner, John Chamberlain, Esteban Vicente, Chuck Close, April Gornik, Willem de Kooning, Elizabeth Peyton, and Jackson Pollock. In 2010, the museum added a new 34,400 square foot building designed by Swiss architects de Meuron and Herzog, an architectural feat which seamlessly blends into and pays homage to the surrounding landscape. Along with an exciting program of diverse exhibitions such as the current Thomas Joshua Cooper show "Untamed," and the forthcoming Keith Sonnier exhibition "Until Today" (opening July 1), the museum features a number of public programs ranging from performances to concerts to workshops, so be sure to check out their schedule.
Tripoli Gallery
30A Jobs Ln., Southampton, NY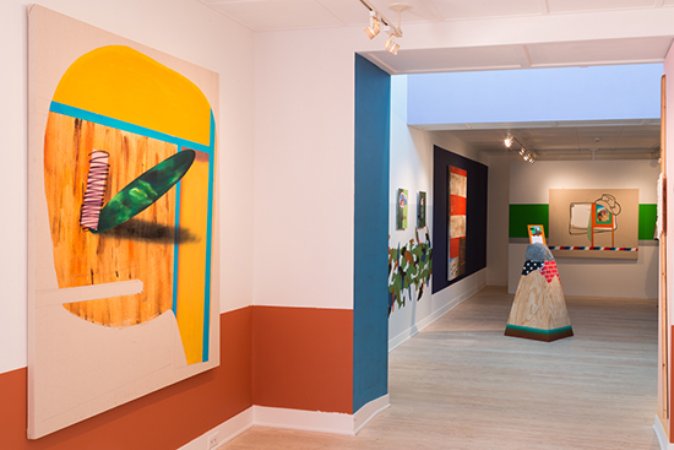 Image via Hamptons Art Hub