Karl Marx's staggering influence had everything to do with his air-tight theoretical glossary—every axiom had a lexis, a rationale, a corresponding conceptual framework. It's both curious and telling, therefore, that his usage of the term charaktermaske, or character mask, is conspicuously ambiguous. Without a fixed analogue, the Marxist notion of a character mask is best interpreted as a prescribed social role that conceals glaring contradictions embedded in the cultural hierarchy. Pre-dating sociological and pop-psychological adoptions, Marx's "masking" process takes place in steps; a person engaging in trade must assume a behavioral pattern necessary to complete tasks at the behest of an abstract authority, thus personifying irrelevant interests as joint means of socialization and sustenance.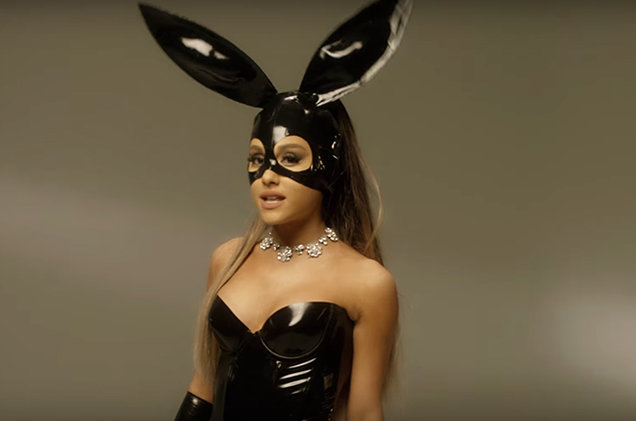 Ariana Grande performing "Dangerous Woman" via Billboard
"Masking" occurs during the transformation of the individual worker's consciousness to best serve his or her reality; the conflicting agendas at play in the daily context of employment have to be addressed somehow, typically through the ascription of meaning or pride through competency. A sly form of anthropomorphic inversion starts to infiltrate human dynamics as people are objectified by their complicity in macro-capitalist alienation. Marx's mask is more than a ritualistic decoration or a necessary vestige of professional politeness, then, but a separate truth, the tamed, contented silence that accompanies coping's corpse-quiet complacency. We are the masks we wear, and not in the V for Vendetta sort of way.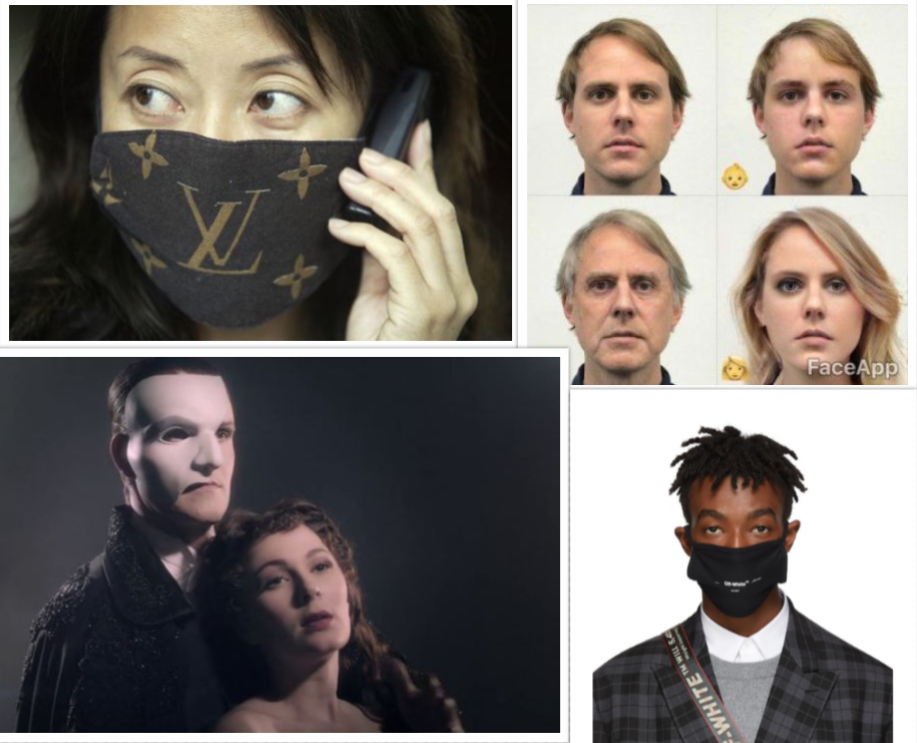 Left to right, top to bottom: A designer SARS mask via CNN, a FaceApp capture via ABC Australia, A Phantom of the Opera still via Thirteen.org, an Off-White Black Logo Mask via SSENSE
For all the Etsy cross-stitched wall art reminding us to 'live authentically,' our global marketplace slumps under the weight of masks by the millions—the blue avi of the anonymous Twitter troll, the gooey Korean sheet designed to stave off crow's feet, a military drone's inauspicious hum, that horrifying, horrifying movie trailer for Cats, the corporate VR pop-up in the Lower East Side you don't remember saying you'd attend. Snapchat filters sell user data to Russian security firms, white girls don blackface for Instagram likes, and MTV's "reality" show Catfish persists in spite of its host's comic technological redundancy.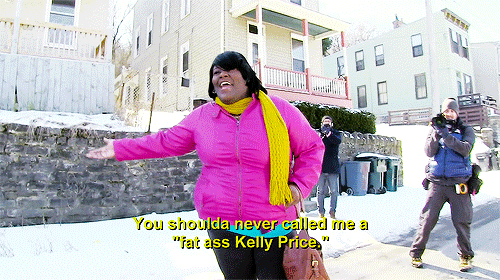 Catfish royalty Carmen via Buzzfeed
Gucci, Louis Vuitton, and Supreme have all released ski-mask inspired face coverings over the past three years in reference to, what, exactly? The survivalist felonies often glamorized by fashion's upper-echelon hip-hop clientele? The grim parade of mass shootings draining America of its decency? Our ill-advised war on terror? In a hopelessly interconnected neoliberal landscape, identity has never felt more or less vital at any other point in human history. The contemporary body, in Harraway's terms, operates both as a battleground for prejudicial struggle and a cyborgian hijack portal, at once fragile and edgeless in equal turns. As the public sphere continues to grapple with empathy as an ethical proposition, our masks assume an even greater urgency. What are the discursive boundaries of human inclusion? How do we dismantle the aesthetics of power?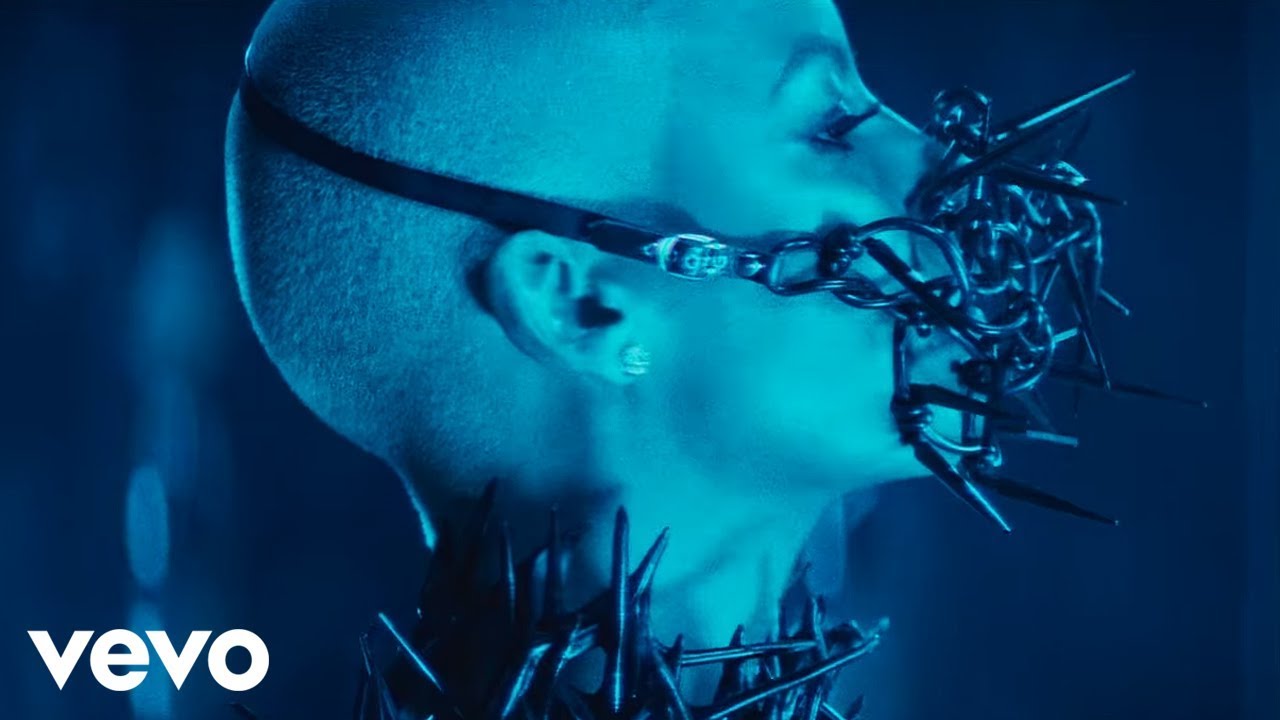 Amber Rose starring in Future's music video for Mask Off via Youtube
From whom do we beg forgiveness for the cruelty of the anthropocene?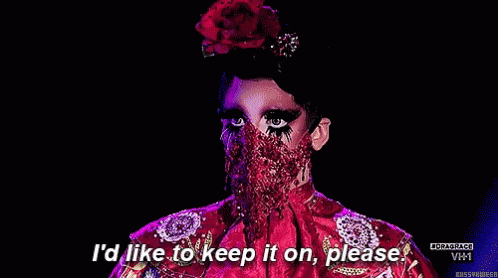 Valentina's disastrous RuPaul's Drag Race season 10 lipsync via Tenor
The late Toni Morrison wrote, "Like failure, chaos contains information that can lead to knowledge - even wisdom. Like art." Masks have long featured in the history of art practice, from the animistic spiritual liaising of Mali's Dogon people to the colonialist appropriation of African aesthetics by the Fauvists and Cubists. Artists of today utilize "masking" along multi-various but tandem trajectories, creating new strategies for mourning, hybridizing genre, and questioning geopolitical infrastructure.
Here are 11 contemporary artists taking on the "mask."
ALDO LANZINI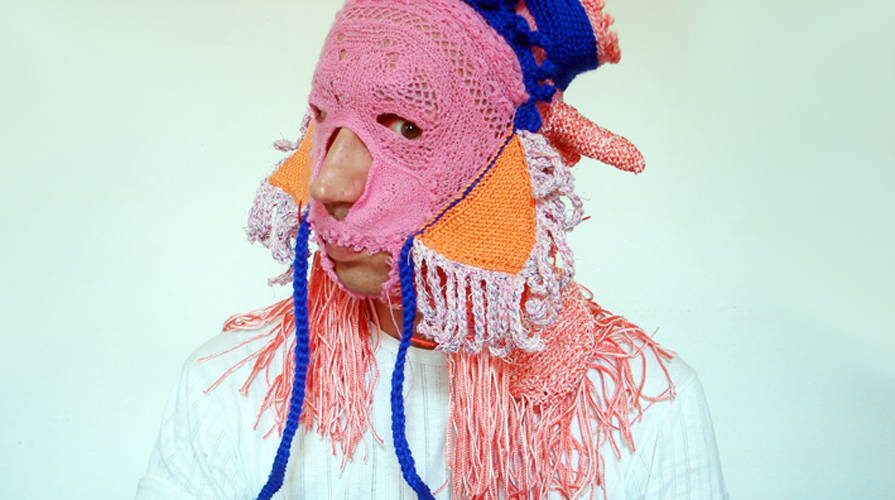 Lanzini via Untheprefix
Italian crochet master Lanzini takes artistic experimentation to new heights with his punchy pop-punk creations, inspired in large part by his time designing for the protagonists of the '90s club kid scene in New York (he was the lead costumer for Kevin Aviance, iconic drag queen, musician, nightclub personality and vogueing legend). Prior to his time in America, Lanzini studied at the Brera Academy before earning his Masters in Multimedia from the Rijsakademie in Amsterdam. A Fashion and Textile Lecturer at Milan's NABA, Lanzini's process reflects his corporeal focus; he starts without a blueprint, working outwards from a small crocheted section he adjusts to the body in real time. Borrowing from drag's rich visual archive, Lanzini creates pieces that conceal the face and highlight the body, commenting both on the potential for and price of transformation. Lanzini isn't keen on being photographed mask-less, either, lending a veneer of mystery to his colorful endeavors.
LEO SELVAGGIO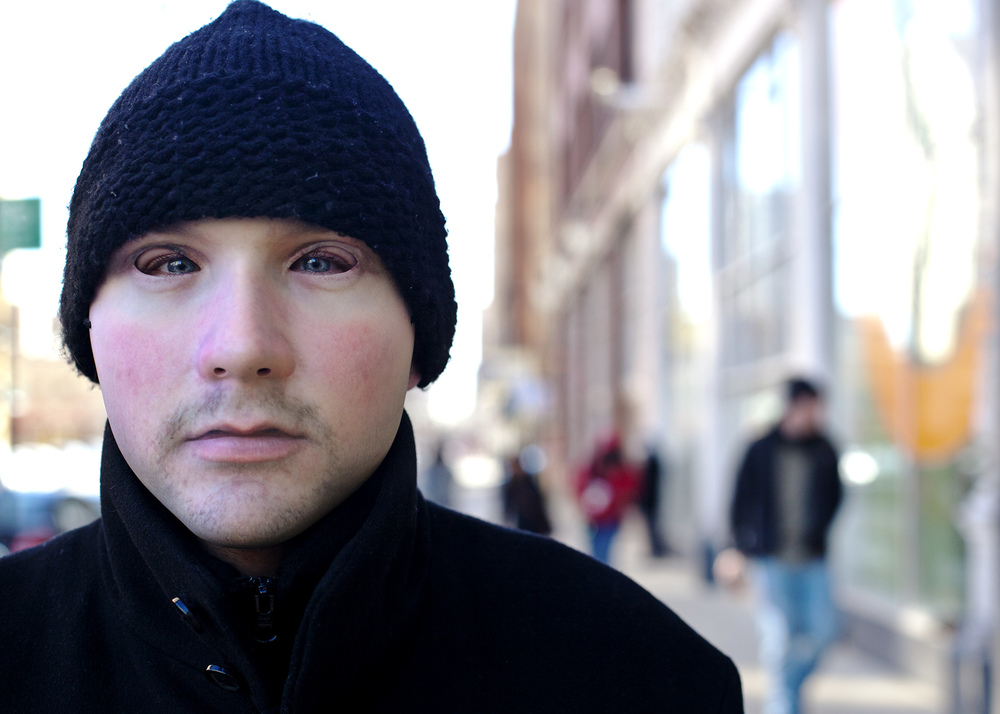 URME Surveillance via artist's website
In 2014, then-Columbia College MFA student Selvaggio started an Indiegogo campaign to support the URME Surveillance project, a production of prosthetic masks in his own image developed to thwart automated recognition software. The premise was smart and simple; the masks wouldn't just hide wearers, but underscore the very act of concealment, issuing a broad political statement about federal and corporate surveillance in public spaces. "I propose that we change what's being surveilled until the reason we are surveilled is no longer relevant," he declared in a promotional video for the objects. "I'm talking about changing us." The implications of a white, male face's mass-dissemination as the central point of protest added an extra dimension to Selvaggio's conceit; anonymity lives inside the status quo. Much discussion has unfolded in the intervening years about race and digital recognition, particularly of black and brown faces—the centuries-old, racist history of photographic color often means that citizens who escape automated surveillance are doubly subjected to IRL oppression, violence, and state oversight. Selvaggio, currently based at Smith College, has shown his work all over the world, including the Museum of Contemporary Design and Applied Arts in Switzerland and the Design Biennial in France.
DON PROCH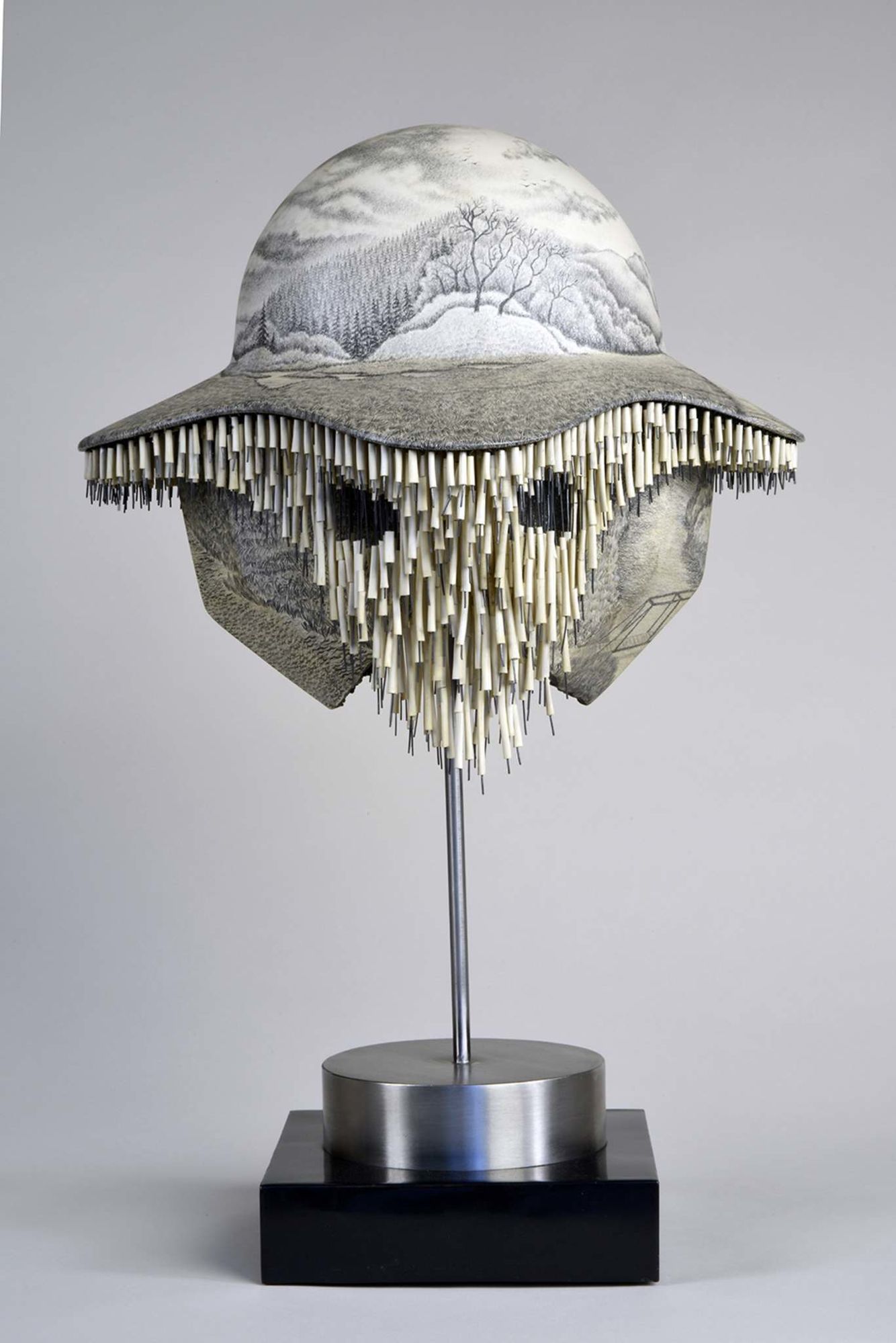 Chicken Bone Mask, 1978 via Winnipeg Free Press
Canadian artist Don Proch is regularly hailed as one of the most important creative forces of the Prairies, drawing wide-ranging phantasmagorical inspiration from his Manitoban farming background. After becoming frustrated with the limits of his 2-D figural practice in the late '60s, Proch turned his attention to the material specificity of sculpture, often building mask-like structures directly onto human shoulders and faces with binder twine, barbed wire, bones, and grass. Proch's oeuvre is imbued with childhood memories and personal history, and the quirky, aching detail he breathes into each piece both invites and excludes viewer engagement. Designed through but not as adornment, Proch's masks re-constitute identity as a painstaking feat of assemblagistic recovery, positing the notion of 'home' as a condition defined by longing itself.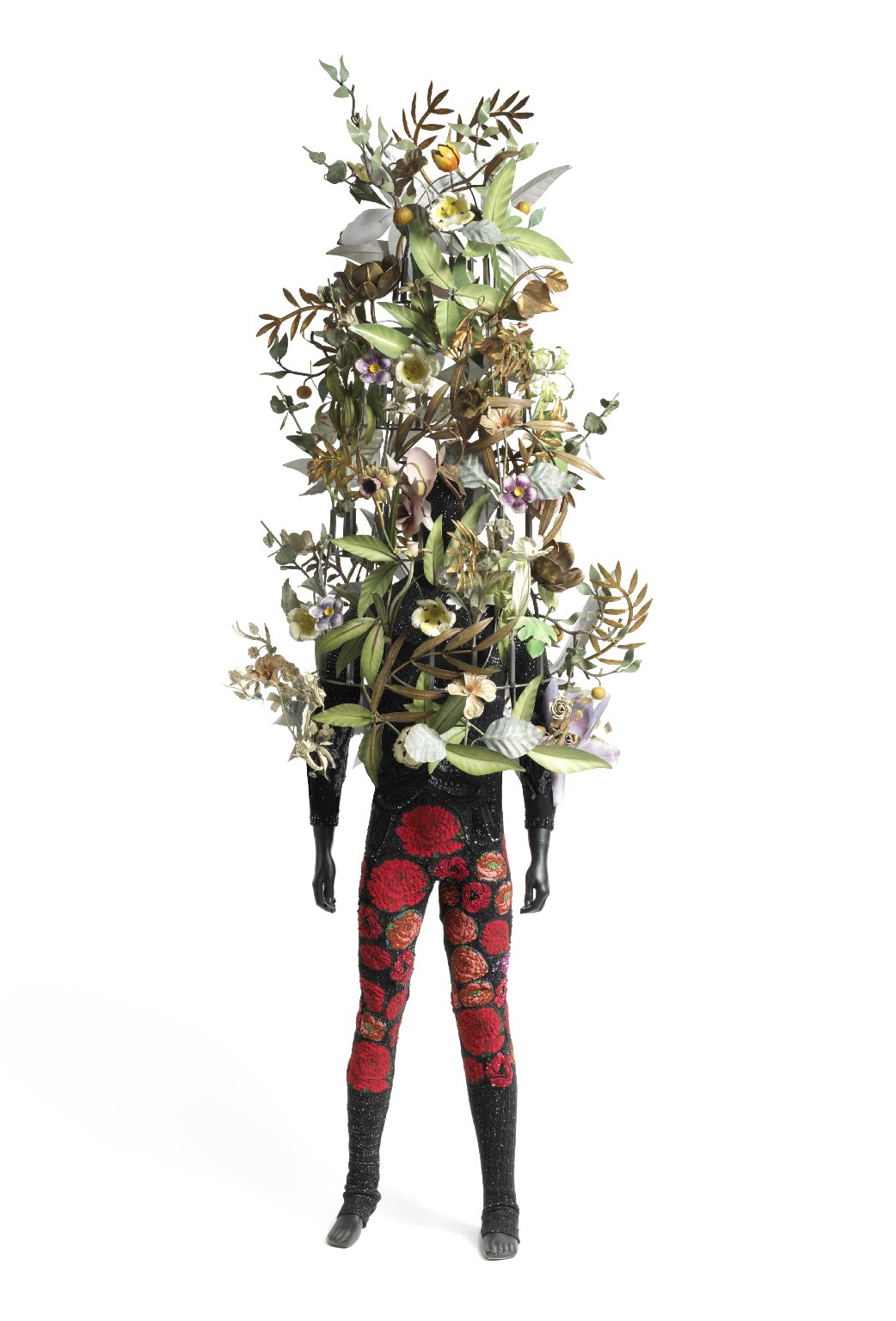 Soundsuit via Brooklyn Museum
Cranbrook Academy of Art-educated Nick Cave is a superstar by any litmus, best known for his thematically charged, ebullient sound-suits, mixed-fiber marvels that obfuscate the wearer's identity while celebrating their movements through percussive design details. Cave created the soundsuits as responses to the Rodney King beatings, originally intending them to function as elaborate suits of armor that protected black bodies through exultant modes of camouflage. They have since taken on a praxis of empowerment, activated as second skins in performances staged to flatten viewer bias. Currently represented by Jack Shainman, Cave has had his work featured in a myriad of public and private collections, including the Brooklyn Museum, The Hirshhorn Museum and Sculpture Garden in DC, MoMA, MFA Boston, Trapholt Museum in Denmark, and MoCA, Chicago.
[cave-module]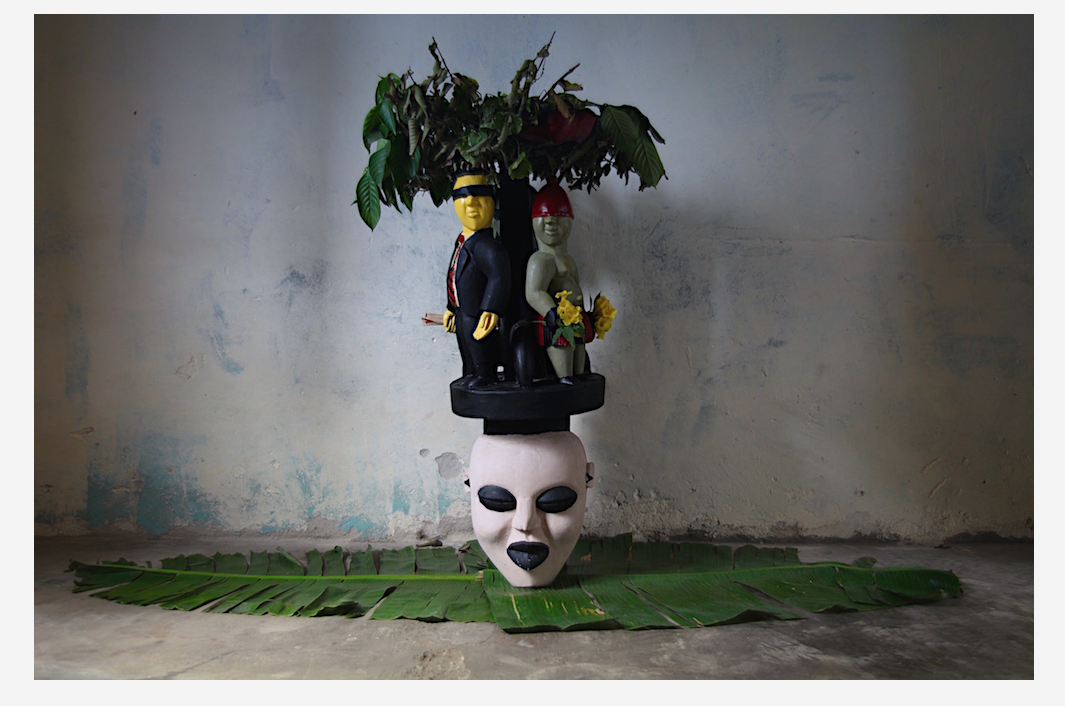 The Invisible Man via Juxtapoz
Saro-Wiwa is a British-Nigerian artist whose work deploys the aesthetics of Niger culture as both tonic for and symbols of the widespread colonialist and environmental degradation that plagues its people. Her pieces foreground personal testimony as articulations of cross-cultural performance, blurring the lines between truth, tradition, and social mythos. In her 2016 photography series, The Invisible Man, originally debuted at the Brooklyn Museum, Saro-Wiwa depicts women wearing a neo-Ogoni mask she designed in reference to the emergent Ogoniland trend of the late '80s. This towering facial ornament represents the men who have left her life through death or betrayal. Saro-Wiwa also was the first artist to capture the Ogele men on film, a loose coalition of young Nigerian men who polticized traditional Ogoni masquerading practices through "Gbaaloo" dancing. The Ogele phenomenon, in its contemporary iteration, combines the mystical and the pragmatic; the large, heavy masks are often decorated with car paint, and their multi-tiered structures directly reflect the psycho-political circumstances of their creation. Ogele men, who typically band into collectives of five or six participants, will regularly disappear into the woods for periods of up to three years for the purposes of planning their performances, a process they call "dreaming." Saro-Wiwa's photographs of the Ogele men are reverent, playful and emotive, calling attention to their discrete activistic genius rather than the novelty of their shared lifestyle. Saro-Wiwa has been commissioned by the Menil Collection and the Seattle Art Museum, has had work shown at the Pulitzer Foundation, Moderna Museet in Stockholm, Stevenson Gallery, Tate, Britain, and the Fowler Museum in LA, among other institutions.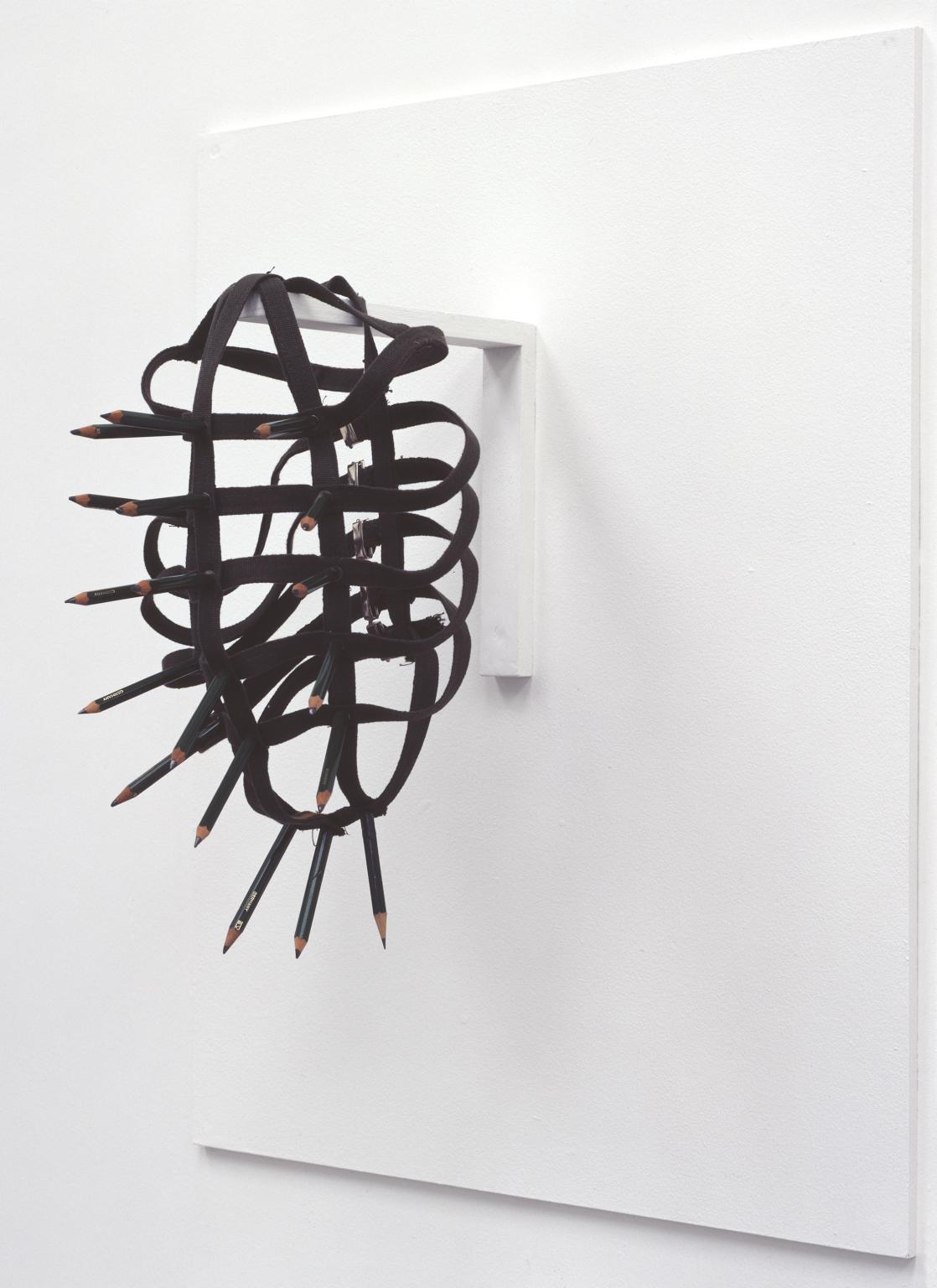 Pencil Mask, 1978, via Tate Modern
Horn is a German visual artist widely renowned for her installation art, film work, and performative body modifications, melding fashion and function into countless stark, evocative art objects over the last four decades. Emerging as a prominent voice in the '80s 'body art' movement, Horn is recognized most for her stunning sculptural augments to experiential navigation, framing the body as a modular machine in need of expedient mechanistic extensions. Examples include "Pencil Mask," a face covering that transforms the wearer's head into a brutal instrument for drawing, or her feather mask series, which references the long-standing use of quilled pens throughout history. Drawing a through line from BDSM to haute couture, Horn's elemental works has long circulated in some of the most prestigious institutions in the world, including the Tate Gallery, the Centre Georges Pompidou, the Stedelijk Museum, and the Walker Art Center. In 1992, Horn was the first woman to receive the Kaiserring Goslar prize.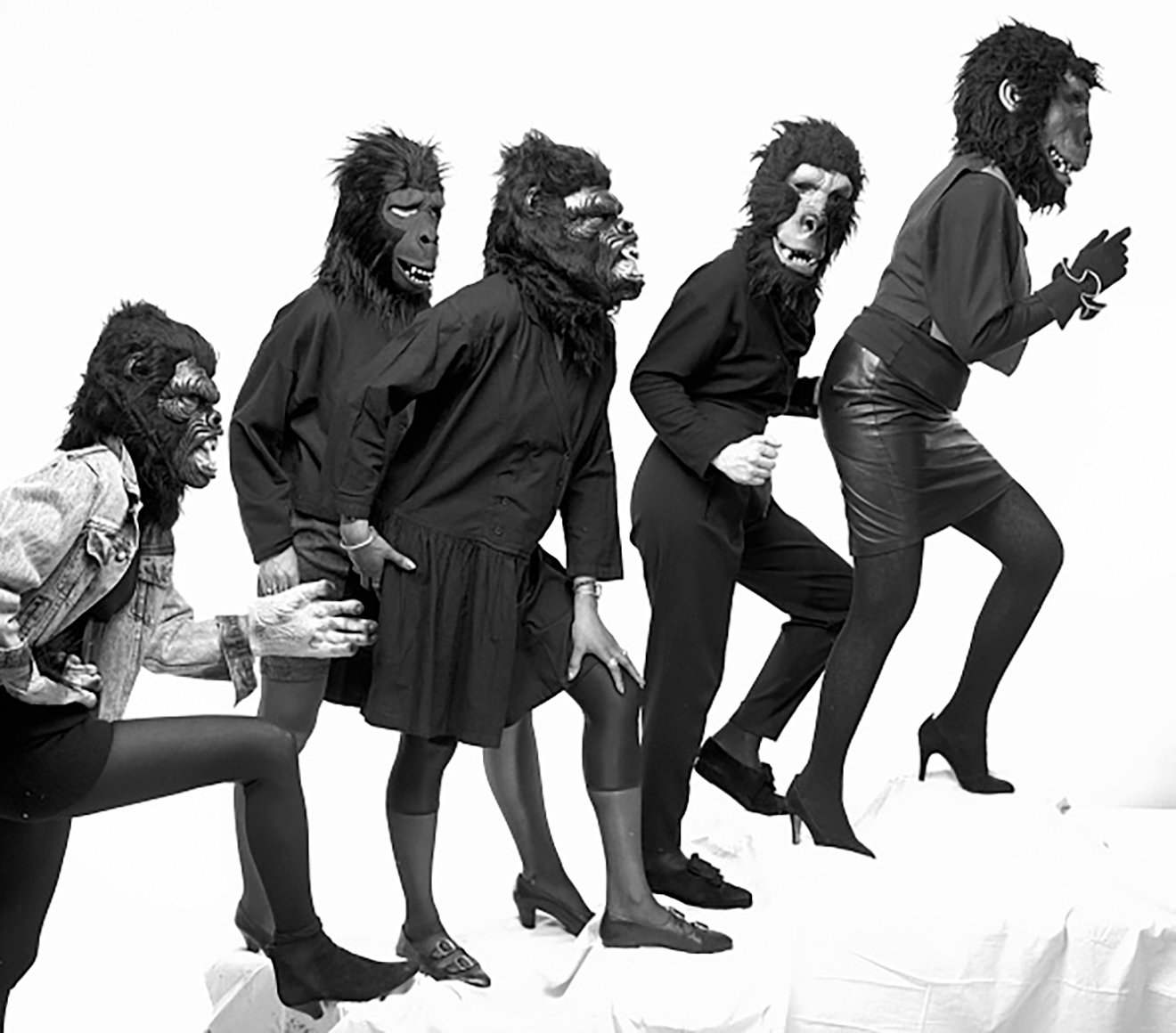 The Guerilla Girls via The New York Times
Any responsible mask listicle would be remiss without mention of the Guerrilla Girls, the anonymous feminist art collective dedicated to calling out gender, racial, and class inequality in the art world. Formed in 1985, the meticulously disguised Guerrilla Girls employed a culture-jamming campaign through a barrage of books, billboards, public appearances and stand-alone art pieces that directly exposed corruptive discrimination in fine art spaces, interrogating the flow of money, corporate oversight, and collector bias. Still active today, the Guerrilla Girl's public legacy remains strong and needed, underscoring the potentiality of protest in fine art.

AHAAD AL AMOUDI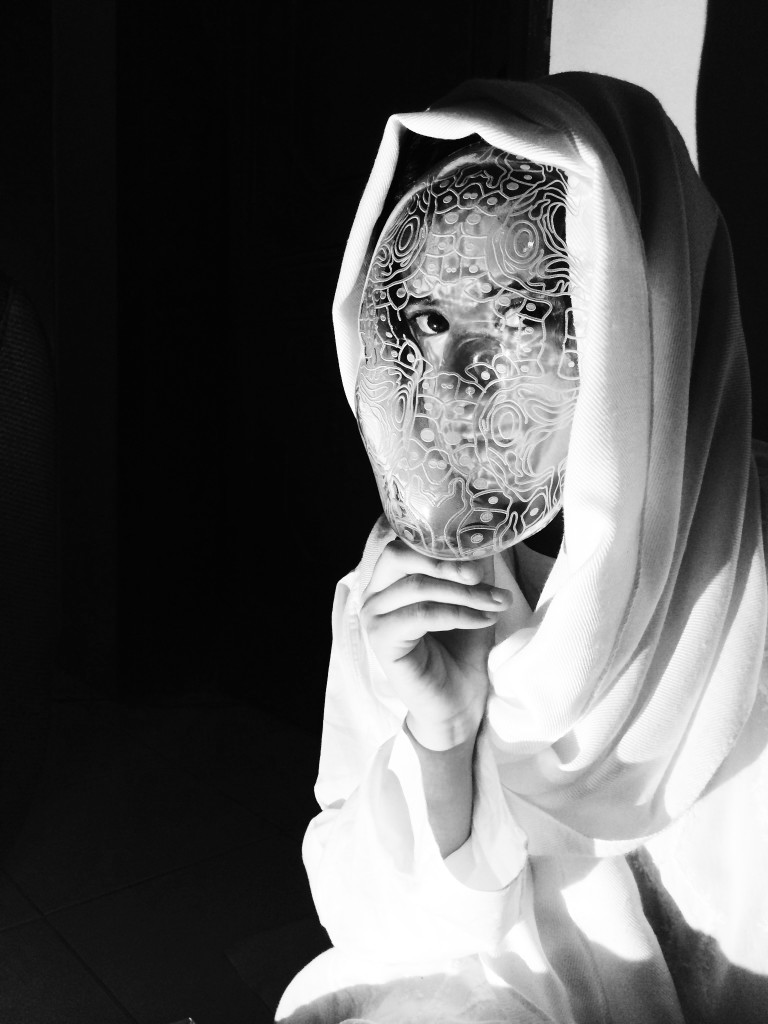 Open Culture, via Of Note Magazine
The religious head-coverings worn by Muslim women of all nationalities have long proven flashpoints for Western ire and projection sites for white feminist vitriol, invasive injustices exacerbated by growing Islamaphobia in Europe and America. France has tried to outlaw hijabs in schools, Turkey has succeeded in restricting them in most public workplaces. Stateside, few hijabis can report any regular avoidance of harassment, and Trump's ascendancy has only encouraged hate crime statistics to rise, as if on cue. Saudi Arabian artist Al Amoudi took on the layered ramifications of the niqab, or burqa, in her 2014 installation Open Culture, debuted when the artist was still studying at the progressive all-women's Dar Al Hekma University. Fascinated by the cognitive dissonance embedded in the digitally anonymous commentariat's violent distaste for Muslim female modesty, Al Amoudi created a suite of twenty acrylic masks etched with line drawings of bodily viruses, simultaneously recalling Arabic calligraphy and microchip patterns. Accompanying black-and-white self-portraits, styled with reverence to Shirin Neshat and Hassan Hajjaj, depict the artist as a floating, hooded specter, both commanding and ethereal. Al Amoudi's concern with the homogenization of post-digital culture is reflected in her use of viral imagery; she asserted in an interview with Of Note Mag, "In addition to the loss of privacy, the rules of modern technology demand that we be constantly visible. The 'disease' is the Internet's onslaught on Saudi identity, including a Western's media's agenda to portray women who wear the burqa as being oppressed." Al Amoudi has since shown at Station Museum of Contemporary Art in Houston, Minnesota Street Project in San Francisco, and Hockney Gallery in London, among other international locales.
SABLE ELYSE SMITH, MELANIE CREAN, & SHAUN LEONARDO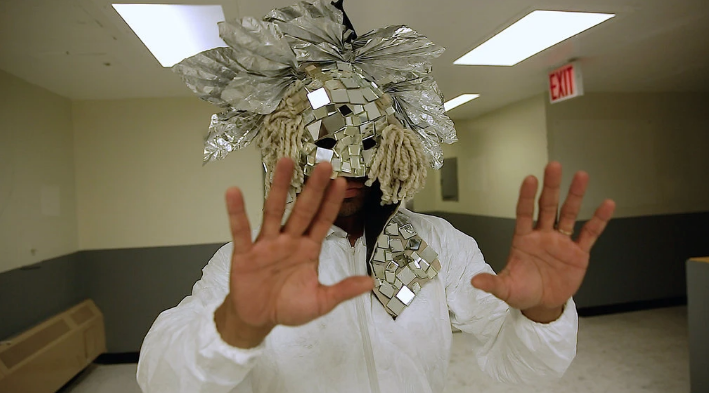 A still from Mirror/Echo/Tilt, currently on view at New Museum via The New York Times

A ground-breaking 2019 collaboration between artists Sable Elyse Smith, Shaun Leonardo and filmmaker Melanie Crean, Mirro/Echo/Tilt, currently on view at New Museum, teases out the intersections of art, education, and justice-oriented outreach through the spatial poetics of resistance. Over the course of an 18-minute video, 22 participants in white jumpsuits, some outfitted in mirrored carnival masks, enact silent choreography gleaned from their interactions with the prison industrial complex. Elegant gestures sketch the felt realities of jail, police surveillance, and court appearances in three dimensions, rendering the discriminatory humiliation of racially motivated incarceration both a deeply private and starkly universal experience. The stirring piece is buttressed by a collection of smaller screens looping out-takes, along with a small library of books available in an adjacent resource room. Outside New Museum, the artists have also embarked on a performance-based diversion program for young people facing misdemeanor charges in Brooklyn Criminal Court. Smith has just finished her tenure as an artist-in-residence at the Studio Museum in Harlem, and Leonardo created the I Can't Breathe public participatory workshop for the Shelley & Donald Rubin Foundation's 2015 exhibition "Between History and the Body." Crean, who directs the production studio at the arts non-profit Eyebeam, is also an assistant professor at Parsons School of Design.
RELATED ARTICLES:
7 Video Art Masterpieces You Need To Know Now
10 Exhibitions That Changed the Course of Contemporary Art