Art coverage these days works fast and loose—writers and readers are encouraged to form incisive hot-takes in record time and then drop subjects when they're no longer on fire. As such, sometimes trends slither away before we can really interrogate why they happened, which is a bummer, because the optic popularity of objects has lots to tell us about our cultural values, priorities, and interests. This essay is an attempt at synthesizing two very different examples of the Western gaze gone wrong by revisiting their rises to virality; basically, I'm going to be talking about why Ghanaian fantasy coffins and Korean monochrome painting got the short of end of the critical stick even as their market prices started to soar in the 2010s. A little weird, I know, but so are Oreos dipped in orange juice, and you like that, right?
...No?
Just... see what you think.
Part I: A Little Bit About Ghanaian Fantasy Coffins and How They're Not Postmodern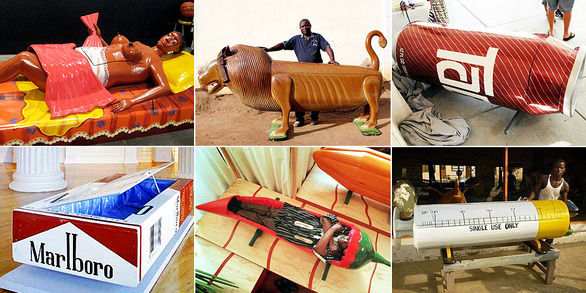 A compilation of fantasy coffins via Hintmag
Back in 2011, when Lady Gaga preferred charcuterie to Oscar gowns and Donald Trump was merely a reality TV overlord, The Victoria and Albert Museum (V&A) in London staged a sexy, crowd-pleasing show called Postmodernism: Style and Subversion 1970-1990, the sort of survey that brought the likes of Jenny Holzer and New Order together in an ode to stylized irreverence. Given the V&A's historical investment in decor as cultural production, the exhibition's narrative was told through objects—architectural models, watches, clocks, shoes, the works. One of the pieces on display in the exhibition's final gallery was an uncredited Ghanaian 'fantasy coffin' in the shape of a luxury car, couched by the curators as incontrovertible evidence of globalization and its postmodernist underpinnings. The problem was... that's not really how fantasy coffins work. Like, at all.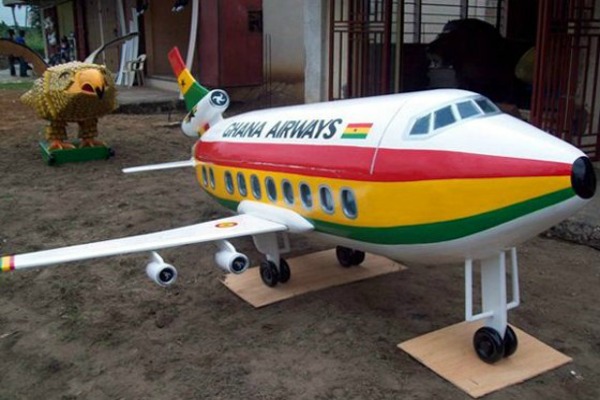 Fantasy coffin via Hintmag
While postmodernism evades a catch-all definition by design, its critical nexus centers the distrust of collective mythologies, like nationalism, patriarchy, and taste, for instance. Postmodern art was inherently skeptical. Fantasy coffins aren't. In Ghana, these elaborately carved, hand-painted caskets, rendered in the styles of vehicles, spaceships, animals, fruits, even ball-point pens, arrived on the scene in approximately 1945, drawing from the contemporaneous trend of highly-finished figurative palanquins for local luminaries. A young Accran carpenter named Seth Kane Kwei popularized these spectacular abebuu adekai, or proverb boxes, through his prolific shop, eventually establishing a fleet of 10 separate studios throughout the capital before his death in 1992. Ghanaian funerals are a huge deal, so this high-drama addition to the lexicon of afterlife processions squared perfectly with the cultural values of their buyers. These pieces exist within a specific trajectory, expanding upon the traditions that make them salient without succumbing to irony or anomaly.
The fantasy coffin made its first institutional appearance as part of 1989's landmark exhibition Les Magiciens de la terre at the Parisian Musee National d'Arte Moderne, a show touted as the inaugural "international" display of "authentically plural modernities." Since then, Ghanaian artisans have found success both as community craftsman and international art industries; coffins made for Ghanaian funerals typically go for about $700, whereas coffins commissioned by museums and galleries fetch prices in the $3,000 range. Kane Kwei's grandson did a turn as an artist-in-residence at the University of Madison-Wisconsin and has recently secured major gallery representation; his most expensive coffin was sold at auction by Bonham's last year for $9,200. The "globalization" of abebuu adekai stems not from the developing world's "preoccupation" with western excess, or even a move towards pastiche, but rather from the Western art world's aesthetic reinscription of incongruous visual moments for its own ends. Nobody with two brain cells to rub together would try to pass off abebuu adekai as postmodern in 2019, especially without mentioning the coffin maker's name, but the point still stands. In an era where identity politics are bankable and non-western art remains a site of fascination for audiences and collectors alike, heightened sympathies to the appropriation and exoticization of world-wide movements don't always lead to more nuanced understanding of their origins.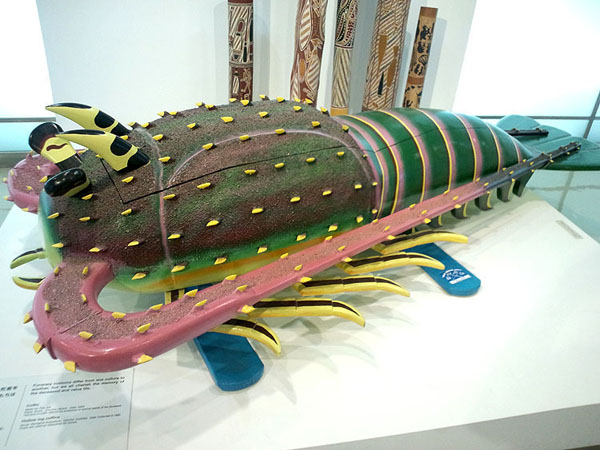 Fantasy coffin via Hintmag
Para-disciplinary Marxist Gaytari Spivak maintained that "postcolonial intellectuals learn that their privilege is their loss," in conversation on her watershed 1988 essay "Can the Subaltern Speak?" where she famously questions whether or not academics are complicit in the project of imperialism by virtue of their position. The answer was a resounding 'yes,' and her solution focused less on translation than the abandonment of translation as a metric for comprehension. It's not all about exact meaning, in other words; cross-cultural exchange should be based on a mutual acceptance of difference en route to decentered, subjective generosity. So, how do we approach abstraction through this lens?
And what do Ghanaian fantasy coffins have to do with it?
Part II: A Little Bit About How Dansaekhwa Wasn't Really About Western Abstraction, And Why That Matters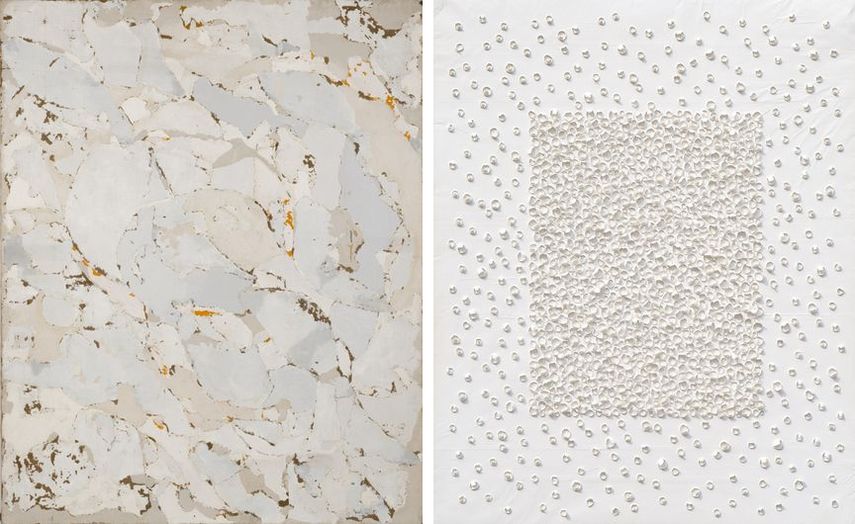 Left: Chung Sang-hwa, Untitled 73-A-15, Right: Kwon Young-Woo, Untitled 1982, via Widewalls
Okay, yes, introducing a rumination on the Korean Monochrome painters with an anecdotal history of specialty caskets from Africa seems... weird, to say the least, and to be honest, the two oeuvres don't have much in common. But that's sort of the thing, right?
Analogy is the enemy of acumen. (Stay with me, y'all).
So, we've established that the Western art world has a long, illustrious history of Eurocentric myopia, which tends to manifest as heinous racism at worst and late arrival at best. Over the past five years or so, an increased interest in South Korean art and its market viability has led to a spate of high-profile exhibitions on English-speaking soil, focusing primarily on the visual trajectories of contemporary painting and ceramics, respectively. However, much of the attraction to Korean work tends to be aesthetic rather than philosophical, relying on optical confluence with Western contemporaries as its primary point of interpretation.
The years 2014-2016, in particular, rang in an American obsession with dansaekhwa or tansaekhwa, anglicized to 'monochrome painting'; a quiet, contemplative '70s trend catalyzed by profound apprehension towards the medium itself. While these paintings have been celebrated in Asia for decades, it wasn't until 2013 that art historian Joan Kee's book, entitled, Contemporary Korean Art: Tansaekhwa and the Urgency of Method, was published by University of Minnesota Press, piquing American interest. The next year, Alexander Gray Associates organized a group show of dansaekhwa artists, followed by another, identically-themed presentation at Blum & Poe Los Angeles. Formerly overlooked painters found their auction prices increasing from a couple of grand to six figures within the year. More exhibitions featuring similar lineups cropped up at venues like Tina Kim and Christie's, primarily focusing on the work of Lee Ufan, Kim Whan-Ki, Rhee Seundja, Park Seo-Bo, Chung Sang-Hwa, Yun Hyong-Keun and Ha Chong-Hyun, all of whom were born before 1940. Previous to this, most American or European exhibitions of Korean artists had fetishized youth above all else, insisting that South Korea had "opened up under the influence of globalization," to quote a 2009 catalogue from the Museum of Fine Arts, Houston.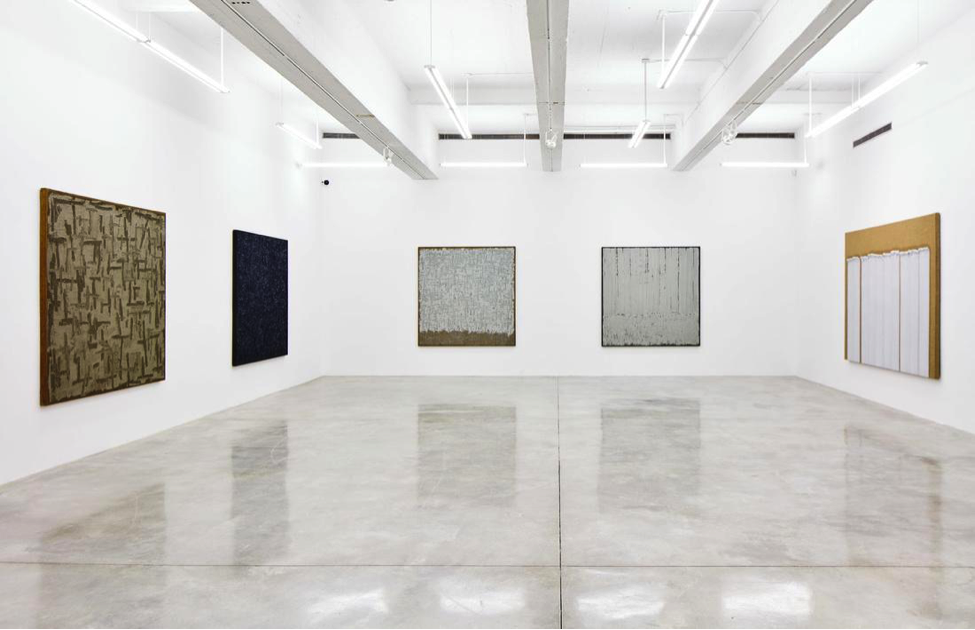 Installation view of "Ha Chong-Hyun: Conjunction" At Tina Kim Gallery, New York via Artdependence
A strikingly uniform account of dansaekhwa began to emerge in English-speaking coverage: this 'movement' was advertised as a concerted pushback to state-sanctioned figuration in post-war Korea that just so happened to look a hell of a lot like Western abstraction. The artists involved had adopted the vocabulary of Anglo-modernism to best externalize their spiritual and activistic values. Their efforts had been systematically ignored by Korean, Chinese and Japanese insiders, and now the West was validating their avant-garde approach at long, long last. Even a December 2018 exhibition of Korean monochromes in Hong Kong's Powerlong Museum insisted on an East-meets-West ethos in their supporting texts. However, the geo-political intricacies of Korean culture makes this a reductionist read by even the most flattering standards.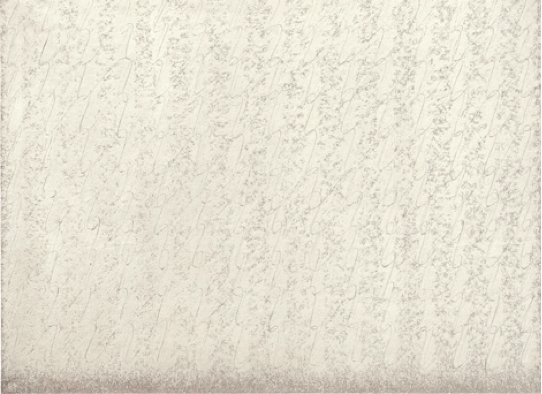 Park Seo-Bo, Ericture N. 14-79, via Artdependence
Artist and critic Ufan, the best known of the artists working in this style, wrote "The Aesthetics of Self Contradiction" in 1967 while still a student in Japan. In this essay, he criticized the association of national identity with individual artistry, yearning for broader freedom of Korean artistic expression, as Korean artists were often siloed into traditionalist educational tracks during this period. It's important to note that "The Aesthetics of Self Contradiction" wasn't a manifesto, because Korean monochrome painting wasn't really a movement, so to speak. At most, it was a genre, populated by artists with distinct and specific material concerns, some collective, some individual. While its participants all lived through the Korean War and the heinous conditions that followed, Dictator Park Chung-hee's totalitarian rule didn't actually drive dansaekhwa underground or render its motivations anti-establishment, as some art historians have claimed. While propagandist social realism thrived in '70s Korea, Chung-hee's diplomacy menu included plenty of cultural marketing designed to advertise the country's aesthetic sophistication. Korea's inclusion in the 1978 Seconds Recontres Internationales d'Art Contemporain in Paris, almost entirely populated by monochrome painters, was sponsored in full by Chung-hee's Ministry of Culture and Information. Many other Korean artists and critics were nonplussed by the monochrome gang's alleged compliance with the regime, despite no hard evidence of any collusion therein.
If anything, dansaekhwa was born not of an emulative turn toward Clement Greenberg or Arte Povera, but by an inevitable, reluctant digestion of imperialist cross-pollination; many monochrome painters had studied in Japan during its occupation of Korea, an era rife with cultural erasure, civil rights abuses, and forcible annexation. Still others emigrated permanently to Paris or New York to expand their financial opportunities. Rather than providing viewers with a central thesis on Korean identity through a Western filter, monochrome painters were interested in pushing against the implicit anglicization of painting, utilizing traditional materials, like hanji paper and ink, to pursue formal transformation within the confines of each canvas. These pieces were about flatness, not protest, and certainly not any historical reverence for the medium; in fact, Ufan famously referred to Chong-Hyun's works as "un-paintings" throughout his career. The American and European affinity for dansaekhwa seems easier to trace, then; this work can be contextualized in the Modernist or Post-minimalist canons without necessitating any real examination of their legacy, catering to latent Orientalist desire free from the usual quagmires entailed by that kind of pull.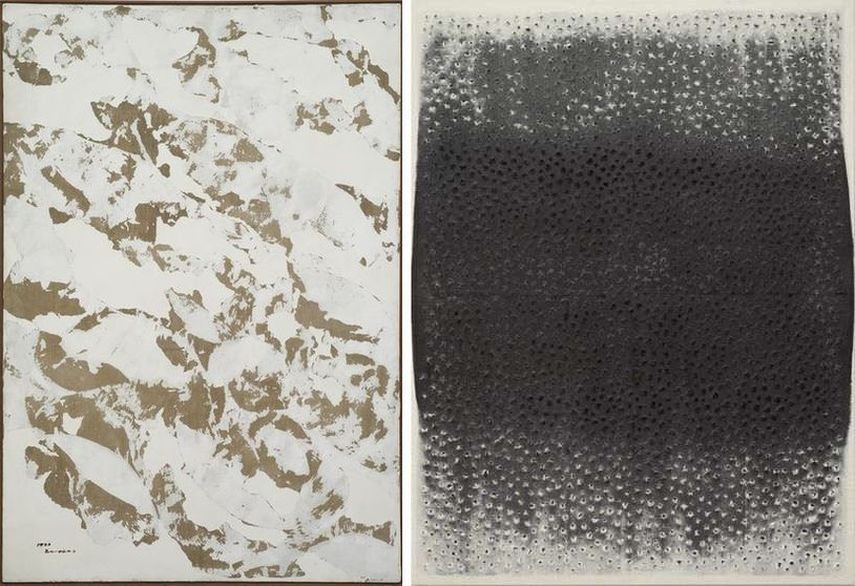 Left: Chung Sang Hwa – Untitled 73 7, 1973, Right: Kwon Young-Woo – Untitled, 1985, via widewalls.com
Sam Bardaouil and Till Fellrath, curators of the 2014 "Overcoming the Modern Dansaekhwa" show at Alexander Gray Associates, excerpted Yoon Jin-sup in their catalogue essay for the exhibition. Jin-sup's accompanying publication to a 2012 dansaekhwa exhibition at the National Museum of Contemporary Art in Seoul took issue with the way nineteenth and early twentieth century attitudes towards "Koreanness" impacted the art-going public. "In other words," he stated, "it was born out of the perspective of the Other. It means that one looks as the Other perceives him or her to be regardless of one's will or intention." Herein lies the crux of the issue. To honor important work, whether that work take the form of colorful coffins or silver-white paintings, cultural literacy and research is paramount.
Part III: The West doesn't Really Exist, Anyway
So... where do we go from here?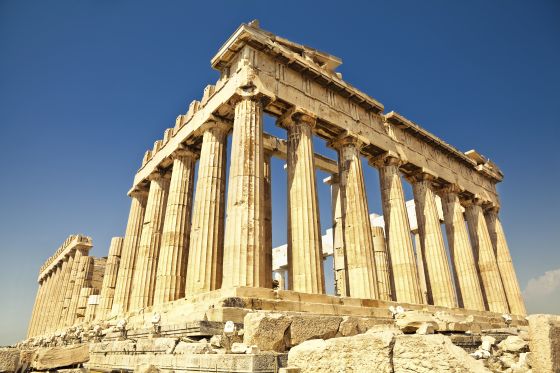 The Acropolis via Greece.com
In his excellent 2016 lecture, "There Is No Such Thing As Western Civilisation," scholar Kwame Anthony Appiah puts forth a theory of organicism, or the assumption that culture is not an assemblage of unrelated occurrences, but that "like the organs in a body, carefully adapted to occupy a particular place, each part [is] essential to the functioning whole." This assumption is untrue, he believes, and his analysis maps a vast literary history defined by appropriation, contradiction, philosophical sparring, and taxonomical revisionism. "To be blunt," he continues, "if western culture were real, we wouldn't spend so much time talking it up." Under no circumstances is he implying that difference isn't a thing, or that we're all just members of one race, the human race (ugh); Appiah instead posits that our world might be both smaller and larger than we like to imagine, that the myth of a complex whole is less compelling than the truth of a fragmented expanse, and that multiculturalism isn't just a by-product of progress, but the residue of innumerable non-linear trajectories. When we consider a "Western" art world, what do we mean? Do we mean New York? Do we mean Russia? And what do we mean by Korean art? As we look forward to a future full of international inclusion and artistic interface, it is useful to remember that sometimes, just because a story fits, that doesn't make it right, and for the most part, a coffin by any other name could very well show up in the shape of a rose.
RELATED ARTICLES:
What Is Post-Minimalism? Here's How A Group of Aesthetic Malcontents Made Simplicity Radical
Everything You Know About Modernism Is Wrong: 7 Canon-Busting Lessons from "Modern Art In America"