When Walter Gropius founded the Bauhaus School of Design in Weimar, Germany in 1919, he stipulated that the school would be open to "any person of good repute, regardless of age or sex." He even went on to clarify that there were to be "no differences between the fairer sex and the stronger sex" (an eyebrow raising statement for sure––but it was 1919 so we'll let it slide). We'll assume that he meant this with good intentions, because to be fair, this was a time period when women couldn't receive a public education in many fields, the arts being one of them.
The central goal of the Bauhaus school was to create a nucleus of interdisciplinary innovation, which, put simply, combined craft and design. Rather than utilizing the traditional model of teacher-student relations, Bauhaus fostered community as the foundation of learning. Part of this idealogy was the integration of women artists in the community.
So technically women were allowed to study at the school, however the scope of disciplines they were encouraged to partake in were limited. Gropius famously believed that men and women's brains operated differently––specifically, men had the capacity to think in three dimensions while women did not. Therefore many of the women artists of the Bauhaus movement stuck to practices commonly regarded as "women's work"––textiles and weaving. Men, on the other hand, were encouraged to be architects, sculptors, and painters.
So it's really no surprise that although the Bauhaus movement was largely populated by women, the seminal works that are remembered in art historical retellings are those of Josef Albers, Marcel Breuer, Wassily Kandinsky, and Paul Klee––basically: men. Now we're not discrediting the work of these aforementioned artists, however it's kind of a bummer that when we talk about this major movement in modern art, women are basically written out of the narrative (or if they are mentioned––they're written about as the wives or counterparts of great artists).
In the past decade, (only about 90 years later), it's come to light that these women were not just the plus-ones of great minds, but rather some of the formative artists of the Bauhaus movement themselves. In honor of these long-forgotten artists, we highlighted eight women of the Bauhaus movement whose influence has had lasting effects on contemporary art.


GUNTA STOLZL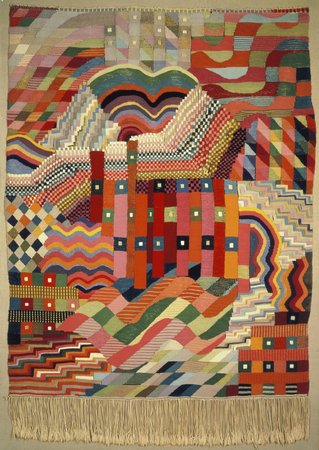 Gunta Stölzl, Slit Tapestry Red-Green, 1927–1928. Image courtesy of Bauhaus-Archiv Berlin.
Before attending the Bauhaus School in 1919, Gunta Stölzl (1897-1983) studied art history, decorative painting, glass painting, and ceramics at the Kunstgewerbeschule in Munich. During WWI she left her studies to serve as a Red Cross Nurse from 1916 to 1918. She was just 22 when she entered Bauhaus Weimar. Her primary focus was weaving, and she became known for her intricate, wildly colorful designs (her work is said to typify the Bauhaus style). Stölzl often collaborated with Marcel Breuer, making weavings and coverings for his furniture designs. Stölzl was one of the only woman master teachers, and she led the weaving department for 5 years (from 1926 to 1931). Under her direction, the Bauhaus weaving department became one of the school's most successful fields. In 1931, Stölzl moved to Zurich, Switzerland and began her own hand-weaving company S-P-H-Stoffe with two fellow Bauhaus peers, Gertrud Preiswerk and Heinrich-Otto Hürlimann. Stölzl ran the highly popular company until 1967.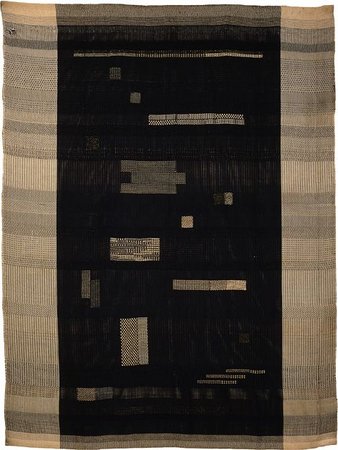 Anni Albers, Ancient Writing, 1936. Image courtesy of Vogue Magazine.
Anni Albers (1899-1994) originally wanted to pursue painting. However when she arrived at Bauhaus in 1922, she discovered that she had a deft hand at the loom, and was taken with the medium's immense possibilities for geometric abstraction. Albers became known for her gridded, hard-edged designs––which she found to be more stable than the paintbrush. The Bauhaus movement was, after all, a time of "extensive inquiry on all sides" as noted Albers in a 1968 interview, and to work with an inherently structured medium helped her exploration. In 1925, she was married to Josef Albers, a fellow abstractionist, and in 1930, Albers received her diploma from the Bauhaus school for creating a light-reflecting, sound-absorbing curtain out of cotton and cellophane. After Stölzl left the school in 1931, Albers stepped in to be head of the weaving workshop. In 1933, when the National Socialists came to power, Anni and Josef fled to the United States, where Josef was granted a position as a lecturer at the Black Mountain College. In 1939, Anni was appointed a teaching position at the College as well. Later on in her life, Albers traveled many times to South America and Mexico, and was taken by the traditional textile designs. In 1949, she was the first woman textile artist to hold a solo exhibition at the MoMA in New York, and in 1965 she published her renowned book "On Weaving."
MARIANNE BRANDT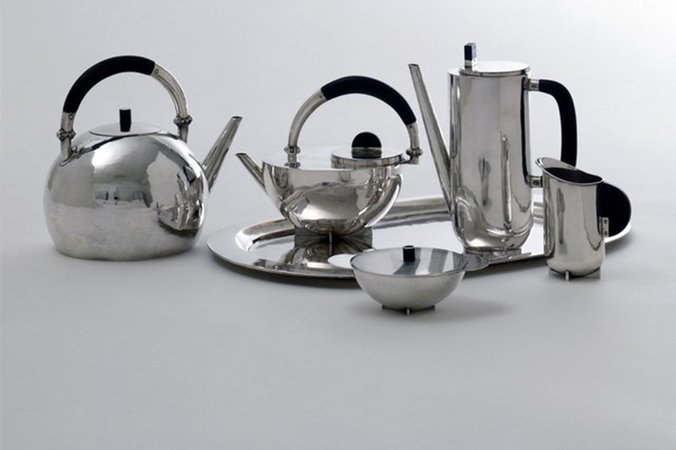 Marianne Brandt, Coffee and Tea Set, 1924. Image courtesy of Widewalls.
The industrial design works of Marianne Brandt (1893-1983) were some of the most defining works to come out of the Bauhaus movement. Typically, women were not allowed to study in the industrial design department, particularly not in metalworks, however in 1924 László Moholy-Nagy was so taken with the artist's work, he allowed her a spot in the metal shop. In 1926, she designed the first lighting fixtures for the Dessau Bauhaus Building, and in 1928, she replaced Moholy-Nagy as the director of the metal workshop. Today, Brandt's objects remain as seminal works of Dessau Bauhaus. She earned her diploma in 1929, and went on to become design director of metalware company Ruppelwerk Metallwarenfabrik GmbH. Brandt's works are in permanent collections at The Metropolitan Museum of Art, the British Museum, and the MoMA in New York.
BENITA KOCH-OTTE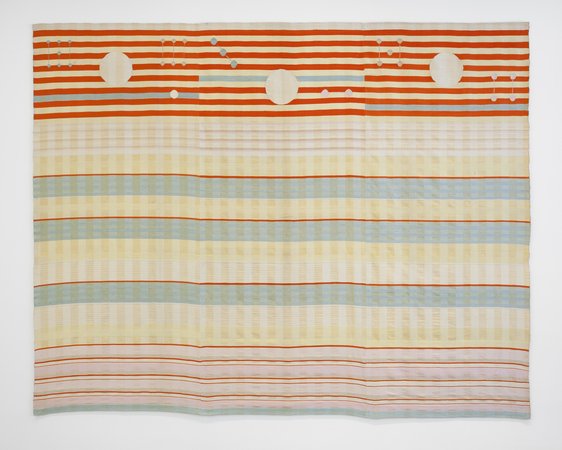 Benita Koch-Otte. Woven Wall Hanging, 1923-1924. Image courtesy of MoMA.
Benita Koch-Otte (1892-1976) and Gunta Stölzl were very close friends, and the two were fascinated with exploring abstraction using textiles. They were considered to be the most talented students in the weaving workshop, and are now considered to be some of the most influential modern weavers to come out of Germany. From 1925 to 1933, Koch-Otte directed the weaving department at the City of Halle, State-Municipal School of Applied Arts at Burg Giebichenstein. In 1929, Koch-Otte married Heinrich Koch, the director of the Bauhaus photography department. After the Nazis rose to power, Benita and Heinrich moved to Prague. When her husband passed away suddenly, she returned to Germany and became director of a weaving mill that is still in operation today.


OTTI BERGER

Otti Berger, Tactile Board, 1928. Image courtesy of Bauhaus-Archiv Berlin.
Croatian designer Otti Berger (1898-1944) is considered to be one of the more conceptually invested weavers of the Bauhaus movement. Before entering the Bauhaus School, she went to the Royal Academy of Arts and Artistic Crafts in Zagreb in 1926. In 1927, she enrolled in the textile workshop, from which she graduated in 1930. When Gunta Stölzl left Bauhaus, Berger temporarily stepped in as director before Albers took over the position. Because she was never given a permanent position, she decided to open her own Textile Atelier in Berlin, however when the Nazis rose to power, she was no longer allowed to work. She was invited by László Moholy-Nagy to attend the New Bauhaus in Chicago, however there was a stall in obtaining her visa. In 1944, Berger was deported to Auschwitz together with her family, where she was killed.
GERTRUD ARNDT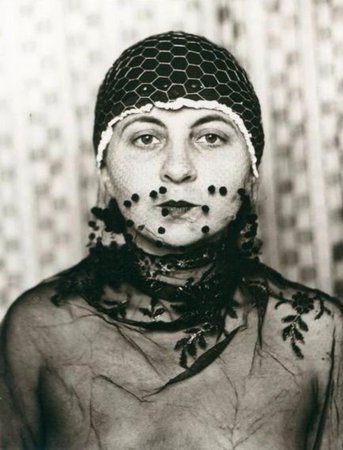 'Mask Portrait' No. 13, Dessau / Photo: Gertrud Arndt, 1930. Bauhaus-Archiv Berlin
Gertrude Arndt (1903-2000) attended the Bauhaus School in the hopes of studying architecture. However, once she arrived in 1923, after becoming enthralled with a Bauhaus Exhibition in Weimar in 1923, she learned that women were barred from the discipline. She enrolled in weaving workshops like most of the women in the Bauhaus School. In 1927, she completed her Bauhaus studies in weaving, however following her completion, she never practiced textiles again. Instead, she discovered a love for photography, which she taught herself. By this time, she was married to fellow Bauhaus student Alfred Ardnt, who was to continue on as a director at the school. Gertrude took up taking self-portraits, which she called her "Mask Portraits," for which she was not recognized until the 1980s. Today, her work is compared to that of Claude Cahun and Marta Astfalck-Vietz.
ALMA SIEDHOFF-BUSCHER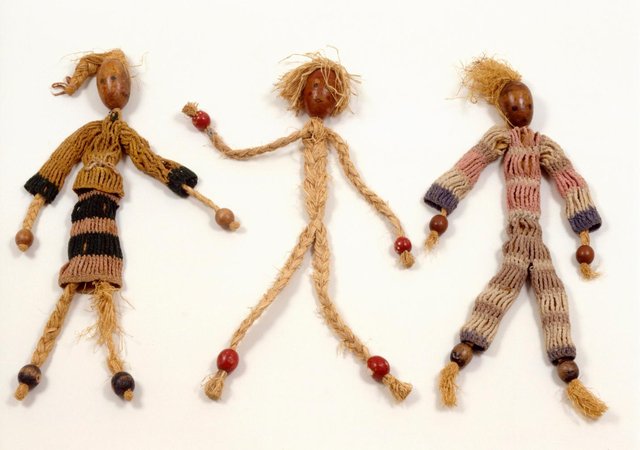 Alma Siedhoff-Buscher, Throw Dolls, 1924, Image courtesy of Bauhaus100
Alma Siedhoff-Buscher (1899-1944) began her studies at Bauhaus in the weaving department, but transferred to the wood-sculpture department (she was one of the only women to do so). Her primary focus was children furnishings and toys, most notably coloring books, dolls, and cutouts. In 1923, she designed furniture for the children's room in the prototype Am Horn House, as part of a major Bauhaus exhibition. Siedhoff-Buscher's "Small Ship-Building Game"––a children's toy in 22 primary-colored parts that can be constructed into a ship, but also encourages free creative development––is still produced to this day. The artist's life was tragically cut short in a bombing raid in Buchschlag in 1944, yet her influential designs live on.
MARGARETE HEYMANN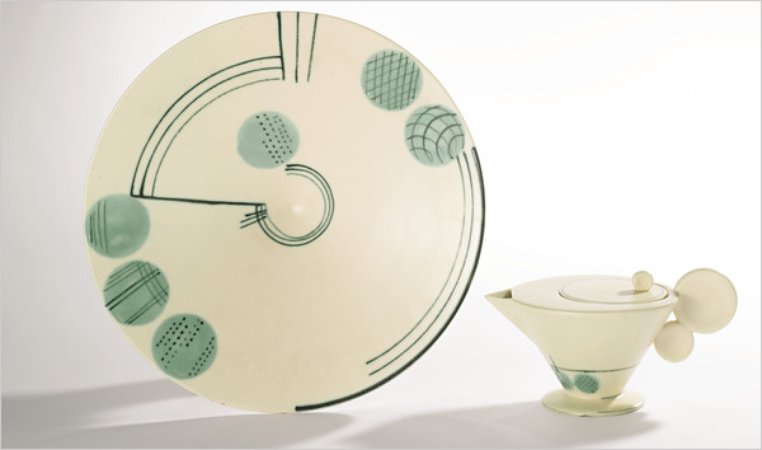 Bowl and Teapot by Margarete Heymann, 1930. Image courtesy of The New York Times.
Margarete Heymann (1899-1990) began her studies at the Bauhaus Weimar School when she was 21. She was adamant about being allowed to study in the ceramics workshop, and convinced Walter Gropius to give her a spot. After a year she left the school, as she was frustrated with administration, who reportedly would only admit her to the workshop on a trial basis (her teacher, Gerhard Marcks, told the board that he considered her to be "probably talented, but not suitable for the workshop." However, after leaving the Bauhaus School, Heymann continued to experiment with ceramics, creating kitchenware painted with signature constructivist patterns. She led a ceramics course for children at the College of Applied Arts in Cologne, and worked at a ceramics shop in Frechen. In 1926, she and her husband, Gustav Loebenstein, established a workshop which they called Haël-Werkstätten, and her designs quickly became popular around the globe. Just two years later, however, Gustav was killed in a motor accident, and in 1933, Heymann was forced to close her workshop due to financial and political pressures. She spent the remainder of her life in the U.K., creating ceramics and teaching paitning at the Camberwell School of Arts and Crafts. Despite only being at the Bauhaus School for one year, Heymann's designs are still considered to be seminal works of the movement.
RELATED ARTICLES

The Other Art History: The Overlooked Women of Surrealism
The Other Art History: The Non-Western Women of Feminist Art
The Other Art History: The Gay, Lesbian, and Female Abstract Expressionists (Part I)