Last Thursday, staff at the New Museum voted to form a union, electing to join Local 2110, the United Auto Workers group. This major win came on the heels of the New Museum's aggressive anti-union campaign, which included hiring anti-union consulting firm Adams Nash Haskell & Sheridan, whose website asks viewers to imagine a "union-free future," and falsely claiming certain staffers as "supervisors" in an attempt to exclude them from the vote, according to Artforum. Management's anti-labor stance was a surprise to many New Museum workers and members of the general public, considering the museum's progressive exhibitions and public-facing image.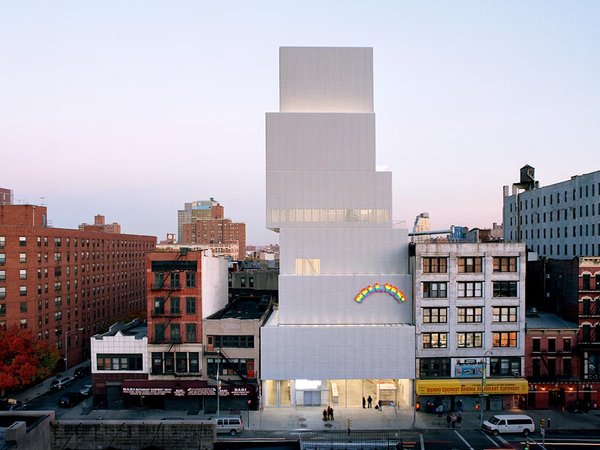 The New Museum, image via Wikimedia Commons
While the New Museum Union's victory was most directly inspired by their working conditions––workers galvanized around increased pay, healthcare, and greater overall transparency in light of the Museum's latest $85 capital campaign to construct a new building––the move is to some extent part of a broader unionization wave across New York's culture industry. MoMA PS1 art handlers are currently engaged in contract negotiations, pushing to be paid as much as their counterparts at the Museum of Modern Art (MoMA): MoMA PS1 art handlers make $20-$30 an hour, while handlers at MoMA can make up to $47 an hour, according to Local 30. As Chris Haag, a show steward at MoMa PS1 who represents Local 30 at the Museum, told Artnews, "With rising rent prices and people getting squeezed out, the future of New York as a viable place for arts and artists is getting dimmer and dimmer. If MoMA PS1 can't pay a living wage to the artists who work there, then who can? Who will?"
Meanwhile, contract negotiations between the MoMA and staff members in the Local 2110 UAW finally ended this past August after 122 days of bargaining. In addition to maintaining their single-payer health insurance, all employees are now set to receive raises of 3% or $1,600, whichever amount is greater, with the lowest-paid 25% of workers receiving 4% or more additional income. Raises are set to keep rising as the five-year contract progresses. If this seems excessive to anyone, it's worth remembering that the national average real wage (meaning its buying power in the current economy) has remained stagnant over the lat 40 years.
New Museum employees occupying the lobby, image via Artforum
So, if art unions are so important, why didn't we have them already? While the U.S. has always been aggressively anti-labor––especially since the Reagan-era––an organized art world has been made to seem, not just impossible, but unnecessary. As Athena Christa, a member of MoMA Local 2110's bargaining committee, said in an interview with Hyperallergic, "Arts workers are often expected to make personal and financial sacrifices for the honor of working in a prestigious arts institution. It's true that we are privileged to have the opportunity to do work we are passionate about, but that often comes with a price paid in under-compensated (and sometimes uncompensated) labor." If your job is reframed as a passion project, being dissatisfied with unfit labor conditions thus signals a personal failure: if you really loved your job, you wouldn't care about being underpaid.
But while museum unions are fairly new, New York did have a brief but robust artist's union. Known, suitably, as the Artists Union, it began in 1933, while America was in the midst of the Great Depression. The Artist's Union was formed by 25 artists who were also employees at the Emergency Work Bureau, which was about to be shut down. The artists knew that, in addition to losing their jobs, the shutdown would lead to increasing unemployment across the country, since the Bureau's goal had been to create new unskilled jobs in local and state government. The artists began meeting at the John Reed Club, which were cultural worker groups associated with the U.S. Communist Party. At first, the group called themselves the Emergency Work Bureau Artists Group, but they soon renamed themselves the Unemployed Artists Group; this was a pretty bold move, considering the stigma over unemployment––thanks to the legacy of the Protestant work ethic and the bourgeois valuation of productivity, if you were unemployed, it was supposed to be your fault. The Artists Union fought back against this stereotype by explicitly identifying with unemployed people, emphasizing that unemployed people have rights, too. This was no coincidence: Bernarda Bryson, the group's new secretary, had been involved with the American Communist Party's Unemployed Councils, which sought to organize unemployed workers.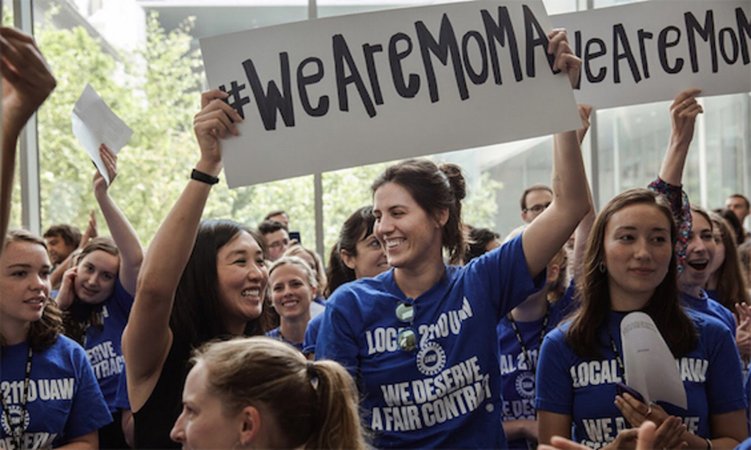 MoMA Local 2110 members picketing in the MoMA building, image via Hyperallergic
As the group gained momentum, well-known artists such as Mark Rothko began to join, and the group finalized a main goal: to help unemployed artists get work. President Franklin Delano Roosevelt (FDR) had begun rolling out his New Deal plan in early 1933, when he took office, seeking to cut unemployment with government-sponsored programs such as the Public Works Act, which organized and provided funding for the construction of useful items such as bridges, roads, government buildings, and hospitals. But while FDR's New Deal stimulated the housing market and agriculture, it didn't provide anything for artists; the Artists Union wanted to change that. In October of 1993, members of the group led over three hundred artists attending a symposium on unemployment at the College Art Association to demand state-funded relief work for artists. And two months later, in December 1933, the group petitioned Harry L. Hopkins, the administrator of the Civil Works Administration, to provide work in various artistic fields to all unemployed artists. And it worked! The Public Works of Art Project (PWAP) was established that very same month. A total of 3,749 artists were eventually hired to embellish public buildings with works related to "the American Scene." The 15,663 works produced––including Agnes Tait's Skating in Central Park (1934) and Maxine Albro's California (1934)––became American iconography, providing positive, affirmative imagery to a bruised national consciousness.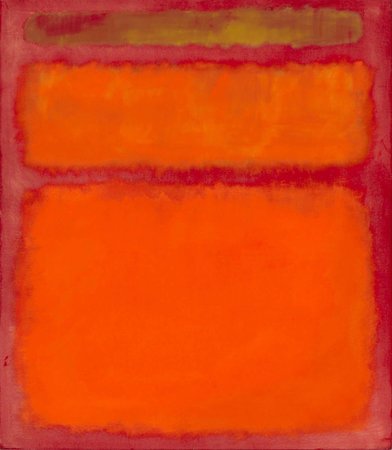 Orange Red Yellow by Mark Rothko (1961), image via Wikipedia
Since the group was no longer made up of unemployed workers, it rebranded as the Artists Union. The AU rented a loft on West 15th street and began holding meetings there every Wednesday night; attendance usually ranged between two and three hundred people, though it could be much higher than that. As Gerald M. Monroe wrote in his essay "The Artists Union of New York," "If there was a community of artists in New York City, then the Union was its place of congregation." The Artists Union began publishing a magazine, Art Front, and regularly showed up as a collective unit, lending their support to worker protests in other industries.
As the worst of the Great Depression eased, the government sought to cut the WPA programs, even though the WPA had, in no small part, contributed to the economy's regrowth. The Artists Union actively opposed these cuts: they held sit-in and protests throughout 1936, which culminated in an occupation of New York City's WPA offices. The police ended up arresting 219 artists in what was then the largest mass arrest in U.S. history. At a June 1937 sit-in, more than 600 artists took WPA officials hostage! Unfortunately, despite this backlash, the US government eventually decided to cut the WPA (perhaps as a way to undercut the Artist Union's power). In 1938, the Artists Union changed its name to the United American Aritsts and became Local 60 of the newly-created Congress of Industrial Organizations, although it left in May 1942 to merge with the American Artists' Congress. An offshoot of the US Communist Party, which united graphic artists to make anti-fascist materials, but the organization eventually splintered over differing stances on Soviet Russia.
While the Artists Union eventually dissolved, they set a powerful precedent, proving that organizing artists in New York City was both necessary and possible. One group that followed their lead was the Art Workers' Coalition (AWC), which formed in 1969. While not explicitly a union, this coalition of cultural workers––which included art critic Lucy Lippard, artist Faith Ringgold, and filmmakers Hollis Frampton and Ken Jacobs, among others––formed with the goal of pressuring New York art institution, especially the MoMA, to implement policy changes including more diverse exhibitions, free admission, and an explicit anti-Vietnam War stance. The "Free Fridays" still at play in museums across the city are a result of this struggle.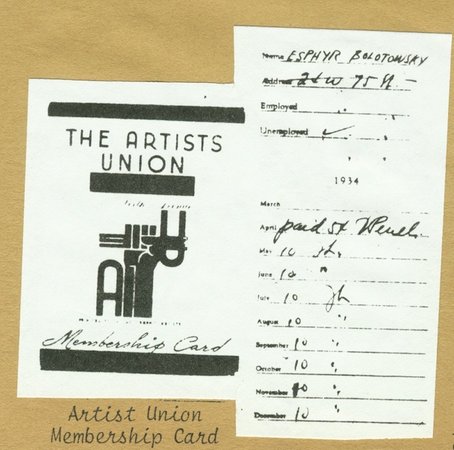 Artist Union Card, image via the Slobodkina Foundation
As museum workers––both in New York City and nationally––are faced with increasing precarity, labor groups like the New Museum Union continue the Artist Union's legacy through their struggle. In many cases, they have no choice. As New Museum worker Lily Bartle pointed out in her interview with Jacobin, "The financial reality of museum workers is just not sustainable in New York at this point."
[related-works-module]
RELATED ARTICLES
Abolish the Art Fair? Why Basel's New Tiered Pricing Structure Can't Fix a Bankrupt Model
If a Celebrity Makes a Painting, Is it Art? A Look at 8 Famous Stars Who Consider Themselves Artistes
"I'll Show Your Most Illustrious Lordship What a Woman Can Do!" Artemisia Gentileschi, the Best Baroque Feminist Painter You've Never Heard Of