It's hot and rainy out of late, a confusing and frankly offensive weather combination designed to foil all hairstyles and render the general citizenry uniformly moist, which is to say, really, really gross. As such, you may find yourself seeking out chilly indoor spaces this season, and the coldest example of them all? Museums, known colloquially as "expensive playgrounds for ill-behaved tourist children." Unfortunately, this means you might encounter some art, and that art might prove... conceptually unexpected, to say the least. Here at Artspace, we are dedicated to helping our readers avoid frustration-induced cardiac arrest when confronted with art that looks like laundry, so we've taken it upon ourselves to explain why Arte Povera, the '60s avant-garde movement that criticized Italy's rampant industrialization, isn't actually a personal attack on viewer sensibilities, but instead, a watershed period in the history of contemporary art.
Alighiero Boetti via Mazzoleni Gallery
Let's get some background, shall we?
SO, WHAT WAS ARTE POVERA?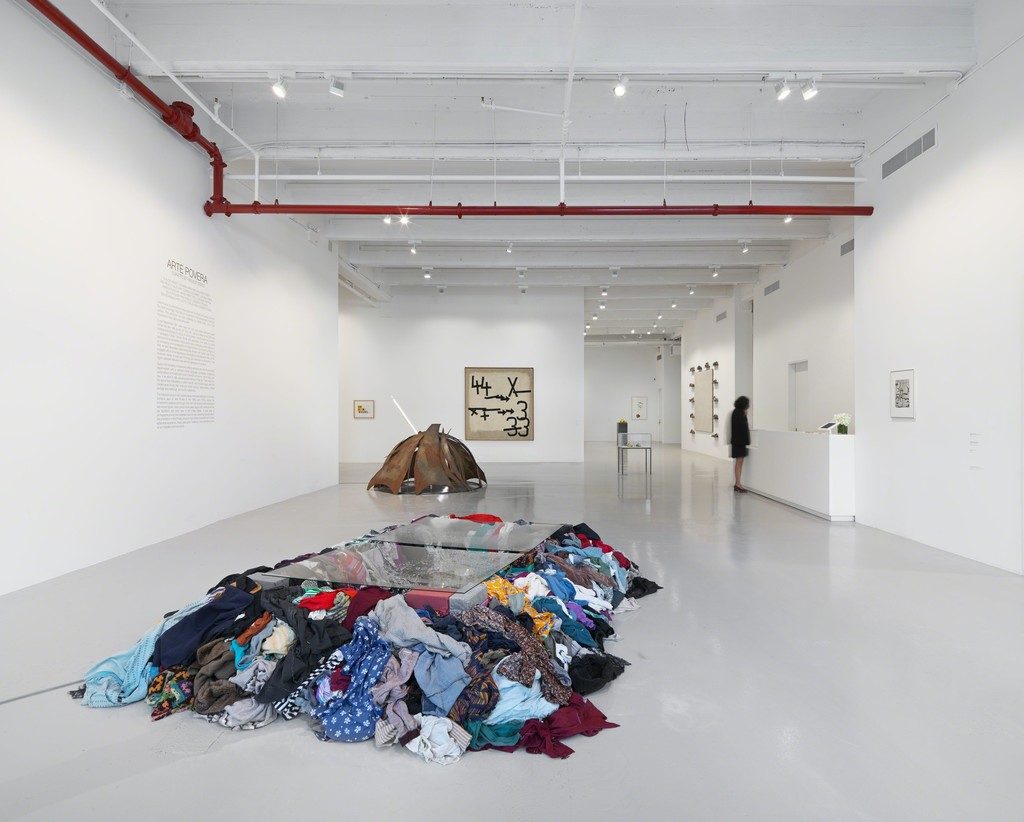 Installation shot from Hauser & Wirth's 2017 Arte Povera show via Hauser & Wirth
Arte Povera, the Italian phrase for "poor" or "impoverished" art, was one of the most influential movements to emerge from Southern Europe in the '60s, marking a sharp departure from the affect-driven Abstract Expressionist paintings that dominated the market a decade prior. A circle of about a dozen artists contributed to the Arte Povera canon, united by their abiding interest in mundane materials like sand, clothing, rope and paper, the sort of cheap, every-day fare typically considered incongruous with fine art aesthetics. Arte Povera lived at the intersection of Assemblage, Fluxus, and Nouveau Realisme, aptly combining the mischievous accessibility and spatial anarchy of its predecessors. Preoccupied by a fierce protective impulse towards Italian cultural heritage, the Arte Povera artists saw themselves as stewards of their nation's social mythos, standing in opposition to the scientific rationalism ushered in by American Minimalism's technological leanings.
Igloo, Mario Metz, 1984 via Dreamideamachine
Ironically, the group's approach to traditional preservation centered the brash and eye-grabbing hybrid of art language; by juxtaposing the processed and the pre-industrial, these artists hoped to evoke the absurdist underbelly of modernization's homogenizing effect on Italian conventions, questioning the relationship between mass production and contemporary art. Much of this concern was located in the non-reproducibility of the object-viewer relationship, which they considered inherently original and transformative in nature. Piero Manzoni, Luciano Fabro, Giovanni Anselmo, Mario Merz, Pino Pascali, Michelangelo Pistoletto, critic Germano Celant, and a variety of other players dissolved the movement in 1972 at the height of its popularity to pursue more individualistic projects, but a historiographic reassessment of non-American art movements has led to a surge of contemporary interest in Arte Povera over the past two decades, leading to a number of high profile retrospectives at venues like the Tate in London and the Met Breur in New York.
Nice! Now that we have the facts out of the way, let's deep-dive a few relevant examples.
PIERO MANZONI
Artist's Shit (no. 4), 1961
via Hauser & Wirth
What It Looks Like : Oh my god... Is that a can of excrement? I'm calling the police.
Why It's Actually Good : Manzoni, an upper-class, self-taught painter whose influences leaned explicitly avant-garde, was one of the early progenitors of Arte Povera principles. Inspired by his social proximity to artists like Yves Klein and buoyed by an ostentatious, self-consciously Italianate taste for fame, Manzoni was also considered the herald of a distinctly national artistic identity, separate from the pan-European art consciousness of his heyday. The charmingly titled Artist's Shit is his most famous work, and belongs in the great provocateur tradition pioneered by Marcel Duchamp's 1917 urinal . Allegedly containing 30 grams of his own, uh, evacuation, the piece, produced in editions of 90, was created in the same, frank manner food was canned at his father's factory, intended to satirize the way mass consumption and artistic ego coincided in society. For fear of destroying the piece's integrity, no one actually knows what Manzoni put in the cans, if anything, but, in a hilarious triumph of conceptual framing, his gallery sold them at the price of gold, highlighting the arbitrary notion of market value in the art world.
LUCIANO FABRO
Floor Tautology , 1967
via Latitudes
What It Looks Like : The place where Clifford the Big Red Dog got crate trained as a puppy.
Why It's Actually Good : An emergent example of incisive institutional critique, Fabro's piece questions the labor politics and conceptual limits of art practice in the white cube. A portion of polished floor, marked off and protected with a layer of newspapers, highlights the simultaneously obsessive and obfuscating environmental context of art objects, thereby underscoring the unseen processes that keep the myth of the gallery seamless in the minds of visitors. Floor Tautology was shown in Germano Celant's original survey of Arte Povera, and is considered a precedent to Judy Chicago 's Feminist work with fibers. Fabro was a fairly well known artist by the time he was linked with the Arte Povera group, but this piece cemented his status as a commentator on Italy's artistic landscape.
GIOVANNI ANSELMO
Untitled , 1968
via MoMA Tumblr
What It Looks Like : What unrepentant dingbat stuffed lettuce in a cinderblock?
Why It's Actually Good : Structurally, this landmark sculpture, often considered a proto-environmentalist statement, is far more sophisticated than it may initially appear. Constructed by Giovanni Anselmo, a graphic designer who began to pursue an art practice in his down time, the piece fuses a block of granite to a stony plinth with a wire and a head of lettuce, the dampness of which is important; if the lettuce dries, the structure will collapse. As such, the sculpture requires near constant upkeep, a needy state that draws attention both to the museological industrial complex buttressing its absurdity, and to larger dialogues surrounding the indomitable mastery of nature over human intervention. Anselmo's reference to the diets of regular, rural Italians centers not just the traditional mores of day-to-day existence, but the conditions in which those mores thrive. At once funny and contemplative, Untitled takes on the mantle of cultural balance, interrogating the artistic rejection of non-globalized aesthetics.
MICHELANGELO PISTOLETTO
Venus of the Rags , 1967
via Tate Modern
What It Looks Like : The author of this article attempting to clean her bedroom with a hangover.
Why It's Actually Good : Contrasting a large classical statue of the Roman love goddess with an enormous technicolor pile of discarded clothes, this typifying example of Arte Povera combines seemingly incompatible cultural symbols in an effort to inspire dialogue on Italian cultural heritage and the ramifications of its iconization. The Venus, which the artist purchased from a garden store and smothered in mica, stands with her back to the viewer, pushing gently up against the fabric dome of her immediate milieu. The first of four in this series, Pistoletto's original Venus of the Rags creates a fraught connection between the inexpensive, adaptable materials that became the Arte Povera movement's signature and the archival legacy of Roman statuary in the public imagination, grappling with the inevitability of populist degradation against a backdrop of kitsch-flavored authenticity. Pistoletto was particularly engaged in the material expansion of the Arte Povera repertoire, taking a distinctly postmodern approach to appropriation and high-low cross-pollination.
There we are! Hopefully the above intelligence will better assist you in your quest not to melt this August. If you still find yourself perplexed while attempting to engage with some Arte Povera chestnut, however, feel free to use one of these handy pre-prepared questions and comments listed below:
- "What a thoughtful commentary on post-war Italian identity!"
- "I totally and completely understand what Cerlant meant when he characterized the Arte Povera artist    as a "guerilla figher, capable of choosing his places of battle and with the advantages conferred by mobility, spurprising and striking, rather than the other way around."
- "This smells like mothballs!"
- "Wow, this author of this fun and helpful article is so pretty and smart, we should absolutely crowd-fund a trip to Italy for her so she can learn more about this movement!"
Go forth and museum, kids! Leave the lettuce alone, please.
RELATED ARTICLES:
What Was Arte Povera? Hair, Horses, Cabbage, and Italian Artist's Response to the War
The Boticelli Code: The Hidden Histories Behind 10 of the Florentine Artist's Masterpieces