"Landscape painting" may call to mind the work of Sunday painters, distant relatives, and stale hotels—nothing the least bit contemporary. But landscape painting's seemingly tired reputation makes it a fertile genre for innovation. Deeply entrenched in a long and storied history, contemporary landscape artists also contend with the future—a future saddled with global warming and environmental catastrophe, as well as our increasingly virtual spaces. Maybe the genre is more vital now than it every has been—or that's what is seems like between the covers of Landscape Painting Now , a new book edited by Todd Bradway, written by Barry Schwabsky, and published by D.A.P. Excerpted from the book (and written by Robert R. Shane, Louise Sorensen, and Susan A. Van Scoy), we take a look at eight contemporary artists pushing the medium forward.
HERNAN BAS
Born 1978, Miami, FL, USA. Live and works in Detroit, MI, and Miami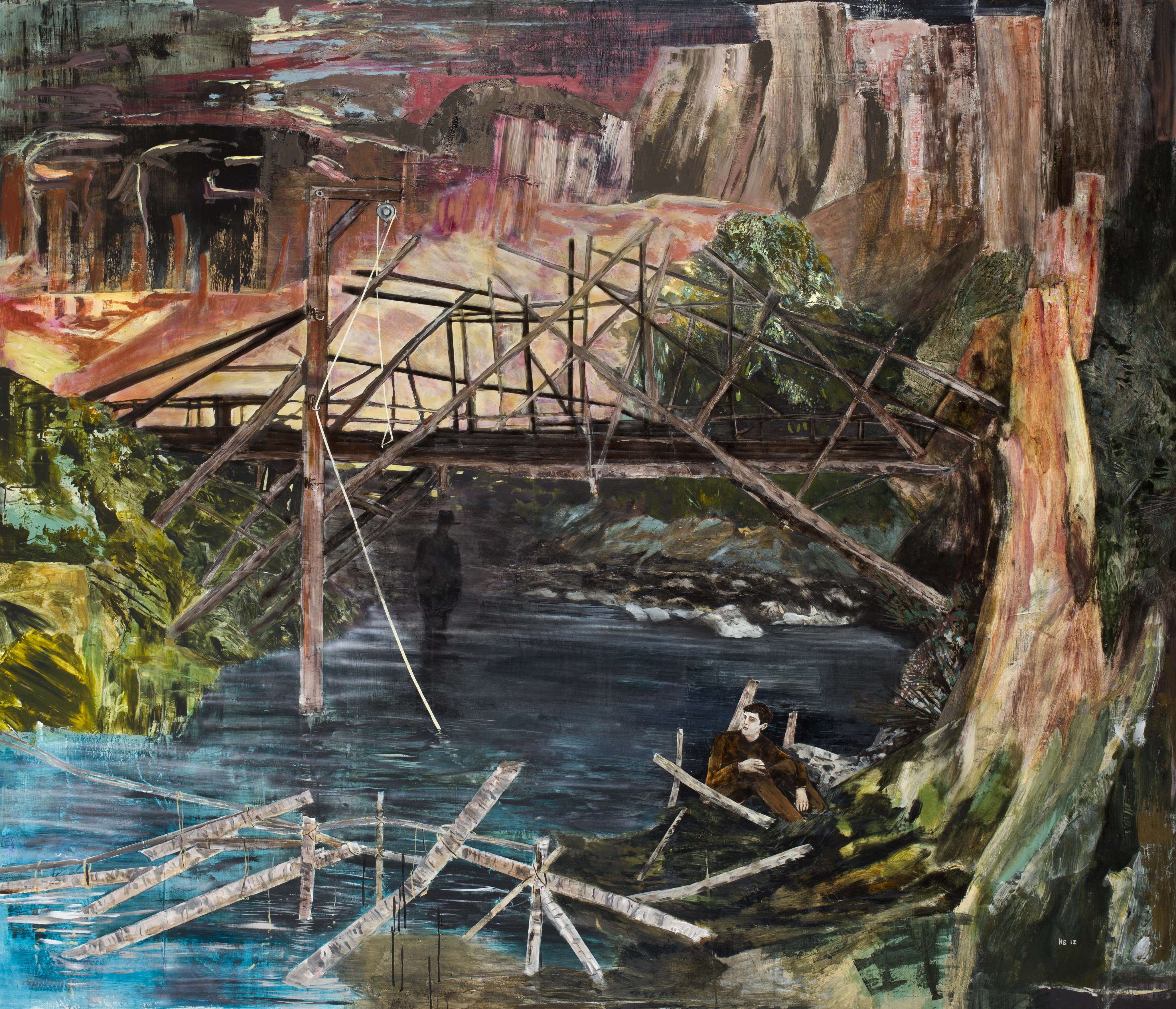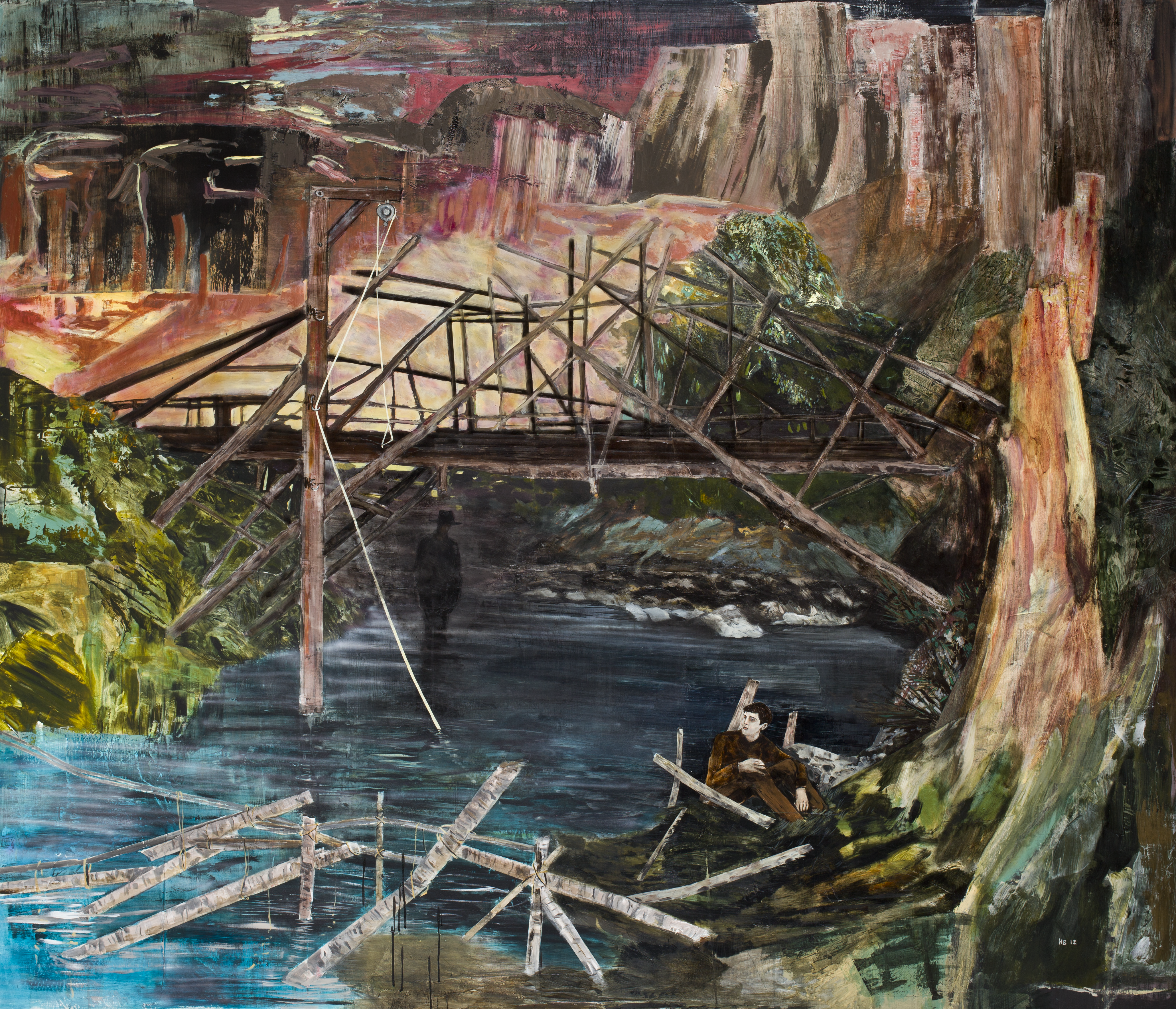 ​A Landscape to Swallow You Whole ​, 2011. Acrylic, block print, andscreen print on linen, 72 x 120 inches (182.9 x 304.8 cm). © Hernan Bas.Courtesy of Lehmann Maupin
Hernan Bas's mixed-media works combine silkscreen, block printing, and paint to make landscape a realm for the supernatural and sinister. Growing up in Miami, Bas was exposed to local folklore about UFO, werewolf, and Bigfoot sightings in the Florida wetlands, which inspired his interest in the occult. Bas, who is openly gay, is known for featuring young male waifs and dandies drawn from literary works by Oscar Wilde and J.K. Huysmans in small-scale, sexually fraught narratives; in his later works, the landscape assumes a larger, more spiritual role and themes have become more universal.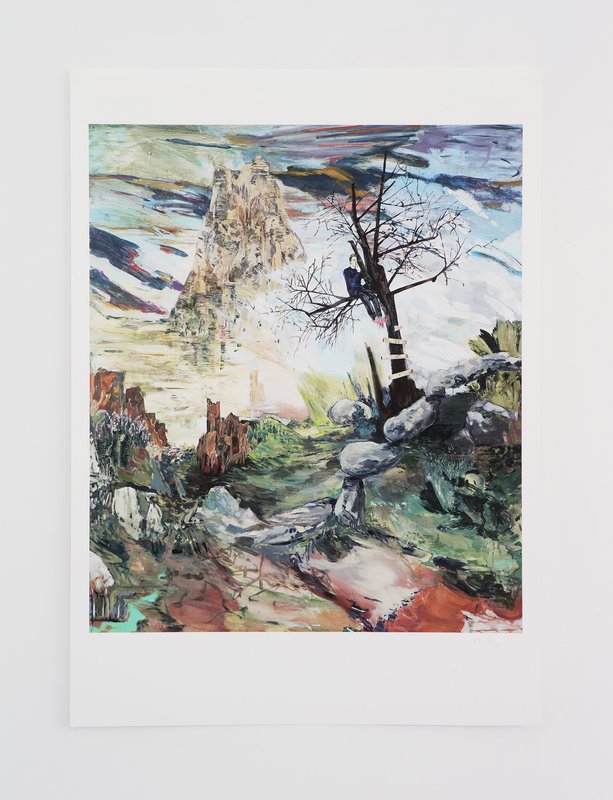 Dont Tell it on the Mountain, 2013 is available on Artspace for $450
In Bas's A Devil's Bridge (2011-12), birch logs and a rickety bridge frame an ambiguous interchange between a clearly defined, pale boy and a shadowy, blurred figure. The paint in the outer margins becomes looser with smears and drips to form rocks, cliffs, trees, and sky. In A Satanist on a Tuesday (or, The Key Master) (2012), the reclining pose of a man dressed in black echoes a fallen tree in the foreground; as is characteristic of Bas's works, the projecting bay window is out of line with the rest of the house, casting a spooky pall over the scene. Strange Company (2013) features two figures—one in color, the other stonelike—in a flattened, Fauvist landscape that is beautiful, yet more ominous, than a "real" landscape. Ultimately, Bas's works have grown to use the exterior worlds to communicate the interiority of his subjects.
ETEL ADNAN
Born 1925, Beirut, Lebanon. Lives and works in Paris, France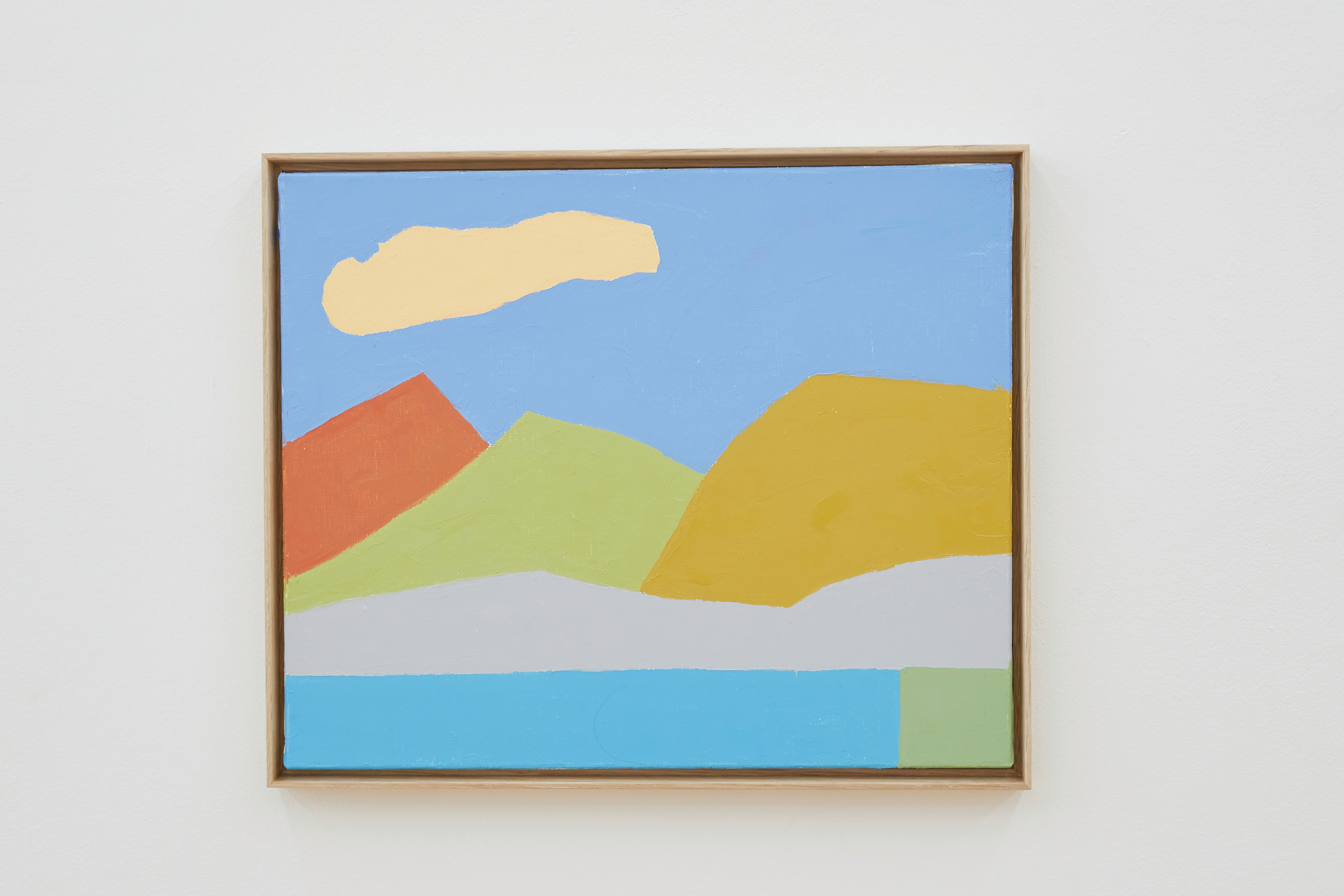 Untitled​, 2016. Oil on canvas, 15 x 18 1/8 inches (38 x 46 cm). ©Etel Adnan. Courtesy of Sfeir-Semler Gallery
Etel Adnan is an Arab American author and artist whose perceptual vision translates fluidly from the written word to cheerful, small scale landscapes. Her ethnic background is Turkish and Greek; raised in Lebanon, she attended French schools and studied philosophy. She settled in Northern California in 1955 to teach aesthetics and began to paint shortly thereafter, at the urging of an artist friend. Adnan works with her canvas laid flat on a table and uses a palette knife to apply thick paint, usually sticking to four hues and finishing a work in a single sitting. In 2014, when she was eighty-nine, her paintings were shown to acclaim in the Whitney Biennial.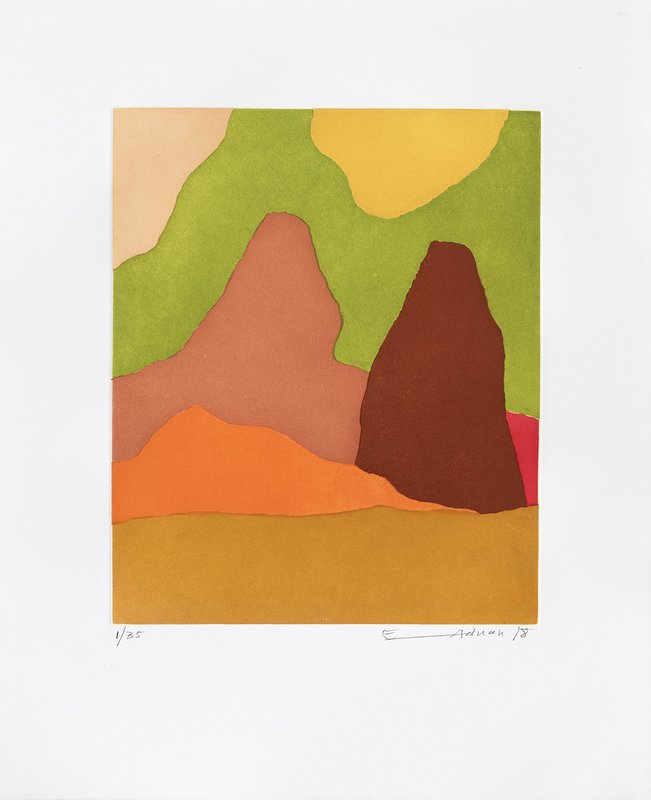 Dans le mystère de la nature, 2018 is available for $2,918 on Artspace
One of Adnan's favorite subjects to paint is Mount Tamalpais, the highest peak in the San Francisco Bay Area. It acted as a reference point when she lived nearby and continued to appear in her thoughts when she moved back to Lebanon. In Untitled (2016), three shades of green triangles convey the mountain hills in summer as they rest on a horizon line, with the colors coming together like interlocking puzzle pieces. Untitled (2016) contains two suns–one yellow orange and one its red reflection on a gray ground. The image echoes the opening lines of Adnan's book-length poem The Arab Apocalyse –"A yellow sun A green sun a yellow sun A red sun a blue sun"–describing how the sun is actually all colors mixed together, perceived differently throughout the day. Adnan's intimate colorscape are a warm invitation to experience the universal joy of perception.
AMY BENNETT
Born 1977, Portland, ME, USA. Lives and works in Cold Spring, NY, USA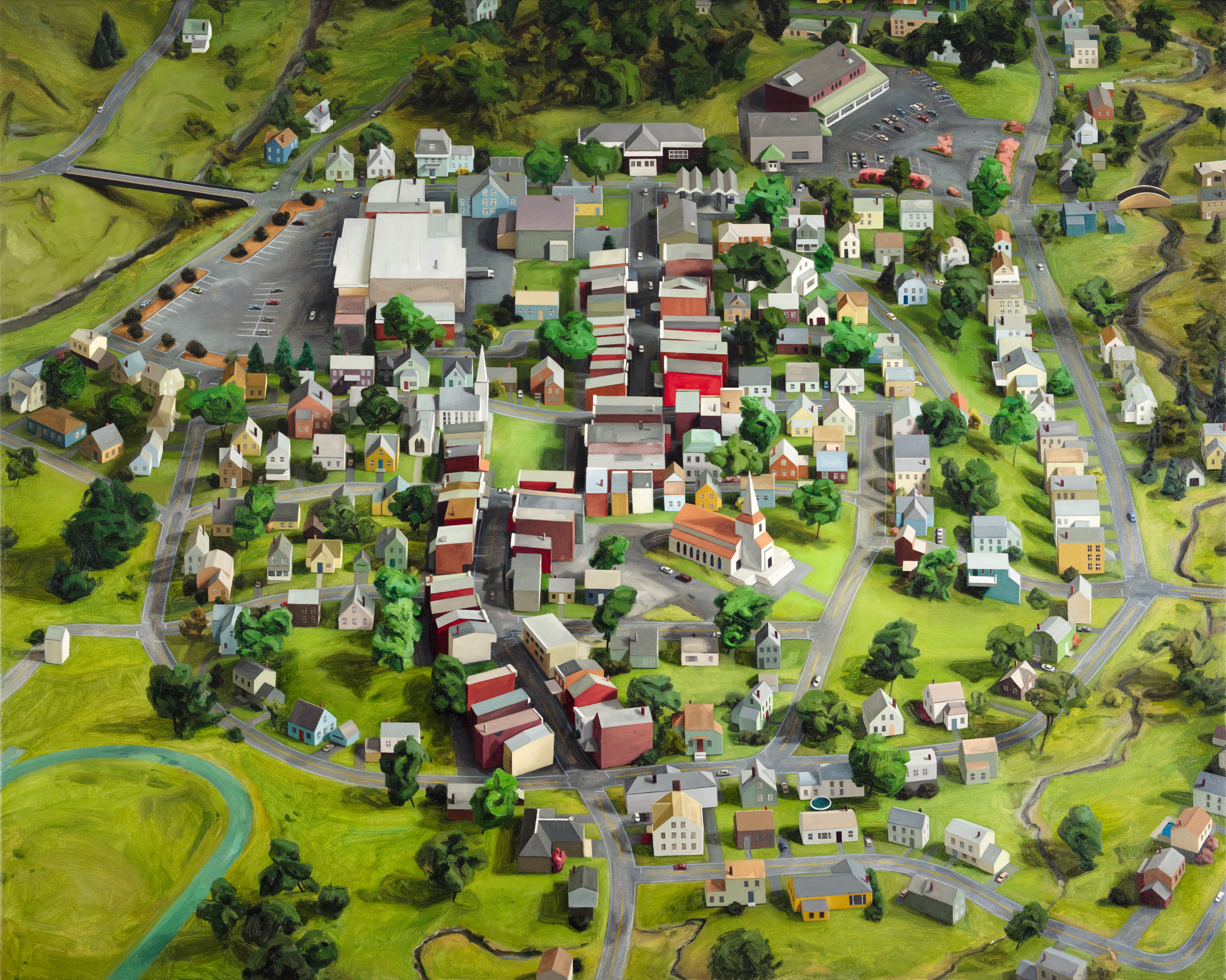 Amy Bennett paints pictures based on the three-dimensional dioramas she typically constructs at 1/87 scale out of cardboard, foam, wood, paint, glue, and model train miniatures. Nestled in hilly landscapes, her often aerial scenes suggest a god's-eye view of an isolated sleepy town. Although seemingly quaint at first glance, her works are tinged with a subtle sense of the uncanny. She paints architectural structures with precision and nature with untamed brushmarks, making buildings look artificial and alien in their environment–in contrast with picturesque country scenes from centuries past by François Boucher or John Constable, in which people appear to live in harmony with the landscape.
Nothing New under the Sun (2016), with its title taken from the resigned and disillusioned author of Ecclesiastes, depicts a colorful but eerily vacant town built around a church near the center of the composition. The unorthodox aerial vantage point recalls a spy satellite's view and suggests the town's vulnerability. In addition to rural towns, many of Bennett's works also showcase modern architecture. In An Open Book (2017), figures seem trapped like fish in a bowl within the glass walls of a modern home. As in Edward Hopper's urban scenes, lonely figures sit in empty rooms, seemingly alienated from one another. Meanwhile, outside, the dark wilderness exerts an ominous presence.
ENRIQUE MARTINEZ CELAYA
Born 1964, Havana Cuba. Lives and works in Los Angeles, CA, USA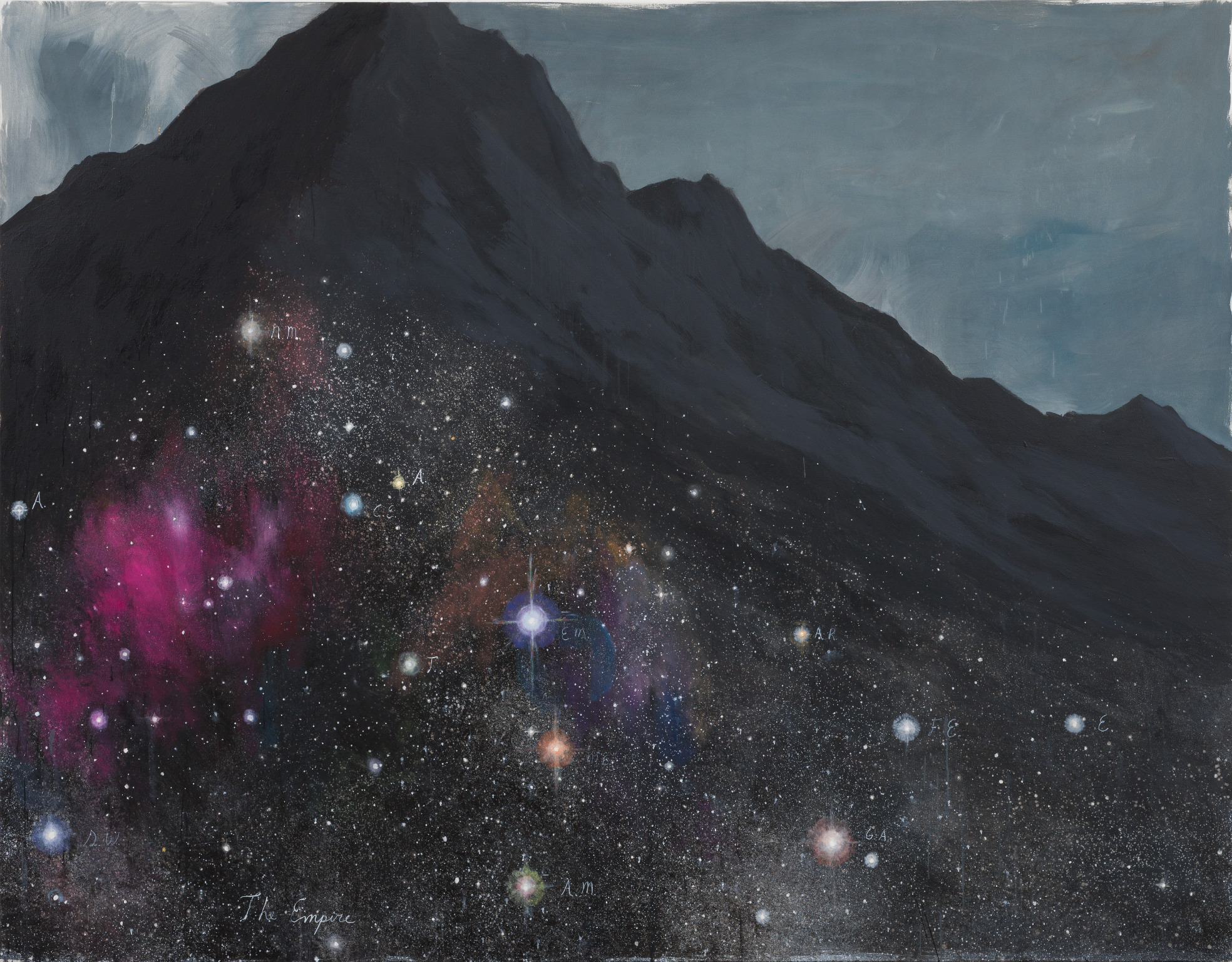 Enrique Martínez Celaya's wide-ranging oeuvre of landscapes and seascapes is marked by both loneliness and awe. Having formerly studied science and engineering, Martínez Celaya likens the studio to the lab: working in isolation, without immediate concern for the outside world, both the artist and the scientist pursue truth. In this pursuit Martínez Celaya draws upon literature, myth, and philosophy, particularly the writings of the German philosophers Martin Heidegger and Arthur Schopenhauer. His contemplative, melancholic landscapes incorporate Nordic imagery as well: the icebergs, ocean expanses, and mountains follow the Romantic tradition of Caspar David Friedrich, and the poppy fields, forests, and dirt roads absent of people recall the work of the contemporary German painter Anselm Kiefer (pages 160-163). Kiefer's landscapes memorialize the atrocities of World War II and the Holocaust; Martínez Celaya's come to represent universal mourning.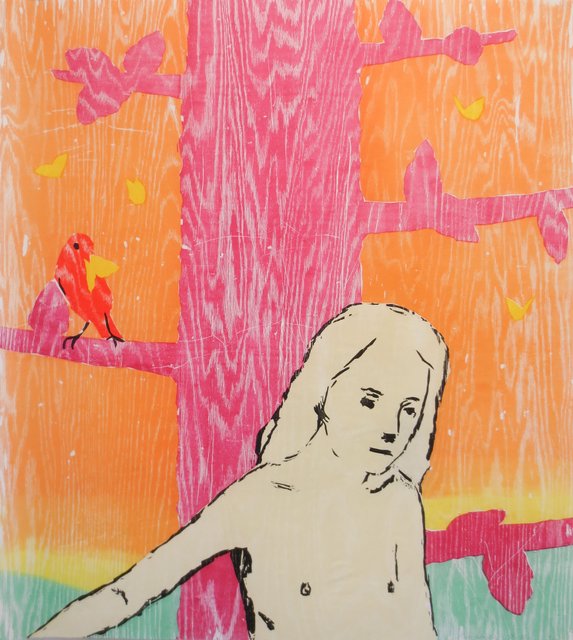 In The Remembered (2013), a fallen angel washes up on shore. Near the bottom of the image, handwritten text reads, "I remember nothing." The multilayered work resonates with Lucifer's fall, the river Lethe's oblivion, desperate Mediterranean crossings by present-day migrant workers and refugees, and Martínez Celaya's own nomadic transatlantic childhood. (Cuban-born, he was raised in Spain and Puerto Rico.) Metaphoric boundary-crossing also plays a role in The Empire (2015): destabilizing the familiar conceptual borders between up and down, solid and empty, and close and distant, the formidable, sweeping peaks of a dark mountain looming at the top of the composition dematerialize below into a celestial starscape.
WILL COTTON
Born 1965, Melrose, MA, USA. Lives and works in New York, NY, USA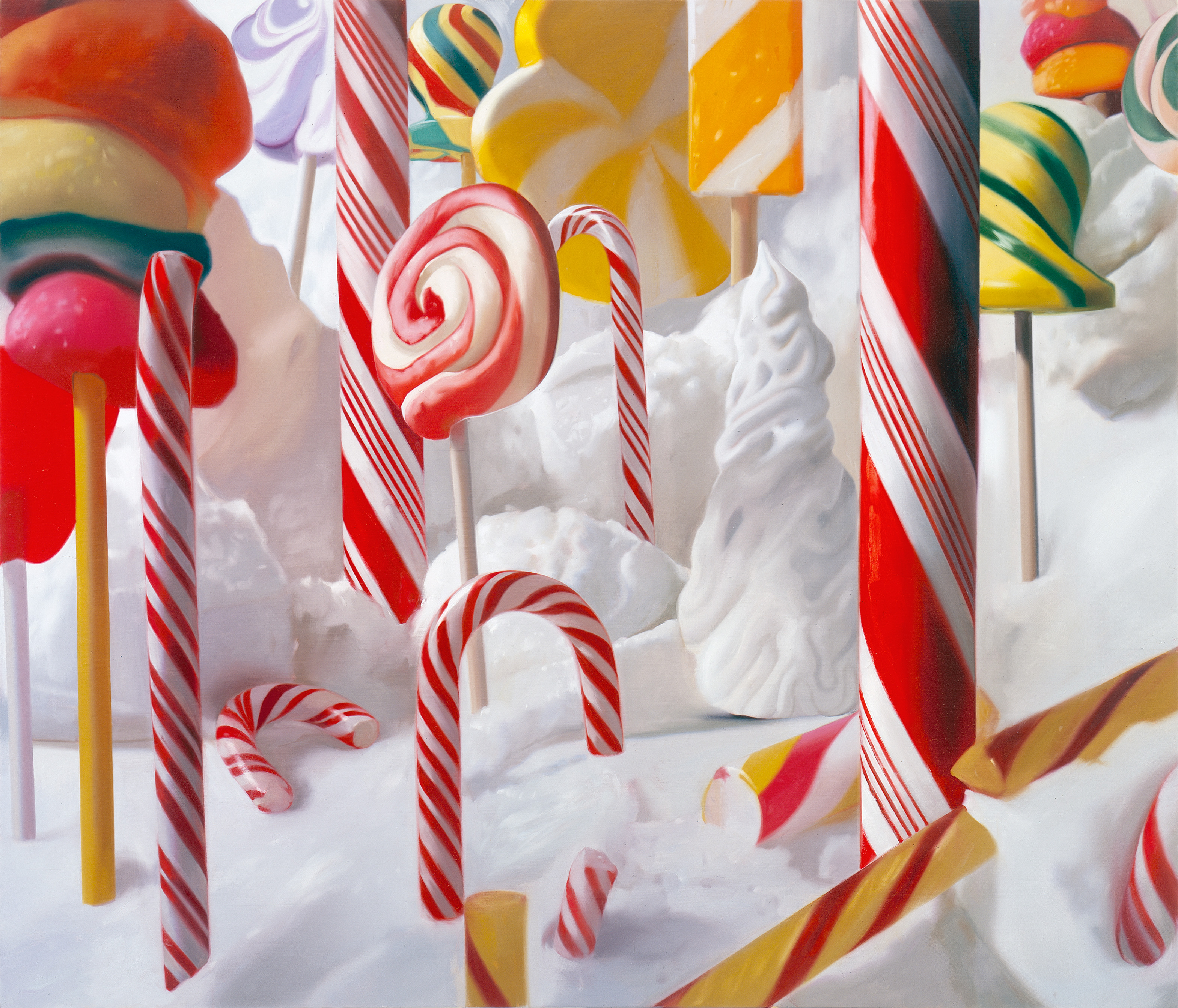 Will Cotton and his bountiful landscapes of cotton candy clouds, hot fudge rivulets, and gingerbread architecture have been enticing audiences for two decades. After studying painting at Cooper Union in New York and becoming interested in the intersection of gluttony, beauty, and desire, he gained international attention when he served as artistic director for the pop singer Katy Perry's "California Gurls" music video; his painting of her hangs in the National Portrait Gallery in Washington, DC. Although Cotton is best known for his paintings of pin-up girls adorned with edible accessories against luscious backdrops, his landscapes reveal a more formally structured and darker side–he has likened his candy coated worlds to a metaphor for the overwhelming desire and rush associated with substance abuse. For these works, Cotton constructs confectionary maquettes and the photographs and paints the scenes in a realistic style on a large scale, which makes viewers feel as if they could inhabit the world he has created.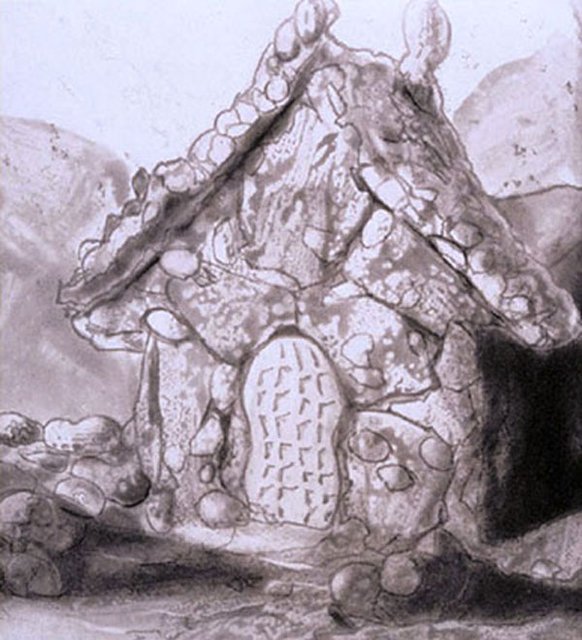 Cotton's candy landscapes bear a resemblance to traditional European landscape and Hudson River School painting, though imbued with overindulgence. In Pastoral (2009), Cotton makes reference to the classical landscape form with a composition divided into thirds, but the shepherd has been replaced with a maraschino cherry in a syrup puddle and the ancient ruins have transformed into a gingerbread house enveloped in fog. Macaron Garden (2012) calls to mind the elaborate topiaries of the gardens at Versailles. In Landfill (2012) bloated brownie sludge is piled up with raspberry tarts, while chocolate donuts that resemble discarded tires tumble into a chocolate river dotted with cherry cordials–a bounty of such excess that Cotton may be asking whether there can exist too much of a good thing. What if your every desire were fulfilled?
PAT DE GROOT
Born 1930, London, UK. Died 2018, Brewster, MA, USA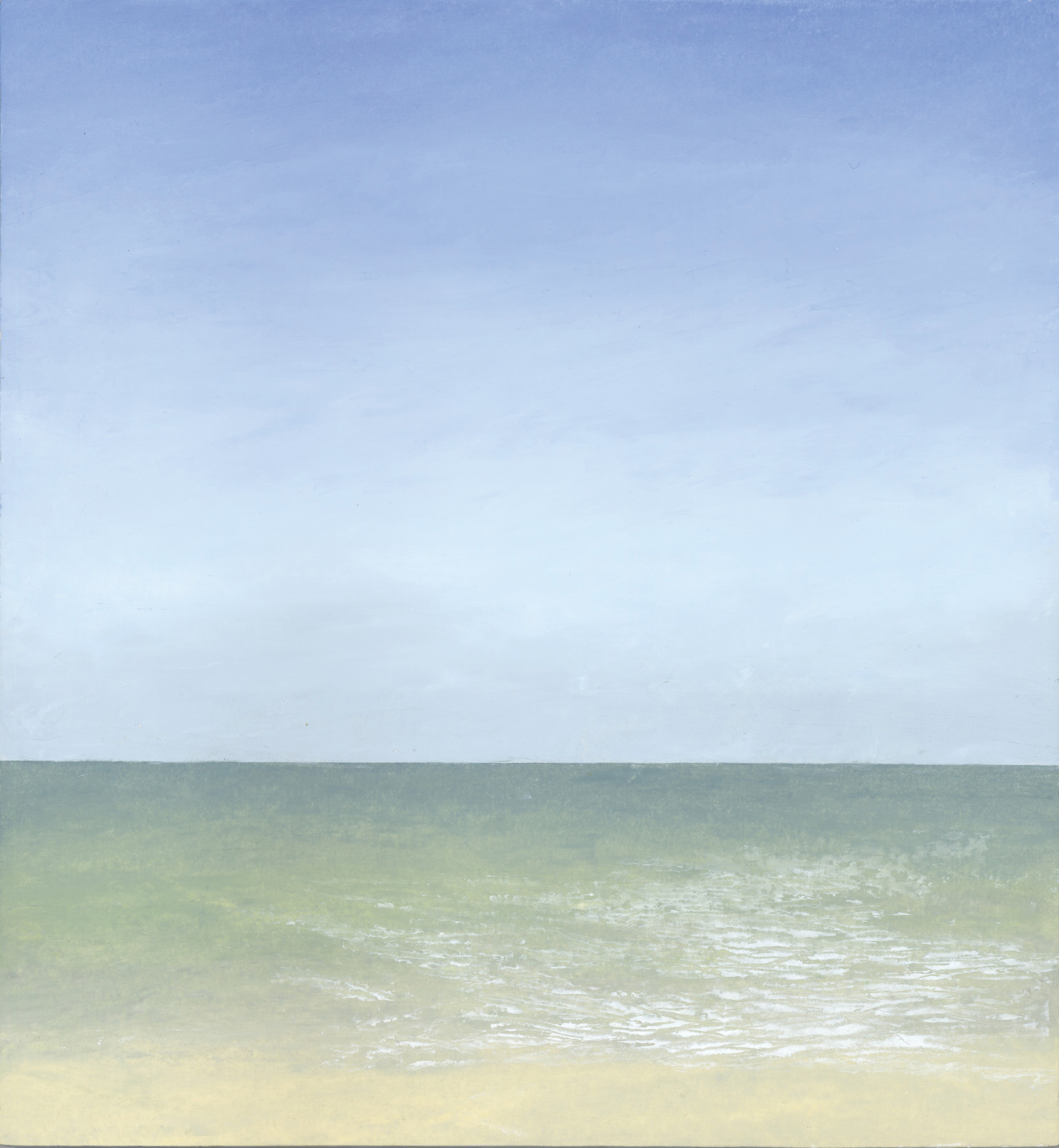 Pat de Groot spent a lot of time studying the sea from her kayak off Cape Cod, importing her experience of landless isolation into her paintings. Like the Impressionists, she captured the fleeting effects of light and atmosphere, but with a quiet spiritual sublime akin to that of Agnes Martin's nonobjective sea-inspired grid paintings. The meditative quality of de Groot's seascapes was inspired by Zen and Tibetan Buddhism, her tai chi and martial arts practices, and, of course, the sea itself. The unassuming, intimate scale of her wood panels–twelve by eleven inches–belies the intense physicality of her pallet knife technique.
The nearly square format of these compositions subverts the expectation of a seascape artist's conventional horizontal vista, and her works oscillate between abstraction and a highly perceptive naturalism. lazy evening moonrise (2005) seems to quote the iconic orange sun from Claude Monet's Impression, Sunrise (1872) but brackets out his busy harbor elements, allowing de Groot's centered sun/moon to suggest a transcendent circle–like the bindu, the point from which the universe unfolds in the flat abstract idiom of tantric painting. At the same time, the suggestion of a reflection in the water below evokes a sense of deep naturalistic space. The horizontal bands of sky and water in fog and light breeze (2002) recall the meditative bands and blocks of color in Mark Rothko's color-field paintings while also perceptively capturing atmospheric effects.
ANDREAS ERIKSSON
Born 1975, Björsäter, Sweden. Lives and works in Medelplana, Sweden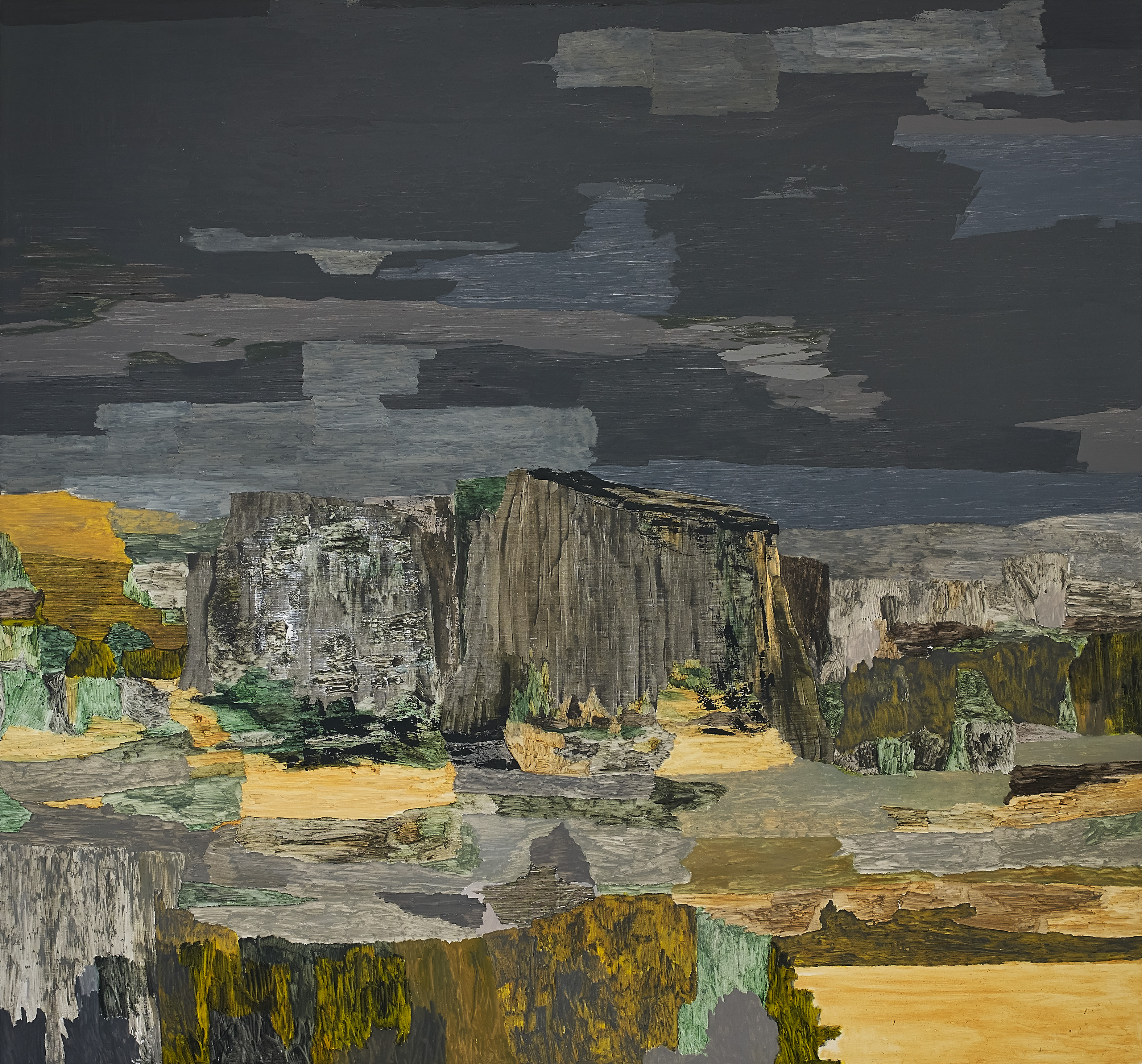 Since being diagnosed at age twenty-five with hypersensitivity to electromagnetic radiation, Andreas Eriksson has had to move away from major cities and now lives in an 1860 farmhouse on Sweden's lake Vänern. He imports the visual and tactile impressions of his walks in the countryside into the studio to create paintings whose patchworks of color and textures suggest tapestries. Eriksson says he does not look at nature when he paints, but rather, because he lives surrounded by nature he notices "how painterly things look."
That painterly quality is represented in Trunk (2011), which envelops the viewer in a rich atmosphere of earthy gray tones punctuated by moments of lush green moss and a vibrant orange revealed beneath an outer layer of bark. The eye languidly meanders back and forth, following horizontal bars of paint until a frenzy of vertical lines describing the bark draws the gaze upward along the monumental trunk. Scape (2004) further explores the painterly characteristics inherent in nature. Like reflections of light off a pond as seen through dense forest branches, slow horizontal smears of luminous whites emerge from behind a linear web of clay and verdant forest hues. Pine-needle lines, drawn by scraping into the wet paint, fan out in three areas of the composition.
INKA ESSENHIGH
Born 1969, Bellefonte, Pa, USA. Lives and works in New York, NY, USA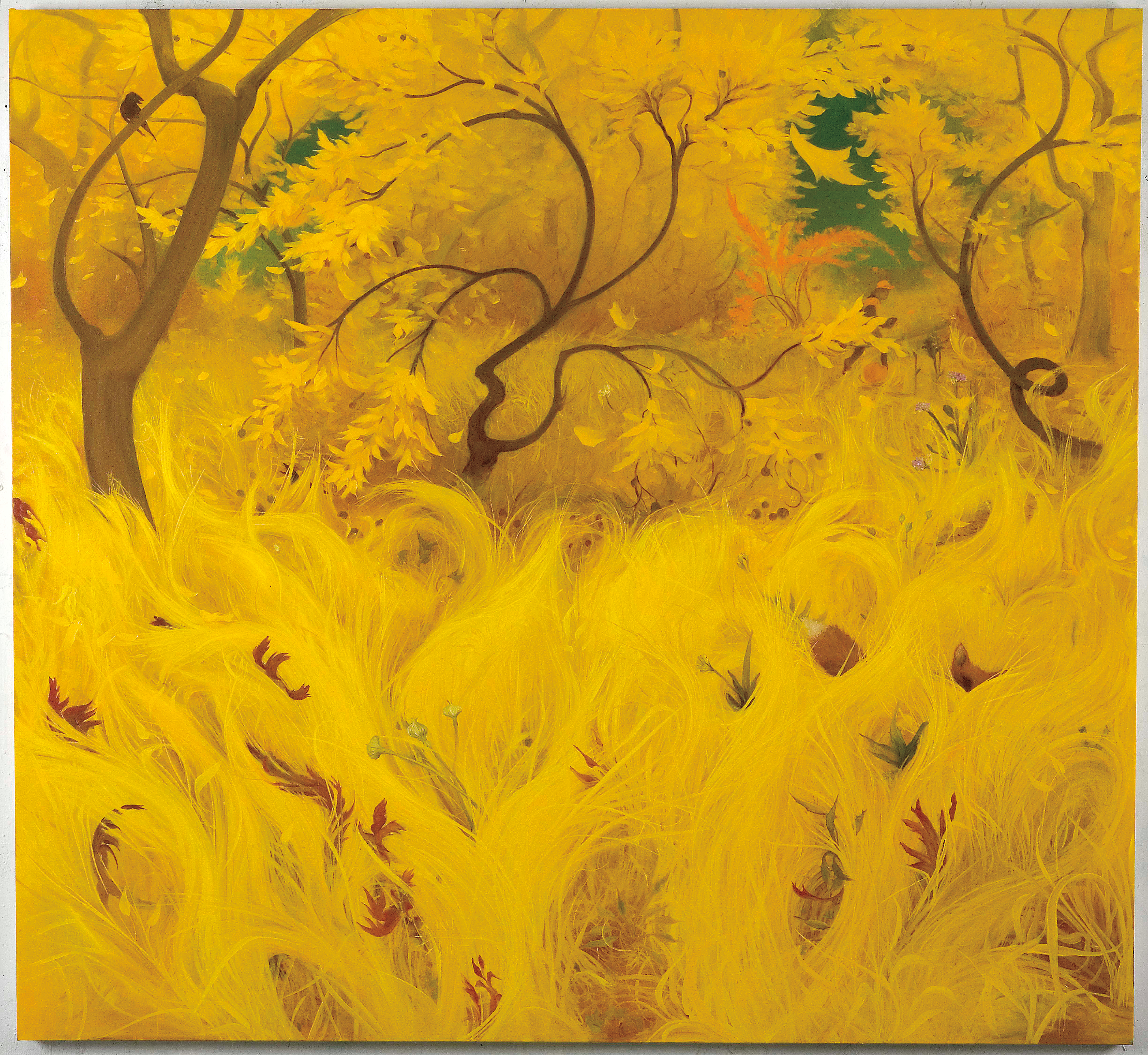 One of the primary functions of landscape in urban and industrialized societies has been to provide a vicarious escape into a natural world. Inka Essenhigh, however, paints landscapes that are purposefully artificial and drawn directly from her imagination. Her visual language reads as a mélange of art historical styles that include Rococo, Romanesque, Art Nouveau, and Pop, and of popular culture. Employing a mix of narration, symbolism, and mystery, her paintings explore what is known about nature and what lurks beyond our perception. "The unknown comes from the painting process, putting brush to canvas," Essenhigh says. "I do have an agenda, and a world I want to create. I'm not interested in meaninglessness. I am looking for the feeling that I'm in collaboration with something that is separate from me, that I can access within my imagination."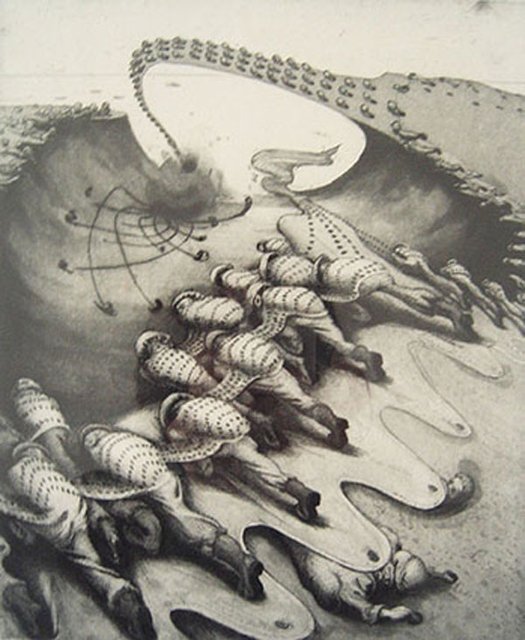 Essenhigh sometimes engages existing myths, fairy tales, and fables, and sometimes invents her own. Daphne and Apollo (2012) seizes the Greek myth's climactic, moonlit scene when the nymph Daphne, pursued by an aroused Apollo is transformed into a tree after a desperate appeal to her father, the river god Peneus. In Summer Landscape (2013), Essenhigh has new stories to tell, as magical sprites intertwine with plants and vines along an undulating, luminescent horizon. The work is segmented into three panels and painted on paper; its subject matter and golden hues bring to mind a sixteenth-century byōbu, ethereally placing the narrative simultaneously in the past and present.
RELATED ARTICLES:
Q&A: Peter Doig on the Haunting Influence of Place
Q&A: Being Lost at Sea and Finding Spiral Jetty with Tacita Dean—The Artist Taking Over London
Q&A: William Eric Brown's Layered Photographs Represent a State of Mind