Art has a bit of a reputation for being a pretentious industry that takes itself way too seriously, which is really too bad—artists have been using their work to crack jokes left and right ever since Duchamp decided to send a urinal as art to the Society of Independent Artists in 1917! Here's a shortlist of twelve artists who have laughed their way through art history since then and how comedy has played an essential role in their practices.
MARCEL DUCHAMP
l(H.O.O.Q.)ol

"L.H.O.O.Q." (1919). Image via Pinterest.
Arguably modern art's first and most widely recognized satirist, French artist Marcel Duchamp really knew how to use comedy to stir the pot of the art establishment. In 1919 for example, Duchamp asked us to reconsider how we look at Leonardo's untouchable Renaissance masterpiece by defacing a postcard of it and renaming it L.H.O.O.Q.—a phonetic play on words that roughly translates (from French) to 'she has a hot ass.' This wasn't Duchamp's first time thumbing his nose at the powers that be. In 1917, Duchamp submitted his now notorious urinal Fountain to the Society of Independent Artists under the pseudonym R. Mutt as an elaborate prank poking fun at the American avant-garde. Ultimately, the sculpture was seminal in changing the course of art production and how we define what art actually is forever so it's kind of hard to say who got the last laugh here.
CLAES OLDENBURG
LOL

"Spoonbridge and Cherry" (1985-1988). Image via Pinterest.
We've all been humbled by a giant slice of pie before (especially during the holiday season), but usually not like this. Best known for his comically monumental sculptures of normal, everyday objects like cakes, spoons, and three-prong electrical plugs, American pop artist Claes Oldenburg's sculptures have the effect of making its audience feeling rather insignificant, reversing the traditional relationship between what is 'user' and what is 'object,' and begging the question, 'who consumes who?' His sculptures are also a great place to watch people taking cute photos of each other.


RICHARD PRINCE
...lol?

"Tell Me Everything" (1987). Image via Paddle8.
What's in a joke, anyway? Like fellow pop artist Claes Oldenberg, American painter and photographer Richard Prince's practice also recasts common, popular objects in a completely new light to help us to reexamine how these seemingly innocuous things operate in our culture. For Prince in the '80s, that pop object was 'the joke': "Artists were casting sculptures in bronze, making huge paintings, talking about prices and clothes and cars and spending vast amounts of money. So I wrote jokes on little pieces of paper and sold them for $10 each. One dealer bought two and asked for a 10% discount. So I decided that every six months I would double the prices. All this was possible because no one was looking at my work. That's a fairly good position sometimes. You can get away with a lot of things.'
[related-works-module]
WILLIAM WEGMAN
doggos doing a lol

"Tomato" (1996). Image via Pinterest.
"I don't like hot subjects, like war, or sex, or politics—I thought that was cheating. I wanted something droll and clean and clear." American photographer William Wegman understood our human predilection for canine-related media way before the internet had us escaping the horrors of the day by watching that video of that husky saying 'I love you' an unspeakable number of times. It's impossible not to be charmed and delighted by William Wegman's whimsical portraits of his famous Weimaraners—his playful, and remarkably unpretentious sense of humor is effusive throughout his work, offering us comic relief via man's best friend. Wegman (and his canine company) are friendly reminders that politics are fleeting, but dogs are forever.
MAURIZIO CATTELAN
lol but sarcastic and in Italian

"L.O.V.E." (2010). Image via Artstation.
Italian conceptual artist Maurizio Cattelan is a master provocateur, though he may not admit it. Disorienting and provoking our sense of what is truth and reality, Cattelan creates a surreal world of alternative facts where our failures are celebrated with monuments and a famous art dealer attends gallery openings dressed as a giant penis. In Cattelan's own words, "I'm always borrowing pieces—crumbs really—of everyday reality. If you think my work is very provocative, it means that reality is extremely provocative, and we just don't react to it."
MARTIN PARR
lol on holiday

From "Small World," published in 1995. Image via Pinterest.

For whatever reason, the British seem to have an uncanny knack for capturing humanity at its most banal and absurd moments. Photographer Martin Parr is no exception. His candid snapshots of tourists are a particularly endearing testament to the disappointing realities of our #vacationgoals—pretty much everywhere is crowded and dirty and most people look kind of gross and cranky. Martin Parr's photographs are basically all the unflattering, 'bad' photos your mom decided not to upload onto Facebook.


SARAH LUCAS
lol sex is creepy

"Eating a Banana" (1990). Image via Voltcafe.
British artist Sarah Lucas' work uses humor to poke fun at the ridiculous position art history has placed the female body. By reflecting and thereby reclaiming the male gaze, Lucas offers a parody of the sexes, creating visual puns that allow us to laugh at the power of suggestion, giggling uncomfortably as we try to get our minds out of the gutter. A portrait of Lucas meeting the viewer's eyes as she eats a banana is only as provocative as the viewer makes it out to be.
DAVID SHRIGLEY
¯\_(ツ)_/¯ lol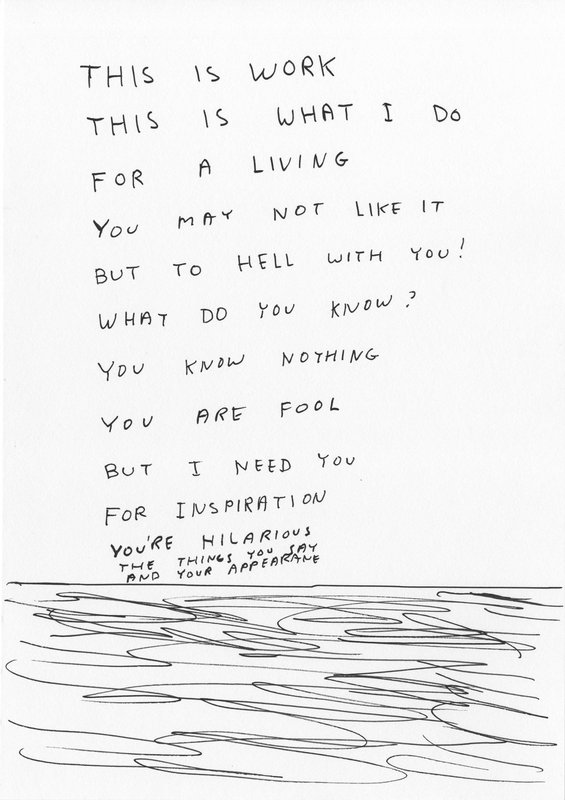 Untitled, 2015 is available on Artspace for $1,750 or as low as $154/month
Speaking of the comically grotesque, fellow British artist and illustrator David Shrigley's visual aphorisms draw their wry sense of humor from their ability to be as true and relatable as they are discomforting and just plain weird. Often taking the composition of a single-panel comic, his crude, cartoonish, Philip Guston-like renderings are immediately laughable in their awkwardness. Not unlike an episode of Curbed Your Enthusiasm, Shrigley presents situations that highlight all that's hilariously bleak and stupid about plain old existence on this silly, dumb planet.
RYAN TRECARTIN
like omg lol
Image via NGV.
You could say that American artist and filmmaker Ryan Trecartin's kitsch, delirious narratives of trivial, suburban dramas are an emphatic embrace of our current state of cultural saturation and pluralities. You could also say that his videos are basically just glitchy home videos of 'those weird, art kids in high school.' Either way, Ryan Trecartin has you laughing either with him as a fellow weird art kid or at him. The works are fantastically self-aware but not at all self-conscious, and always on the verge of a hysterical meltdown.
JAYSON MUSSON
lol deadass tho
Jayson Musson as Hennessy Youngman. Image via Radical Presence
In his online video series Art Thoughtz, American artist Jayson Musson adopts the persona of Hennessy Youngman (aka: The Pharoah Hennessy, aka: The Rowhouse Raconteur) as a way to break down the stereotypes of who discusses what (and how) in art. Like a young, black, hip-hop savvy version of John Berger in Ways of Seeing, Hennessy Youngman in Art Thoughtz delivers equally seminal criticisms of Western culture, using humor to soften up tough institutional phrases like Relational Aesthetics or Post-Structuralism. What's revealed is an arts institution that tends to hole up in an ivory tower of academia, accessible only to the privileged.
MERIEM BENNANI
*lol emoji*
Fardaous Funjab. Image via Frowning.wordpress.com
For Moroccan-born artist Meriem Bennani, humor is simply a way of being. In a recent interview with Artspace, the artist talks about how the comedy in her work is spontaneous as opposed to deliberate: "I don't think I have very elaborate humor. The jokes are very straightforward and childish, very old-school cartoony... It's a surrealist humor, placing it in a world that has different rules so it doesn't have the same weight. You can push it further and it's still okay."
BRAD TROEMEL
#lol
Image via Instagram @Bradtroemel
American artist Brad Troemel makes art memes that are kind of like 'yo mama' jokes for the post-internet art world—some of them are so dense and specific in their humor and references that when you do get the jab, you feel like you're one with the clique. Deemed "The Troll of Internet Art" by The New Yorker in a 2017 profile, Troemel's practice is based on cracking jokes that double as institutional critiques. As the internet has by far become the dominant means of image and cultural distribution, it has also enabled artists like Troemel to break free from the opaque restrictions and bureaucracy of the gallery system.