"Priceless" is how many artists looking to hunker down on their work might value the time and space afforded by artist residency programs. Unfortunately, most residencies come with such high costs—from attendance fees to simple travel and material costs—that they price out many of the emerging artists who could benefit from them the most. But don't despair! There is also a rarified cluster of elite, reputable programs that not only waive tuition fees—they give artists a paycheck to attend. We've put together 10 of the best residencies that, in addition to providing studio space and public visibility, will (at least temporarily) rise above the cliché of the starving artist.
1. The Bemis Center for Contemporary Arts, Omaha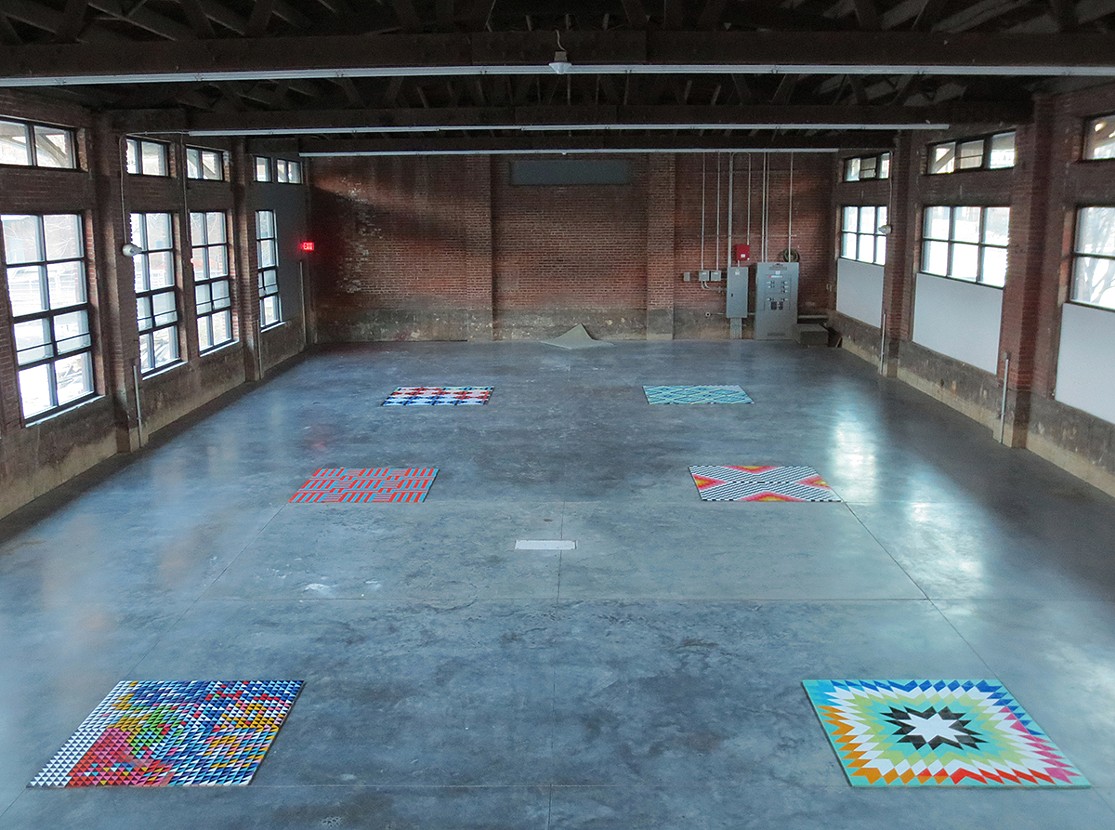 Founded more than a quarter century ago by Lorne Falk, Tony Hepburn, Jun Kaneko, and Ree Schonlau, the Bemis Center in Omaha, Nebraska, is housed in an urban former wholesale grocery warehouse totaling a whopping 110,000 square feet. Within the giant warehouse, 6,500 square feet is reserved for artists-in-residence wishing to install and document their work on-site. Aside from the monthly stipend and covered travel costs, the best thing about Bemis is its fabrication facilities, which are available 24 hours a day and include welding equipment, a ceramics facility, a wood shop, and a research library. The communal garden available to resident artists doesn't hurt either.
STIPEND: $750 per month
PERKS: Paid-for travel expenses, private live/work space (which go up to 2100 square feet in size), 24-hour access to sculpture facilities
NOTABLE ALUMNI: Alice Aycock, Gregory Halpern, Adam Parker Smith, Letha Wilson, Meredith James
COSTS: None
APPLICATION FEE: $40
Quebec's Est Nord Est residency is dedicated to the dissemination of contemporary art, in addition to the production of it. Artists-in-residence live and work among art writers and curators who team up to help them get their art out and into the world. The eight-week-long program offers residents a stipend and free lodging in the small French-Canadian village of Saint-Jean-Port-Joli, which is known for its community of woodworkers and craftspeople.
STIPEND: $1,144 over 8 weeks
PERKS: Bedroom in shared living space, private studio, some sculpture facilities, bike availability
NOTABLE ALUMNI: Milena Edelstein, Emilie Bernard, Amir Chasson
COSTS: Travel to and from the residency, cost of art supplies
APPLICATION FEE: $0
Newly settled in a post-industrial studio in Brooklyn's Sunset Park, Eyebeam hosts forward-thinking events revolving around technology and art—like workshops that turn your forearms into digital interfaces, allowing you to control computers with a flick of the wrist. Eyebeam's research- and project-based residency programs are generous to say the least, providing funds for living stipends and material costs that range from $2,600 to almost $32,000, depending on which programs you apply for. Living accommodations are not provided, though stipends can be spent on housing expenses.
STIPEND: $2,600 to $31,770
PERKS: The use of anything from this list of high-tech equipment, and promotion support
NOTABLE ALUMNI: Marisa Olson, Brad Troemel, Lindsay Howard, Mary Mattingly, Jonas Lund, Jacob Ciocci, Rashaad Newsome, McKenzie Wark
COSTS: Travel to and from the residency, lodging
APPLICATION FEE: $0
4. Headlands Center for the Arts, San Francisco
Located in San Francisco's breathtaking Golden Gate National Park, Headlands Center for the Arts offers a four- to eight-week residency that includes studio space, housing, travel and living stipends, and one free meal per weekday prepared by an in-house chef. This residency is one of the few that we've come across to cover airfare.
STIPEND: $500 per month, plus a stipend for travel expenses
PERKS: Private studio space, a bedroom in a shared house, access to vehicles, and a basic woodshop
NOTABLE ALUMNI: Heidi Hahn, Andrea Zittel, Hank Willis Thomas
COSTS: Art supplies
APPLICATION FEE: $45
5. Indy Island Residency, Indianapolis
This residency is highly unique in that it takes place literally inside another artist's installation. Well-known American artist Andrea Zittel'sIndy Island is an inhabitable, floating fiberglass structure on lake within the Virginia B. Fairbanks Art and Nature Park in Indianapolis. Twenty feet in diameter, the experimental living structure is intended to be occupied—and customized—by a commissioned resident artist with a total stipend of $4,500, in partnership with the Indianapolis Museum of Art.
STIPEND: Project budget of $3,000, personal stipend of $1,500
PERKS: Residency covers roundtrip travel expenses to Indianapolis
NOTABLE ALUMNI: Jessica Dunn, Katherine Ball, A. Bitterman
COSTS: None
APPLICATION FEE: $0
Located on Fishers Island in the Long Island Sound off the coast of Connecticut, Lighthouse Works offers resident artists respite in an isolated, but not necessarily remote location. (Boston and New York are both less than three hours away.) In addition to artist residencies, Lighthouse Works provides opportunities to writers and musicians as well.
STIPEND: $1,500
PERKS: $250 travel allowance, studio space, housing, meals
NOTABLE ALUMNI: Paul Wackers, Kate Levant, Heidi Hahn
COSTS: None (unless your travel expenses are over $250)
APPLICATION FEE: $20
7. McColl Center for Art + Innovation, Charlotte
This prestigious residency in Charlotte, North Carolina, offers a pretty sweet deal: in addition to studio space, housing, a materials stipend, a transportation stipend, free video and photo documentation, and access to a plethora of fabrication workshops, the residency also awards selected artists up to $10,500. There is an open call, though the residency program is also filled by curatorial nomination, referral, and invitation—so it definitely helps to know someone.
STIPEND: Up to $10,500
PERKS: Studio space, housing, free video documentation, and access to a sculpture studio, kiln, wood shop, print studio, and media lab
NOTALE ALUMNI: Robert Lazzarini, Dread Scott, Mel Chin, Rashaad Newsome
COSTS: None
APPLICATION FEE: Unclear
8. The Studio Museum in Harlem, New York

The Studio Museum in Harlem has had a residency program dedicated to advancing the work of visual artists of African and Latino descent since 1968. The 11-month residency is one of the many programs the museum spearheads, all of which are inspired or influenced by black culture. The list of residency alumni is impressive, and includes artists like David Hammons, Kerry James Marshall, Julie Mehretu, Wangechi Mutu, and Mickalene Thomas.
STIPEND: $20,000 fellowship, plus a $1,000 stipend for materials
PERKS: 27/7 studio access, a presentation of that artists' work in the museum at the end of the residency
NOTABLE ALUMNI: Julie Mehretu, David Hammons, Mickalene Thomas, Kerry James Marshall, Wangechi Mutu
COSTS: Housing expenses
APPLICATION FEE: $0
Partnered with the He Xiangning Art Museum in Shenzhen, OCAT is China's only nonprofit contemporary art organization connected to a national museum. In addition to providing roundtrip airfare, the public-facing residency provides artists with PR services and visits with local curators, writers, artists, and art organizers. Residents are encouraged to show artwork or research conducted during the residency in the form of an exhibition (OCAT also has exhibition spaces in Shanghai), a lecture, or a research paper.
STIPEND: $3000 RMB (roughly $450 in U.S. dollars) per month to cover cost of living, $1000 RMB (roughly $150) per month for materials and research
PERKS: A 1,400-square-foot live/work space that consists of a large upstairs living area and a downstairs studio
NOTABLE ALUMNI: Dierk Schmidt, Constant Dullaart, Dirk Braeckmans
COSTS: None
APPLICATION FEE: $0
10. Container Artist Residency, at sea
For the adventurer looking to earn their sea legs, the Container Artist Residency—founded by the artist Maayan Strauss—offers a very unique (and potentially sickening) residency onboard a commercial shipping barge. Residents travel along an unspecified international shipping route determined by the partner shipping company. Artists are expected to consider their highly specific but ever-moving context, and creatively reflect (however abstractly) on an experience informed by maritime travel and global trade.
STIPEND: Unspecified stipend for equipment and materials
PERKS: Travel opportunities as determined by the trade route, on-board studio space
NOTABLE ALUMNI: Tyler Coburn, Erin Diebboll, Christopher Page
COSTS: None
APPLICATION FEE: Unclear
For more information on artist residencies, you can visit sites like Res Artist, Residency Unlimited, Rate My Artist Residency.
RELATED ARTICLES:
Don't Want to Pay for Art School? Here's a Streamlined Syllabus for Getting Your Own DIY MFA at Home
DIY MFA: 8 Places in NYC to Learn About Art for Free (or Almost Free)
Barry Hoggard & James Wagner on Building a Major Collection on a Budget
4 Ways for Artists to Fund their Studios Without Actually Selling Any Art
[related-works-module]