In conjunction with the release of Great Women Artists , a comprehensive new volume featuring more than 400 groundbreaking women artists and their works from the past 500 years, Artspace and Phaidon have partnered with Kering , a global luxury group committed to empowering women, in the production of a portfolio of prints by Cecily Brown , Lubaina Himid , Bharti Kher, Dana Schutz , and Jenny Saville . Proceeds from the portfolio will benefit Promundo , a non-profit dedicated to advancing gender equality by educating men and boys. Available to purchase individually or en suite, these limited editions (only 100 exist of each) offer collectors the opportunity to acquire affordable works by the most celebrated women artists of our time, all while contributing to a worthy and important cause.
Available on Artspace
WHO IS SHE?
Brown (b. 1969) was born in London and raised in Surrey, where she came of age in an enviable community of British artists and intellectuals; she is the daughter of novelist Shena Mackay and art critic David Sylvester, although her actual paternity was kept from her until she was 21 years old. After matriculating from Slade School of Fine Art in the early 1990s, Brown grew restless with the London art world, feeling increasingly boxed out as an un-ironic figurative painter amid the conceptual anarchy of the Young British Artists heyday. She spent six months in New York as an exchange student in 1992 before returning permanently in 1994, cementing herself early in the coven of painters reclaiming the figure as a viable avant-garde modality.
"Trouble in Paradise", 1999, via Tate Museum

By 1997, her debut with Jeffrey Deitch's gallery had catapulted her to stardom; she was soon swooped up by Gagosian and hailed with reviving the medium alongside heavy hitters like John Currin and Lisa Yuskavage. Her mesmerizing oils have fetched upwards of seven figures at major auctions all over the world, underscoring her status of one of the most expensive living female artists. Her libidinous conglomerations have scored her solo shows at institutions like the Louisiana Museum in Denmark, the Hirshhorn Museum in D.C., MoMA in New York, Museum of Fine Arts, Boston, and the Museo Nacional Centro de Arte Reina Sofia in Spain.
WHY IS SHE IMPORTANT?
"Year of the Scavenger", 2012  via Sotheby's New York

Brown is primarily known for vigorous, large-scale oils that blur the boundaries between figuration and abstraction, or, perhaps more accurately, render figures in abstract terms; her snaking, libertine incrassations make steaming hash of the Renaissance, unmooring pathos and narrative from their stodgy compositional prerequisites. Her dynamic canvases transform paint into flesh, using viscera as the groundwork for commentary on desire in all its shimmering, fractious ambiguity. Drawing on the ethos of predecessors like de Kooning, Brown subverts painterly conventions of the female nude by invoking the grotesque, the repugnant, and the ineffable. Still, there's no shortage of generosity and humor in Brown's work, and her signature harshness never gives way to cruelty, preferring instead to articulate the shared existential mire of human embodiment. Bodies, not just gorgeous or sinful ones, are faulty, and gross, and so often needless; Brown does not shy away from our frailties, but rather constellates them, and her edgeless testaments to want and its discontents pulsed far too loud to avoid notice.
B oy Trouble , 1999 via artist's website
It seems notable that Brown's first foray into this style involved orgiastic rabbits, which referenced the history of still-life with the same panache that they conjure images of pornographic hedonism. These were the subject of her first major solo show, "Spectacle," at Deitch Projects in New York. Deitch had never shown a painter before, and his contextualization of her work with installation and video helped solidify her edgy image at the tender age of 27. When she left for representation at Gagosian, she began producing the works that would become her signature—blooming amalgams of sexual sprawl, pictures of chaos. High Society , a masterpiece from 1998, typifies this aesthetic.
The painting teams with sanguine eroticism, undergirded by glints of recognizable signifiers—a top hat, a hundred dollar bill, a self-consciously Baroque color pairing—arranged to remind the viewer of exactly how vacuous art history can be, how inextricable lust and money are from the beauty we crave.
" Pyjama Game", 1998 via Saatchi Gallery
In the same year, she completed Pyjama Game , which went on to sell for $1.6 million at auction. A vision in crimson entropy, Brown's piece, obliquely titled after a squeaky-clean Doris Day movie, does what '50s film couldn't dare, and with tireless relish. There's both joy and abjection at play, here, a dangerous dance made dreamlike in her contribution for the Great Women Artist's portfolio, available on Artspace. The haunting All the Nightmares Came Today depicts a glaring parade of half-humans, spectres that waft and wail through deep, black blankness. They are the bailiffs of undue stories, memories of stars and spinsters spent. This is Brown's perfect, throbbing graveyard, an ode against the way her medium has depicted the female form for centuries.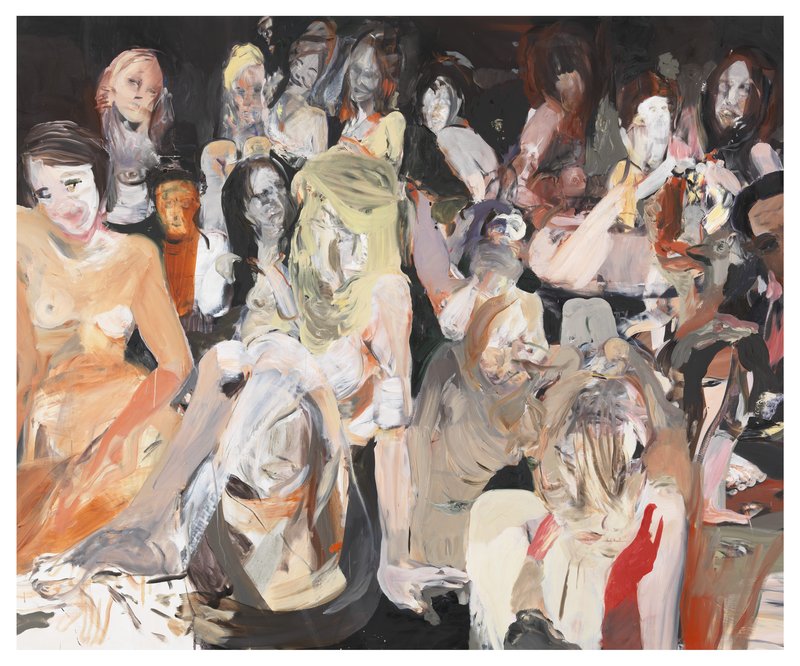 " All the Nightmares Came Today", 2012/2019 via Artspace
Brown is notorious for reworking the same paintings for years at a time; a piece she recently showed in a 2018 retrospective, more or less wet on arrival, was started in 2005. This makes sense—the pieces aren't breezy, by any stretch of the imagination. An obsessive material struggle belies the content. The audience is dropped off at the very edge of what paint can manage, a tense, liminal crevice where anything can happen. In Brown's world, anything often does. While her work has expanded into straight-forward drawing and monotypes in recent years, painting remains at the heart of her practice, and it's not hard to understand why.
RELATED ARTICLES:
101 Guide To The Work of Dana Schutz: Translator of the Human Condition
101 Guide To The Work of Lubaina Himid: Pioneer for Visibility