In her 80th year, the feminist artist Judy Chicago is having a moment. Her survey, "Judy Chicago: A Reckoning," curated by Alex Gartenfeld and Stephanie Seidel, is up at the Institute of Contemporary Art Miami until April 19. It was a hit during Miami Art week, where the artist seemed to have a ubiquitus presence. Both Jessica Silverman gallery and Salon 94 showed her at Art Basel (according to Artnet News, Chicago's EU-69 Mother India, a large 1985 textile work, sold for $825,000); in Little Haiti, Nina Johnson staged a solo show of relatively unknown and unseen photographs documenting performances between 1968 and 1974; and Jeffrey Deitch and Larry Gagosian included her in the pop-up "Pop Minamalism Minamalist Pop" in the Design District (Chicago was one of very few women to be included in the massive group show).
This all said, Chicago has yet to see major sales at auction (at least not compared to her male peers), and with the exception of her famous Dinner Party installation, much of her work is underknown to mainstream audiences. So, who is Judy Chicago and why does her work seem to resonate so strongly today, decades after it was made? Here, we look into the life and work of Judy Chicago for a primer on one of the most significant feminist artists in art history.
Growing Up a Marxist
Chicago was born in 1939 as Judith Sylvia Cohen to Arthur and Mary Cohen in Chicago. Despite Arthur's lineage (he was the first Cohen in 23 generations to not become a Rabbi), Chicago's father was a Marxist and labor organizer during the McArthy Era. Growing up in a liberal household shaped much of Chicago's beliefs, but it also caused her family tumult; Arthur was heavily investigated and surveilled, and at the age of six, Judy was questioned by the FBI about her father's involvement with the Communist Party. Arthur died from illness when Judy was 14, and her mother refused to discuss his death or allow the children to attend his funeral. It's no surprise then, that Judy internalized her pain and didn't come to terms with her father's death until she was much older; she was hospitalized for a month in the early '60s due to a bleeding stomach ulcer attributed to unresolved grief.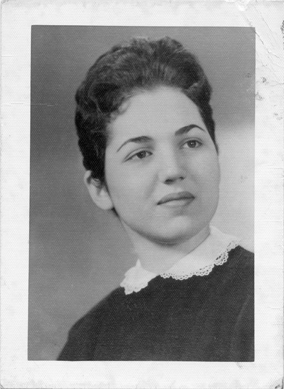 Judy Chicago, age 17, 1956. Image via the artist's website.
As a kid, Chicago attended art classes at the Art Institute of Chicago, where she later applied for college but was denied. Instead, she went to UCLA on scholarship, where she would meet her future husband Jerry Gerowitz in 1959. Tragically, in 1963, Gerowitz died in a car crash. Many of Chicago's earliest pieces were made in mourning, and referenced her husband's death. She made ice sculptures, "a metaphor for the preciousness of life," she once said, and it was also around this time that Chicago began abstractly representing sexual organs—much to the dismay of her mostly male professors, who criticized her for being "crass," a characterization that would follow her work for decades to come.
The Story of Womanhouse
In 1970, six years after she graduated UCLA, Chicago started teaching full-time at Fresno State College, where after just one year, she created the first Feminist Art Program in the United States. She and her fifteen female students each paid $25 per month to rent an off-campus studio, where they met and worked. Later, Chicago would join forces with Miriam Schapiro to establish the Feminist Art Program at Cal Arts, where they created the now-famous Womanhouse. It began as a collaborative installation with works by women who made art about their gendered experiences and problems. At this time in the world of contemporary art, artistic pursuits were primarily formal—like in the case of Minimalism—and art was rarely personal.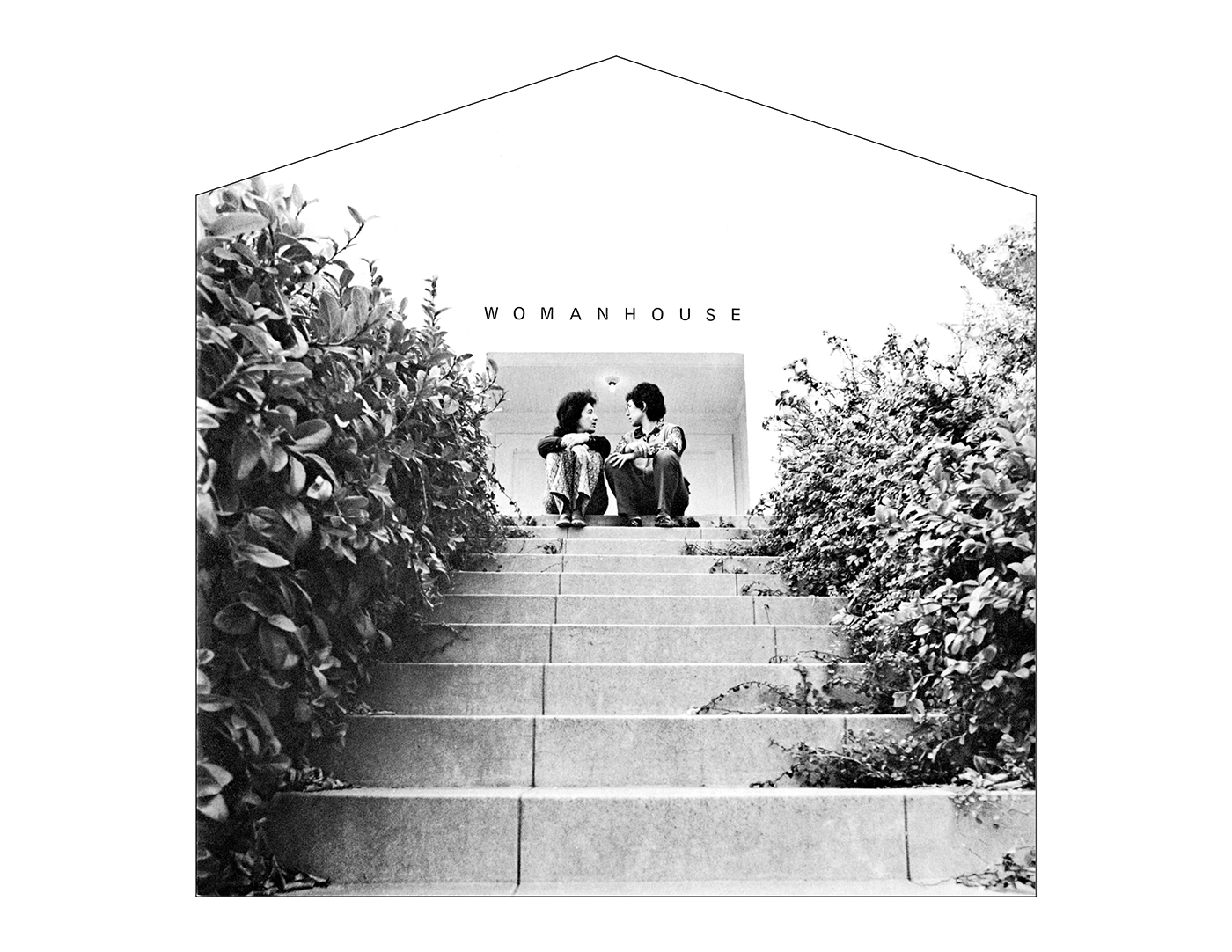 Womanhouse catalog cover. Image via the artist's website.
Womenhouse initiated an educational experiment that required its participants to learn skills typically associated with masculinity, while also validating the personal experiences of women within the art cannon: "Our purpose is to develop a new concept of art, a new kind of artist and a new art community built from the lives, feelings, and needs of women." From the original press release: "On November 8 1971, 23 women arrived at 533 Mariposa Street armed with mops, brooms, paint, buckets, rollers, sanding equipment and wallpaper. For two months we scraped walls, replaced windows, built partitions, sanded floors, made furniture, installed lights, and renovated the 75-year old dilapidated structure… There was no hot water, no heat, and no plumbing. But the real difficulties in the Womanhouse project lay in the struggles of the individual women to push beyond their own limits, as artists and as women. In order to accomplish a project as demanding as Womanhouse, the women had to work in a manner that they were totally unaccustomed to. They had to do hard physical labor, use tools they knew nothing about, complete their projects by the opening date, work in a scale larger than most of them had ever tackled… The age-old female activity of homemaking was taken to fantasy proportions. Womenhouse became the repository of the daydreams women have as they wash, bake, cook, clean and iron their lives away."
"Just Vaginas on Plates": The Dinner Party
Unequivocally the most famous of Chicago's works is the The Dinner Party (1979), a work Chicago made to "end the ongoing cycle of omission in which women were written out of the historical record." Arranged in a 48-foot-long equilateral triangle (a form often used in Chicago's work, vaguely suggestive of a vulva, and representative of equality), dinner tables are dressed with 39 place settings, each one dedicated to a different woman, from mythical figures like the Fertile Goddess and Judith to historic heroines like Artemisia Gentileschi and Hildegarde of Bingen to modern figures of the "American Revolution and Women's Revolution" such as Sacajawea, Sojourner Truth, Georgia O'Keeffe, and Virginia Woolf. Each handmade plate depicted an image of either a vagina and flower (or something somewhere in between), and rested on a table runner that had been embroidered by over 400 female volunteers. Chicago's aim had been to not only commemorate women as a didactic effort to education younger generations of women about their history, but also to elevate the use of materials and methods typically deemed (and undervalued as) belonging to women, or domestic work: embroidery, needlepoint, sewing, etc.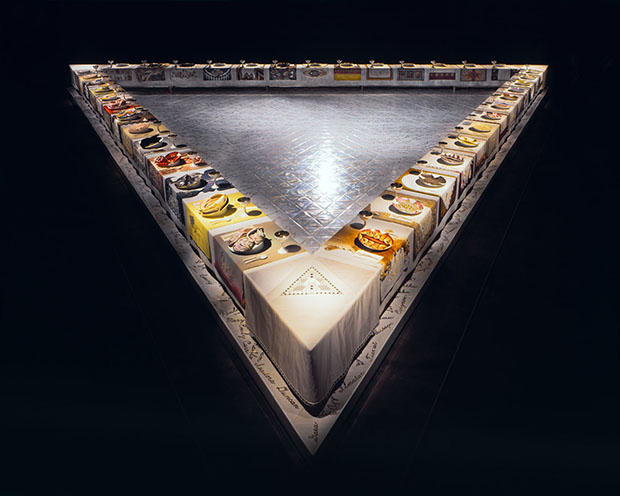 The Dinner Party. Image via Phaidon.
The installation was initially constructed as a traveling exhibition, but Chicago faced difficulty finding institutions willing to show it. Art critics dismissed it as "crass" and "vulgar": "just vaginas on plates." New York Times' chief art critic Hilton Kramer called The Dinner Party "very bad art, ...failed art, ...art so mired in the pieties of a cause that it quite fails to acquire any independent artistic life of its own." Still, the exhibition toured to 16 different venues in three different countries, garnering an audience of over 15 million. The piece has been permanently on view at the Brooklyn Museum, since Elizabeth A. Sackler donated it in 2007.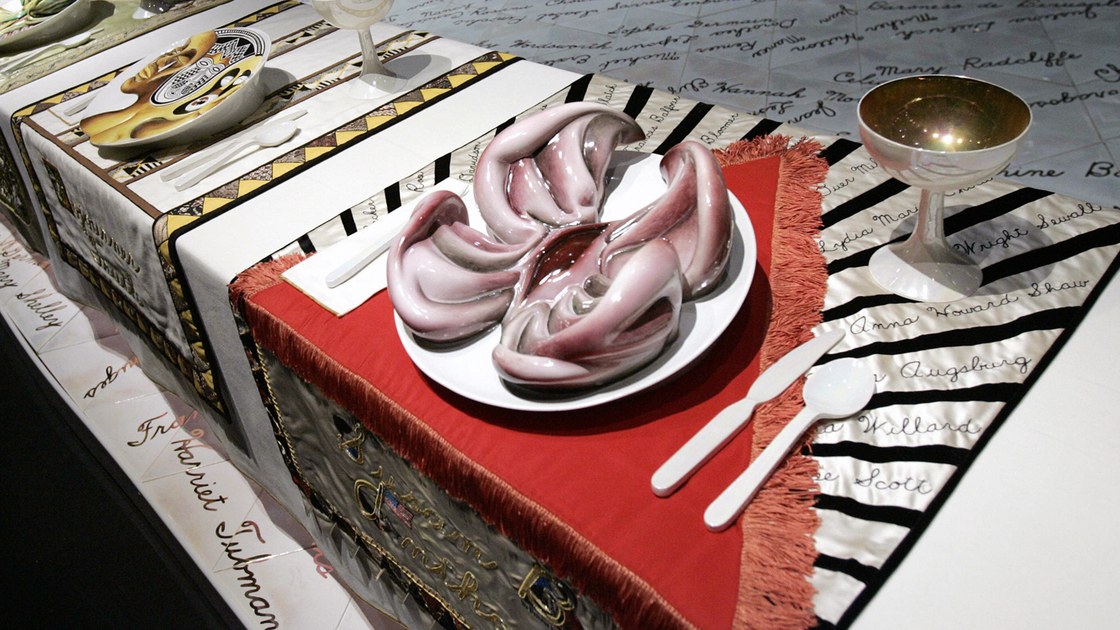 The Dinner Party, detail. Image via The New Yorker.

The '80s and '90s
Since The Dinner Party, Chicago has continued to make work surrounding women's issues. Birth Project (1980-1985) celebrated the role of motherhood by depicted childbirth, which Chicago felt lacked significant representation in the art world. Chicago never had children herself, saying that though she admired women who did, "there was no way on this Earth I could have had children and the career I've had." Next, Chicago worked on a series called PowerPlay, consisting of drawings, paintings, weavings, and reliefs that explored the construction of masculinity and its relationship to power.
In the mid-'80s, Chicago shifted focus to issues of power and opression, specifically in relation to the Holocost. While Chicago is Jewish, and her first two husbands were as well, it wasn't until she met her third husband, photographer Donald Woodman, that she began to seriously investigate her heritage. (The couple traveled together to Israel and also toured concentration camps in Europe for several months.) For The Holocaust Project: From Darkness into Light (1985–93), Chicago collaborated with Woodman to produce 16 large-scale works using a variety of materials to relate the Holocaust to contemporary issues, like the Vietnam War, Native American genocide, and environmentalism. Voices from the Song of Songs (1998) is another series that takes a contemporary stance on religious tradition. The portfolio of six image prints and six text pages combines Hebrew biblical text with vaguely erotic hand-colored woodblock prints.
[related-works-module]
Legacy
While phalluses were a dime a dozen in male-dominated art-making of the '60s, female genetalia was not. So it's not surprising that Chicago received quite a bit of criticism for celebration of the vagina in her work. But there were other, more salient criticisms as well, which may hold more relevance today. Some, like painter and critic Maureen Mullarkey, criticized The Dinner Party for essentializing women, reducing them to their genetalia. She also claimed Chicago took advantage of her volunteers, who spent years helping make the work without recieving any pay. Chicago also recieved criticism for the fact that almost all of the women honored in The Dinner Party were white; Sojourner Truth, the only black women represented, was also the only person to not have a vulva/flower as her plate. Literary critic and scholar Hortense J. Spillers writes, "The excision of the female genitalia here is a symbolic castration. By effacing the genitals, Chicago not only abrogates the disturbing sexuality of her subject, but also hopes to suggest that her sexual being did not exist to be denied in the first place." On a similar token, Alice Walker writes, "It occurred to me that perhaps white women feminists, no less than white women generally, can not imagine black women have vaginas. Or if they can, where imagination leads them is too far to go."

Fast forward to today, and it seems as though Chicago is having a moment. At least... in the art world. Meanwhile, in her home town of Belem, New Mexico, some residents, particularly Evangelical Christian leaders, are protesting plans for a local museum dedicated to her work, sponsored partially by the city, and partially by the artist. The sleepy town of 7,000 could use a tourist attraction, some residents feel, while others say its offensive and inappropriate, especially for children. "It involves a question for the country as well as Belen: Do religious people get to dictate how we're governed?" Chicago told the New York Times. "I mean, I was getting a standing ovation in São Paulo while people back in my town were saying hideous things about me.... It's not like I need more attention at this point."
RELATED ARTICLES:
How Did Feminist Art Begin? A Brief History of Women Rejecting Patriarchy in the Art World
6 Black Radical Female Artists To Know Before You See "We Wanted A Revolution: Black Radical Women, 1965-85"
The Other Art History: The Forgotten Cyberfeminists of '90s Net Art