If you're trying to gallery hop, "doing Chelsea" is literally never enjoyable. Located in Manhattan adjacent to the Meatpacking District, Chelsea has the tightest concentration of top-tier galleries in the U.S., and with museum-level budgets and air conditioned interiors, these blue-chip institutions should be an ideal place to catch mid-career and top-level artists such as Isa Genzken, Felix Gonzalez-Torres, and Tony Cokes. But while the galleries seem walkable on Google Maps, they aren't. Checking off your to-do list inevitably means tramping up and down long, barren avenues. The neighborhood is charmless. Artworks worth millions of dollars are housed in chunky brutalist structures and fast, casual dining is overpriced. In summer, all of this is worse. Many galleries lack seating or public water fountains, and the bathroom situation is always "ambiguous." Your legs start to hurt from standing. You see "the good shows" in a dehydrated blur.
While we're powerless to change this situation, we've assembled a logistical cheat sheet in the hopes of making Chelsea easier. Below, you can find tips on what to see, where to eat (there's no Sweetgreen, it's senseless), and where to use the bathroom. Good luck!
WHAT TO SEE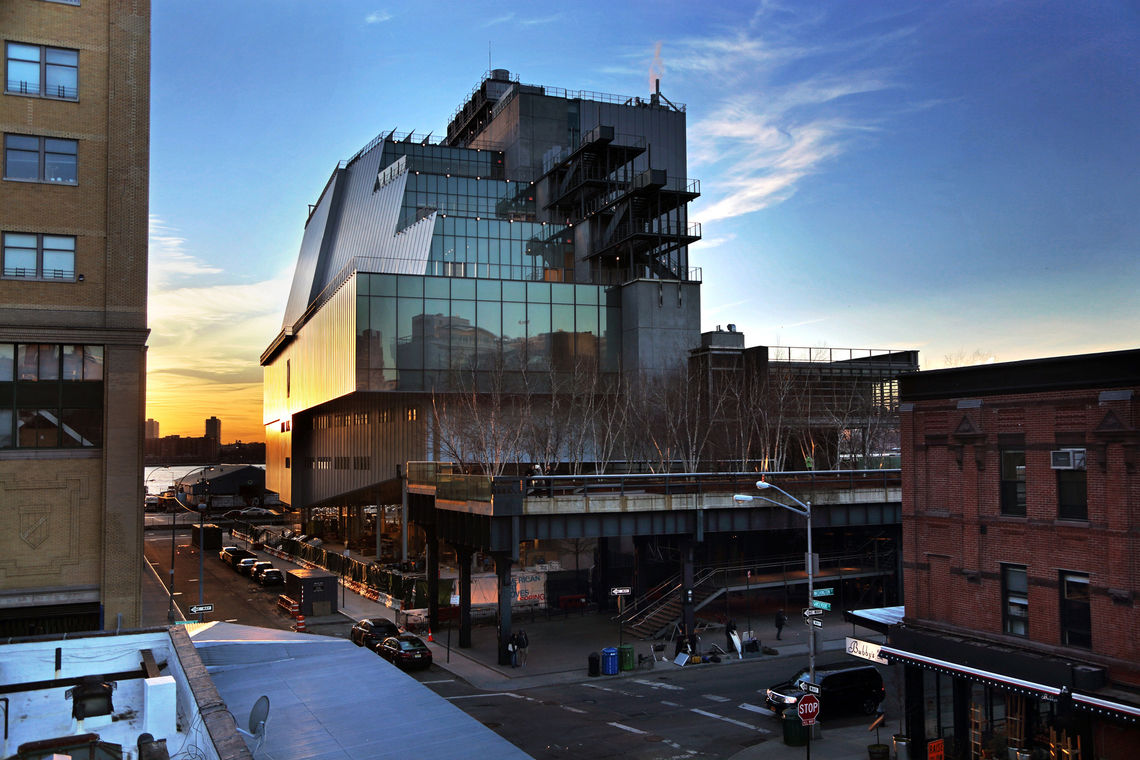 The Whitney Museum of American Art, and the end of the Highline at Gansevoort and Washington streets. Image via the Whitney
If you haven't already, we recommend downloading the See Saw app, which maps out contemporary art shows based on your location. Filtering options allows you to see which shows have just opened and which ones are about to close.
If you're not sure how to structure your trip, using the Whitney as an anchor guarantees that you will either start or finish at a major collecting institution. Christine Sun Kim's "Too Much Future," a public artwork commissioned by the museum and on view across the street, is definitely worth seeing.
No gallery will "always" have good exhibits. This is especially true in summer, the season of messy group shows. That being said The Kitchen (512 W 19th St) has consistently excellent programs, thanks, in large part, to curator Lumi Tan. Recent highlights included "Julius Eastman: That Which is Fundamental," curated by Tiona Nekkia McClodden, a "historical exploration and remembrance" of the composer's work. In addition to two floors of visual work, make sure to check out their event schedule, which includes performances, panels, and artist talks.
If you're bored of mega-galleries, check out American Medium (515 W 20th St #3N). This standout spot for emerging artists—which just relocated to Chelsea—recently ran excellent solo shows for Aria Dean and Andrew Ross. The gallery doesn't have a street-level entrance, so look for the name on a printed sign and on the doorbell.
WHERE TO EAT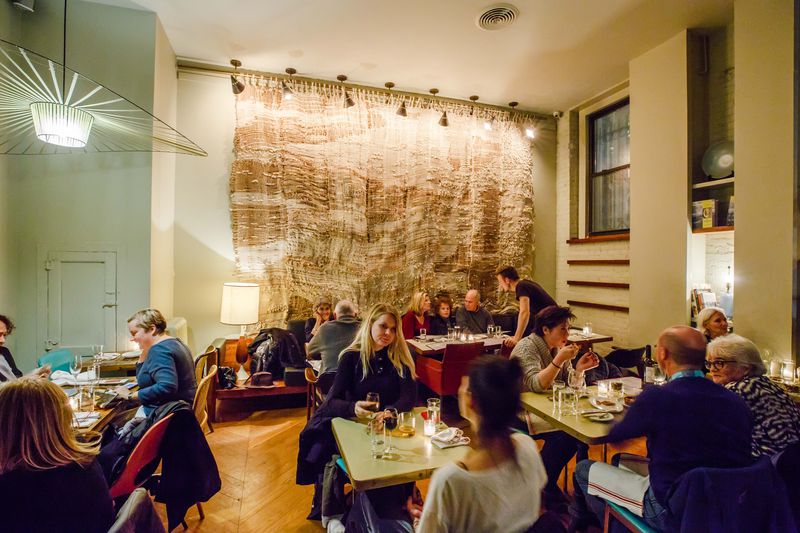 El Quinto Pino on West 24th. Image via Eater.
Chelsea days often end up at Half-King for lack of better options. This Irish pub, owned by the author of the Perfect Storm, is supposed to feel "literary"; instead, it offers forgettable quinoa salads. I don't know how they exist. It's honestly shocking.
In lieu, we recommend El Quinto Pino (401 W 24th St) This nicer but not-too-pricey tapas bar offers standout snacks (including stellar papas bravas) and happy hour with good wine. A nice way to destress. If you want to stay for dinner, people like the uni panini.
Gym Sportsbar is the "first and only gay sports bar in New York." It's cheap, but also very much tailored to gay men. It should be called "Gay Man Sportsbar."
If you want something sit-down, then your two best bets, are, surprisingly, Asian fusion restaurants. Chop Shop (254 10th Avenue) offers excellent Drunken Noodles, and it's cold sesame noodles are perfect for summer—as are the sesame noodles at Shorty Tang (98 8th Ave), which can be eaten hot or cold.
If you're in the mood for pizza, Artichoke Pizza (114 10th Ave) is the go-to (though avoid their artichoke slices honestly, the crab and vodka sauce slices are superior). That being said, Simo Pizza (90-92 Gansevoort St), conveniently located across from the Whitney, offers coal-fired thin crust personal pizzas for $10 each.
Finally, Donut Pub (203 W 14th St) has seating and donuts. The interiors are from the 1960s and pretty cute. As for the donuts, they're not "artisanal," but they're all good.
WHERE TO PEE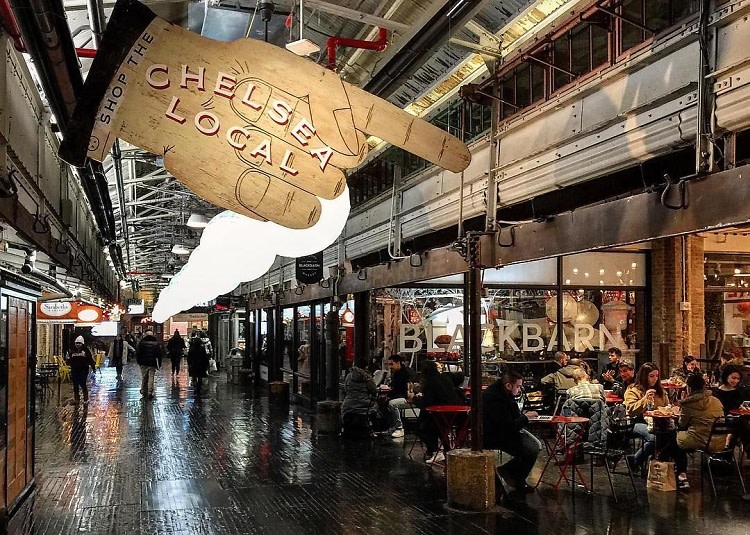 Inside Chelsea Market. Image via Guest of a Guest.
NYCrestrooms.com maps out bathroom options based on location, and sorts results by cafe, public, fast food, etc. The results are sparse, likely because most "public" space has been privatized by rapacious development. Chelsea Market (75 9th Ave) has bathrooms, and the High Line has... one. You can probably dip into Printed Matter (231 11th Ave), Cafe Grumpy, or Half-King (this is where Half-King shines).
In terms of galleries, David Zwirner (525 W 19th St) has a bathroom, as does Andrea Rosen (544 W 24th St), American Medium, and Gagosian (555 West 24th St and 522 West 21st). But if you're in a gallery and you're unsure as to whether or not they have a bathroom, it's honestly fine to ask whoever is working the front desk. If they seem intimidating, remember that it's not you—they're just harrowed from being overworked and underpaid.
NAVIGATING THE HIGHLINE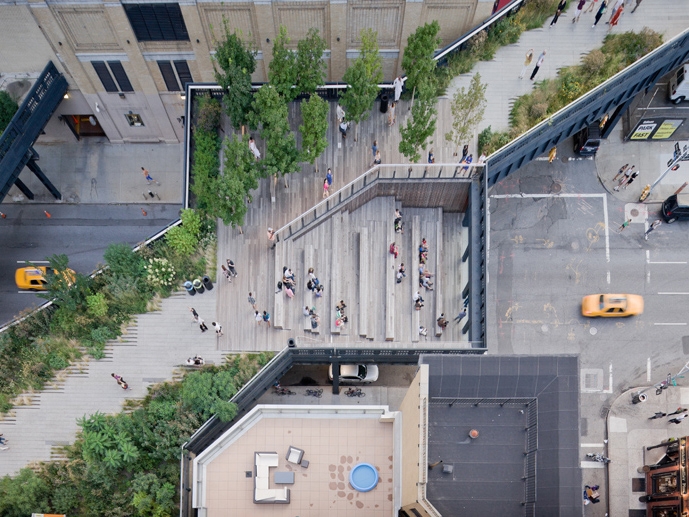 An aerial view of the High Line. Image via Solaripdeia. Photo: Iwan Baan.
Built from repurposed elevated train tracks, the High Line slips just above the Hudson River, and its beautifully curated landscaping hosts a rotating exhibition of site specific public sculpture. Walk along the elevated platform and weave around swanky highrise buildings, with glimpses of the Hudson and horizon in between. Construction began in 2006 with the aim of bringing tourists back to a downtown New York post-9/11, although the park has rapidly sped up gentrification as well.
If you're feeling physically exhausted, we recommend stepping onto the rows of verdant seating scattered across the walkway. The High Line has entrances every few blocks—just walk up 10th Avenue to find stairwells and elevators up to the platform.
Snack options—mostly upscale desserts like Melt's ice cream sandwiches and People's Pops—are all on 15th Street.
Obvious point, but the High Line is a nice place to watch the sun set.
RELATED ARTICLES:
A Guide to Eating an Erwin Wurm Hot Dog in a Kusama Garden: 7 Public Art Installations in NYC You Can't Miss This Summer
Summer 2018's Most Popular Vacation Spots—And What to Do There If You're an Art Lover