The American musician and soundscape ecologist Bernie Krause once said, "While a picture might be worth a thousand words, a soundscape is worth a thousand pictures." The deeply emotional and vastly expressive nature of sound makes it a powerful art form. While sound art is still a relatively young discipline, it's exploded in popularity in recent decades. But how can you tell whether a work falls under this category? It's tricky, especially since the definition of sound art isn't so clean cut, and doesn't necessarily include every piece of art that makes noise. Like much contemporary art, sound art is interdisciplinary, spanning diverse genres from installation, film, and experimental music to interactive technology and spoken-word poetry—the commonality being that sound is employed as the primary medium. And while other art might utilize sound or music in the background, sound art tends to apply noise as an art experience in and of itself.
To better contextualize this art genre, let's briefly review the history of it. It seems the actual term was first documented in 1983 in the catalog for the show "Sound/Art" at SculptureCenter in New York City. However, the movement has roots in Dadaist , Surrealist , and Fluxus performances, as well as early 20 th century pure noise experimental music. The American composer John Cage beckoned a new era of sound art with his seminal piece 4'33" in 1952. The musical composition, performed by pianist David Tudor, was four minutes and 33 seconds of absolute silence, and it completely transformed the way people thought about music and sound. An upsurge of sound installations in the 1960s continued to question traditional sonic practices, and in the 1970s artists explored these themes in new ways with the advancement of electronic/computer-generated sounds.
Today, the distinction between art, music, and sound has never been messier. Just look at David Byrne 's sound installation Playing the Building. Originally commissioned in 2005, the former Talking Heads singer repurposed spaces within buildings to create sounds that resemble musical instruments. He produced these sounds by blowing air through pipes, banging metal rods against columns, and fastening vibrating motors to beams. In her essay "Thinking Critically About Sound Art," experimental-music writer Geeta Dayal stresses that we should continue to question what sound art is. She writes, "It is by constantly questioning and arguing for art's value that we begin to understand art, and ourselves. The transitory, elusive, sometimes baffling nature of sound is part of its enduring mystery and power."
Here are 9 artists (in no particular order) making serious noise in this medium:
CAMILLE NORMENT
Born 1970, Silver Spring, MD. Lives and works in Oslo, Norway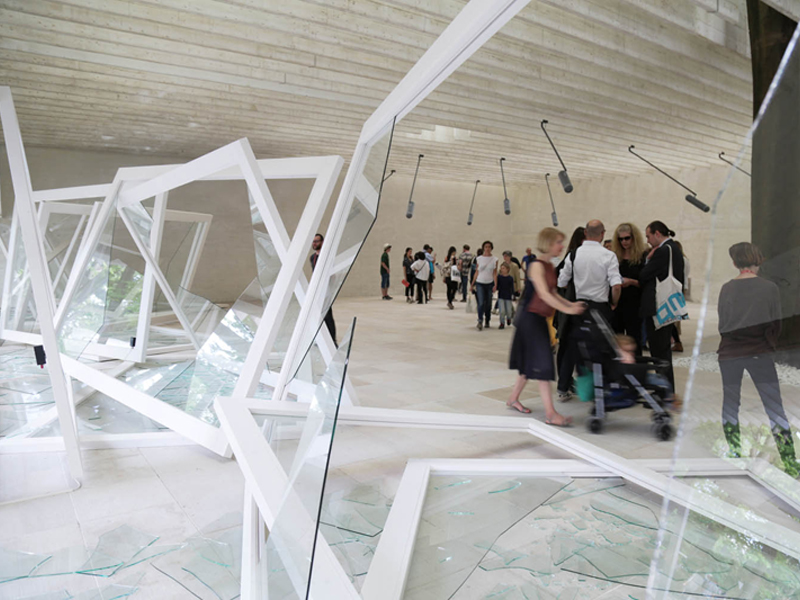 Camille Norment, Rapture (2015). Image via the artist
Crucial to Camille Norment's work is the notion of cultural psychoacoustics , which Norment defines as "the investigation of socio-cultural phenomena through sound and music— particularly instances of sonic and social dissonance." Her work examines sound as a force over the body, mind, and society. She works with recorded sound, installation, drawing, and performance—including performing within a trio comprised of Norwegian hardingfele, electric guitar, and glass armonica . " Each of these instruments was once banned in fear of the psychological, social, or sexual power their sound was thought to have over the body, and the challenge they represented to social control." Norment represented Norway in the 2015 Venice Biennial with her work Rapture —a three-part project entailing an installation, sonic performances, and a publication that explores themes like sound and the body, censorship and repression, and national identity. Look out for her upcoming solo exhibition at the Logan Center in Chicago and a commissioned project for the DIA Foundation.
CHRISTINE SUN KIM
Born 1980, Orange County, CA. Lives and works in Berlin, Germany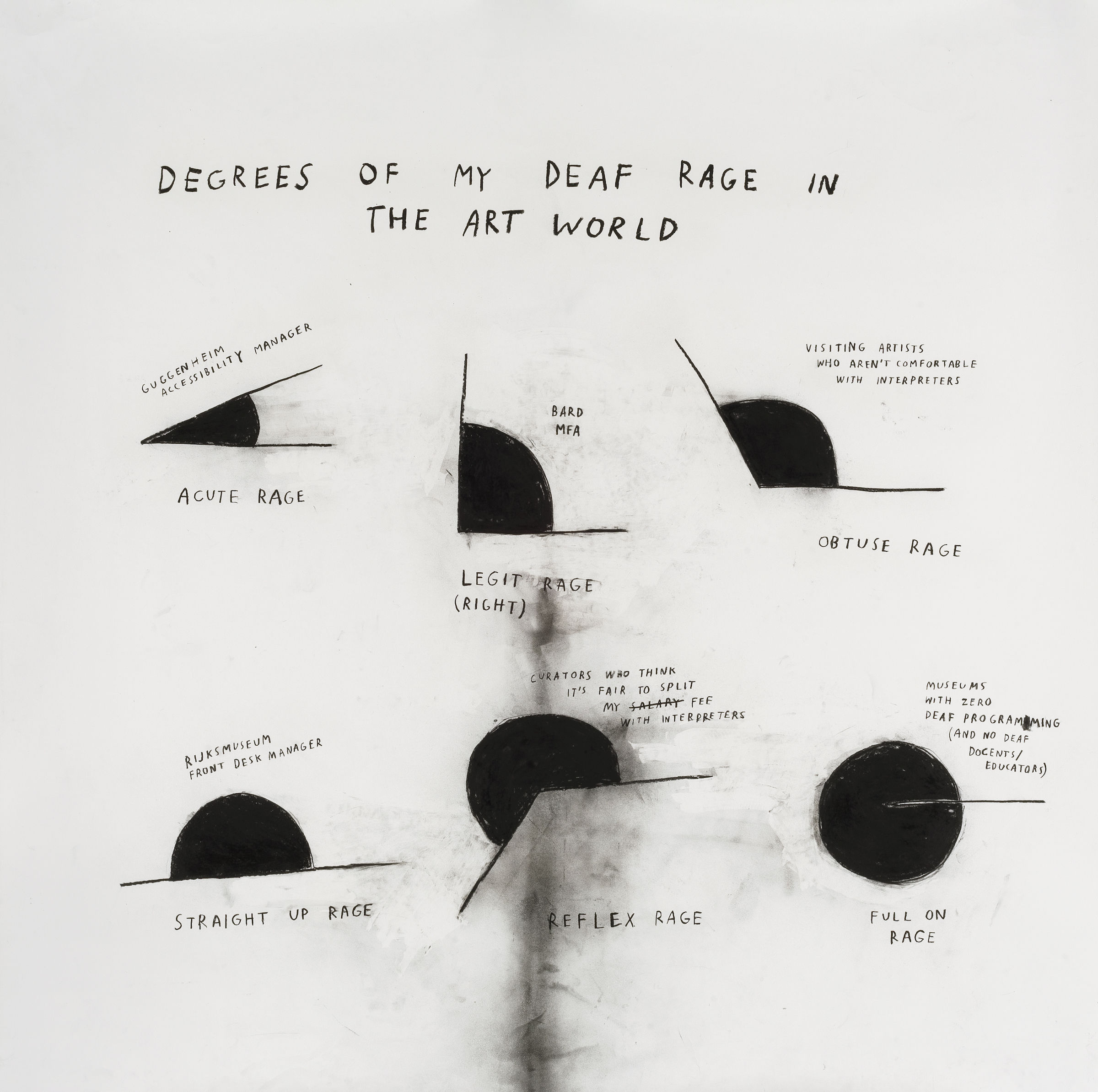 Christine Sun Kim, Degrees of My Deaf Rage in the Art World (2018). Image via the Whitney Museum of American Art
Christine Sun Kim's mission is to "unlearn sound etiquette." Deaf since birth, the artist is disconnected from sound as most people experience it, and is interested in deconstructing the societal conventions surrounding it. In 2013, Kim's work was included in MoMA's first major exhibition of sound art, Soundings: A Contemporary Score . While her projects usually incorporate audio components, sound is used in her practice as something to be objectified and displayed in a new light. Currently, you can view her work at the Whitney Biennial, which consists of six large-scale charcoal drawings depicting "degrees of deaf rage" while navigating the hearing-centric world. The humorous but poignant series will make you seriously check your hearing privilege.
ZIMOUN
Born 1977, Bern, Switzerland. Lives and works in Bern, Switzerland
Zimoun : 435 prepared dc-motors, 2030 cardboard boxes 35x35x35cm, 2017 from ZIMOUN on Vimeo .
Self-taught Swiss artist Zimoun explores mechanical rhythm and flow in prepared systems through installations that incorporate everyday industrial objects. For example, one of his minimalist kinetic structures 435 prepared dc-motors, 2030 cardboard boxes 35x35x35cm consisted of cardboard boxes, wires, and DC motors. The boxes, which hung from the ceiling and were set in motion by the motors, gently collided against one another in a rhythmic motion creating a sound reminiscent of the soundscapes in Godfrey Reggio's film Koyaanisqatsi . Zimoun has exhibited internationally, including recent solo exhibitions at the Museum of Contemporary Art Busan in Korea and the Museum of Contemporary Art MAC in Santiago, Chile.
CHRISTIAN MARCLAY
Born 1955, San Rafael, CA. He lives and works in London, UK.
Image via The Art Newspaper.
Christian Marclay's works transform sound and music into a physical form through a variety of media such as photography, sculpture, music, video and collage. The Swiss-American artist began exploring sound and art in 1979 through turntable performances, and is accredited with inventing "turntablism," or altering sounds using multiple turntables. Perhaps his best-known piece is the critically acclaimed video installation The Clock (2011)—a 24-hour long montage depicting thousands of different clocks while utilizing sound and music to outline the passage of time. Marclay's work has influenced musicians, artists, and thinkers; and he's collaborated with numerous musicians including John Zorn, Elliott Sharp, Zeena Parkins and Sonic Youth.
MARINA ROSENFELD
Born, 1968, New York, NY. Lives and works in Queens, NY.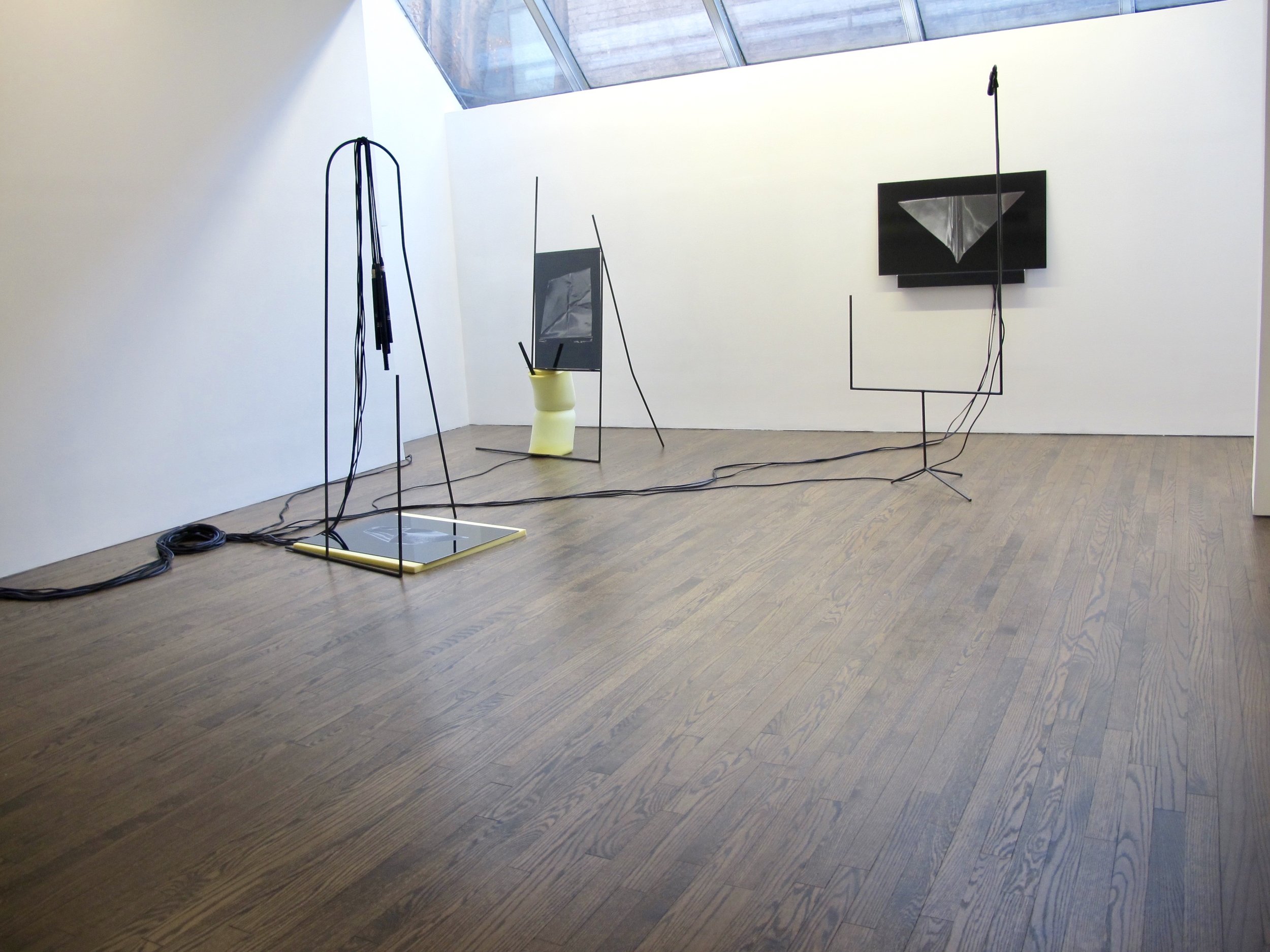 Marina Rosenfeld, Music Stands (2019). Image via the artist.
Since the early '90s, Marina Rosenfeld's work has been leading innovative practices in sound and art. Her art focuses on creating transformative musical situations through amplified sound, bodies, and space. And like Christian Marclay, she's performed as an experimental turntablist. Rosenfeld has created conceptual orchestras of single instruments, chamber and choral works, and acclaimed performances. Her recent work Music Stands (2019), which was on view at The Artists Institute in New York, is an installation of three metal frameworks that support microphones and speakers. Through modulated sounds, recordings of Rosenfeld's own voice, and reflective panels, the artist highlights the volatile physicality of electronic sound.
LAWRENCE ABU HAMDAN
Born 1985, Amman, Jordan. Lives and works in Beirut, Lebanon.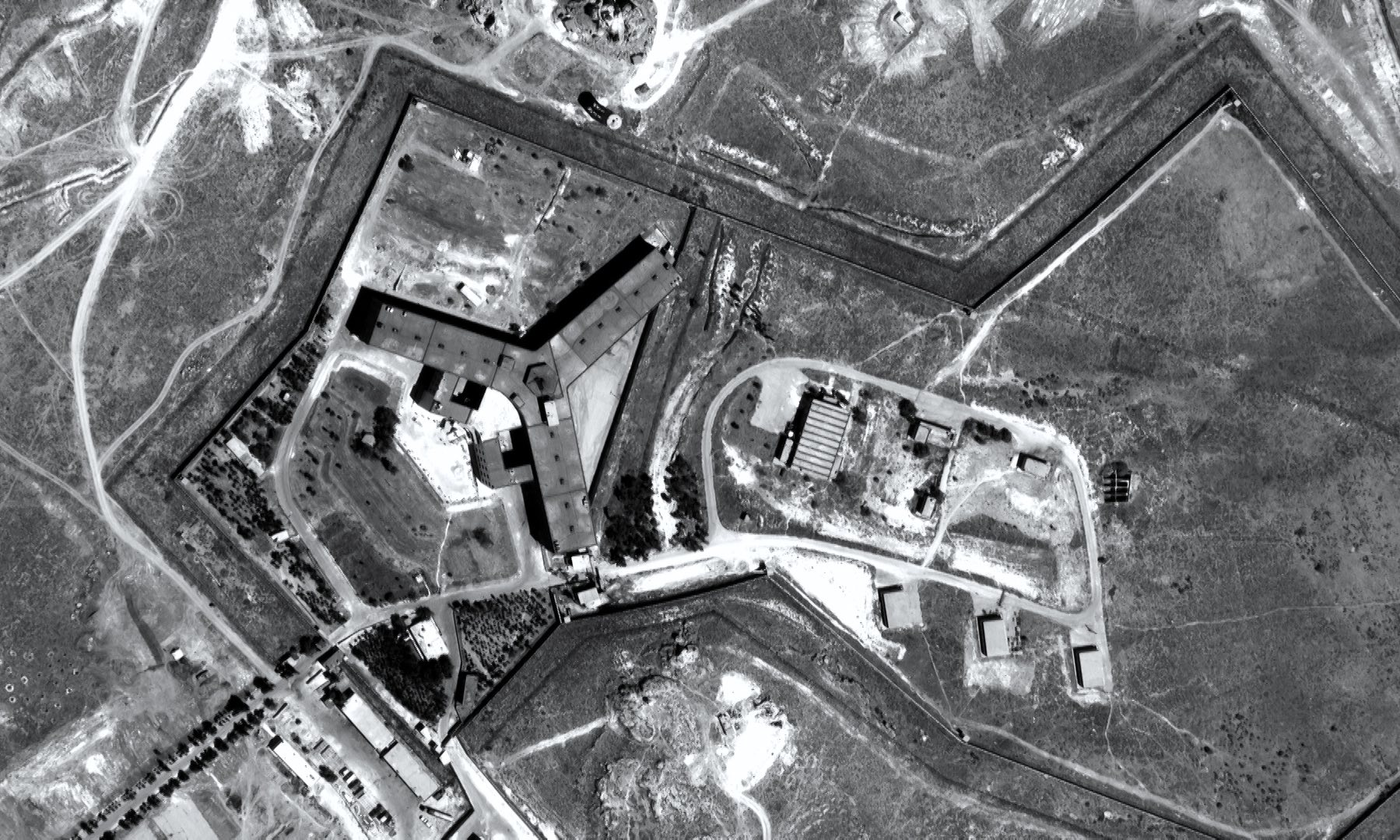 Satellite image of Saydnaya Prison, based on an Amnesty reconstruction. Image via the artist.
Instead of a "private eye,' Lawrence Abu Hamdan refers to himself as a "private ear." His art employs sound to investigate human rights issues and law, while examining the political repercussions of listening. This year, Abu Hamdan was nominated for the Turner Prize for his exhibition Earwitness Theatre (2018) and his performance After SFX (2018). Both projects reference his 2016 project with Amnesty International and Forensic Architecture, where Abu Hamdan was asked to create an audio investigation into the Syrian regime prison Saydnaya. The prison, inaccessible to outside witnesses and highly restricted, has executed an estimated 13,000 people since 2011. Earwitness Theatre presented an expanded library of sound effects specific to the investigation of earwitness testimony, and After SFX is a performance comprising the sounds, voices, and texts originating from objects included in Earwitness Theatre.
MSHR
Based in Brooklyn, NY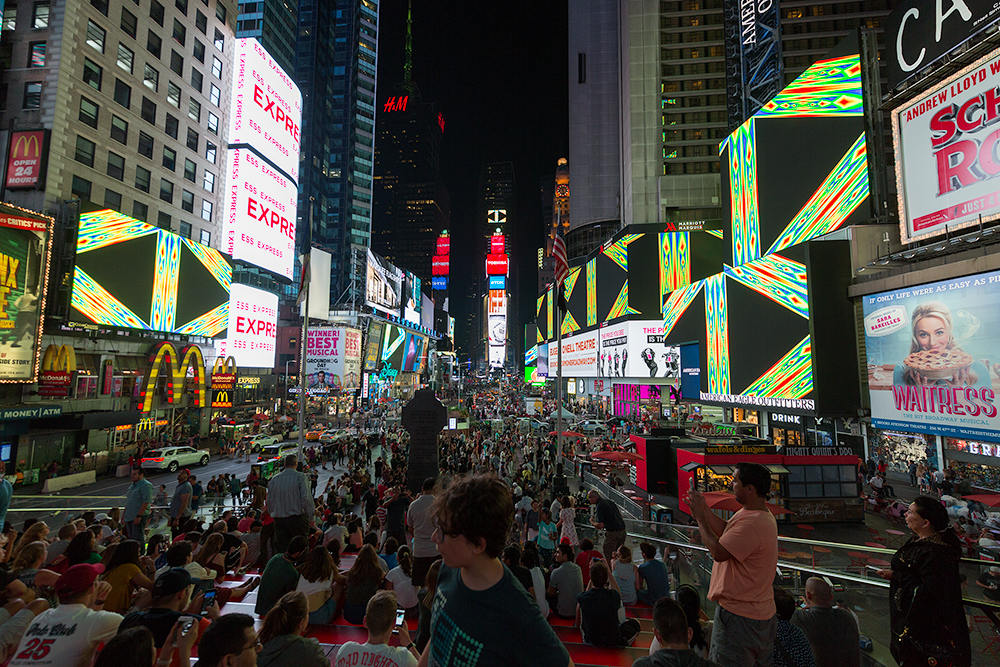 Image of MSHR's Convolution Weave~Lattice Domain on Times Square's electronic billboards in August, 2017.
Birch Cooper and Brenna Murphy make up the art collective MSHR (pronounced mesher ), whose work combines digital sculpture, analog circuitry and ceremonial performance. Exhibitions typically include sculptural instruments installed to create immersive light-soundscapes that are trippy to say the least. The duo explains that their sculptural, musical, and electronic work largely inform each other, creating a "meta-form" that is their collaborative practice. Their work appeared in MoMA PS1's 2017 exhibition Past Skin , the Rubin Museum's 2018 show The World is Sound , and the Sonic Arcade exhibition at the Museum of Arts and Design from September 2017 to February 2018.
RAVEN CHACON
Born 1977, Fort Defiance, AZ. Lives and works in Albuquerque, NM.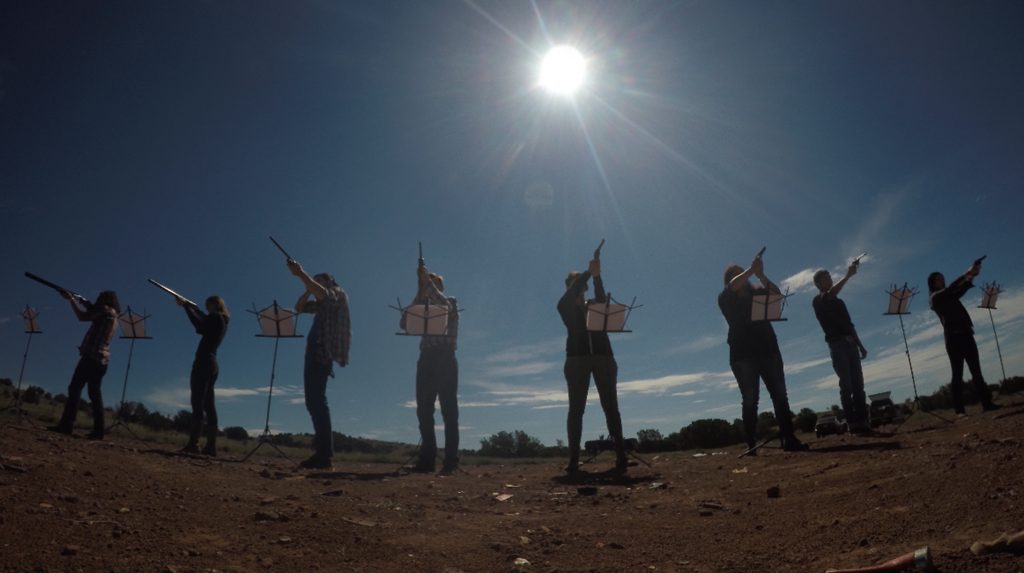 Raven Chacon, Report (2001/2015). Image via the artist
Composer of chamber music and a solo performer of noise music, Raven Chacon is one of the most profiled Native American artists currently working in either genre. (He also used to be a member of the artist collective Postcommodity; you might remember their video installation documenting the fence along the Mexican/US border in the 2017 Whitney Biennial.) Some other places he's exhibited or performed include documenta 14, REDCAT, Musée d'art Contemporain de Montréal, and he's this year's inaugural artist in Bemis Center's Sound Art + Experimental Music Program, where he'll produce a new sound installation. The installation will explore the role of sound at Standing Rock using field recordings Chacon took during the 2016 protests there. Chacon also co-curated Bemis Center's summer exhibition Inner Ear Vision: Sound as Medium , which is on view now.
SAMSON YOUNG
Born 1979, Hong Kong. Lives and works in Hong Kong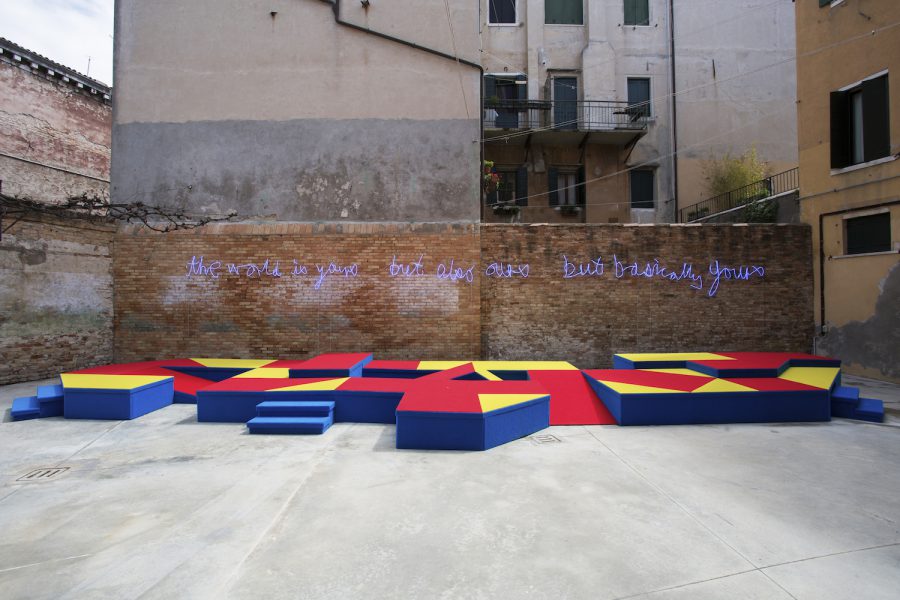 Samson Young, Risers (2017). Image via the artist.
Sound, either physically or thematically, permeates all of artist and composer Samson Young's art, who works across media to challenge conventional associations with objects, stories, and spaces. Chosen to represent Hong Kong at the 2017 Venice Biennale, Young's work in the show Risers —a colorful installation playing appropriated pop songs—critiqued charity singles recorded by celebrity musicians to raise money for victims of natural disasters and other causes. The artist revealed that he's always felt uneasy about these singles due to their implied imperialism and the fact that the global music industry profits off of them. On May 22 nd , Young was named winner of a Prix Ars Electronica Award of Distinction, under the digital musics and sound art category. The winning work, Muted Situation #22: Muted Tchaikovsky's 5 th (2018) is a video and sound installation that positions muting as a suppression of dominant voices, and a way to uncover the marginalized.
RELATED ARTICLES:
Legal Hearing: The Politicized Sound Art of Lawrence Abu Hamdan
Audio Artist Christian Marclay and Sonic Youth's Kim Gordon Talk Performance, Sound, and Rock & Roll
Feast Your Ears: Untitled, Art's New Podcast Makes Sound Art Streamable