Sometimes, in the middle of an otherwise normal day, I'll totally stop in my tracks and wonder… what is Hito Steyerl doing right… now? I miss her. During undergrad (and maybe during your undergrad), artist, filmmaker, and writer Hito Steyerl was my art mom, explaining––in her German-accented ASMR voice––that you could work for and hate the art world. That was "institutional critique."
There are "reasons" to love her, with "reasons" in quote only because adulation could be an aim in itself. If contemporary art is a wasteland, believing in something––or, in this case, someone, her––feels good. Her movies are also very funny, with the zany pleasure of a clickbait listicle. Lovely Andrea is about bondage and Spiderman. Liquidity, Inc. is about water and MMA. "Accessibility is something I do on purpose," she told the New York Times after topping ArtReview 's "Power 100" list, much to her own endearing bafflement. "I don't want to make films that are so specialized that they're only accessible to people with prior knowledge or histories or references." Steyerl's essays are almost entirely available online, un-paywalled, at e-flux.
Since Factory of the Sun premiered in 2015, Steyerl has toured her latest book, Duty Free Art , and co-facilitated the Research Center for Proxy Politics . Her last tweet, from 2013, reads, "sorry. fixing this immediately." It's been a while. Perhaps she has disconnected from accelerated production cycles to fend off artist burnout. Perhaps, like all gods, she is generating absence to maintain her mystique, though, like all true gods, she would hate being worshipped. Considering her work on spam and the circulation of internet imagery , we wrote a listicle ranking her movies (or at least the ones available to watch online), which, of course, are all ranked #1.
NB: We stuck to the Hito Steyerl movies that are available online, which meant excluding Liquidity Inc. (2014), Adorno's Grey (2013), Factory of the Sun (2015), and In Free Fall (2010), which are ranked #1 as well. Special thanks also to Art and Labor , a podcast on "the ongoing struggle to survive as an art or cultural worker." Their spot-on readings of Hito's essays––and their Dank Hito Steyerl meme stash––inspired this listicle.
#1: November (2004)
November opens with footage from Steyerl's first movie, a "feminist Kung Fu film" that she made at age seventeen in Germany. "Its undisputed and glamorous hero" is Andrea Wolf, then Steyerl's best friend. Andrea would later join the PKK (Parti Karkerani Kurdistan, or Kurdistan Workers' Party); she was assassinated by Turkish police in 1998.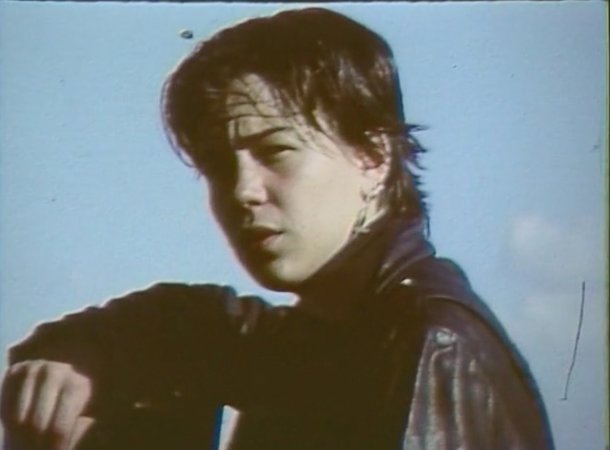 Still from November . Image via: Ubuweb
Wolf's body was never found, but her image continues to circulate as an icon of Kurdish martyrdom, frequently printed on posters and signs at Kurdish protests. Tracking Wolf's image allows Steyerl to uncover some of the political circumstances behind the assassination. She learns that the Turkish army used German weapons against Kurdish rebels, and that one-third of Germany's large Turkish minority is Kurdish.
November is brilliant, and a good introduction to Steyerl's interests: how images acquire new meanings by being circulated; how circulation has accelerated with widespread Internet usage; and how, instead of revolution, we feel locked in an endless circulation of the same.
#1. Lovely Andrea (2007)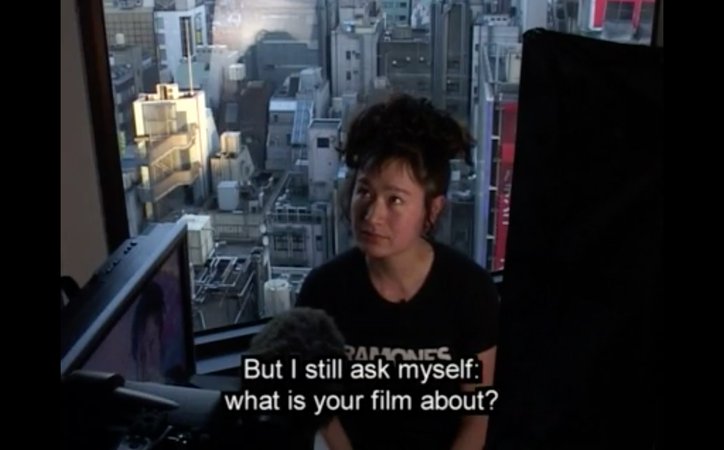 Watch the video HERE . Still from Lovely Andrea. Image via: Ubuweb
In Lovely Andrea, Steyerl is looking for a photograph of her taken in Tokyo, when she briefly worked as a bondage model. Steyerl is guided through the bondage industry by her translator, Asagi Ageha, who does "self-suspension," in which she is tied up and hung by ropes. When Steyerl flips the image of Ageha, self-suspended, the translator looks weightless, as if she is floating in the air.
Steyerl defetishizes BDSM by arguing that bondage exists everywhere: work is bondage, and bondage is work—an analysis that does not factor in race. As Frank Wilderson points out, bondage is not (just) a wage-relation: it is also natal alienation and social death. These conditions can outlast legal slavery, as has been the case with anti-blackness. A worker may be underpaid and overworked, but wage exploitation is not social death.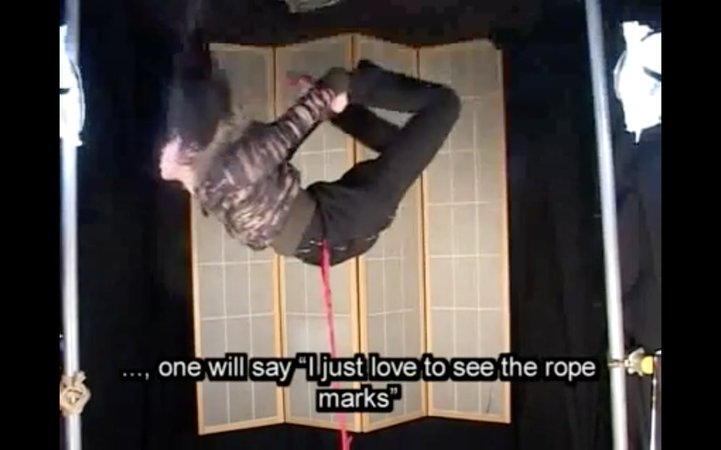 Still from Lovely Andrea . Image via: Ubuweb
Despite this lacuna, Lovely Andrea is useful for its look at the relationship between independence and dependence. Independence, i.e. money, is often only achieved by closely tying oneself ever more tightly to capitalism, which oppresses you. Desire for freedom from capitalist oppression runs counter to the psychological urge to have freedom taken away (although, again, this can only apply to those who are free to begin with—that is, those who aren't socially dead.) As Ageha notes, "Only when being roped [do] I feel free."
#1: Strike (2010)

In Strike —which is forty seconds, and wordless—Steyerl cracks a TV. Upon impact, the black screen bursts into jagged color blocks; it looks like a digital Mondrian painting. Predating woke discourse about the pros and cons of visibility by at least half a decade, Steyerl asks what it would it mean for images to go on strike.
#1: Probability (2012)
In this sixty-two second video, Steyerl gives an example of "zero probability," or events which have zero chance of happening. "Imagine you are tossing a coin in the air," she says. "It does not come back." She tosses a coin in the air. As promised, it does not come back. Of course, demonstraring this zero-probability event leads (through sly video editing) to its occurrence.
In a performance lecture titled "I Dreamed a Dream: Politics in the Age of Mass Art Production," Steyerl argued that we are living in a "state of mass probability," in which impossible events happen all the time:
"How do people disappear in an age of total over-visibility? Which huge institutional and legal effort has to be made to keep things unspoken and unspeakable even if they are pretty obviously sitting right in front of everyone's eyes? Are people hidden by too many images? Do they go hide amongst other images? Do they become images?"
#1: How Not to Be Seen: a Fucking Didactic.MOV File (2013)
How Not to be Seen examines the ties between the entertainment and military industries, both of which benefit from high-resolution imagery. Steyerl focuses on photographic precision, which is used in cinema and drone targeting.
Now that the smallest unit of measurement is one pixel, Steyerl argues that the only way to "not be seen"—that is, to escape vast and expanding surveillance networks—is "to become smaller or equal to one pixel."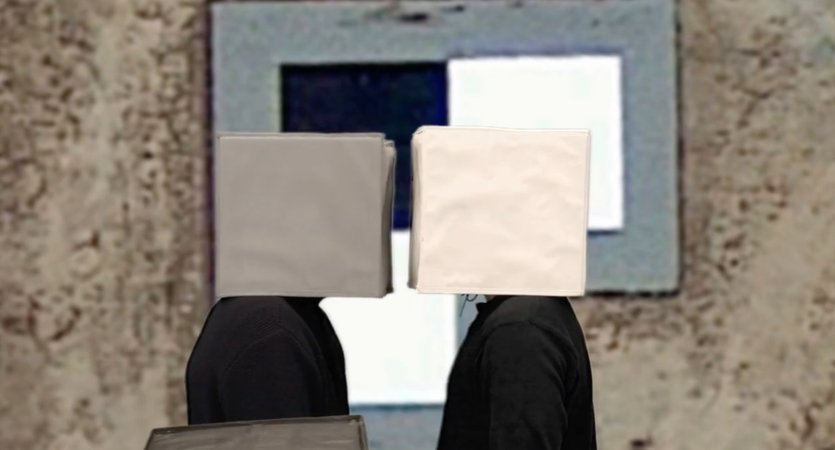 Still from How Not to Be Seen: a Fucking Didactic .MOV File . Image via: Artforum.com
Figures dressed in pixel costumes dance on a strip patch of marked concrete in the California desert once used by the US government to calibrate aerial surveillance cameras. Like the disappeared, capitalism, or love, the dancing pixels are invisible in plain sight.
[related-works-module]
RELATED ARTICLES:
The New Manifestos: 6 Artist Texts to Know
Hito Steyerl's Paranoia-Inducing Films