Frieze Los Angeles is rivaled only by Art Basel Miami as the official art fair to the stars. Hollywood's A-list is fast becoming a staple at the LA branch of the fair, drinking up the cultural rigor and luxury aesthetic of the Frieze experience.
Paramount Studios' backlot is a natural flame for a star-studded aggregation and, right on cue, Leonardo DiCaprio, Usher, J. Lo and Alex Rodriguez were all in attendance at this year's outing. A-Rod bought a Genevieve Gaignard at Vielmetter, and Kendall Jenner walked away with a multi-million dollar James Turrell from the shared Pace Gallery - Kayne Griffin Corcoran booth. A$AP Rocky, Natalie Portman, and even Maria Sharapova all passed through Paramount's hallowed doors.
Phaidon's Rihanna special edition, Drippy + The Brain also made its LA debut at Frieze, while the legendary Artbook bookstore hosted the Haas Brothers on Saturday afternoon for a meet and greet in celebration of their collaboration with Rihanna and Phaidon, where they showcased both Drippy + The Brain and This Sh*t is Heavy.
The Haas Brothers with Drippy + The Brain and This Sh*t is Heavy outside Artbook LA during Frieze
"That was so much fun," Simon Haas said afterwards. "We had a blast showing Drippy + The Brain to LA and discovering so much crossover between Rihanna fans and the art world we know. It couldn't have been cooler meeting the art world navy. We're so glad we finally got to share this collaboration with Rihanna and Phaidon. This has been a Top 5 favorite project of ours and it's been a fun process the whole way through."
Rihanna is, of course, no stranger to the Frieze universe. She made an incognito, but much-blogged, appearance at the London fair last year, and has long been an avid collector and supporter of the arts, revealing a love for the work of Jeff Koons in past interviews.
In addition, historically, Rihanna has done a yeoman's work in the uplift of women creatives. From fashion to Fenty to Phresh Out the Runway, her raison d'etre as a pop icon has consistently centered the efforts of everyday women as people and professionals.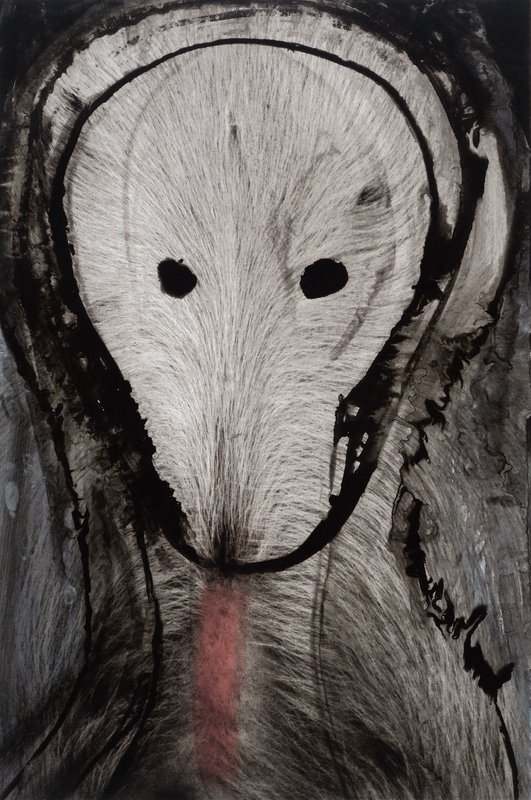 Leochicospeedy, Huma Bhabha, 2016, Print, edition of 18, 34.65" x 23.62", $1950, available now on Artspace
But Bad Gal RiRi wasn't the only woman creating a stir at Frieze LA this year. Highlights from the fair included the work of Huma Bhabha, the Pakistani-American sculptor, whose gorgeous booth at David Kordansky drew lots of exciting attention; elegant pieces by Alison Saar, whose totemic exhibit supported by Venice-based gallery L.A. Louver has made countless headlines. Meanwhile Kordansky sold a work by Mary Weatherford for $310,000 and works by Helen Johnson, who featured at Chateau Shatto's well-reviewed booth alongside Aria Dean.
Konig Galerie at Frieze Los Angeles 2020, photo by Casey Kelbaugh, via Frieze.com
Argument, Helen Johnson, 2017, Digital archival print, 19.68" x 17.72", edition of 20, available now on Artspace
Big sales also came from other Artspace-featured artists: David Zwirner sold two works by Carol Bove for $500,000 each, and five paintings by Lisa Yuskavage priced from $120,000 to $1,000,000. Meanwhile, an early photograph by Shirin Neshat, which was included in her Broad Museum survey, sold for $125,000.
Vielmetter Frieze Los Angeles booth installation, photo credit: Dawn Blackman via Vielmetter.com
Is You Is or Is You Ain't, Alison Saar, 2017, Intaglio print, edition of 50, 13" x 9", $1250, available now on Artspace
Didn't get to LA but want to pick up a work by a Frieze artist online now for a fraction of the big-ticket price? All the artists listed made an expensive splash at the fair but are available directly from Artspace. Check out our module of Female Frieze Artists Affordable on Artspace Now below (and take a sneak peek at the Making of the Rihanna Book video below).
[frieze-module]
The Haas Brothers with Drippy + The Brain outside Artbook LA during Frieze