Spring has sprung, and as the frost subsides we're making it out to see more art than ever. Here are some of the artists with breakout shows this month, so be sure to check them out and keep their names on your radar.
GRETCHEN BENDER
Red Bull Arts New York
March 6 - July 28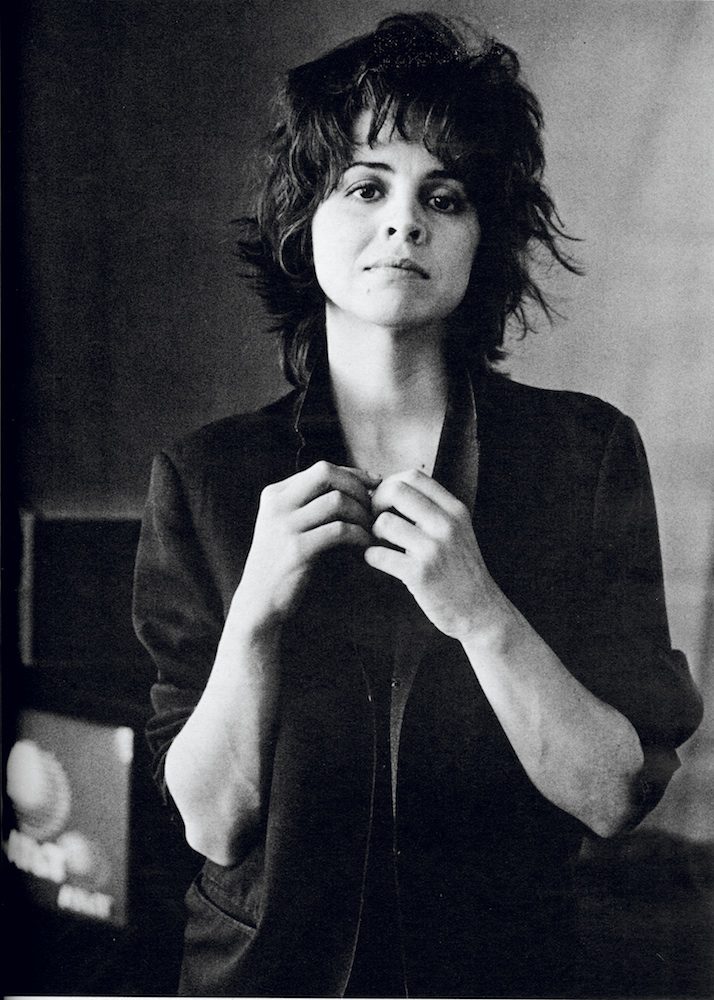 Gretchen Bender. Image via Interview Magazine.
An under-known member of the so-called TV Generation (following the Pictures Generation with Cindy Sherman, Jack Goldstein, Laurie Simmons, Robert Longo, and Richard Prince, et. al.), Gretchen Bender is finally having her long-overdue retrospective. Red Bull Arts New York marks the 15th anniversary of the artist's death with the exhibition "So Much Deathless," the title of her would-be magnum opus if her life hadn't been cut short at the age of 53. Moving to New York in 1978, Bender often collaborated with folks like Cindy Sherman and Robert Longo, with whom she developed music videos for bands like R.E.M., New Order, and Megadeth. But her work was far more than commercial eye candy. Beginning with silkscreening—a skill she developed while running a feminist-Marxist screen-printing collective in Washington DC—Bender appropriated images from the news, advertising, and even other artists. Her later shift to moving-image work continued her interest in found image/video, making for deeply subversive, critical, even sinister feeling works that seemed to project an agenda from every clip—not the artist's agenda, but the vague and sickening agenda of the "they" implicit in pre-user-generated mass media.
Like most of Red Bull's big-budget, carefully considered exhibitions, "So Much Deathless" feels like a major museum retrospective, and includes screenings of Total Recall (1987), an impressive "electronic theater" piece involving 24 monitors, 3 projections, and 3 channels.(The sheer quantity of now-obsolete televisions sets in this exhibition—there must be over a hundred—is a feat unto itself.) "Bender understood society to be on the precipice of a vast change, with the technologically mediated image less a warning sign than a guide." Walking through the labyrinthian exhibition feels like a throwback to the '90s, but what's more eerie is the simultaneous jolt of apt timeliness in 2019, a time marked by the perverse melding of politics and entertainment, dire facts and fake news.
KRISTIN MORTHENS
Christopher Cutts Gallery, Toronto
March 30 - April 27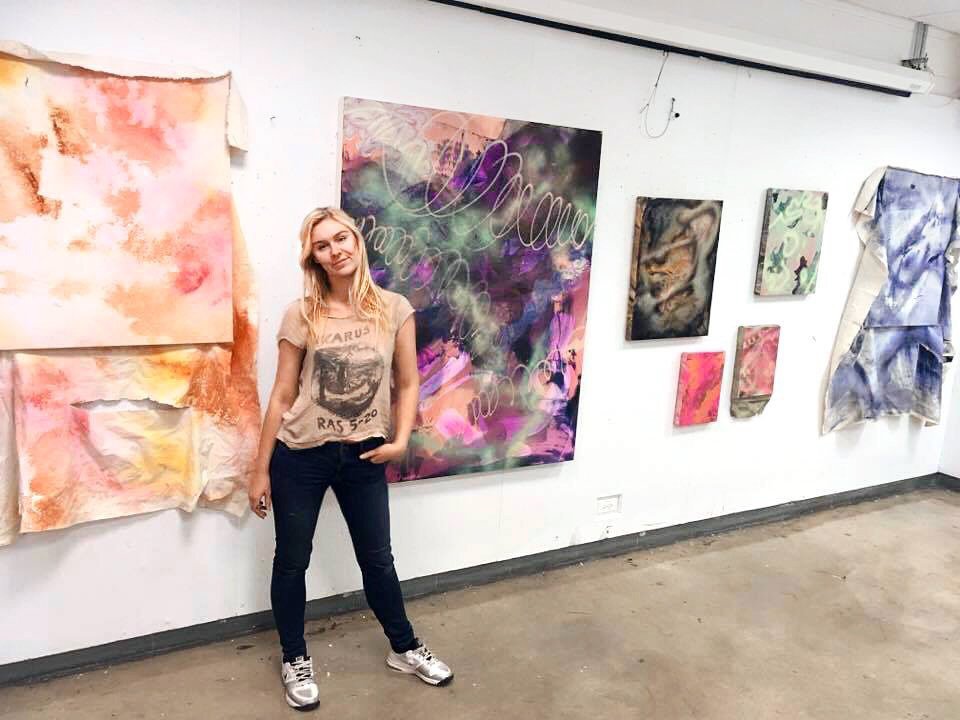 Morthens in the studio via OCAD University's Twitter
Icelandic artist Kristin Morthens is irrationally young, but her atmospheric, layered paintings belie a keenly-developed aesthetic sensibility. Collagist delineations of texture and surface tease out depth through form, at once organic and stylized in its push-pull deployment. This segmented understanding of space inspires delicate tensions between Morthens' color stories and brushy, topological hand, providing a bird's eye view of her taste for pictorial tectonics. Morthens, who studied at the prestigious OCAD University in Toronto and was an exchange student at The Art Institute of Chicago in 2016, has shown at a variety of venues across the world, like Gallery Gallera in Reykjavik, ICL, Puxadinho in Sao Paulo, BRA, and most recently at Christopher Cutts Gallery in Toronto, Canada, where her work is currently on view in a two-person show with Alexander Rasmussen until April 27th.
HANNAH BLACK
Performance Space, New York
February 23-April 20, 2019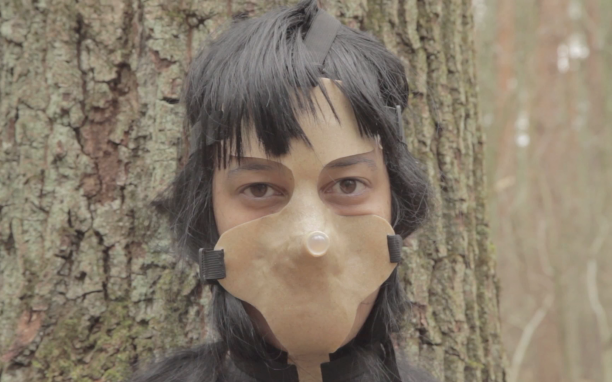 Hannah Black via The Observer
Visionary writer and artist Hannah Black has the kind of brain that cuts through the cacophony of art world pomp with withering precision. Her interdisciplinary practice, spanning video, text, and performance, explores notions of subjectivity, private ontology, global capitalism, identity construction, and afropessimist theory. Across media, Black's approach pairs the honed eye of a critic with an aesthete's ambitious ambiguity, resulting in luminous, incisive work that drives straight to the heart of human experience. A video installation by Black is currently on view at Performance Space entitled "Beginning, End, None"; this disorienting, kaleidoscopic display works outward from cellular structure's common analogy with a factory, interrogating the long-seated historical and neoliberal implications of contemporary scientific inquiry. Black's transformative projects have found homes all over the world, like Museum Moderner Kunst in Vienna, Chisenhale Gallery in London, Isabella Bortolozzi in Berlin, and the New Museum in New York City. Originally hailing from Britain, Black is currently based in New York City.
LAUREN KALMAN
Detroit Public Library, Detroit
March 30 - May 3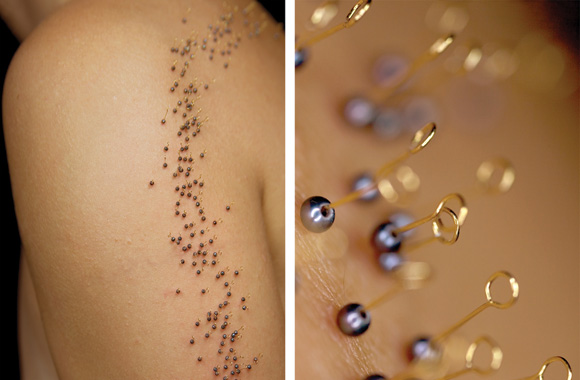 'Blooms, Efflorescence, and Other Dermatological Embellishments', 2009, via the deCordova
Midwestern experimental metalsmith Lauren Kalman has made a mark on the art world by manifesting the political import of adornment, using jewelry's visual lexis to create objects, photography, video, and performance pieces that consider the intersections of body, class, taste, and autonomy. Her deeply disquieting portrayals of the metallic corporeal speak to the pitfalls we rarely associate with socialized desire, grappling with beauty's sparkliest shortcomings. An associate professor at Wayne State University in Detroit, Kalman's work has appeared in a variety of high-profile venues, including the Museum of Art and Design, the Mattress Factory Museum in Pittsburgh, PA, the deCordova Sculpture Park and Museum in Lincoln, MA, and the Fuller Craft Museum in Brockton, MA.
SIMONE FATTAL
MoMA PS1, Queens
Through September 2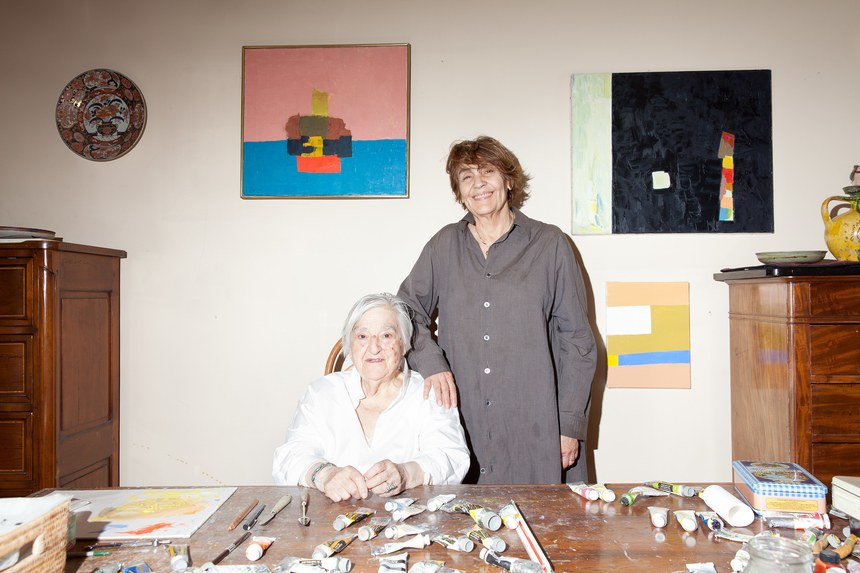 Etel Adnan and Simone Fattal, at home in Paris, 2016. Image via W Magazine.
The Syrian-born, Lebanese-raised artist Simone Fatal is having her first solo museum exhibition in the United States, at MoMA PS1 in Long Island City, Queens. Born in 1942, the young artist studied philosophy at the École des Lettres in Beruit before moving to Paris to study at the Sorbonne. Afterwards, she painted in Beirut, where she would exhibit her work locally, until the beginning of the Lebanese Civil War when she fled to California in 1980. There she would found the Post-Apollo Press, which published experimental literary texts and translated international works—a pursuit inspired by the "adventurous spirit ushered in by the Apollo space program." In the late '80s and early '90s, Fattal returned to painting and took up sculpture and ceramics, which is perhaps what she is best known for now. MoMA PS1's retrospective unites over 100 ceramic sculptures, paintings, and collages that have been created over the last 50 years and span both abstract and figurative representations of war narratives, ancient history, landscape painting, mythology, and Sufi poetry "to explore the impact of displacement as well as the politics of archeology and excavation," according to the press release.
BARBARA WALKER
Turner Contemporary, Margate
April 30, 2019 - April 20, 2020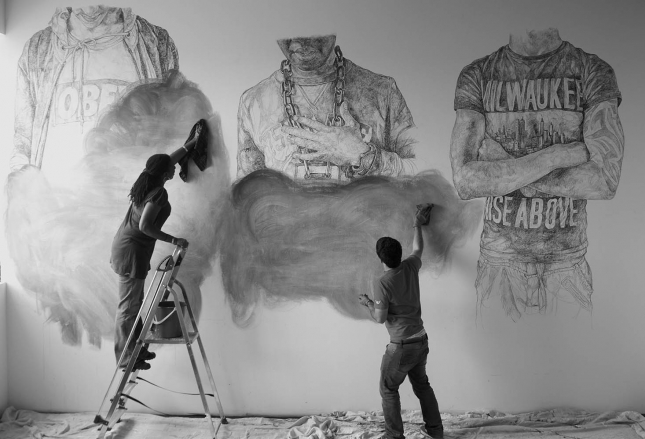 Barbara Walker at work via the artist's website
British, Birmingham-based artist Barbara Walker creates gargantuan figurative drawings and paintings, often drawn directly onto the walls of the white cube. She has long considered her work documentarian in nature, attending to the cultural misinformation that plagues the African-Caribbean diasporic community in Britain. Her artistic investment in the humanity of her subjects necessarily harbors political implications for the under-represented demographics she honors, and her decades-long project of inclusion has garnered her a wide variety of national accolades, the Evelyn Williams Drawing Award, inclusion in the first Diaspora Pavilion at the 57th Venice Biennale, and a Member of the Order of the British Empire (MBE) appointment in January of 2019. Walker's work is included in many private and public collections, including the Arts Council Collection and the Usher Gallery, and a large-scale exhibition of her drawings will be on view at the Turner Contemporary in Margate, England starting April 30th.
ALISON O'DANIEL
Bemis Center for Contemporary Arts, Omaha
April 4 - June 15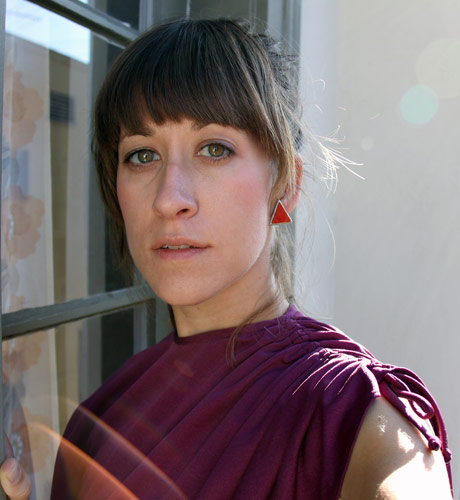 Alison O'Daniel. Image via LA Louvre Gallery.
At Omaha's Bemis Center for Contemporary Arts, which hosts an international residency program along with exhibitions and public programing, up-and-comer Alison O'Daniel "continues her investigations into what it means to not have full access to sound as well as transfer this experience to a hearing audience." The artist's videos are slow and meditative, and their use of subtitles and ambient sound points to language and the translation of sound, creating new vocabularies that float somewhere in between the aural and visual. On view at Bemis are excerpts from O'Daniels film The Tuba Thieves, an ongoing collaboration with composers, musicians, filmmakers, performers, and deaf athletes that started in response to a series of robberies from Los Angeles schools in 2012, wherein thefts stole tubas, an expensive instrument crucial for banda, a traditional Mexican music that was growing in popularity at the time and locale. In one excerpt of The Tube Thieves, we watch a woman tell a story in American Sign Language, simultaneously hear a man translate sign for sign, word for word, and see, in subtitles, the story written out in English. Each version of the story has many small differences, but they all add up to the same narrative. Working in film, but also performance, sculpture, and installation, O'Daniel has installed acoustic felt and sound-absorbing tapestries at Bemis, hanging from the ceiling and equipped with contact mikes, along with neon word works and audio clips capturing room tones of several deaf and hard-of-hearing friends. The artist is on the heels of "Made in LA 2018" at the Hammer Museum, and a collaborative exhibition at The Garage Museum of Contemporary Art in Moscow, which will travel to Centro Centro in Madrid. She's had solo shows at Shulamit Nazarian in Los Angeles, Art In General in New York; and Centre d'Art Contemporain Passerelle in Brest, France.
RELATED ARTICLES:
7 Artists To Watch in March 2019
8 Artists to Watch in February 2019
How Free Speech Debates Are Unfolding in the Art World, As Jeff Koons Gets Sued for Plagiarism Yet Again