Happy holidays! We've got a present for you: a list of artists you should definitely know about. Without further achoo , sorry, ado (holiday season is also cold season), here they are:
DIS
De Young Museum, San Francisco
December 3 - June 10

Members of DIS collective. Image via DISmagazine.com.
This may be one of the saddest things I've ever had to admit as a writer but let's face it, people just don't read anymore. With Facebook algorithms favoring video content and news outlets paying near double for features that talk and move, the media landscape has irrefutably made the "pivot to video." Embracing this shift is the New York-based artist collective, DIS. Known for its cutting-edge discourse, internet surrealist aesthetic, and interdisciplinary, horizontal approach to art-making, DIS is comprised of artists Lauren Boyle, Solomon Chase, Marco Roso, David Toro, and Nick Scholl. Lauded as New York's hippest art media outlet, the collective recently announced the termination of their media subsidiary, DIS magazine after seven years of dis illusionment, dys topia, dis taste, and (most importantly) dis cussion. In its place, they are debuting DIS.art, an online video platform that its creators describe as "PBS for Gen Z, Century of the Self meets Sesame Street, theory as self help, an Art School that you can stream." This exciting foray into what DIS refers to as "edutainment" answers the pressing need for arts programming that is edgy, fresh, on-point, hip, and easily digestible for this new, high-word-count intolerant era ( check out a recent article on art and reality television here ). Those of you lucky enough to be on the right coast can get a sneak peek of their content at the De Young Museum in a show called "Genre-Nonconforming: The DIS Edutainment Network," which opened on December 3rd and will be up until June 10th. The new DIS.art platform will be making its debut along with the new year. And for those of us still pining for the written word of yesteryear, the entirety of DIS magazine will be archived through the new media not-for-profit, Rhizome.
ROBIN GRAUBARD
Office Baroque , Brussels
November 18 – January 28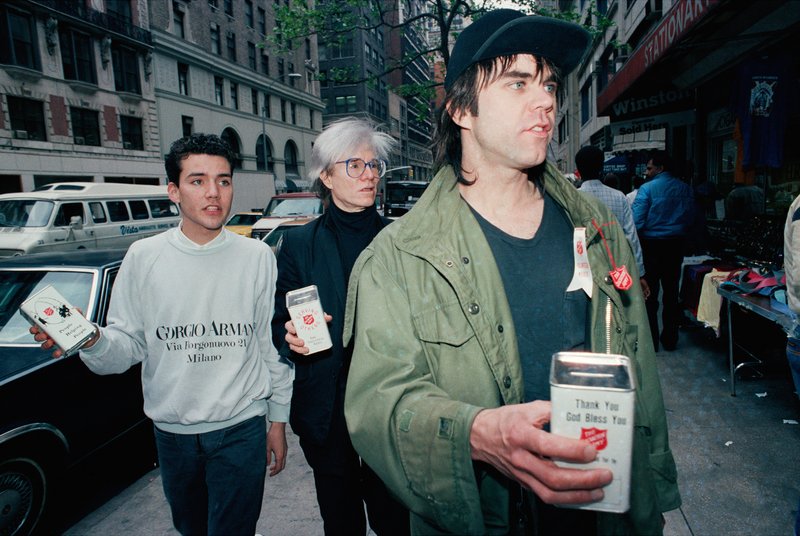 Warhol + Sprouse (1987) is available on Artspace for $1,600
Nominated for two Pulitzer Prizes, photographer Robin Graubard has spent the past 40 years documenting the world around her, inserting her own autobiographic narratives into the conflicting realities she represents in her work. In the '80s Graubard photographed the Lower East Side punk scene, before traveling to Eastern Europe, Jamaica, and Hawaii to refocus her lens. This month at Brussels' Office Baroque gallery, the artist presents a mini-retrospective of sorts; the oldest work in the show is from 1978 after the artist had just quit her job working for rock and roll agents and the newest works were made on a recent trip to Cuba and Los Angeles.
GENESIS BREYER P-ORRIDGE
Invisible Exports , New York
December 15 - February 4
Genesis P-Orridge, Image courtesy of Sleek Mag
This month, Lower East Side Gallery Invisible-Exports is exhibiting newly discovered, never-before-seen works from artist Genesis P'Orridge, said to have been done in 1974-5. P'Orridge is nothing short of a legend, having first made their mark in the UK as a major figure in the Fluxus movement, and the founder of COUM Transmissions, a performance collective that led to the forming of legendary Industrial band Throbbing Gristle, and later experimental music group Psychic TV. The cult-like following P'Orridge garnered ultimately became more "cult" than "cult-like," prompting the artist to move the U.S. after hearing the government had been investigating their influence. In the '70s P'Orridge collaborated with William Burroughs and Brion Gysin, and in the '80s they worked with their partner, Lady Jaye, on the Pandrogeny Project , in which the two attempted to merge their identities and genders into a "third being" whom they called Breyer P'Orridge. Unfortunately, Lady Jaye passed away before they were able to fully complete the project—but in the process, P'Orridge transitioned from man to woman. The show at Invisible-Exports presents 30 drawings done in magic marker, many on envelopes, which portray "quasi-allegorical elements: a simple, basic home, a distorted or discolored sun, and a fantastical 'Tree of Life.'" The drawings feel introspective and personal, and give some insight into the inner world of the artist.
HITO STEYERL
ICA, Boston
December 13 - April 22
Hito Steyerl in "How Not to be Seen. A Fucking Didactic Educational .Mov File" (2013). Image via MK Gallery.
A restored faith in humanity is THE hottest gift this holiday season, and this year, ArtReview's Power 100 list gave us an early present when they announced German artist, writer, theorist, and all-around badass genius Hito Steyerl as the first woman to claim the top rank. In a year that has been particularly demonstrative of a dire need to reconsider our global power structures, Steyerl's strength and unwavering criticality in disrupting and challenging a corrupt cultural system and destructive market has been deeply resonant and influential. In the words of ArtReview, "Steyerl makes the top slot on this list because she actively attempts to disrupt this nexus of power." Case in point, earlier this year, Steyerl led a group of artists to protest their inclusion in an exhibition of German contemporary art in Beijing upon finding out that one of the show's corporate sponsors was a controversial arms dealer supplying German tanks to the Turkish military to be used along the Syrian border. Reluctant to refer to herself as an artist, Steyerl considers herself to be a filmmaker first and foremost. Her works and lectures are remarkable in their ability to draw poetic lines, tracing a landscape defined by corporate interests and revealing a dystopian present that is as scary as it is absurdly funny. A radiant example of fighting the system from within, Steyerl's work has been making prominent rounds throughout the art world—since it was debuted at the 2015 Venice Biennale, Steyerl's Factory of the Sun has been exhibited at the Whitney, MOCA, and Kunsthal Charlottenborg in Copenhagen to name a few. Starting December 13th, you can catch her 2014 piece Liquidity Inc. at the ICA in Boston. Using water as its guiding theme, Liquidity Inc. is a poignant and captivating meditation on our current state of flux. In this video installation, the concept of liquidity becomes a pervasive metaphor whose own fluidity finds itself pouring into conversations about everything from the 2008 market crash to the circulation of information and assets to weather, all the while embodying Bruce Lee's martial arts dictum to "be shapeless, formless, like water."


RELATED ARTICLE:
The Artists Who Made ArtReview's Power 100 List
YVONNE SHORTT
Queens Museum
December 11 - January 19

Yvonne Shortt. Image via NYCservice.
At a time when New York City is in the midst of a spiraling housing crisis, and the world as a whole finds itself with a historically unprecedented refugee population, the notion of home can hardly be taken for granted. Over the course of 2017, social practice artist Yvonne Shortt commissioned fellow Queens-based artists to develop community interventions designed to investigate and research exactly that. Developed and presented through Shortt's Rego Park Green Alliance ( RPGA) Studio, "Dwelling" invited local artists to create public projects throughout the borough, which included a collaborative building of a mobile tiny house that now serves as a space for people to discuss their own dwellings, an installation made up entirely of collected envelope windows, and an assemblage of migration/displacement experiences. Participating artists include Carla Lobmier,  Domenica Garcia Corazón, Deborah Wasserman, Keka Marzagao, Niizeki Hiromi, and Lisandra De Fraga to name a few. Through RPGA, Shortt has been commissioning artists for her annual Queens Art Intervention (QAI) for the past four years, culminating in an end-of-year exhibition at the Queens Museum. This years' "Dwelling" runs from December 11th through January 19th with workshops presented by the QAI community.
MIKA ROTTENBERG
The Bass Museum of Art, Miami
December 7 - April 30
Mika Rottenberg, Image courtesy of Art21
You know that feeling when you're watching the news, and your mind starts to slip into a cartoonish, circus-y landscape that somehow makes more sense than what you're actually watching? The work of Buenos Aires-born, New York-based Mika Rottenberg manages to make that slippage into reality. She is most known for her absurd, wildly colorful video installations depicting groups of women engaging in repetitive, laborious tasks of consumer production. In one video titled Dough (2006), we see two women, one skinny and one obese, kneading and transporting dough through small compartments in thick globs; in another titled Tropical Breeze (2004), a contortionist engages in cyclical acts that include attaching a tissue to a clothesline and attempting to deliver it to a sweaty truck-driver. Her work plays with the relationship of industrial and bodily processes such as excretion, digestion, and birthing, and blends the distinctions between reality and fiction. With all the market-driven hoopla taking over Miami this month, Rottenberg's upcoming show at the city's Bass Museum of Art provides some fleshy meat to sink into, consisting of the artist's recent works, dealing with themes of late capitalism, globalization, gender, and human rights.
ANTON YELCHIN
De Buck Gallery
December 13 - January 20
Anton Yelchin, image courtesy of the artist
The late actor Anton Yelchin, who you might recognize from Charlie Bartlett, Only Lovers Left Alive, Curb Your Enthusiasm, Alpha Dog, and Star Trek, was, unbeknownst to his friends, a passionate photographer. The young actor had been studying and taking photographs for over ten years at the time of his untimely death. (Yelchin was pinned between his own car and brick mailbox after his Jeep Grand Cherokee—the model of which was recalled because the new electronic gear shift makes it difficult to put in park—accidentally rolled down his steep driveway.) Yelchin's richly saturated portrait photographs have an eerie, cinematic quality to them; they are simultaneously intimate and haunting. De Buck Gallery in New York City will be showing the artist's works in a show titled "Provocative Beauty," opening on December 14. The show will feature a series of portraits of both friends and strangers. Proceeds from the show will be donated to the Anton Yelchin Foundation, empowering artists who face challenges due to disability or debilitating disease.
FARAH AL QASIMI
Helena Anrather, New York
October 27 – December 22
Image via aeworld

For a hyperreal look at the culture of the Gulf states, Helena Anrather Gallery hosts (for one more week) photographer/filmmaker Farah Al Qasimi's first solo show in New York. "A lot of people [come] to Dubai with an idea of what it looks like, but [that's] usually a veneer of progress of shininess," Al Qasimi told Dazed . "That is the image that gets put out into the world, but I want to know how it came to be that way, and what it means for the future." For her exhibition "More Good News" the United Arab Emirates-born artist represents men in the Gulf in ways that might shake our Westernized perceptions of masculinity and Arab culture: "White linen, a bedroom setting, and a rose soften the appearance of one man; two others touch noses in a formal, but tender, greeting. A soldier, whose uniform suggests force, turns away from the camera for a strange and intimate phone call." When the images that shape are culture are almost always some form of propaganda or advertisement, Al Qaimi's images are a truthful breath of fresh air.
[related-works-module]