Here's who we have our eye on this month.
Clearing, Brooklyn
January 21 - March 11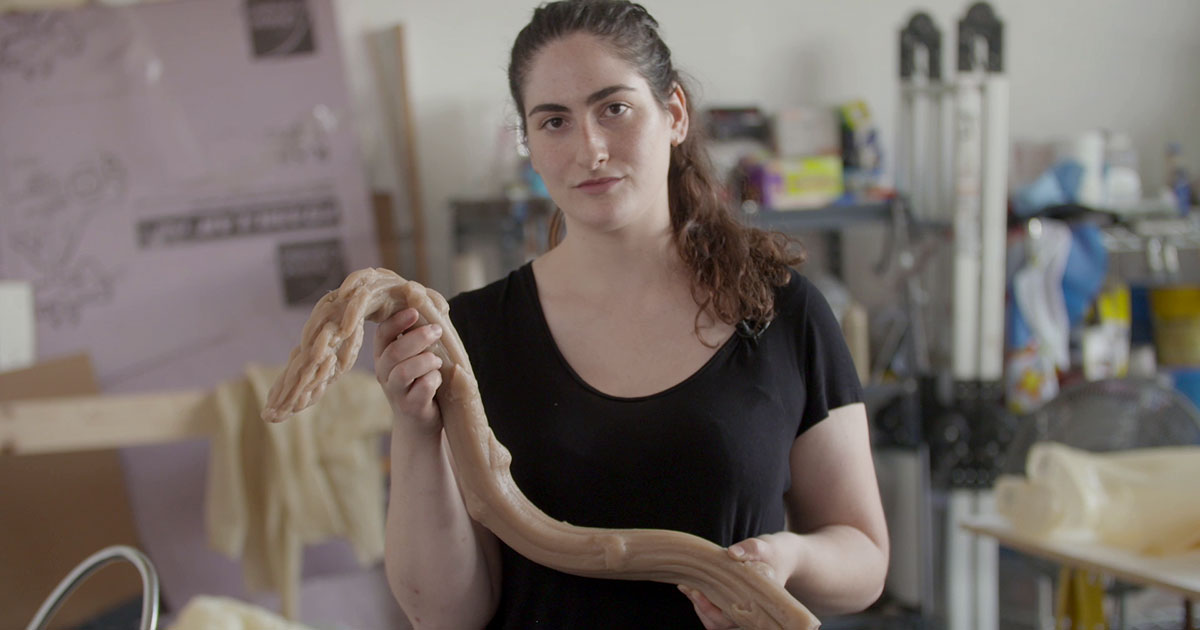 Hannah Levy's work is seductive and it is satisfying. Marrying cold industrial materials like aluminum composed like minimalist furniture, and the corporeal surfaces of flesh-colored silicone and veiny alabaster, Levy makes objects that could feel like sleek design if it weren't for the endlessly compelling visceral references to body and orifice. At Clearing gallery in Bushwick, Brooklyn (they also have galleries in Brussels and the Lower East Side), the artist presents a new video where the wet, pink flesh of a giant oyster is being ripped apart by manicured hands rifling for pearls. It's almost pornographic. Reclining chairs sit near by; fabricated from silicone, they couldn't support a person's weight, but they do hold a few scattered pearls, the slimy symbols of cliche suburban wealth. The 27-year-old artist has been getting a lot of well-deserved play recently. In the past few years she's had solo shows at Marlborough Chelsea, Galerie Parisa Kind in Frankfurt, James Fuentes in New York (among others), and has participated in a slew of group shows at museums like Louisiana Museum of Modern Art in Denmark, MoMA PS1 in New York, Palais de Tokyo in Paris, and the Frankfurt Art Association in Germany. If you can't make it to New York to see the show, check out this great video produced by the Louisiana, in which Levy talks about her work and shows us her studio. If you are in New York, stop by Clearing to see her work (and while you're at it, check out the 18,000-pound marble sculptures by Daniel Dewar & Grégory Gicquel in the gallery's concurrent exhibition, which spans three rooms in Clearing's gorgeous, sprawling exhibition space.)
ILANA HARRIS-BABOU
LARRIE, New York
February 4-March 11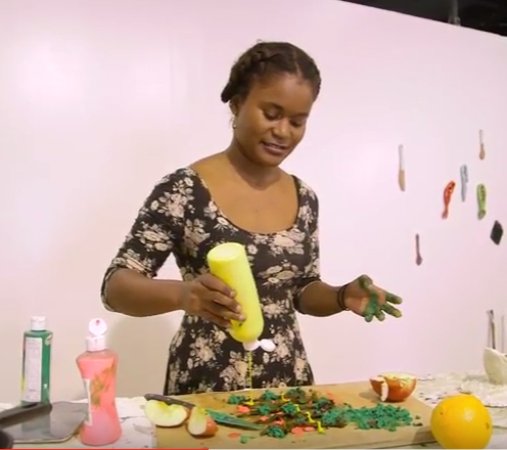 Image via BRIC Arts Media
Comedically taking aim at cooking shows, home improvement programs, and infomercials—some of television's most formulaic programing—may seem like low-hanging fruit, almost too ripe for satire. But Ilana Harris-Babou's parodies, which are both comedic and abject, make good use of these tropes, brilliantly confronting contemporary culture's use of aspirational messages to control our material desires. Her humor acts as a buffer to the harsh realities of the subjects she addresses, which most often involve race. "Reparation Hardware," at Chinatown's relatively new Larrie Gallery (established in 2017) is a chance to see Harris-Babou's video of the same name within a mixed-media installation. (If you're not in New York, you can check out the video in DIS' foray into 'edutainment,' DIS.art, which hosts a version of Reparation Hardware. The video, along with DIS.art, originally debuted at the de Young Museum in San Francisco this past December.) Altering advertisements from home-goods brand Restoration Hardware, Harris-Babou parodies inspirational videos which equate identity to object, and speaks to the distinction between reparations and restorations. The first, she states, is frightening to society, as it is ultimately "an admission of guilt; that something needs to be fixed." On the other hand, she says, "the restoration of old furniture takes something stale and makes it sleek." Harris-Babou got her BA at Yale, and received her MFA from Columbia in 2016—but her impressive pedigree is far from the only reason she's made this list. She first caught our eye last year when one of her video/installations made its way into SculptureCenter, and we'll be sure to watch this young artist from here on out.
SONDRA PERRY
Bridget Donahue, New York
January 7 - February 25
Seattle Art Museum, Washington
December 8 - July 1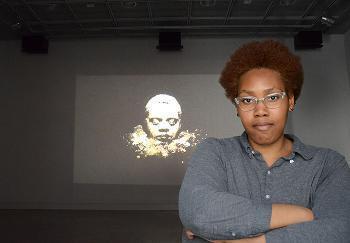 For 31-year old video installation artist Sondra Perry, 2018 is shaping up to be a pretty great year—the artist has a solo show at the Seattle Art Museum in Washington and at Bridget Donahue in New York. For the former, Perry presents "Eclogue for [in]HABITABILITY," a multi-sensorial installation about "real and virtual landscapes." The artist is known for her video mash-ups of computer-generated imagery, appropriated source video, and the artist's own footage. At Bridget Donahue, in a room painted chroma key blue (used in video post-production in the same manner as a "green screen"), the artist shows sculptures alongside a video that focuses on Perry's twin brother, Sandy. In a widely publicized scandal, Sandy was among a number of student athletes whose likenesses and stats were licensed, without their consent, by the National Collegiate Athletic Association to a video game developer. In Perry's video, we see Sandy's video game character navigate The Met and British Museum, juxtaposed with 3D renderings of artifacts found in those museums. We're living in the midst of a digital revolution in which our very existence can be virtually reproduced and sold as digital avatar. But Perry shows us that this kind of identity and cultural theft isn't necessarily new. (One of the 3D rendered artifacts the artist uses is a statue from Easter Island which had been looted and gifted to Queen Victoria in 1868 and subsequently donated to the British Museum.) With Perry's work on both coasts this month, you have double the chance of seeing her work in person—and we hope that you do.
TANIA BRUGUERA
MoMA, New York
Through March 11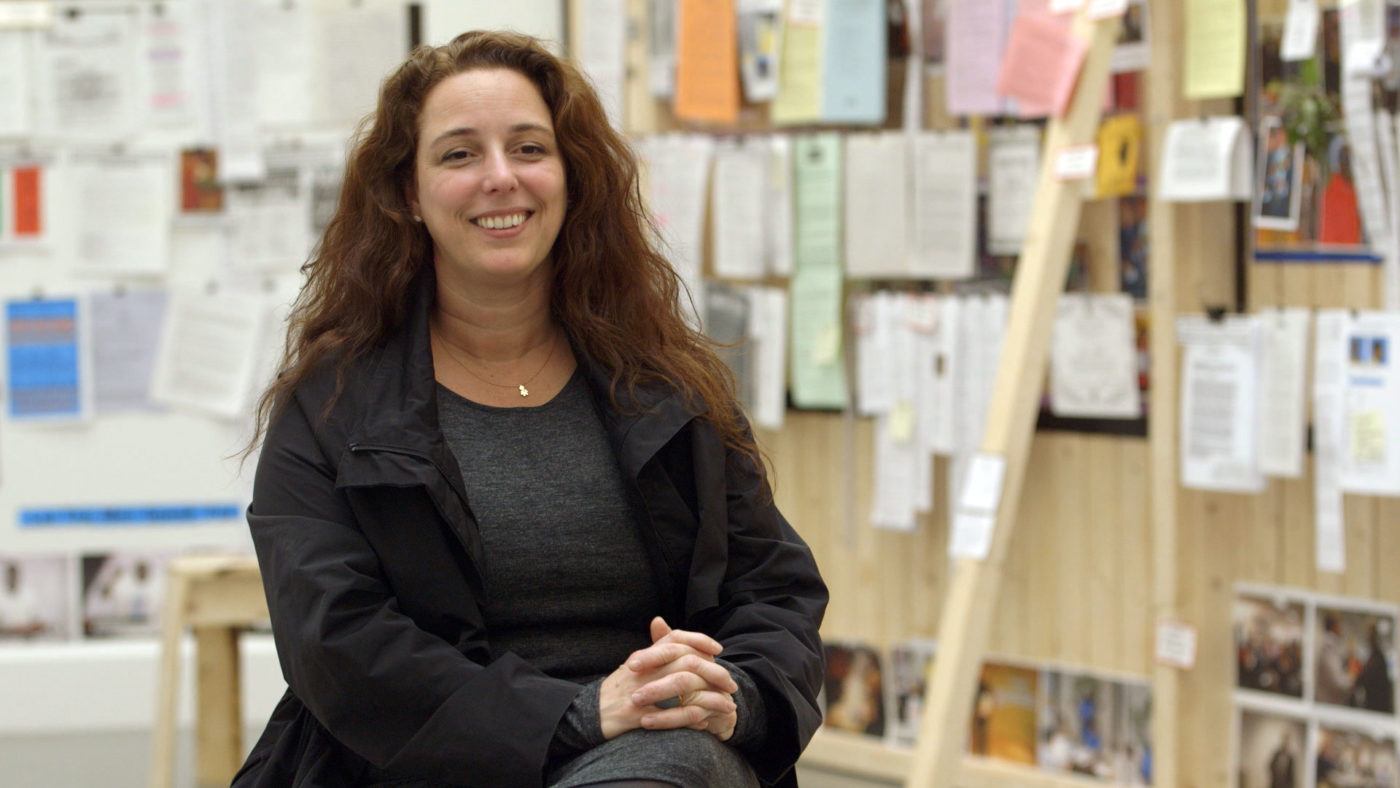 In Cuba, the year 2000 was a significant year of marked change. Not only was the year the projected deadline for the Castro government to fulfill its social, political, and economic promises, it also marked a year of shifting international policy between the United States and Cuba. A multi-sensorial, immersive experience about what it was like to be a Cuban in that interstice of the country's history, Tania Bruguera's Untitled (Havana, 2000) was initially conceived for the 7th Havana Biennal. The work made its debut inside of a military bunker known as the Cubaño Fortress, which was used to jail, torture, and execute conscientious objectors during the Cuban Revolution. A pivotal point in Bruguera's artistic career, the piece marks a transition from the artist working with her own body to working with the collective social body, referring to her work from this period as Arte de Conducta, or "behavior art"—art that is not intended to simply reflect or "represent the political but to provoke it." Combining milled sugarcane, video footage of Fidel Castro, and live performance presented in near-total darkness, Untitled (Havana, 2000) was shut down in Havana after only being on view for a few hours. This exhibition will be the first time the work is presented since its recent acquisition by the MoMA. In Bruguera's words, "it's great to present this piece now because it gives us this idea that we have to stop looking, and start thinking."
ALEXANDRA PIRICI
New Museum, New York
February 6-April 14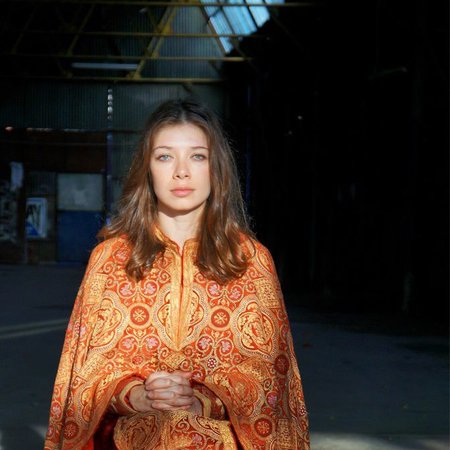 Image via Garbo
Minds were blown at the 2012 Cochella when Tupac, or rather, a hologram of Tupac, took the stage. Six years later, we know that wasn't actually the deceased rapper risen from the dead, but the technology remains novel nonetheless. Romanian artist Alexandra Pirici's upcoming show at the New Museum's new South Wing uses a holographic performer (sorry, not Tupac), amidst live performers, to interrogate the human body in real and virtual space. Pirici is interested in the ways that bodies and objects are understood and interpreted as quantifiable, monetizable, and stable. Pirici has received a ton of attention in Europe (she represented Romania in the 2013 Venice Biennale, participated in Manifesto 10 in 2014, and was commissioned by DIS to create a work for the Berlin Biennial in 2016), though New York audiences were introduced to her just last August with a performance on the Highline.
EVE INGALLS
SOHO20, New York
February 8-March 11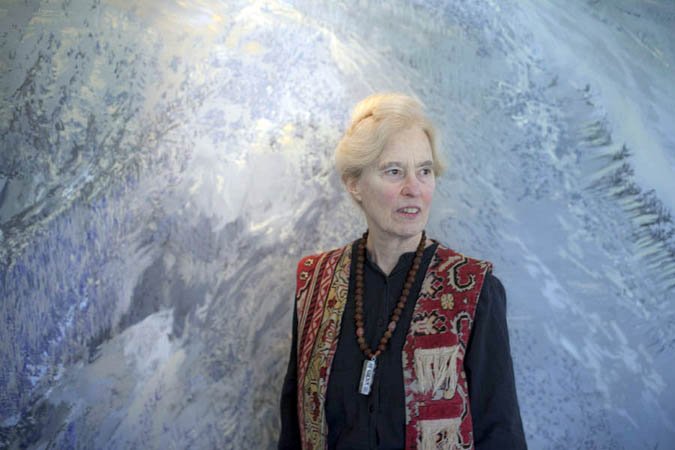 Image via Wilkinson Media
Engineers and artists alike have a lot to learn from looking at the way nature designs itself. The mangrove tree, for example, functions as a self-contained water desalination system (its roots filter out salt), while its branches act as an apartment building of sorts for animal life. Using handmade paper and wire, artist Eve Ingalls mimics the web-like structure of the mangrove tree, its roots stretching across the space of Bushwick's SOHO20 gallery. (Ingalls belongs to SOHO20, which provides exhibition space for its members, all of whom are women.) In another piece titled Just Leave it to Beaver, the artist highlights the beaver's ability to adapt and create complex living structures. Though the artist zeros in on a few examples of nature's efficiency and beauty, her work speaks more broadly as a warning, asking the viewer to respect natural forms and ecosystems, and to trust in nature's abilities and inclinations.
TARSILA DO AMARAL
MoMA, New York
February 11-June 3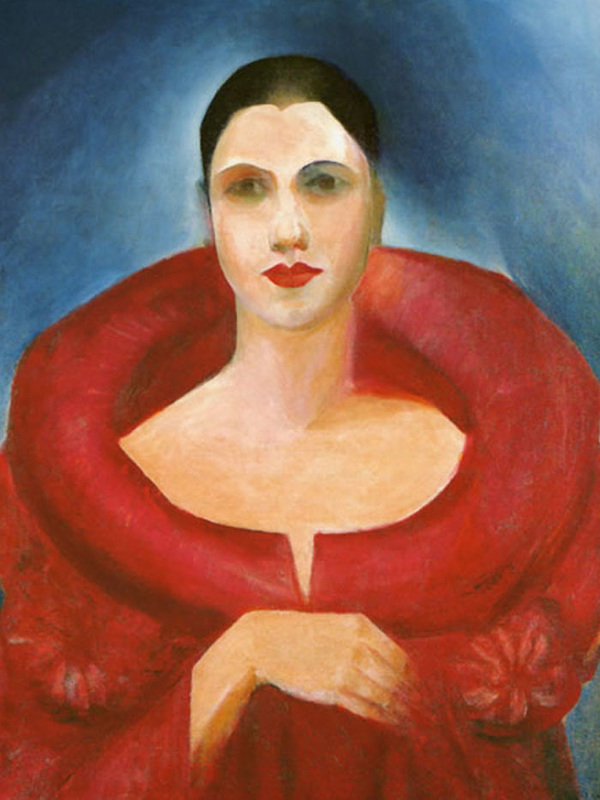 Autoretrato (Manteau Rouge)
(1923). Image via Wikimedia Commons.
Though little known in the United States, Brazilian artist Tarsila do Amaral (known simply as Tarsila in her home country) was one of the most influential painters in mid-century South America, critically shaping the lush forms, and local themes and sensibilities in Brazilian Modernist art. As a young woman, do Amaral bounced between the vibrant landscapes of São Paulo's countryside and the cultural whirlwinds of Spain and Paris where she rubbed elbows with everyone from Picasso to Fernand Léger, with whom she studied. At the time, culture in Brazil was still quite conservative, and traveling to Europe provided young art students like do Amaral an opportunity to expand their horizons in what was considered the epicenter of culture and society. Upon do Amaral's return to São Paulo in 1922, she along with fellow Brazilian artists Anita Malfatti, Oswald de Andrade, Mario de Andrade, and Menotti Del Picchia, would form the "Grupo dos Cinco." Together, the group sought to promote Brazilian culture, not simply by copying the Modernism of Europe, but by making it their own, including Brazil's own unique indigenous imagery, history, and style. Married to the poet Oswald de Andrade, the two developed the seminal Anthropophagic Movement (aka: The Cannibal Movement) which declared that the blending of European, Indigenous, Afro-American slavery, and Asian immigrant culture was the basis for an entirely new style. Demonstrative of this movement is do Amaral's most celebrated work, Abaporu (1928), whose title derives from the tupi-guarani language roughly translating to "Man Who Eats Man," and is recognized as one of the most iconic works of Brazilian art. Following a sensational debut at the Art Institute of Chicago, "Tarsila do Amaral: Inventing Modern Art in Brazil" will be exhibited at the Museum of Modern Art from February 11th to June 3rd.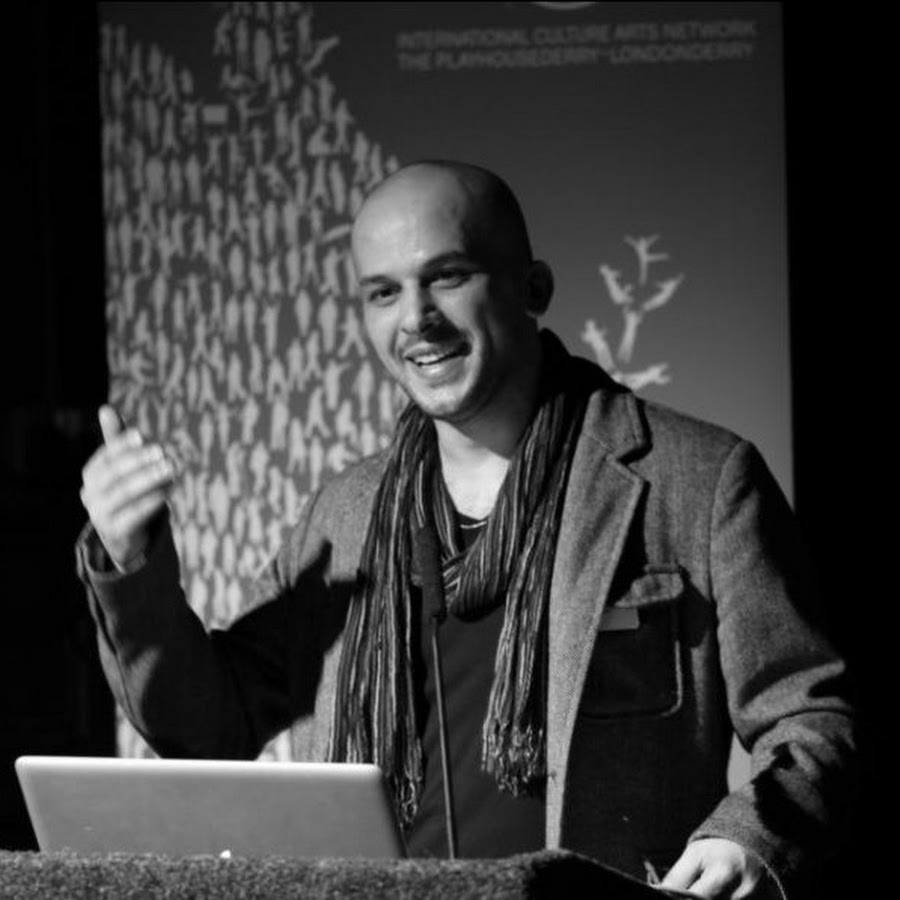 "The art and culture of today is the tangible heritage of the future." In the wake of the Syrian refugee crisis, the ensuing diaspora of civilians has left many of the country's artists, poets, and writers culturally marooned in foreign lands. With millions unable to return to their home country physically, many have turned to the internet and social media as a way to recommune with their neighbors, friends, and family scattered across the world. In the words of Syrian-born, Berlin-based conceptual artist Khaled Barakeh, "We created a parallel republic." Practicing what he calls "artivism," Barakeh's experience as a refugee prompted him to develop The Syrian Cultural Index, a virtual, alternative map connecting the Syrian artistic community around the globe, showcasing their work, and providing an invaluable resource. An article in New Yorker Magazine profiling Barakeh's initiative called it "a global Yellow Pages that any curator or film director can use to find and hire Syrian talent." While the website is still being developed, Barakeh is also working on developing the first Syrian Biennale—a necessarily mobile exhibition that will follow the routes of of Syrian refugees from Lebanon to central Europe and Scandinavia.