In New York and abroad, here are the exhibitions and artists we have our eye on this month.
WILMER WILSON IV
Susan Inglett Gallery, New York City
January 31 - March 16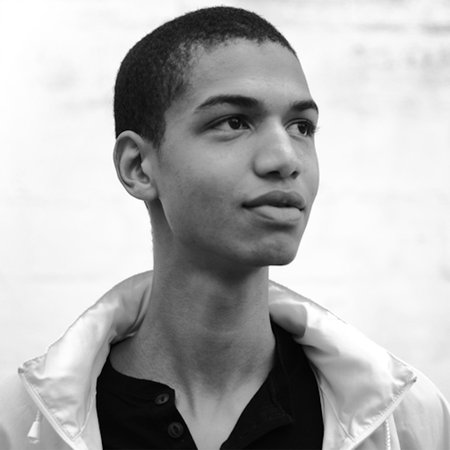 Wilmer Wilson IV, image via Cornersmith Gallery
Perhaps the most memorable photographs at last year's New Museum Triennial, "Songs of Sabotage," had staples all across the front, protecting, obscuring and mystifying the images underneath. These works by artist Wilmer Wilson IV were made of wooden boards and prints based on fliers that he had seen and collected in Philadelphia, where he currently lives and works. In Left for Dead (2016), almost every centimeter of the image is covered, while GIRLS NIGHT OUT, THE WESTERN UNION and Rate Who Rate You (both 2016) leave select body parts exposed: hands crossed at the wrist, one holding a cigarette; a hand holding a plastic cup; a hand with a silver ring on one of its fingers. As Wilson, quoting scholar Saidiya Hartman, pointed out in his text Uncharisma of the Archive (2017), "the repetition of the visual, discursive, state, and other quotidian and extraordinary cruel and unusual violences enacted on Black people does not lead to a cessation of violence, nor does it, across or within communities, lead primarily to sympathy or something like empathy."
"Slim… you don't got the juice" continues Wilson's studies in opacity. In addition to his works with staples, his exhibition currently on view at Susan Inglett also features large-scale photographs taken while moving at high speed. In one stand-out instance, Across the blue concrete, red embers fly to me (2018) features a blurred monument of… someone, questioning, not just the validity of the person being monumentalized, but the decision to monumentalize anything and anyone at all. Finally, the show also includes a series of dense ink-on-paper drawings: they look like hyper-condensed swarms of bugs.
NICOLAS CECCALDI
Greene Naftali, New York City
January 31 - March 2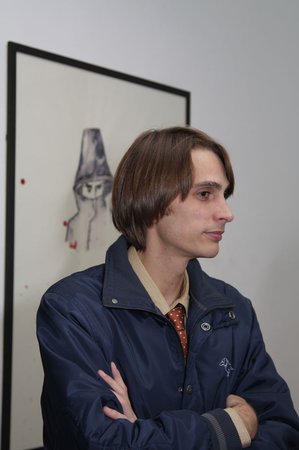 Nicolas Ceccaldi, image via Flickr
For his 2017 presentation at Art Basel, it appeared that artist Nicolas Ceccaldi set up displays with the kind of Jehovah's Witnesses magazines that devotees frequently stand next to in subway stations. Hawking scares people off, so they talk to each other, or an occasional believer passing by, chatting beneath a poster which reads "Is there life after death?" Instead of Bible verses, however, Ceccaldi offered his own, modified pamphlet, a rewriting of the Gospel of Judas, free for the taking, advertised as a "simplified edition" of the original text. In Ceccaldi's edition, Judas Iscariot, Jesus's betrayer, is described as "brother of the leech, an insect which men feed at their own expense. This insect, which does not like wine but prefers blood, would be capable, by means of an occult power, of becoming big as an elephant and crushing men like ears of corn." Trippy!
"The Stroke of Midnight" at Greene Naftali continues Ceccaldi's exploration of biblical texts and imagery. Two paintings––Atavism (bird with teeth) (2019) and Grey landscape (2019)––both reference Saint Peter, who also betrayed Jesus and was later crucified upside down (betrayal is another continuing theme). However, the show also features a piano, and JRR Tolkein references: two framed pieces are both titled Lugburz-Gûl (both 2019), which is the name of the spirit of the Dark Towers in Tolkein's orc language. Not to be missed for anyone who enjoys art that is spooky, sci-fi, and spiritual.
CHARLOTTE PRYCE
Centre Pompidou, Paris
February 6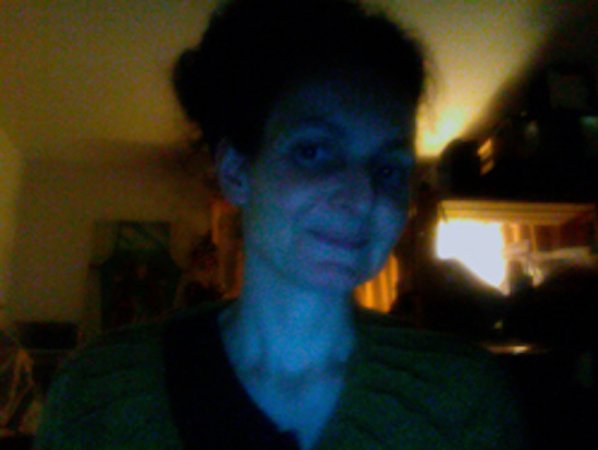 Charlotte Pryce, image via the artist's website
Charlotte Pryce has been working with early cinematic tools for the past thirty years. As she explained in a recent interview with Artforum, "I'm a longtime admirer of Georges Méliès," referring to the French magician and film director credited with inventing "enchanting and fun" cinematic devices like time-lapse photography, dissolves, and multiple exposures, all of which continue to be used over a hundred years later. Pryce has also been greatly inspired by early early scientific photography and natural history films, the latter of which, she notes, often feature sudden shifts in narrative point of view. "These films often have prologues, after which the narrative perspective shifts to, for example, the life of a newt or the life of a salamander. It's a reverie where you can slip into a truly cinematic experience from something much more mundane and ordinary."
But The Tears of a Mudlark (2018)––which will show at the Centre Pompidou this February after exhibiting in Los Angeles, Rotterdam, and Brussels––has Pryce working in a pre-cinematic format: the magic lantern. After discovering a photo from the 1930's of two female biologists who had just discovered the remnants of a grasshopper swarm frozen into a glacier, Pryce began thinking of strata, "perhaps because that's what I was doing chemically in a lot of my films. I then began to think about the extraction of oil in L.A. and that legacy of pollution in relation to this story I wanted to tell, which was also about exhuming an illusion and attempting to bring that out of the magic lantern at the same time." In a world hyper-saturated with digital imagery, Pryce's homemade, ethereal artistry is not to be missed.
SHAHRZAD CHANGALVAEE
The Chimney, Brooklyn
January 18th - February 24th
Shahrzad Changalvaee via Women's Wear Daily
Iranian artist Shahrzad Changalvaee's work maps the slow abstraction of a politically precarious life. Her long-standing fascinations with translation and surveillance hold court in her current show at the Brooklyn project space The Chimney, titled In Absentia, In Effigie. The Chimney's industrial Brooklyn architecture provides a stark foil for Changalvaee's installation, a shallow, rectangular reservoir of floating photographic fragments printed in real time. As the snapshots drift, soften, and dissolve, viewers begin to notice troubling juxtapositions—a heavily cropped protest picture, a tourist-perfect sunset, a scrawled note reading "fix this problem." This alienating poetic speaks to the experience of authoritarianism up-close, highlighting memory's uncanny ability to bend our understanding of what is and isn't real. The introduction of water as a medial element marks a shift from former interventions; her September 2018 solo effort at SOHO20 Gallery in Brooklyn, "The Understandles Always Arrive From Far Away," focused on the interaction between plaster and found imagery. Now, instead of transforming ephemera into monuments, Changalvaee is orchestrating breakdown, boxing with the bittersweet inevitability of human frailty. Changalvaee is still emerging, but has mounted some impressive exhibitions (from O Gallery in Tehran to Contemporary Art Platform in Kuwait) since just recently graduating from Yale (MFA) in 2015.
LINNEA VEDDER
Essex Flowers, NYC
February 9 - March 24
Linnea Vedder via Tom Tom Mag
In 2017, writer and curator Dana Kopel described Linnea Vedder's exhibition at Lubov Gallery, If nothing lasts forever, will you be my nothing? as rife "dark femme energy," a fitting characterization for the weird, anarchic whiplash Vedder achieves in her paintings. Vedder's relationship with pictorial space has always toed the line between sardonicism and sincerity, combining deep, plangent color with a brand of flatness native to graphic design or cartooning. Culling references as disparate as German Expressionism, graffiti, and yoga, Vedder creates haptic frenzies of pattern and line, introducing recognizable glimmers before pulling her viewers back from the precipice of identification. Perhaps this taste for layered entropy harkens back to her background as a musician (fun fact, Vedder was a drummer and singer for psychedelic/metal/mojo/pop band Lights back in the day). As she expands further into the objective realm of sculpture and collage, it will be interesting to see what she has in store for us on February 9th at "Soft Skills," her upcoming solo exhibition at Essex Flowers.
CAITLIN CHERRY
Providence College Galleries, RI
December 5- March 2nd
Installation shot of "Dirtypower" via Providence College
Caitlin Cherry had an action-packed 2018; on the heels of a profile in BOMB with Zoe Dubno, a solo exhibition at Luis De Jesus in Los Angeles, and the critical success of A Wild Ass Beyond: Apocalypse RN (her collaborative show with Sondra Perry, Nora N. Khan and American Artist at Performance Space New York), Cherry has also executed a truly stirring commission, Dirtypower, for Providence College's Reilly Gallery, now on view until March 2nd. Her radioactive, irreverent depictions of Instagram models are jettisoned into the viewer's personal space by three-hundred pound custom armatures, lending a distinctly cyborg flavor to the installation. This confrontational physicality ignites her already red-hot content—we are forced to confront our own classist, sexist, and racist patterns of consumption as we bask in the raw power of her subjects. Cherry's kaleidoscopic wit is infectious, and her anti-establish paean to hustle culture in the face of white supremacy is well worth a visit to Providence College campus.
DORTHEA TANNING
Tate Modern, London
February 27 - June 9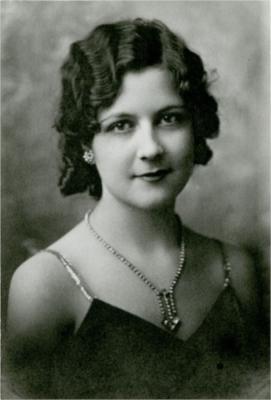 Image via WikiArt.
At the end of this month, the Tate Modern will open the first large-scale exhibition of Dorthea Tanning's work in 25 years. We wrote about the artist as part of our Other Art History Series (you can read "The Overlooked Women of Surrealism" here), so we were thrilled to see that Tanning, who was largely overshadowed by her male contemporaries during her lifetime, is now receiving the recognition and attention she deserves. Growing up in a sleepy suburban mid-western town, and with no formal art education (other than a three-week-long course at the Chicago Academy of Art), Tanning was largely self-taught. In 1936 she saw "Fantastic Art: Dada, Surrealism" at the MoMA in New York, and it ignited a decades-long artistic career (the artist lived to 101 years old) that began in the Surrealism movement, migrating to soft sculpture in the '60s, and ending with a writing practice towards the end of her life (she frequently published in The New Yorker, The Paris Review, The Yale Review, and Poetry.) The Tate exhibitions unites 100 works "from enigmatic paintings to uncanny sculptures" and will be on view until June 9. Read more about Tanning's work and life—and her romantic introduction to Max Ernst, whom she married—here.
CECILIA VICUÑA
ICA Philadelphia
Current - March 31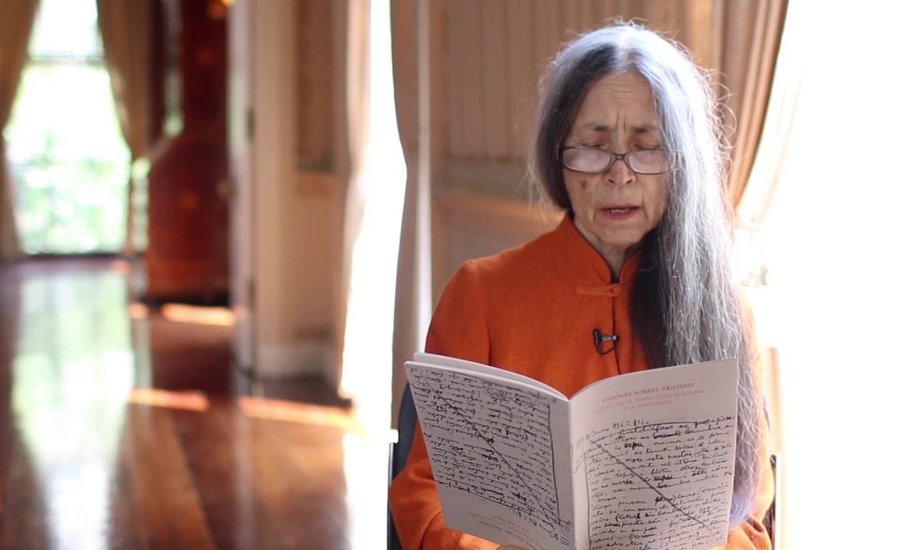 Image via Minus Plato
Cecilia Vicuña is an artist whose work seems particularly trendy and relevant in 2019, with its commitment to resistance, activism, and feminism. But the truth is, the artist has been making work surrounding these commitments since the '70s, and has always been consistent in her perspective, even when it wasn't fashionable to be. The Chilean-born artist attended the Slade School of Fine Art in the early '70s while living in exile in London, after the dictator Augusto Pinochet assumed power after a coup d'tetat. It was during this time that the artist began publicly demonstrating against fascism and human rights valuations, and incorporating her political fierceness into performance and installation. (For more, check out this article about some of the work she has on Artspace.) The artist is finally receiving the recognition and attention she's long deserved. She had a solo exhibition at the Brooklyn Museum and the MFA Boston in 2018, and her solo show "About to Happen" at the ICA Philadelphia is on view until March 31st. While we're sure Vicuña is happy to be the recipient of this largely new-found attention, she's always understood that the lack of attention she'd received wasn't necessarily due to the quality of her work. When asked how she felt about the fact that artists like Carl Andre and Walter de Maria were credited with founding Land Art (Vicuña had been working with landscape long before), she confidently responded, "How many extraordinary women had the very fact of their being silenced in art, philosophy, and science… in every field? So, I felt that I was in good company."
[related-works-module]
RELATED ARTICLES:
Slime Mold, Glow-in-the-Dark Bunnies, and "Victimless Leather": 9 BioArtists You Should Know About
Art You Should Know: Seven 21st-Century Masterpieces
A Review of the Reviews of "Velvet Buzzsaw," the Art World's Most Hated Horror Film