Kicking off the new year is a host of exciting artists with shows on both coasts. Here's who you should have your eye on this month.
MARIA DE LOS ÁNGELES
The Scheider Museum, Oregon
January 19th - March 17th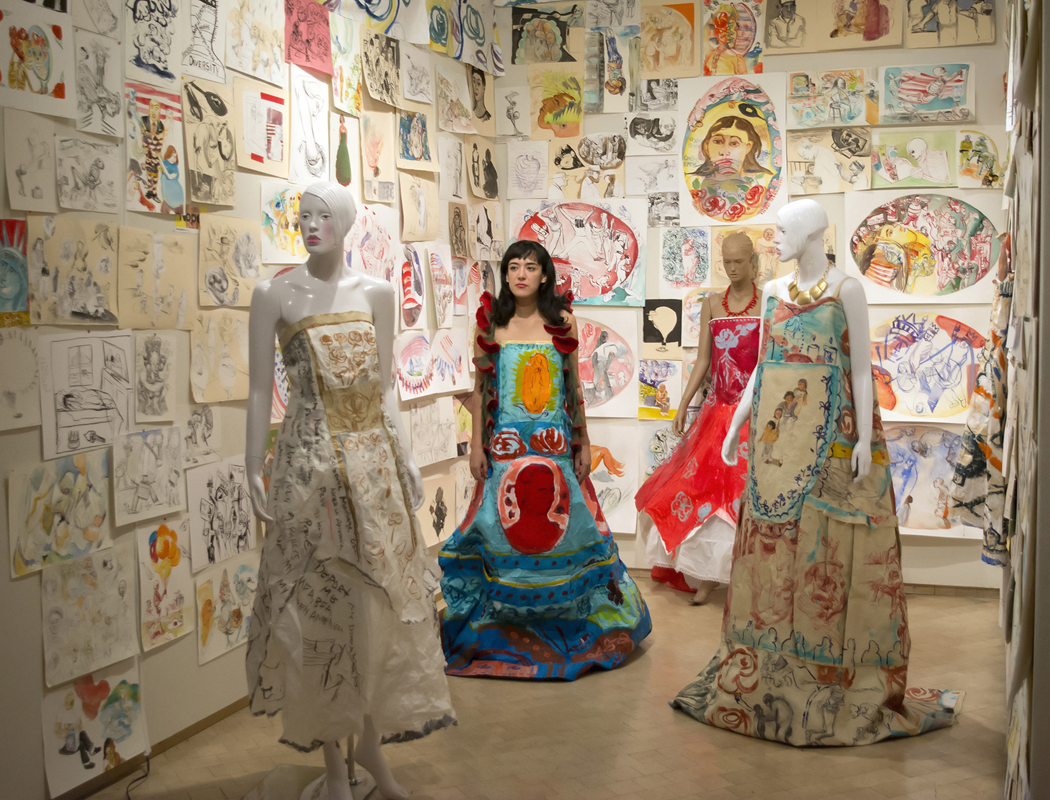 De Los Ángeles in her 2017 installation at El Museo de Barrio. Image courtesy of Cheyenne Coleman.
Artist Maria de Los Ángeles documents the personal, psychological, and emotional experience of being an immigrant. Having crossed the border dividing Mexico and the United States with her five siblings when she was just 11 years old, de Los Ángeles has spent most of her life in the United States. Her undocumented status was never a concern until she had to apply for college—being an undocumented immigrant made her ineligible to receive scholarship. That all changed under the California Dream Act. The law enabled her to attend Pratt Institute under the condition that she match a $20,000 scholarship. De Los Ángeles spent that following summer working hard to sell her artwork, and with the support of the Santa Rosa community, was able to raise the funds necessary to move to New York. Since then, de Los Ángeles has received her MFA from Yale and has founded One City Arts, a two-week program providing art lessons to the Santa Rosa community. As a DACA recipient, de Los Ángeles has been able to work and teach as a visiting professor at Pratt Insitute. With the looming threat of DACA's repeal, the complexities of identity, anxiety, and the overriding beauty in de Los Ángeles's work are all the more salient to understand and empathize with. You can see her work and even try on one of her handpainted dress sculptures at her upcoming solo show, Transcending Myth at the Schneider Museum of Art in Oregon starting January 19th.
RUPERT GARCIA
Rena Bransten Gallery, San Francisco
January 6 – February 24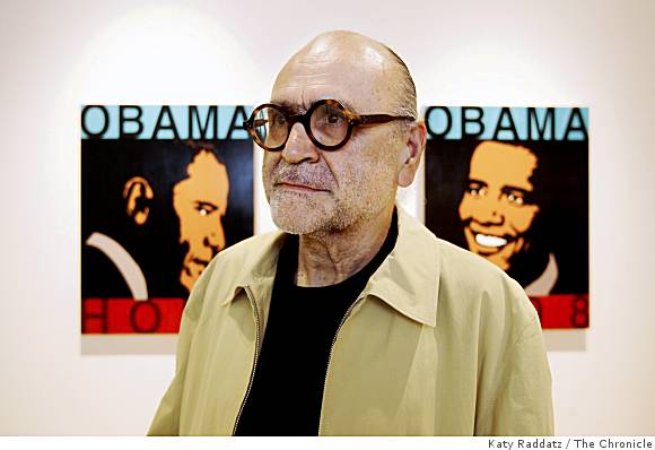 Image via Galeria de la Raza. Photo: Katy Raddatz/The Chronicle
This week is Untitled, San Francisco, which means many galleries in the Bay Area are showing off some of their most show-stoping artists while the global art world's in town for the fair. This is certainly true for Rena Bransten, whose gallery at the Minnesota Street Project will show a retrospective by Rupert Garcia. Garcia is a Vietnam War veteran who was involved in Operation Rolling Thunder, a secret US military bombing campaign. The exhibition spans five decades of work, and it's the first time that Garcia's bold, pop-like paintings depicting subjects like fighter jets, bombs, and soldiers, are exhibited in a way that specifically addresses "the impact of his participation in the Vietnam war"; it's also the first time that Garcia is publicly acknowledging his participation in Operation Rolling Thunder. Garcia is a local artist in the sense that he lives in the Bay Area, but his work has been shown internationally and is held in the prestigious collections of LACMA, the Met, the National Gallery of Art and The Smithsonian in DC, SFMOMA, and the Fine Arts Museum of San Francisco.
EBECHO MUSLIMOVA
Magenta Plains, New York
January 7 – February 11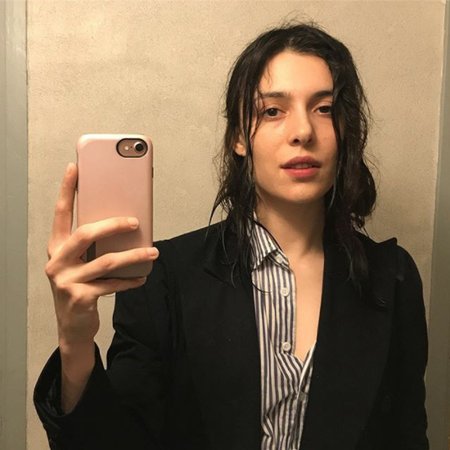 Photo via Instagram
If there's one thing the editorial team at Artspace can agree on, it's that Ebecho Muslimova blows our minds. The Russian-born, New York-based artist is known for her alter ego "Fatebe," a character who is quite innovative in the ways in which she explores the orifices of her body. In one mostly black-and-white painting (picture the cartoon-like line drawings of Raymond Pettibon, Koak, or old Felix the Cat cartoons), a naked Fatebe looks through a movie camera through her own gaping vagina to peer down a spiral staircase where other Fatebe's stand peering back up at her. In every cartoon, Fatebe is autonomous, Fatebe is active, Fatebe is happy, and in the words of Piper Marshall writing for Artforum, "Fatebe is a sinister feminist." A recent graduate of Cooper Union, Muslimova has had solo exhibitions at Room East and White Flag Projects in New York.

SARA MAGENHEIMER
The New Museum, New York
January 24th - April 15th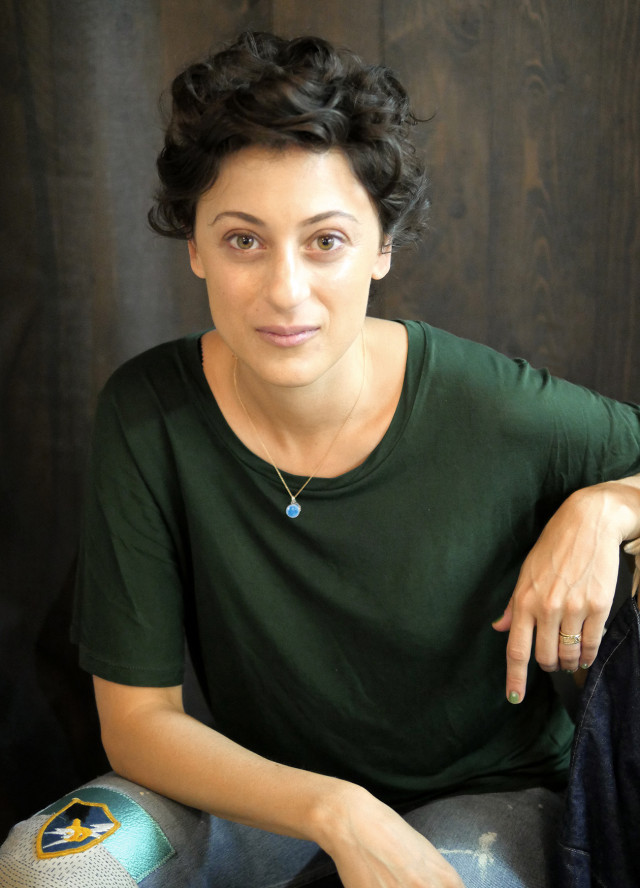 Sara Magenheimer. Image via Purchase College.
Multimedia artist Sara Magenheimer's work investigates the slip-ups and dissonance that occurs between our cognitive understanding of language and its form. Take her 2012 instructional video, Nothing Coes from Talking (But Sound) for example. In it, a square of blue tape is subtitled with letters from the English alphabet. As we go from A to Z, Magenheimer throws a handful of spaghetti at the square, suggesting each letters' translative "meaning" (also its accompanied sound, or pronunciation). Her solo show at The Kitchen last year debuting her video Best is Man's Best Quality further explores linguistic mutations through the perspective of an ancient jellyfish critiquing our limited spectrum of human behavior. Magenheimer's newest foray into the follies of language titled NOON will debut the New Museum's relaunch of its 1980s program of window installations. A selection of her films will also be on view as part of the museum's Screen Series. NOON opens on January 24th.
ISAAC POOL
Knockdown Center, Queens
January 13 – February 25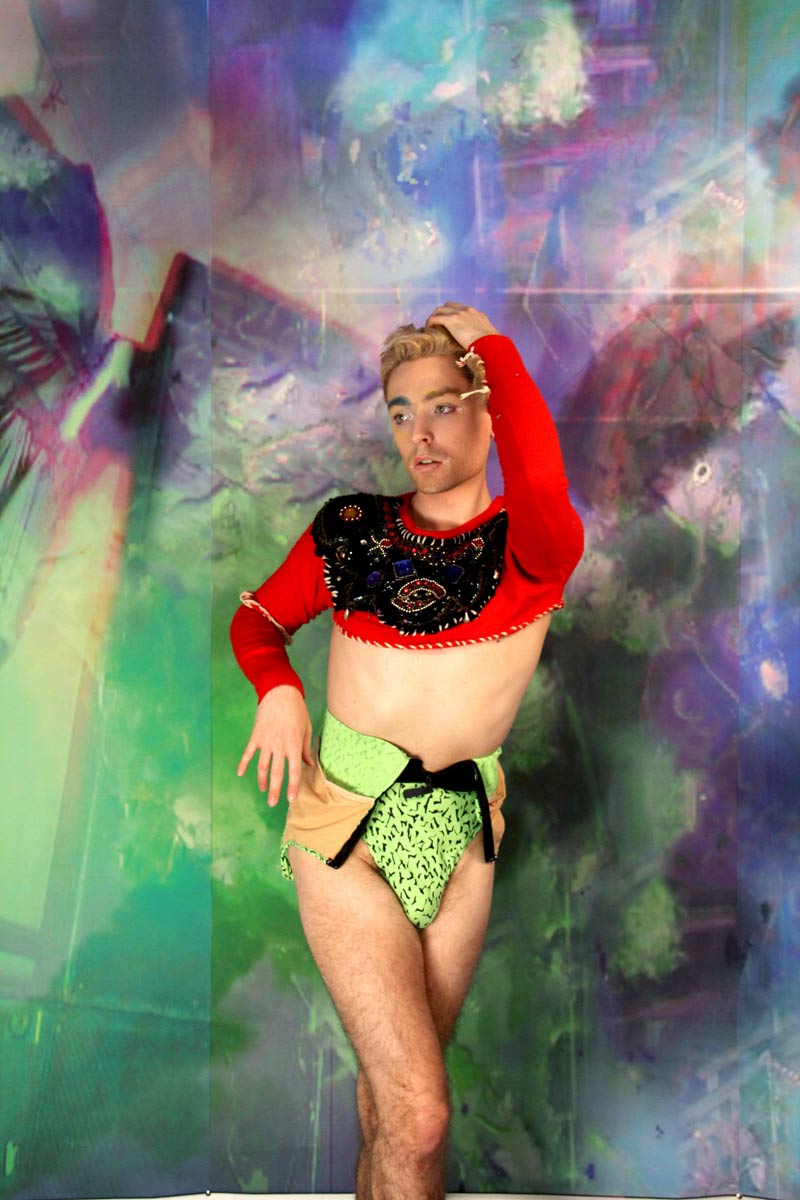 Image via isaacpool.com
At Knockdown Center, Queen's sprawling exhibition space and venue, Isaac Pool will preset an "installation and sitcom-length play starring three sock-encrusted vases and a head of fennel." You read that right. The characters in the play are objects, and though the objects don't move, they each have their own voice, which is recited by actors who face them. Pool, whose practice involves visual art and performance but also poetry, has written the script, which occasionally involves a capella pop songs, and like most of his writing, has a heavy dose of references to pop culture and fashion. From his artist statement via his website: "I'm dealing with my own ambivalence toward the things I'm supposed to want as a white, gay artist. I'm bored but into it, queer but not necessarily liminal, punk but cute." We've seen some of Pool's performance before, and though we never quite know what to expect, we're never disappointed in what we find.

ZACH BLAS
Art in General, New York
January 27th - April 7th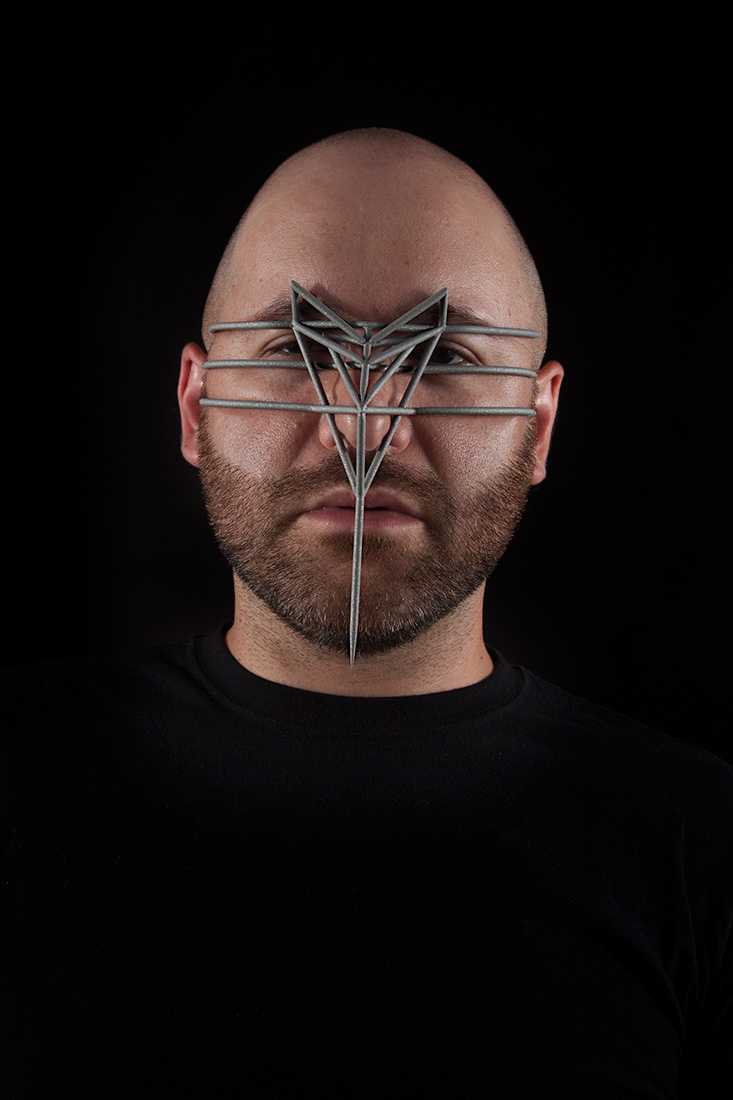 Zach Blas in his Facial Weaponization Suite (2011-14). Image via Walker Art Center.
For many, the recent FCC repeal of net neutrality regulations rang like a death knell on the dream of the utopic, neutral network envisioned by the internet's earliest users. At a time when our experiences online are becoming more and more fractured, capitalized, and under surveillance, artist and writer Zach Blas wonders if queerness and feminism could be our salvation, reanimating the internet's more progressive past. In his newest film, Jubilee 2033, Blas confronts the possibilities of the internet's growing hegemony in a queer science fiction that imagines a genderless society, and an internet of Ayn Randian Objectivism set in a future Silicon Valley, known in the year 2033 as the Silicon Zone. Within this dystopic, neo-neoliberal state, a small opposition faction forms called "the anti-campus," led by an AI leader called Nootropix whose philosophy draws on the queer, gender-critical texts of Paul Preciado's Contra-Sexual Manifesto, as well as feminist economic theorist J.K. Gibson-Graham's The End of Capitalism (As We Knew It). In 2014, fellow artist and critic Hito Steyerl listed Blas as a "FutureGreat," writing, "While a lot of contemporary technologically oriented art tries to resuscitate the wreckage of Futurism, or overidentifies with strategies of surgical marketing and apple polishing, Blas's work insists that one doesn't need to brand oneself into voluntary servitude or to eagerly identify with the aggressor." In continuing his optimistic search for alternative trails out of the too easily adopted doom-and-gloom mentality, Blas' Jubilee 2033 will be making its debut at the end of this month at the artists' first ever New York solo show at Art in General, titled Contra-Internet.

MARIA LYNCH
Wilding Cran Gallery, Los Angeles
January 12 - February 17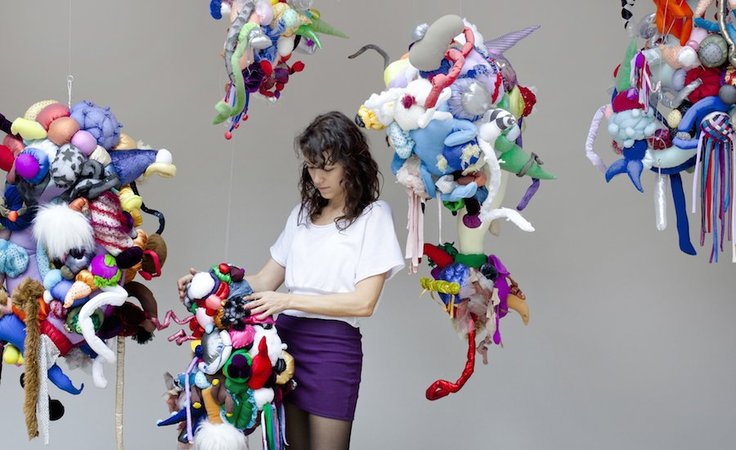 Maria Lynch. Photo courtesy of the artist.
This month, Los Angeles gallery Wilding Cran will be exhibiting a series of drawings from Brazilian artist Maria Lynch in a show titled "Black Over White." Seemingly a departure for the artist, who is most known for her colorful, patchwork paintings and installations, the series of drawings showcase the foundation for Lynch's vibrant, immersive works, and highlights the layers of her process. Lynch's gestural sketches done with graphite on paper (hence the title "Black Over White") are raw, and evoke a playful nature, "suggest(ing) that a new territory could be unveiled at any minute." As big fans of Lynch's boundless plush sculptural works such as her Delirante series, and her paintings that burst with color evoking a feeling of simultaneous destruction and regeneration, we are excited to see the artist's works stripped back to their bare-bones structure.
MARYAM JAFRI
Kai Matsumiya, New York
January 11 - March 11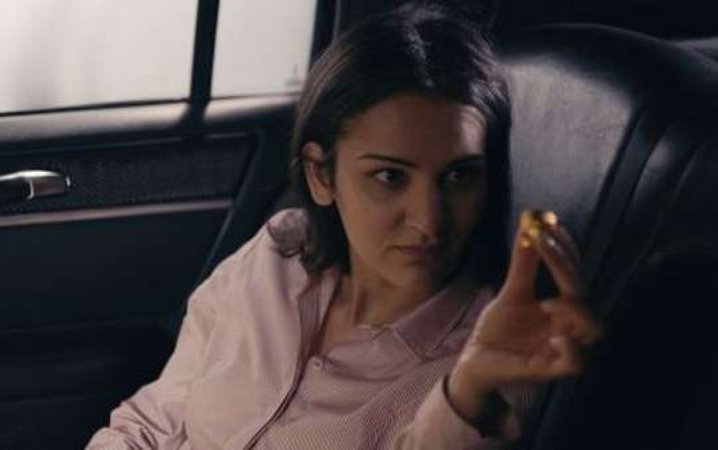 Maryam Jafri, Image Courtesy of Gasworks
Pakistani-American artist Maryam Jafri's solo exhibition, "War on Wellness," currently on view at Kai Matsumiya Gallery in New York, points to the contemporary American psyche, and the ways in which people attempt to quell the anxiety of the political and social climate. Jafri addresses the "wellness" craze of the 21st century, and suggests that the phenomenon has a direct link to the government's attempt to actively keep its citizens from receiving basic human rights such as health care and social safety. Jafri posits that in this time of dread, people turn to DIY self-help solutions in addition to Eastern medicine, marketed to offer access to "mental optimization via the body." In works with titles such as Anxiety, Depression, Self-Care, and ANT (Automatic Negative Thought), the artist speaks to the contemporary ideological, individually-focused movement of "wellness," which spans across realms of culture, politics, class, race, gender, and the military. She pays close attention to the paradox of the movement, which is that the search for interiority paradoxically becomes intrinsically linked with the artificial, mass-produced and marketed exterior world. The seminal work of the series, Where We're At, is an 8.5 foit by 8.5 foot wooden crossword puzzle installation created in collaboration with New York Times puzzle contributor Ben Tausig. Each of the squares is a bookshelf wherein the artist has glued 16 books ranging in topics from history and business to self-help and fiction, selected based on their relevance to the current political climate.
ARCMANORO NILES
Rachel Uffner, New York
January 5 - February 25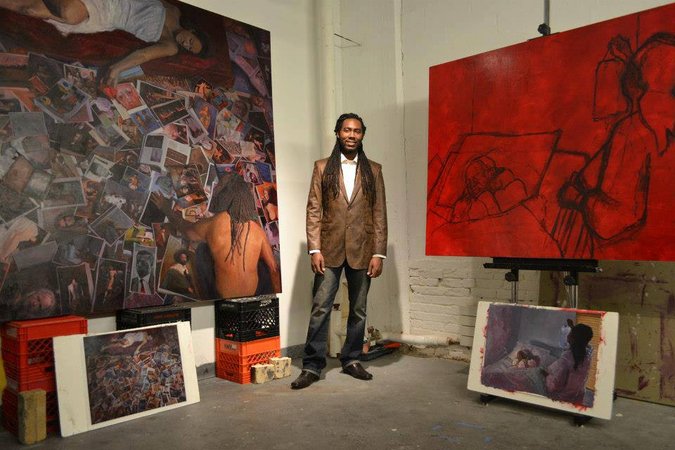 Arcmanoro Niles, Image Courtesy of Artodyssey
Born and raised in Washington, D.C., Brooklyn-based painter Arcmanoro Niles depicts fragmented recollections of his childhood community. The artist's latest series, Revisiting the Area, currently on view at Rachel Uffner Gallery in New York, is an intimate look at the neighborhood where he grew up, which he refers to as occupying a uniquely-American "middle space," situated in the middle-ground between poverty and middle class. Each painting is rendered with a reverent rich orange hue, and his subjects emanate from the canvas with glittered hair and haloed outlines. Niles's paintings interrogate the relationship between the artist and his subjects, with whom he has deep interpersonal relationships. He asks the question, "How are genuine connections being forged or purposefully avoided?" Previously working with exterior scenes, Niles's newest works offer a view inside of the homes of the community. The series as a whole, with the inclusion of both exterior and interior scenes that speak to and reflect off of one another, creates a sense of the community from the artist's perception. Present in each of his figure paintings is the thin red outline of a looming, seemingly sinister spirit-like figure called the "seeker," which the artist includes to suggest the seeping of the outside world into the intimate, interior world.