These days, it seems that most mainstream design concepts follow the rule of human intuition—good design is something that engages our senses and can make us feel a certain way. Tactility and aesthetics are as essential and critical to truly successful design as functionality. Colors and forms are evocative, sensory triggers for nostalgia and emotion, interacting intimately with our cultural experiences. So much of this sentiment in design is owed to the vanguarding Italian architect and designer Ettore Sottsass. In the words of design critic Barbara Radice (also Sottsass' widow), "while still quite young, Sottsass learned that the 'beauty,' 'formal correctness,' 'coherence,' 'function,' even the 'utility,' of an object were not absolute, metaphysical values, but that they responded to a culture or a system, and varied in accordance with historical and cultural conditions."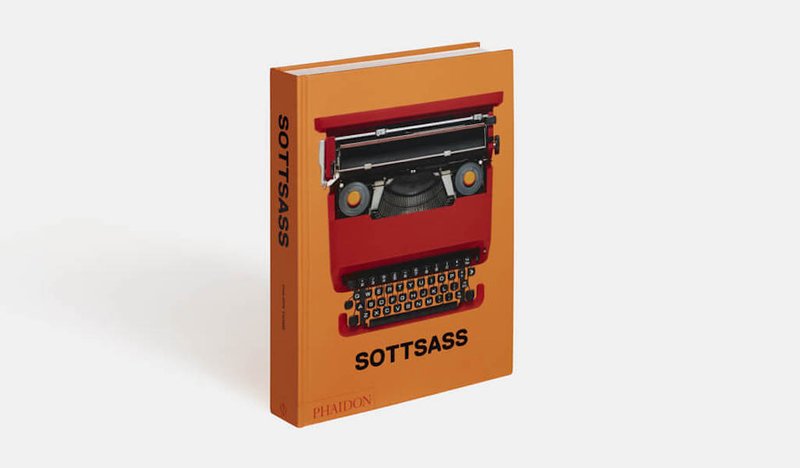 Phaidon's Sottsass is available on Artspace for $79
Though he is widely known and celebrated as the founder and leader of the revolutionary design collective Memphis Group, Sottsass was a man who detested hierarchy, and would often reject the title. A good friend of the Californian Beat Generation, Sottsass lived the life of the Bohemian Renaissance man, travelling frequently (his favorite country was India, whose spiritual depth resonated and inspired him deeply), and always exploring different modes of visual expression, be they photography, painting, graphic design, or ceramics. A recent show at the Met Bruer titled "Ettore Sottsass: Design Radical," provided enlightening insight into the designer's expansive creative vocabulary, connecting the philosophical threads and influences across his wide spectrum of work. In the following excerpt from the essay "The Road to Memphis," editor Francesca Picchi describes the critical role painting had in developing Sottsass' revolutionary philosophies in design. For more on the fascinating life and oeuvre of seminal designer and architect, SOTTSASS, published by Phaidon, is the most comprehensive monograph to date.
...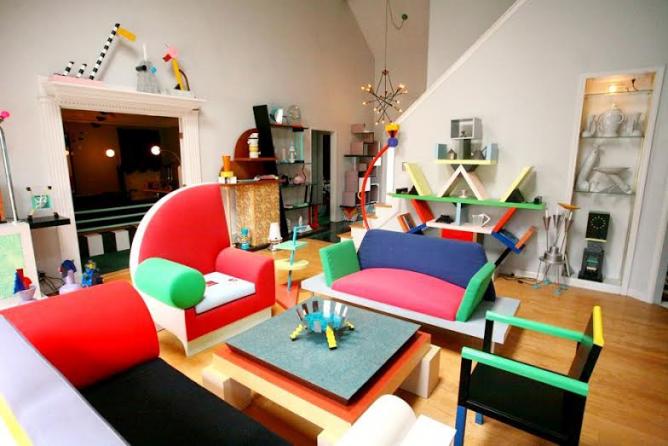 Room from the Memphis Design collection. Photo via The Culture Trip.
The period that runs from the late 1940s through all of the 1950s marks an era in which Sottsass "breaks more and more with rationality" and "more and more cultivates a friendship with expression," as he said on the occasion of his first solo exhibition at Carlo Cardazzo's Galleria del Naviglio, Milan, in 1955—the same space where Lucio Fontana had presented his Manifesto Blanco in 1951. In seeking to clarify his personal relationship with painting as an architect—almost as if to fend off any blame—he revealed, "personally, I started painting 'as a child' to experience the feelings that architecture would hint at but, after a certain point, couldn't satisfy." It is as if painting allowed him come to terms with his reaction to Modernism. Painting was where he felt most free. Meanwhile, post-war Milan was experiencing great turmoil. These were years of manifestos; painters would argue, take sides, organize conferences to discuss their positions, announce them and declare them publicly, create alliances, coalitions: abstraction versus realism, exponents of an imaginary Bauhaus against Ulm, and then there was spatialism, informalism... positions were explicit, and membership was the result of group re ections that were agreed upon collectively, the fruit of animated discussions.
Sottsass was very active. He organized exhibitions of paintings, spent his evenings at Bar Giamaica (a favorite haunt frequented by artists in Milan), was close to the artists of Forma 1 (Alberto Burri and others) and participated in the First World Congress of free artists on the theme "The liberal arts and industrial activities"—organized with Pinot Gallizio, Asger Jorn and the Situationists of the group Internationale Lettriste in Alba; the Dutch painter Constant also participated and he came into contact with Guy Debord. Meanwhile he kept company with artists, wrote about them in Domus, designed their houses, furnishing them with his objects, his lamps, ceramics... it's as if painting broadened his vision of the perception of space and of the objects that inhabit it, like centres from which new energies radiate. When he organized the international exhibition of abstract art in 1948 (at the Palazzo Reale in Milan) and the first Italian exhibition of abstract art (at the Galleria d'Arte Moderna in Rome), he was well aware that only in art would he be able to find the elements for expanding his vision of architecture. He stated it clearly in the text accompanying his first painting exhibition, "... it seemed that the Mondrians and Van Doesburgs and the movements that are now called 'Abstractionism' and 'Concrete Art,' or things like that, were intended as a means of supplementing the experience of architecture and it is for this reason that in '46, '47, '48 I was doing things like that."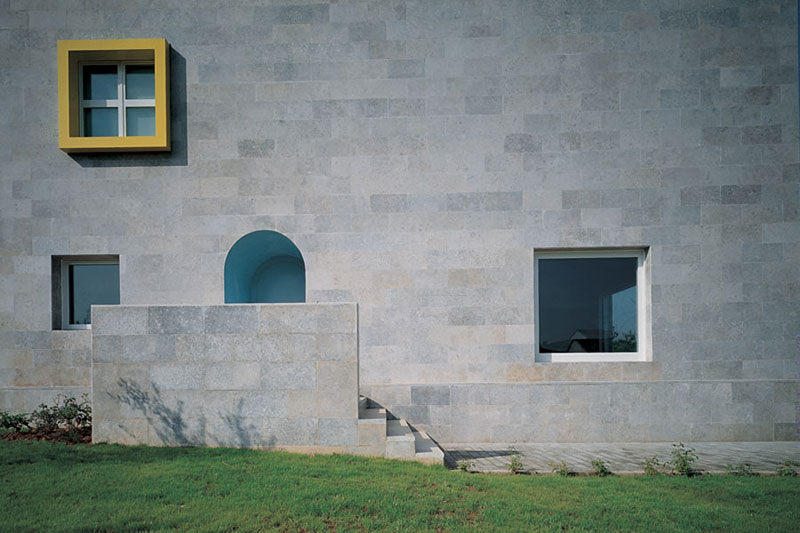 Casa Cei (1991-1993). Photo via Sottsass Associati.
In these years, his attention was focused on the relationship between painting and architecture. It's within the embrace of this relationship that he evolved his sensitivity to "plastic reality," that particular property, he explained, which touches "the reality of the relationships that things have, in view of the fact that they are placed in a space." It was in the context of this realization that he was able to grasp the power of objects, forms or signs to expand into space and radiate positive energy in all directions, like the warmth of the sun. James Irvine, his partner for a few years at Sottsass Associati, notes that, "When Ettore designed an object, he would always insert it in a space. He would always draw a room around it, as if he thought of it as already being placed in a context that he was simply tracing." Some fragments of a text by Fernanda Pivano (Sottsass's first wife) help to shed light on his never-ending exercise of investigating the profound and delicate power that things can exert on their surroundings, "Twenty years ago, when I was complaining because he wouldn't let me put something around the apartment, like a Mexican mask or a Peruvian mat or something like that, he would tell me that every object requires its own space where it is able to exist...he told me that the problem was having enough energy to enter another dimension." A significant article from 1957 entitled "Composizione di pareti" (Composition of walls) was published in Domus about his constant investigation into the power of things to resonate in space. It presented a project in which the idea was to integrate works by such artists as Alberto Burri, Giuseppe Capogrossi, Piero Dorazio, Achille Perilli and Emilio Scanavino into the space of a home. He explained that "this collaboration was possible because they are painters whose paintings tend 'to extend beyond the picture plane,' to become themes of light, of colour, of space in the places they inhabit"; so much so that Sottsass solved the composition by creating a seamless whole, a force field permeated by alternating tensions in which "the paintings become objects, along with the objects themselves: paintings and books, books and leaves, leaves and paintings, paintings and bowl, and so on."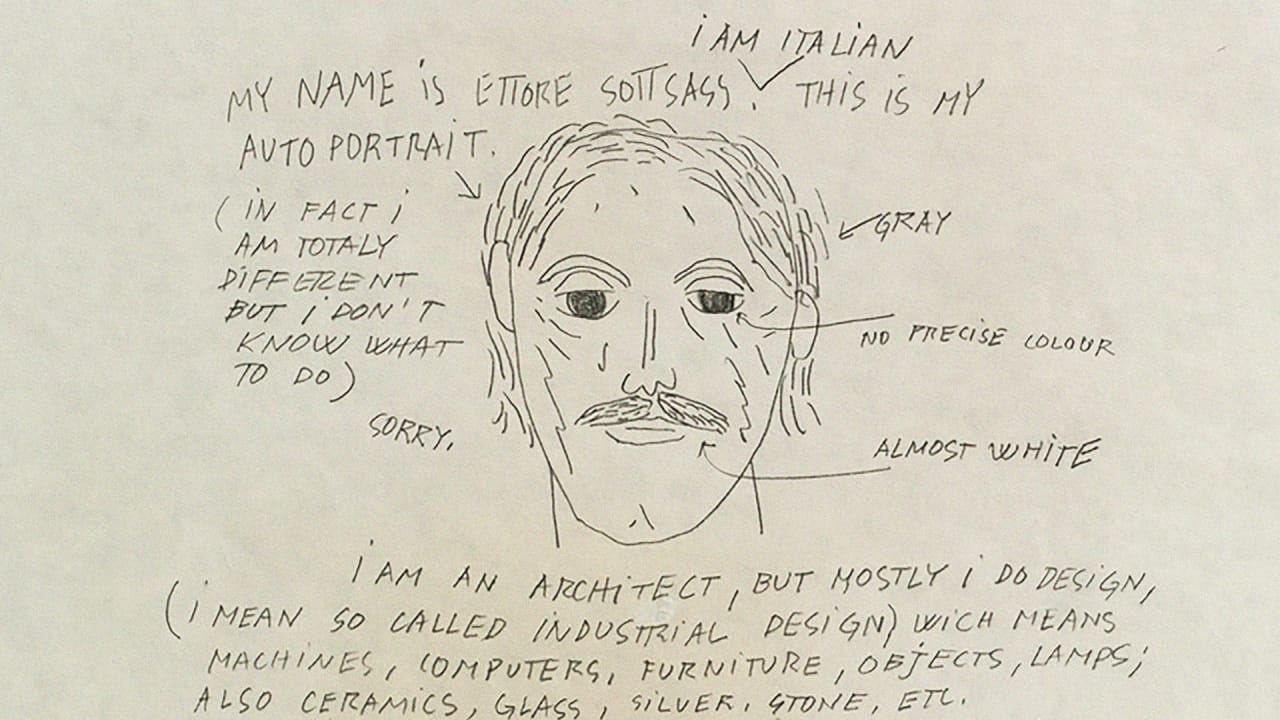 From Sottsass' "Autoportrait." Image via CoolHunting.
This assemblage of fragments and various references—both high and low brow— is crucial to understanding his formal language, based on the free circulation of ideas, the grafting of all kinds of imagery onto his innate curiosity for every form of life, especially the most marginal. His was a language open to the free flow of every possible "bastard situation" (as he happened to de ne his love for mixture and juxtaposition). The same notion is explained with manifesto-strength force in his Semitrattato provvisorio della pittura (Provisional Semi-Treatise on Painting) in which he explains, "I think that the world is made up of many things pieced together almost entirely by accident... By now, the world as a whole, I don't think there is any way to see it, or think about it, or imagine it all at once. We see it in pieces; we think it is made of pieces and that the pieces cannot be put together. If they fit together, it's by chance... in a space without coordinates, in a time without minutes."