Are you sick of JR yet? Between his Oscar nomination for the documentary Faces Places (2017), his recent profile by Anderson Cooper on 60 Minutes , and his gigantic instillation that turned heads at this year's Armory Show , the elusive French artist is everywhere. But we're definitely not sick of him. Not even close.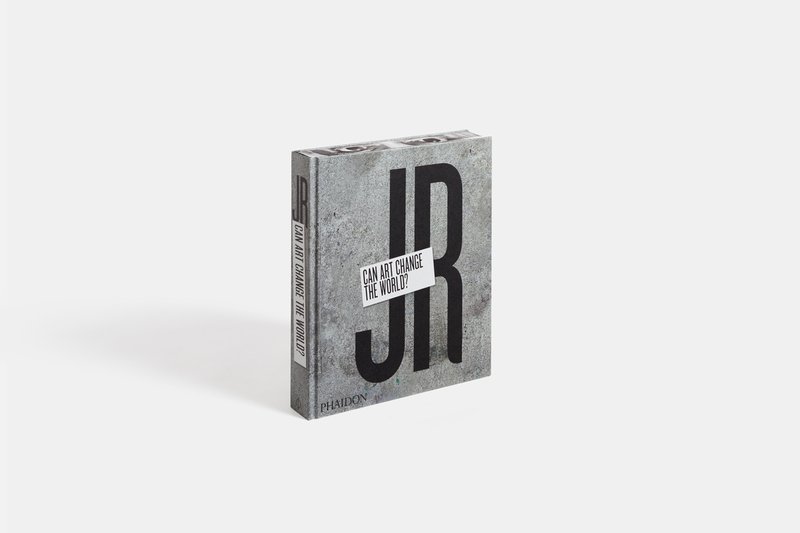 JR: Can Art Change the World is available on Artspace for $59
His transformative, ephemeral, bold, and often illegal artworks magnify people typically rendered invisible or marginalized. Like when he photographed women (who had been victims of war, rape, or political/religious fanaticism) going about their daily lives for his Women Are Heroes project, and posted the photos in their villages, neighboring cities, and even internationally to highlight the crucial role they play in society.Or his 2007 Face 2 Face series, which attempted to appease the Israeli–Palestinian conflict through juxtaposing jovial large-scale portraits of Israelis and Palestinians with the same profession in confronting, public locations—showing the humanity in both groups and that it's in fact difficult to even tell them apart. JR proclaims "Images are not special. It is what you do with them."
If you're not familiar with the trending artists work, you're in luck. Here, we've excerpted Phaidon's 2015 monograph JR: Can Art Change the World? to reveal what the artist has to say about some of his most powerful pieces.
Pasting of Ladj Ly in Les Bosquets, Montfermeil (2004)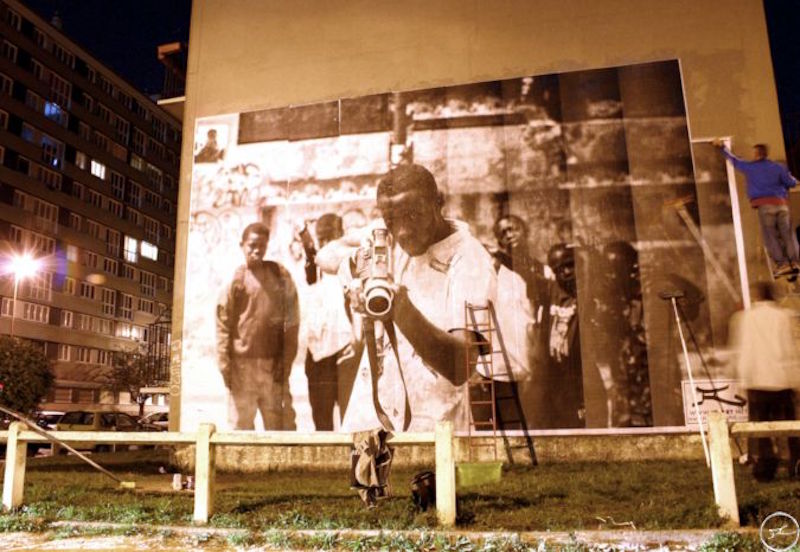 Image via JR-ART.net
This image was my first large-scale pasting using strips created on a large-format printer. We pasted at night and asked kids from the neighborhood to wait at the bottom of the ladder in order to create a crowd and avoid the police. I was pasting the second strip when we realized we made a mistake. We had to come back the next night! The pasting took eight hours with the help of all the community. Today, a pasting like this would only take us a couple of hours.
Photograph by Sergei Podlesnov, seen by JR, Grottaglie, Italy (2009)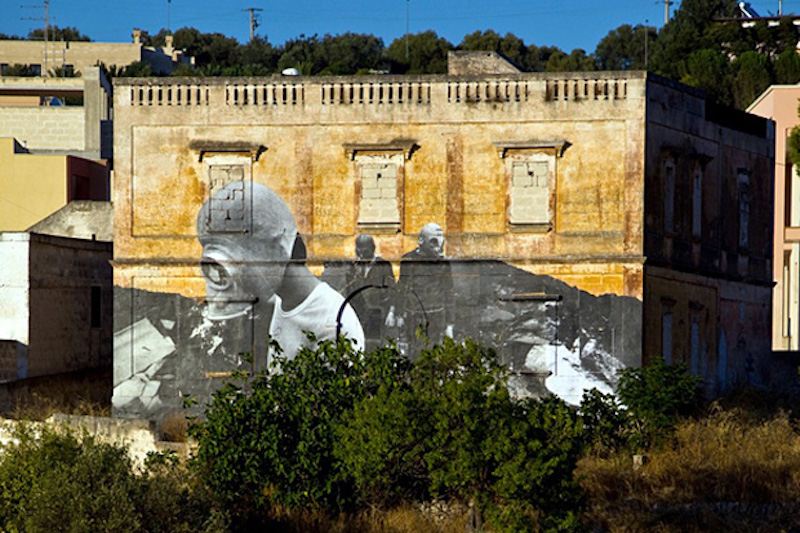 Image via Hypebeast. Courtesy of JR-ART.net
In the Unframed project, the power of the image comes from the location where it's pasted. This photograph originally taken in Chernobyl took on a whole other sense when it was pasted in Puglia, Italy, where the mafia illegally buries toxic waste in the land around the city, and the inhabitants suffer slowly.
Zhai Zhixin, Shanghai, China (2010)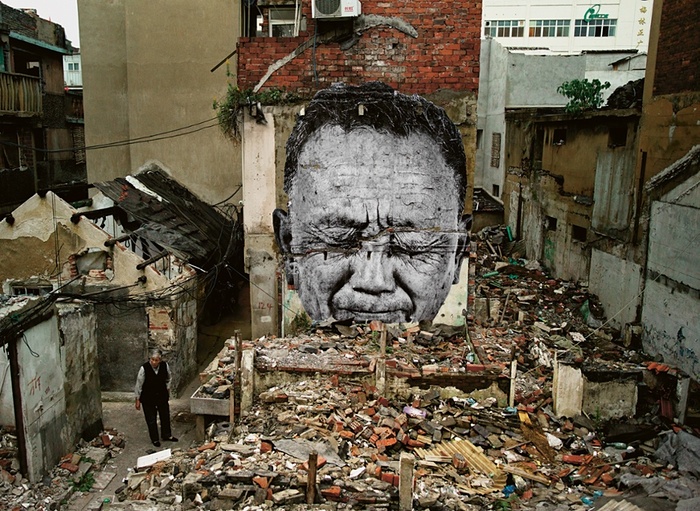 Image via JR-ART.net
Old neighborhoods in Shanghai are demolished to give room for skyscrapers. Often real-estate developers have trouble evicting the last inhabitants, who don't want to leave. These people allowed us to paste on their homes. They helped us, despite the difficulty of access to the locations and the pressure from the developers. The police came to visit us on this project.
B11, Destruction #8 Les Bosquets, Montfermeil (2013)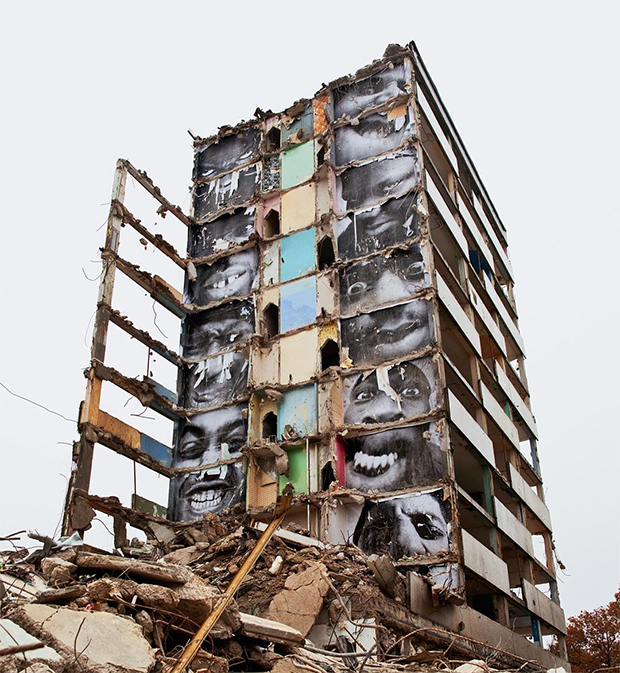 Image via JR-ART.net
These were the buildings in Les Bosquets where we did the first Portrait of a Generation actions. We heard that they were going to be demolished but we couldn't get authorization to paste inside. So we got plans from the former inhabitants, and we entered at night, twenty-five of us, and spread out over all the different floors. We pasted eyes in someone's kitchen, a nose in someone else's bathroom, and a mouth in a living room…When we came down, the police arrested us but they couldn't understand why we had just spent hours in this building that was about to be destroyed. The pastings were so big that they couldn't see what they were. The next day, when workers started the demolition, the portraits were revealed, little by little, while the cranes were "eating" the building. Only the people that were in the neighborhood that day witnessed the gigantic spectacle unfold.
Khyber Pakhtunkhwa Region, Pakistan (2014)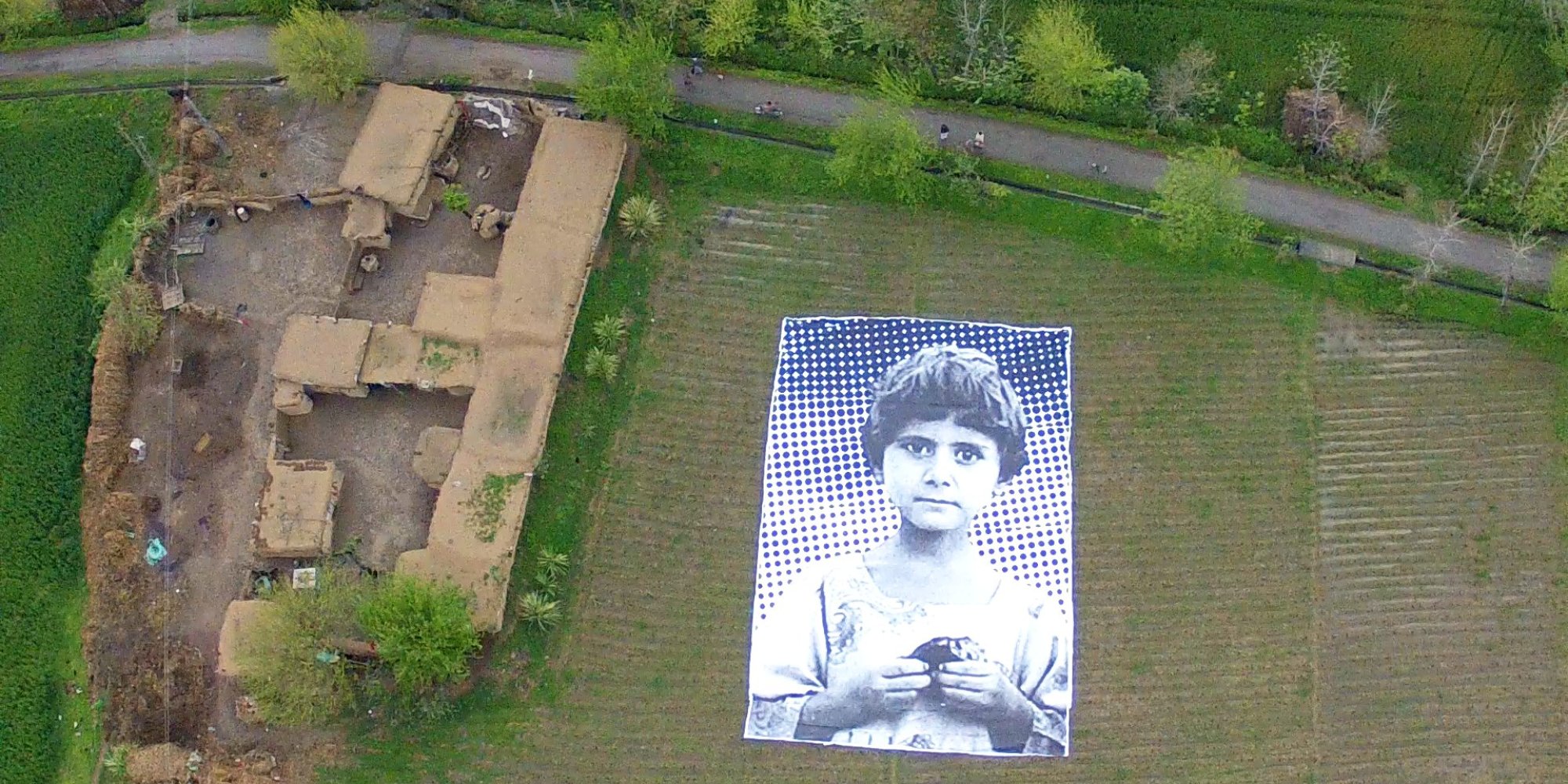 Photo via Huffington Post. Courtesy of JR-ART.net
Since 2004, drone strikes in Pakistan have killed over an estimated 3,000 people. While some of these were high-profile targets, a large number were civilians including 160 children. The people who operate the drones describe their casualties as 'bug splats,' since viewing the body through a grainy-green video image gives the sense of an insect being crushed. The organizers of this group action printed an extremely large-scale portrait of a child living in the area where the drones operated. This portrait was laid on the ground facing up, so that it would be captured by the drone cameras and transmitted to the drone operator's screen. The media response to this image was tremendous.
Ellis Island Main Immigration Building, c. 1892 – 1930 (2014)
Photo via Observer. Courtesy of JR-ART.net
I saw pictures of the abandoned hospital on Ellis Island, and I really wanted to bring Unframed there. But it was very derelict and it took me three years to gain access to it. In 2014, when the project was given the go ahead, archival images taken from the museum could live again in the very place they were taken, on the walls of buildings that had been closed since 1954. It is crazy to think the Statue of Liberty was so near, and yet many immigrants died in this hospital or were sent back to where they came from. Today, the project is a permanent exhibition that anyone can visit, with a hard hat tour.
Elmar , Flatiron Plaza, New York (2015)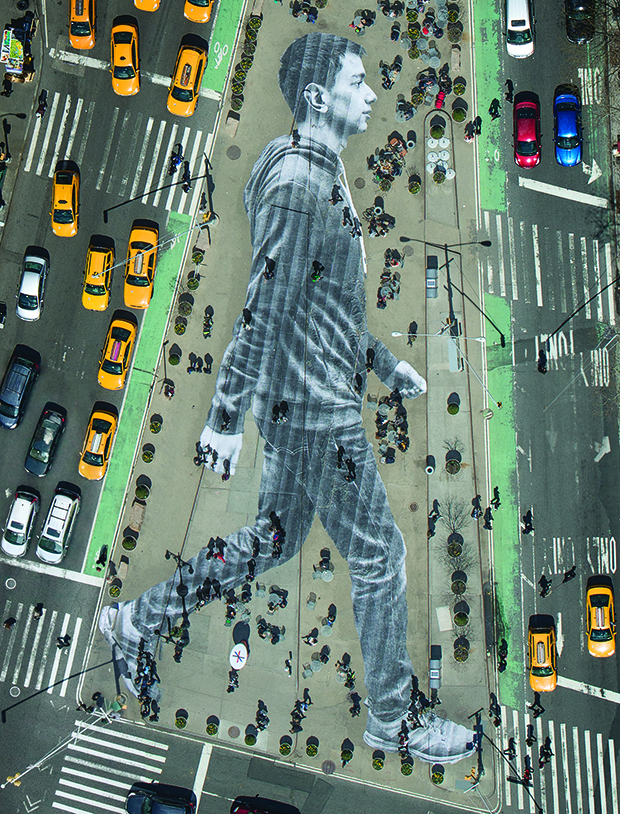 Image via JR-ART.net
This was a project on anonymous immigrants who arrive everyday in New York. All day long people walked on this pasting without realizing what it was—it was over 50 meters (150 feet) long. It was only when I photographed it from a helicopter and the image was published on the cover of The New York Times Magazine, that people noticed it; then the focus flipped—the guy in the photo, Elmar, a recent immigrant from Azerbaijan, was in the spotlight, and the pedestrians walking over it became the shadows.
[related works]