For artists, revenge is a dish best served in the Museum of Modern Art.
On the museum's website, next to an image of Mary Heilmann'sTehachapi II, 1979 is a small gray rectangle: "Recent acquisition." There's another such banner next to her Little Three for Two: Red, Yellow, Blue, 1976. The additions last year boosted to five the number of the artist's works in the MoMA collection, just in time for her 75th birthday.
About time?  
Known for her geometric paintings of sexy, juicy, loose color, Heilmann has outlasted her lessors. She's gone from California surfer-girl ceramicist in the 1970s to New York abstract painter—with nods to both Pop and Punk—a decade later, to eminence gris, School of Visual Arts professor and a potent influence on a younger generation of artists today. In the last decade she was "rediscovered," as so many female artists are being these days, with a regularity that would be annoying were it not so merited.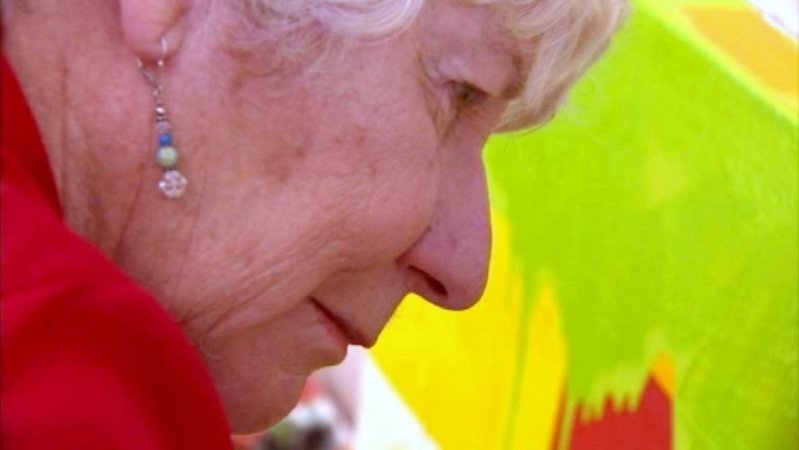 Mary Heilmann, Courtesy Art 21
Heilmann's CV, if you read between the lines, tells you all you need to know about why she's still in the conversation. "Pat Hearn 1986," brands her as in with the East Village cool kids a generation ago; her inclusion as a source in Ann Fensterstock's 2013 Art on Heithe Block: Tracking the New York Art World From SoHo to the Bowery, Bushwick and Beyond history deepens that cred. She's been in three Whitney Museum of American Art Biennials decades apart ('72, '89, '08), a nifty and uncommon achievement.  
This month, Whitechapel Gallery in London is presenting "Looking at Pictures," a retrospective of decades of her work. To mark the opening of the exhibition, here is a primer on the arc of Heilmann's career.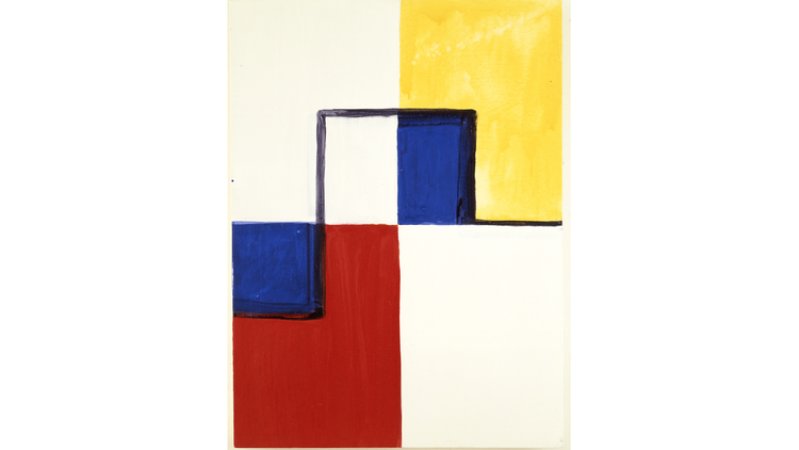 The artist earned a BA from UC Santa Barbara in 1962 and a Masters from UC Berkeley five years later—then immediately headed to New York. Heilmann spoke at a German museum in 1993 about the upheaval of her migration East: "I came to New York in 1968, which was a very hot time in New York. And I came because my friend Richard Serra was already there, and we had been in college together. So he introduced me to the scene there. And I came as a sculptor. … When I got to New York, it looked like all the slots for sculpture were taken [by Donald Judd, Robert Smithson,Bruce Nauman, Serra]. And so it was at that time that I switched over to being a painter. And that switch was a very aggressive and antagonistic move."
Back then, the art world was defined by a Clement Greenberg-ian formalism, all-male, all-power painting. Yes, she did gestural grids and geometrics, nominally fitting into the trends, but the trick with hers was that they felt organic, in movement. Her work was too "loose" she says, to fit in with the Robert Rymans of the world.
So, she hung out with the crowd at Max's Kansas City, but wasn't quite accepted into the boy's club. She was, however, featured in one of pioneer dealer Holly Solomon's first shows, an important footnote in art history.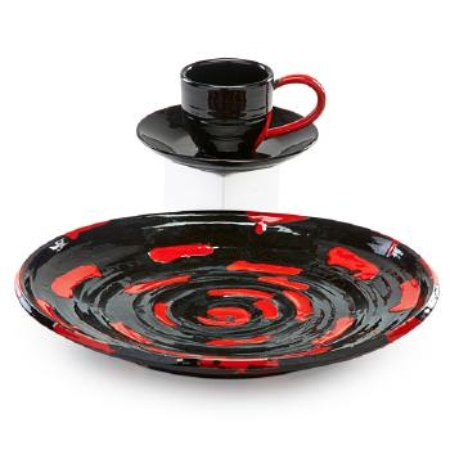 Charger, circa 1983, by Mary Heilmann


AROUND THE WORLD
The 1980's and 90's were a period of high productivity for the artist, but not a period of high profile, at least the in U.S. Her work was cited, when it did appear, in articles on discrimination in the contemporary art world that usually concluded, yes, indeed, there was some. Nonetheless, from 1986 on, she had a solo show somewhere in the world every other year or more, a record any artist would envy. Her work was embraced in Germany in particular, and she continued to show regularly, at Hauser & Wirth In Zurich and London and, starting in 2005, 303 Gallery in New York.
Over time, her paintings became less formal and a little more woozy, the palate went from primary colors to jewel tones, squares and rectangles gave way to the occasional rogue polka dot.
Heilmann had been a ceramicist at Berkley and, as she matured, she pulled that expertise into her practice, though it was exceptionally rare at the time for painters to also work in clay. Photography and furniture followed, as she presaged the current art world by showing little respect for boundaries between media. What the works generally shared was a California aesthetic, a richness of color, and nod to geometry.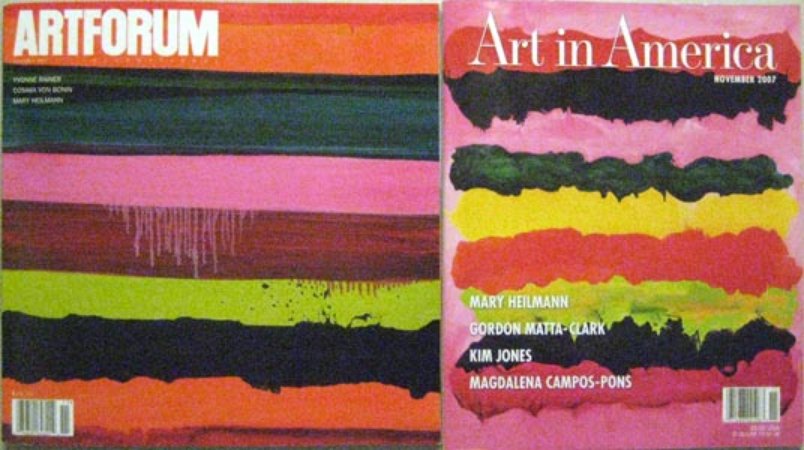 Heilmann, "rediscovered," made the cover of two art magazines in November 2007

THE ART WORLD APOLOGIZES
At the turn of the century, Heilmann's reputation began to grow and her paintings began to appear at auction in Europe, several selling for $20,000 to $30,000. Her "resurrection" was complete when she pulled off an achievement evocative of Bruce Springsteen's appearance on both the covers of Time and Newsweek in a single week in 1975. In November 2007, a Heilmann ran on the cover of Art Forum and Art in America.
The latter painting, Surfing on Acid, became perhaps her most famous work, and the topic of an essay by critic Dave Hickey. Hickey, writing beautifully in 25 Women: Essays on Their Work, says of Heilmann that among the entire generation of artists who embarked on second acts in their careers following AIDS, the shooting of Andy Warhol, and seismic shifts in the New York art world, "Mary Heilmann's has to have been the bravest and most subversive, the one that actually raises the bar."
The following year, a traveling retrospective of her work organized by the Orange County Museum of Art, "Mary Heilmann: To Be Someone," landed at the New Museum.At a charity auction for the Museum, her lush 1982 Pink Shoulders brought a record for the artist of $112,500.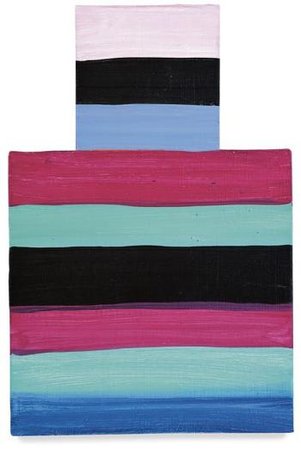 Pink Shoulders, 1982, by Mary Heilmann
SUNSET AT THE WHITNEY, AND WHITECHAPEL
The high auction price brought other Heilmann's onto the market and in 2013 a sale at Sotheby's brought $194,500 for a 1976 work in bright primary colors, a record that still stands. Her Sunset commission opened the Whitney downtown in 2015, an outdoor installation of 40 handcrafted brightly colored chairs on its terrace, deceptively simple yet highly memorable. It was among the most commented-upon and photographed works in the "new" Whitney.
Now the artist gets her first UK retrospective with the Whitechapel show, running June 8 through August 21 and curated by Lydia Yee, chief curator with Habda Rashid, assistant curator. The exhibition showcases decades of Heilmanns and argues that her "dazzling" work fuses the autobiographical, the formal, pop culture and craft traditions.
Visitors, charmingly, can view the show sitting in Heilmann chairs.