One of the most coveted artists on the planet, Takashi Murakami has gripped the imagination of collectors and curators around the world with his anime-inspired Superflat art, a movement created by the artist that refers to the flattened aesthetic of Japanese graphic art forms, from traditional ukiyo-e woodblock prints to contemporary animation, as well as to the shallowness of contemporary consumer culture. Here is a primer on several of Murakami's signature themes, series, and characters.
FLOWERS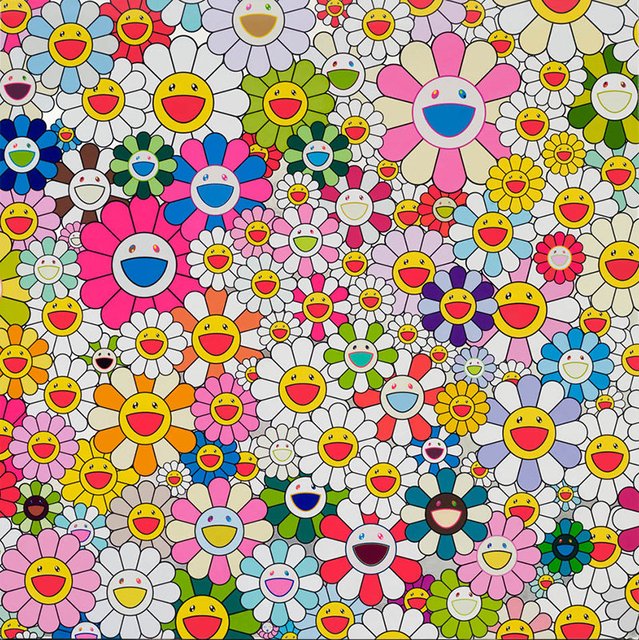 Maiden in the Yellow Straw Hat is available for $3,063 or as low as $220/month
Perhaps Murakami's most emblematic motif, these candy-colored, smiling flora came into the artist's work when he was preparing for his entrance exams for the Tokyo National University of Fine Arts, and he embraced the form over nine years teaching prep-school students to draw flowers (even though, as he once said, "I didn't like flowers").
MR. DOB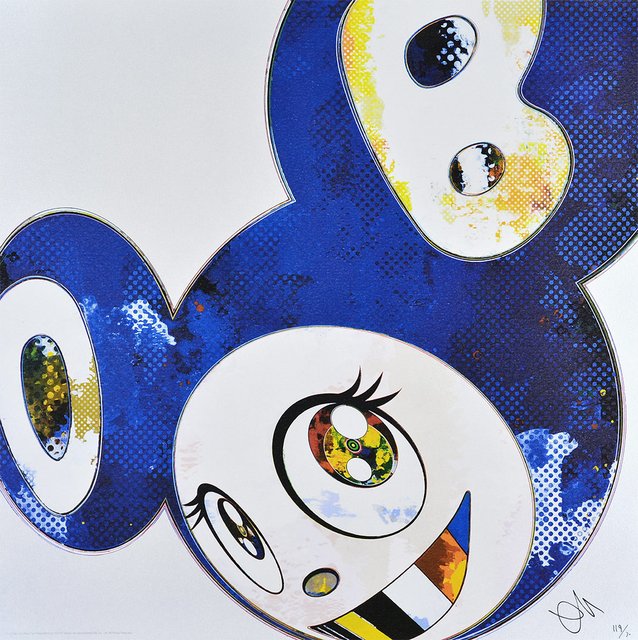 And Then x 6 (Blue: The Polke Method) is available for $2,190 or as low as $174/month
Murakami's recurring characters each represent a different part of his psyche, and Mr. DOB—whose name plays on the slang expression "dobojite," meaning "why?"—was originally created as a statement that Japanese art doesn't need to imitate American art, and should find its own means of expression (a point somewhat complicated by those Mickey Mouse ears).
KAIKAI KIKI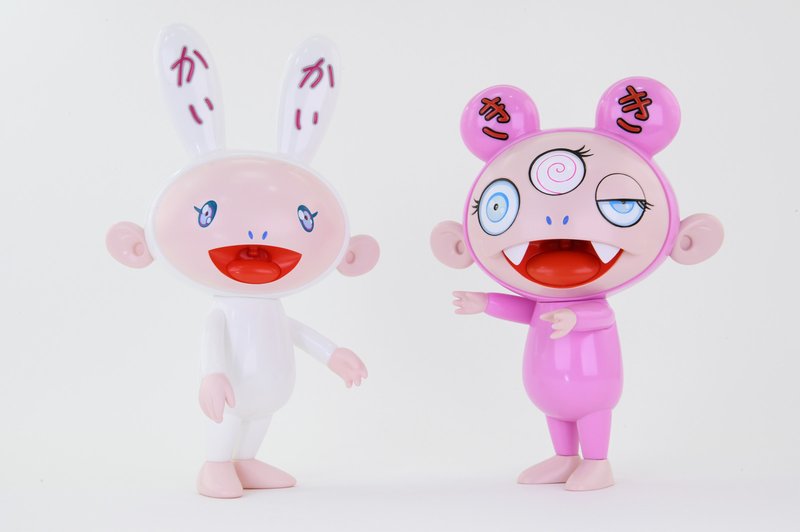 Kaikai & Kiki Set (Blue Eyes) is available for $3,492 or as low as $251/month

With names that translate roughly as "bizarre, yet refined"—an homage to the famed style of a 16th-century Japanese artist—these two impish characters reappear again and again in Murakami's work as the artist's spiritual guardians as well as the official mascots of his production company.
JELLYFISH EYES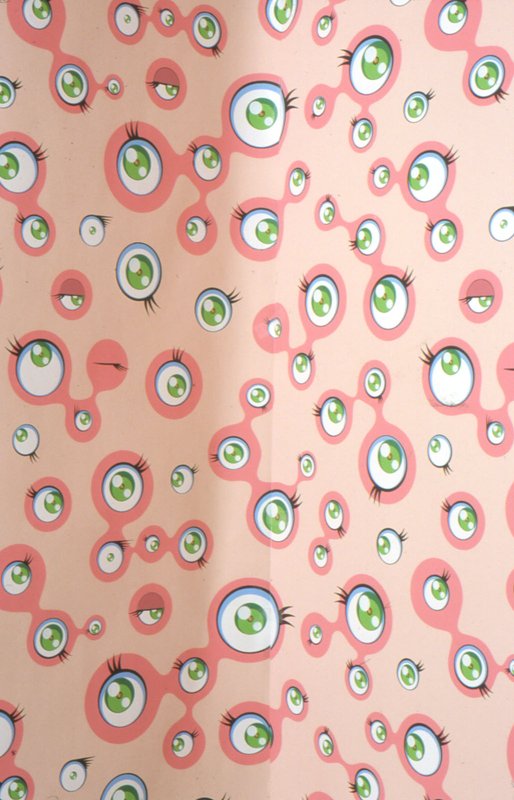 Jellyfish Eyes (wallpaper) is available on Artspace. Please inquire for price.
A trippy creature modeled after a Japanese monster called Hyakume (or Hundred Eyes) combined with elements of Humpty Dumpty, this character also lends its name to Murakami's first feature-length movie, a CGI-powered extravaganza that brings the artist's fantastical characters to life as the main attractions of an environmentally conscious monster movie.
MISS KO2

Miss KO2. Image via learner.org.
Inspired by anime and manga characters, Miss Ko2 is based on a "fighting 'bisyoujo' (Japanese slang for beautiful young girl) character from the game Viable Geo. Depicting an attractive blonde girl, the sculpture alludes to the eroticized figures in Japanese cartoon culture. Miss Ko2 was the first of Murakami's characters to appear as a three-dimensional work, serving as a point of departure for the rest of his sculptures—one of which, the 1998 My Lonesome Cowboy, sold at Sotheby's for $15.2 million in 2008.   
LOUIS VUITTON COLLABORATION


Takashi Murakami x Louis Vuitton S/S 2003 bag. Image via Highsnobiety.
In 2002, Murakami was invited to collaborate with fashion house Louis Vuitton on a series of accessories, for which he reinvented their signature monogram in a variety of candy-colored hues. Murakami later re-appropriated the monogram into his own work, further blurring the boundaries between high art and popular culture. As part of his 2008 retrospective at the Los Angeles Museum of Contemporary Art, "© Murakami," which later traveled to the Brooklyn Museum, pop-up Louis Vuitton boutiques were constructed inside the museum selling Murakami-designed Vuitton merchandise and limited-edition prints. As the artist stated, "The shop project is not a part of the exhibition; rather it is the heart of the exhibition itself." 
THE CREATURES FROM PLANET 66


Planet 66. Image via Artnet.
In 2003, Murakami was commissioned to design characters for Tokyo's Roppongi Hills real-estate development. Known collectively as "The Creatures From Planet 66," these smiling characters travel throughout the world on a mission to spread happiness and knowledge. 
MUSHROOMS


Anthropomorphized mushrooms, their caps dotted with blinking eyes, are another signature motif in Murakami's work. As the artist has stated, "For me they seem both erotic and cute while evoking—especially for the Western imagination—the fantastic world of fairy tale. I thought that, by uniting the eroticism and the magic side of mushrooms, I could use them as motifs in my work."
DARUMA


Hearkening back to the iconography of classical Japanese art, these portraits of Daruma—the founder of Zen Buddhism, who according to legend meditated in a cave for nine years until his limbs fell off—take on a much more modern, uncertain, and indeed zonked-out cast in Murakami's hands in a way that both pays respects to tradition and breaks away from it.
To browse available work by Takashi Murakami, click here.
[murakami-module]
RELATED ARTICLES:
Are Brand Collaborations the Future of Art? A Conversation With New Art Advisors Alliance Co-Founder Teriha Yaegashi