Is it just me, or does it feel like miniatures are having a serious moment in 2018? From the film Hereditary to HBO's Sharp Objects and even Netflix's recently released show The Haunting of Hill House—small-scale replicas seem to be increasingly creeping up (and creeping us out). But then again, miniatures are nothing new, and certainly not exclusive to horror. Miniature art actually dates back to over 1,000 years, originating from medieval illuminated manuscripts. Lisa Robinson discusses this timeline in A Brief History of Modern Miniatures. The small scale of these religious illuminated manuscripts allowed them to be portable, in an effort to spread the gospel message. Later on, miniature artists painted tiny portraits for the wealthy on vellum or ivory, so they could be easily carried—the same way we whip out our phones to show others pictures of our kids (or cats). Contemporary miniature artists, whose work comprises a wide array of media and subject matter, typically shrink the piece no more than a 1:24 scale of the original subject.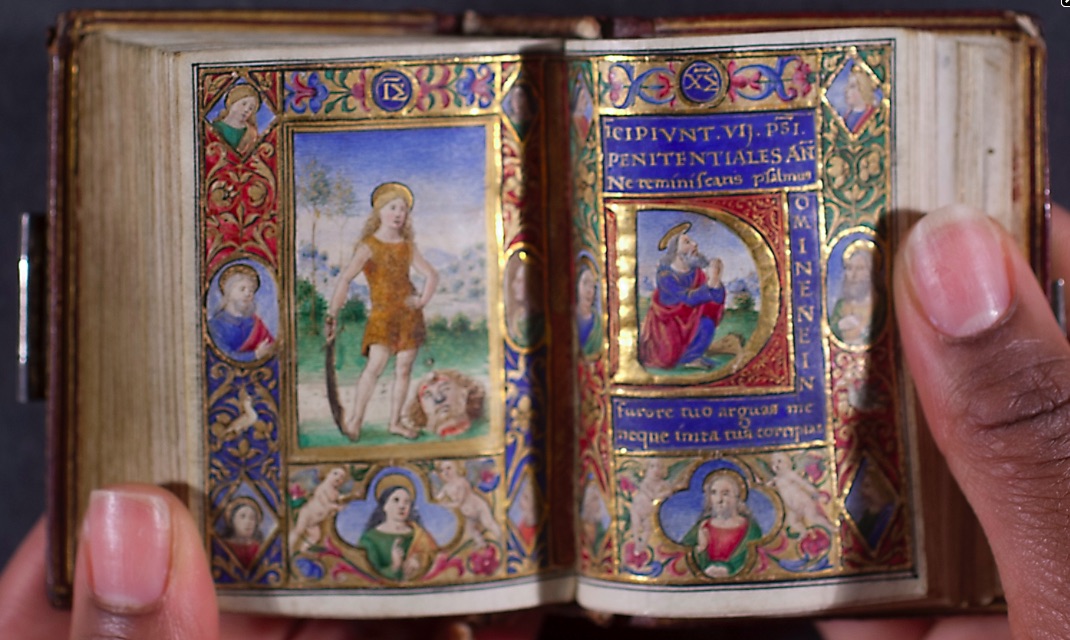 Miniature Book of Hours, Codex Manuscript 001054 © Rauner Special Collections Library. Image via Medieval Fragments.
So why are these miniature artworks so good at conveying dark and spine-chilling messages? We can answer this question by looking through the lens of feminist theory, psychoanalysis, and Mark Fisher's book The Weird and the Eerie. When applying these ideas, it's evident that miniatures are the perfect paradoxical symbol—they unthreateningly put the viewer/artist in control, but simultaneously highlight the fact that our lives are ultimately governed and shaped by unknown forces. This contradiction confronts us with a truth that's both "weird and eerie," and consequently leaves us freaked the F out.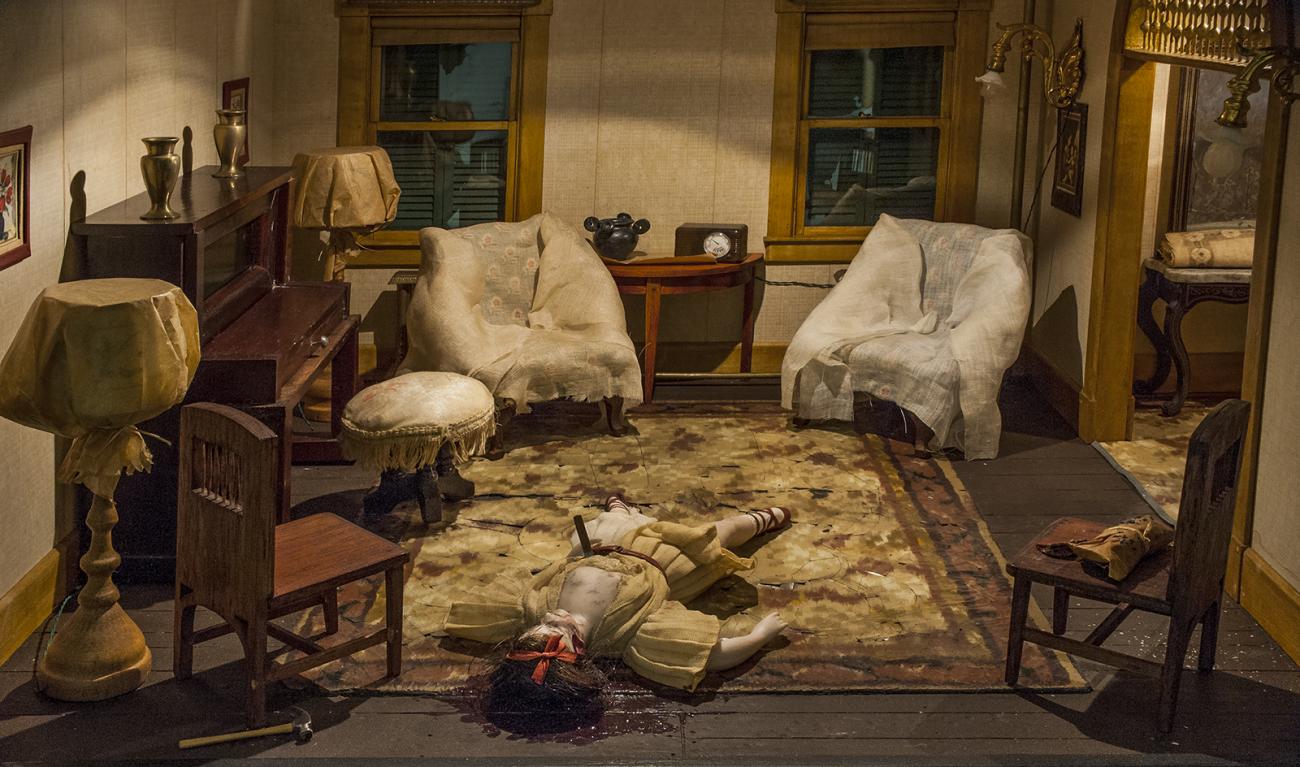 Frances Glessner Lee, Parsonage Parlor, about 1946-48. Collection of the Harvard medical School, Harvard University, Cambridge, MA, courtesy of the Office of the Chief Medical Examiner, Baltimore, MD. Image via Smithsonian American Art Museum.
First, let's start by discussing miniatures' gendered characteristics, because let's be real, miniatures are cute and cute is feminine. Sianne Ngai unpacks this concept in her essay The Cuteness of the Avant-Garde. Ngai emphasizes that cuteness is associated with smallness, gentleness, and malleability, which conjures up affects like helplessness and weakness. Amusingly, Frances Glessner Lee, an artist, criminologist, and first female police captain in the U.S., challenged the perception of miniatures as feminine when she created complexly detailed miniature crime scenes to help homicide investigators solve deaths.
In October of last year, the Renwick Gallery of the Smithsonian American Art Museum organized the exhibition Murder Is Her Hobby: Frances Glessner Lee and The Nutshell Studies of Unexplained Death to display her miniature pieces for the first time since 1966. Each scene, or "nutshell," depicts unresolved cases of homicides, suicides, and accidental deaths. Lee's meticulous detail includes tiny hand-knit stockings, minuscule letters written with a single-hair paintbrush, and working locks for small windows and doors. While miniature making, a domestic craft typically associated with "women's work" and femininity, Lee subverted this notion early on by creating replicas of gruesome crimes to help revolutionize a male dominated field. The mini true crime dioramas are still used in homicide training today, as they help investigators see the big picture.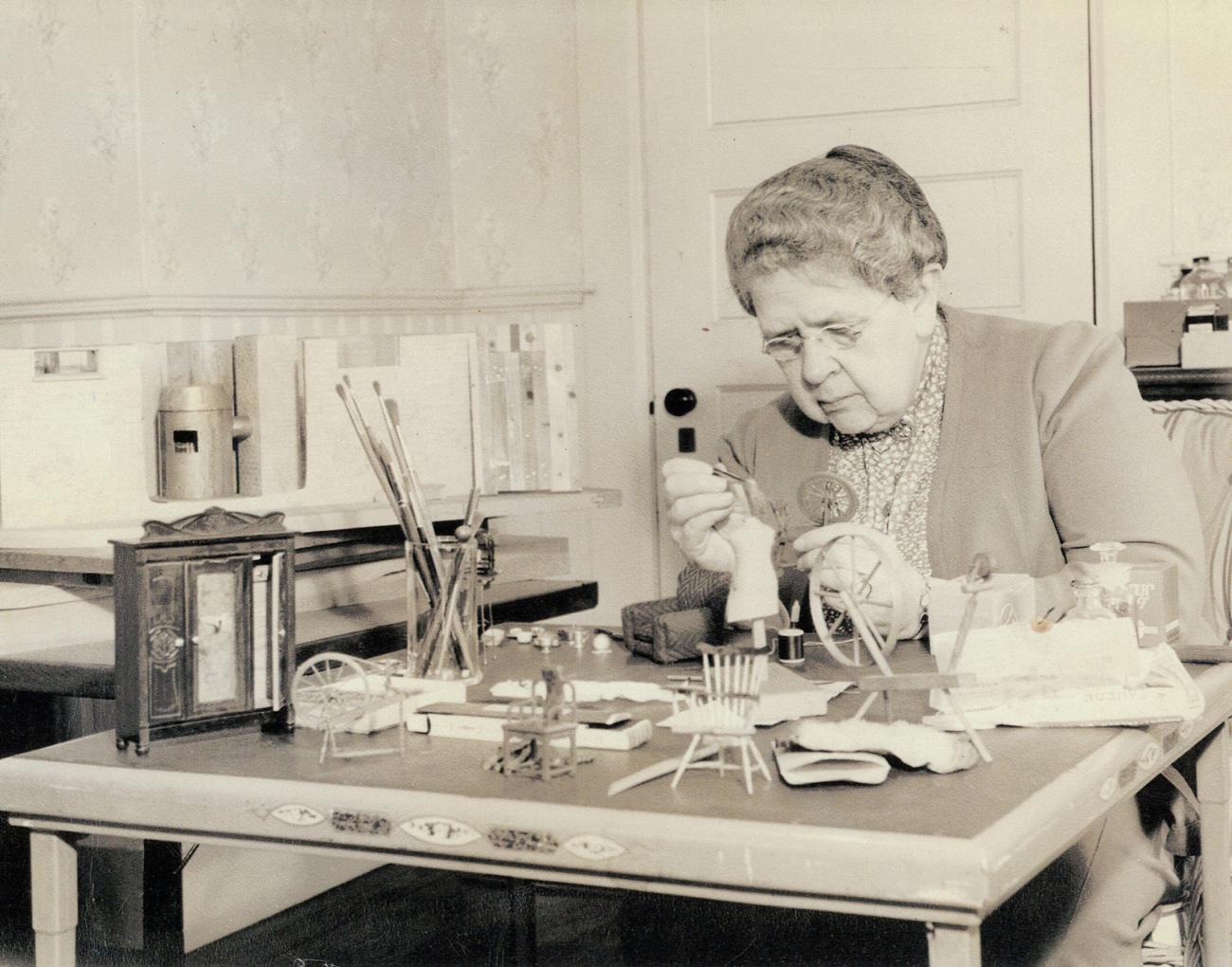 Frances Glessner Lee at work on the Nutshells in the early 1940s. Image courtesy Glessner House Museum, Chicago, IL via Smithsonian American Art Museum.
The gendered aspect of miniatures is also evident in the dollhouse from HBO's miniseries, Sharp Objects. The dollhouse, which is an exact mini model of the Preaker family manor in which it's housed, appears symbolically throughout the show. Culturally, dollhouses have been targeted to little girls as a play toy. Psychologist Susan Scheftel writes about the psychoanalytic value these toys have; kids can create narratives in a safe space that reflect much about their own lives and subconscious. In her article, Welcome to the Dollhouse: The Therapeutic Power of Miniature Worlds, Scheftel explains, "dollhouse play weds ordinary elements of everyday life to a fantasy narrative that a child can customize and control." In Sharp Objects, the dollhouse symbolizes the obsession with control that Adora Crellin (Patricia Clarkson) has passed down to her adult daughter Camille Preaker (Amy Adams) and 14-year-old daughter Amma Crellin (Eliza Scanlen). A Vulture article discloses how Amma's traumatic environment shaped her, and in response she recreated that environment through her dollhouse, and made it even more "ghoulish."
Still from HBO's Sharp Objects. Image via Vanity Fair.
Ngai's essay about cuteness states, "We can thus start to see how cuteness might provoke ugly or aggressive feelings, as well as the expected tender or maternal ones. For in its exaggerated passivity and vulnerability, the cute object is as often intended to excite a consumer's sadistic desires for mastery and control as much as his or her desire to cuddle." Amma certainly projects her desire for control onto her dollhouse. The Sharp Objects miniature's unaggressive, "cute" identity makes it seem unthreatening, and therefore effectively elicits shock and horror when the unassuming dollhouse in fact reveals a frightening truth (without spoiling too much for those who haven't seen the show).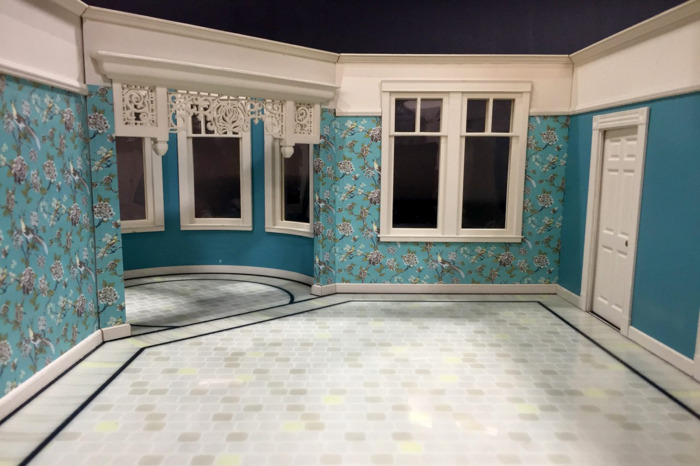 Adora's bedroom in the Sharp Objects' dollhouse. Image via Vulture.
The viewer is left with a feeling that Mark Fisher might refer to as "the weird and the eerie." For Fisher, "weirdness" is caused by the occurrence of "that which does not belong"—something is there that shouldn't or couldn't exist. On the other hand, "eeriness" is generated when something is missing, like "landscapes partially emptied of the human." Fisher writes that the weird and the eerie both share a preoccupation with "the strange." He defines the strange as "that which lies beyond standard perception, cognition and experience." In his essay, Fisher uses Stanley Kubrick's horror film The Shining as an example of "the weird and the eerie"—a film that, interestingly enough, includes a miniature.
In the movie, Jack Torrance (Jack Nicholson) stares menacingly over a mini replica of the giant hedge maze that sits on the grounds of the Overlook Hotel. An overhead shot of the miniature hedge maze morphs into a bird's-eye-view shot of the actual hedge maze, where Jack's wife and son, Wendy Torrance (Shelley Duvall) and Danny Torrance (Danny Lloyd), are playing. This transformation slightly distorts the viewer's sense of reality, and symbolizes the overarching supernatural powers controlling Jack, and looming over Wendy and Danny. Fisher explains that an eerie dimension of The Shining "is that the apparitions which alternately seduce and menace Jack are creatures like himself, hapless individuals who have been drawn into the Overlook's fatal influence. What remains undisclosed is the nature of the forces that actually control the hotel."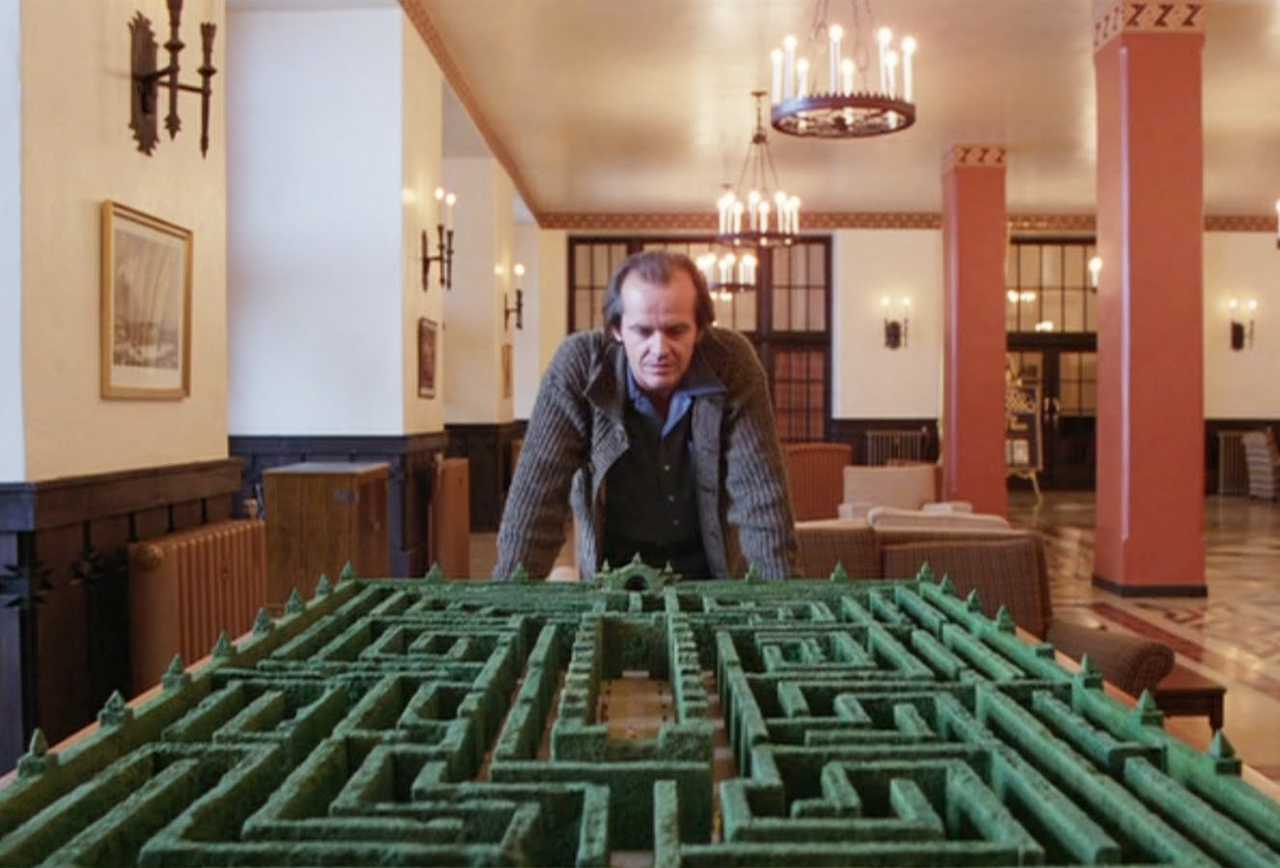 Still from Stanley Kubrick's The Shining. Image via Thrillest.
The miniatures in the terrifying film Hereditary serve a similar purpose, to represent the lack of control that the Graham family members have over their fates. The movie's main character, Annie Graham (Toni Collete), creates miniature figures and dollhouses for her profession. "Weirdness" ensues, when we realize there are larger supernatural forces haunting the Graham family in their house, presences that should not exist in reality. For this reason, the miniatures are a perfect metaphor for the situation, since the characters, like dolls in a house, are being manipulated by something unknowable.

Ari Aster, the movie's director, told Variety that the film "preys on the fears that don't really have a remedy. What do you do with a fear of death? What do you do with the suspicion that you don't really know the people you're closest to? What do you do with fear of abandonment?" In other words, the movie plays on fears that are outside of our control. The miniatures additionally serve as a symbol for Annie Graham's mindset, and the mental control she has over her actions. Spoiler alert, but the miniatures are eventually destroyed, representing Annie's ultimate hopelessness and lack of agency.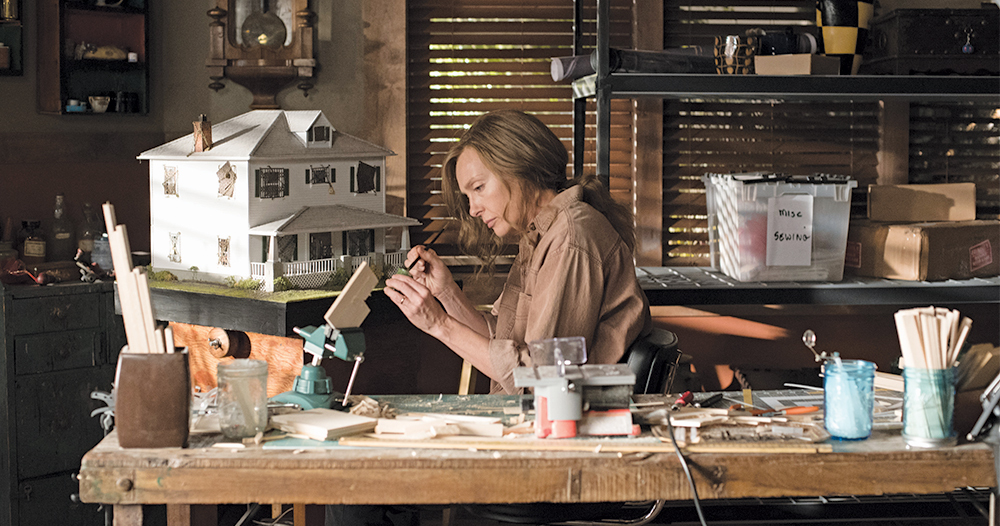 Still from Ari Aster's Hereditary. Image via Variety.
Another "weird and eerie" miniature that tells the tale of psychological distress and manipulation is artist Sarah Anne Johnson's artwork House on Fire (2009). In the late 1950s, Johnson's grandmother, Velma Orlikow, willingly entered treatment for extreme postpartum depression at Allan Memorial Institute in Montreal, where renowned Dr. D. Ewen Cameron treated her. Unbeknownst to Orlikow and her family, her treatment was part of the covertly sponsored MK-ULTRA mind-control program, where the CIA conducted brainwashing experiments involving LSD, shock therapy, medically induced prolonged sleep, and sensory deprivation.
For several years, Orlikow was involuntarily subjected to this cruel torture. Johnson's nightmarishly detailed dollhouse—the roof is on fire, there are melting kitchen walls, and a nude old lady figurine (presumably Orlikow) dances nude in the attic with a doctor—is the artist's depiction of her grandmother's physical and psychological anguish, filtered through her own childhood memories as well as first- and second-hand accounts. House on Fire is on view at the Met Breuer until January 6th as a part of the exhibition Everything Is Connected: Art and Conspiracy.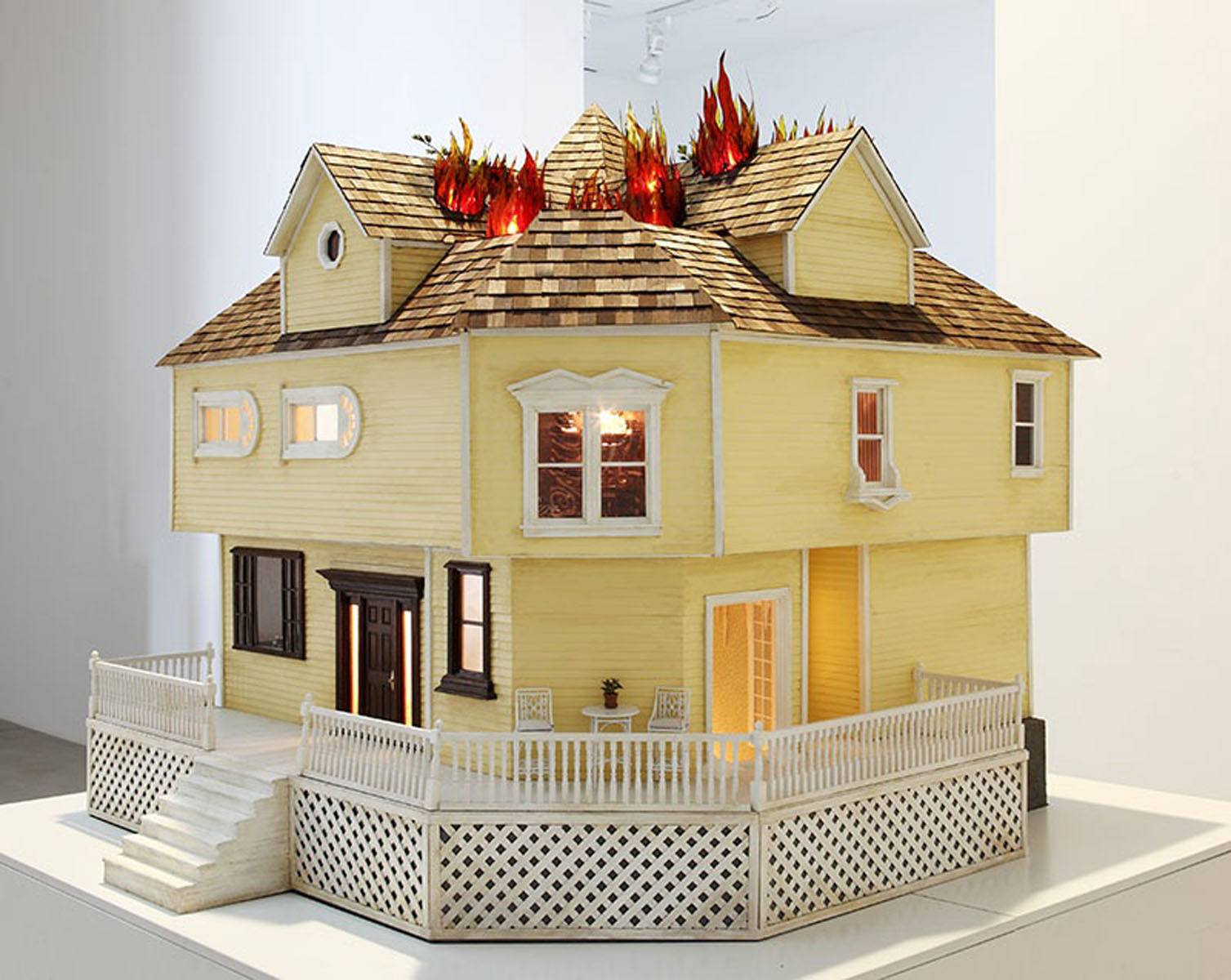 Sarah Anne Johnson, House on Fire (2009). Image via the artist.
The fear of the unknown drives artists Lori Nix and Kathleen Gerber, who create miniature models of post-apocalyptic scenes that they then photograph. Each laborious diorama can take around seven months to handcraft (using impermanent supplies like cardboard, foam, and glue that they recycle after each shoot) so they typically only produce two photographs a year. Nix told Colossal, "I am afraid of what the future holds if we do not change our ways regarding the climate, but I am also fascinated by what a changing world can bring," Nix told Colossal. "I think this is part of why we make the work we do, to try to reconcile these different attitudes." By giving the viewer an overarching view of a "weird and eerie" landscape—people are not only missing, but there's nature growing where it shouldn't—we're forced to embrace an imagined world that could potentially be very real in the future (eek!).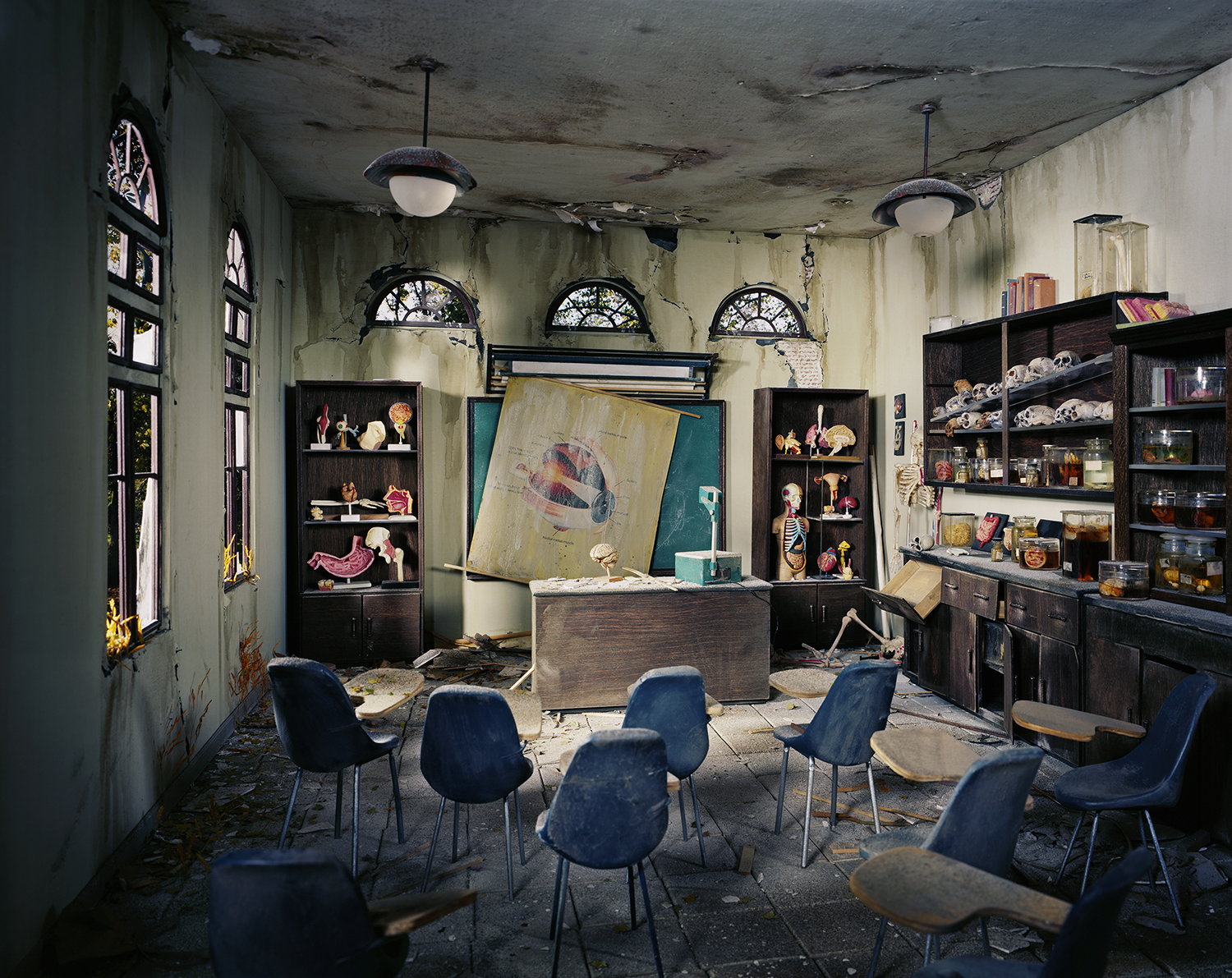 Lori Nix/Kathleen Gerber, Anatomy Classroom (2012). Image via the artists.
Sculptor, Thomas Doyle, also creates unsettling miniature worlds, where idyllic scenes are disrupted and warped in some manner—for example, with a devastatingly large hole in the yard, or a buried house. These "weird and eerie" elements that don't belong create a tension in the work; and the omnipotence that Doyle evokes by making the viewer an all-seeing eye, also leaves us at a distance, since we're unable to fully immerse ourselves in the tiny piece. Doyle told Vice's Creators, "Working in a small scale gives me the opportunity to create something that is both 'real' and 'unreal' at the same time. Conversely, the creation of small worlds gives us the illusion of control. In a world that grows ever more faster and chaotic, in a world in which we are bombarded with imagery, artworks in small scales allow us a place of retreat, where time has stopped."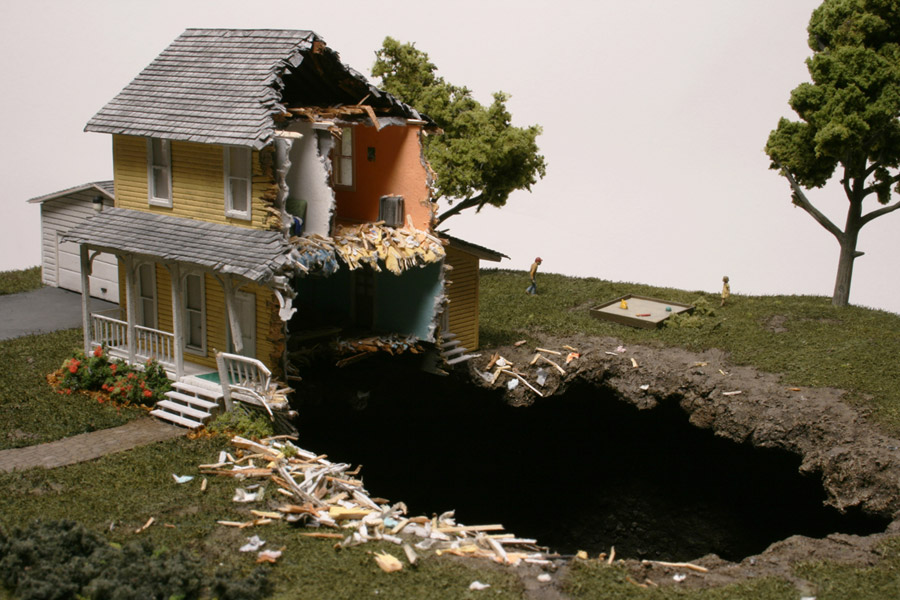 Thomas Doyle, Armistice (2011). Image via the artist.
Clearly, Doyle is aware of the paradoxical effect that miniatures have, where control is just an "illusion." It's one of the primary reasons that miniatures can be so damn creepy. Despite the cuteness, we're left with uneasy feelings, because we're confronted with the fact that in the end, we're all just dolls in a dollhouse and we don't know who (or what) is playing with us.
RELATED ARTICLES:
Artist Imran Qureshi on Extracting Beauty From Scenes of Carnage