For the average '70s Joe, the phrase "art world" probably conjured up Bohemian images of grubby, skeletal painters smoking inside, but I'd bet you a salami sandwich that your current association with the phrase involves more suits than hand-rolled cloves or East Village romance. The rise of market spectacle during the inflation-heavy '80s economic boom afforded a brash, glitzy veneer to the theater of the public auction, once the exclusive domain of the rich and stodgy, not the rich and famous. Today, trophy lots, or masterpieces, are expected to make headlines and break records on a seasonal basis, feeding the self-reflexive mythology of value that lends the game its glamour. This is late capitalist commodity fetishism writ large, of course, but it also functions as a keyhole into the way art impacts and is impacted by broader cultural attitudes.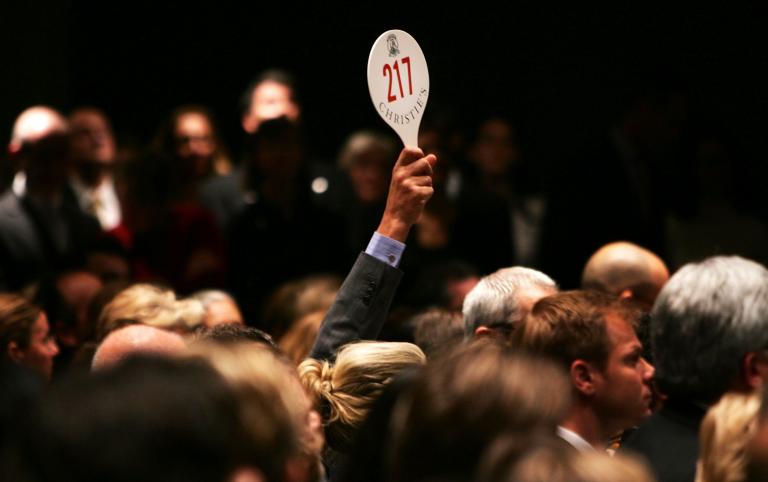 Artiquette via Artnet News
Much journalistic fuss has been made about this month's art auctions in New York, represented by the triopoly of Christie's, Phillips, and Sotheby's. Projected for the biggest contraction in ten years, the semi-annual sales of high-end Impressionist, Modern, Post-War and Contemporary art were targeted for sales of $1.2 billion, down 24% from 2018. After a decade of splashy headlines (Hockney's 90 million dollar price tag comes to mind), the predictions felt damning. With no work on the docket expected to fetch over $50 million, collectors have been panicking—what could this mean for the market at large? Much of the problem resided in the lack of big-ticket lots, which have reportedly "dried up" over the last five years; the private estates and collections that delivered surefire hits were no longer delivering reliably.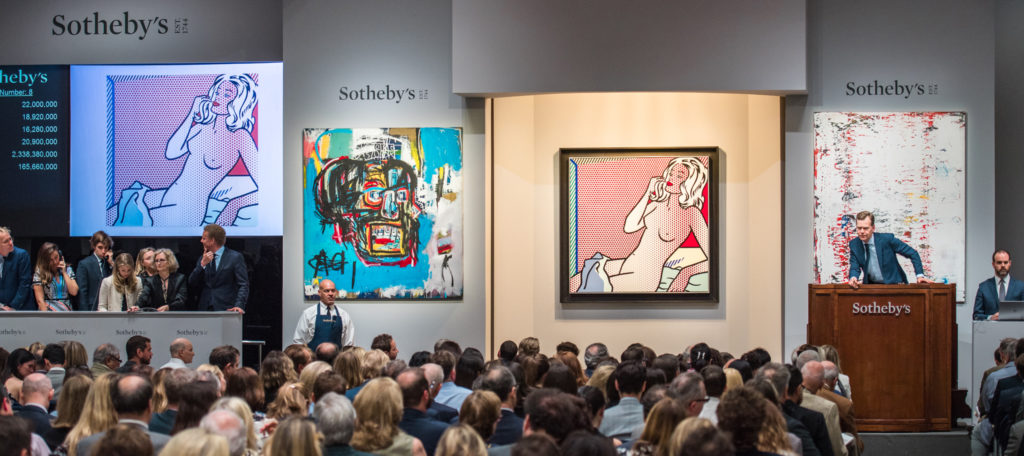 Sotheby's via Artnet
However, contemporary sales have improved for the fifth straight year, and auction houses posted small gains in almost every other bracket. Notably, "ultra-contemporary" work sold for its highest total in six years, a massive 204% growth since 2018. In the absence of Imp-Mod heavy hitters, auction houses are also investing more resources in overlooked talent and emergent names. While all of these rubrics constitute good news for both auction houses and the art market in general, an icy breeze of concern drifts through these stories. Some of that queasiness is informed by a sea-change at Sotheby's, which recently went private, a move that insulates the house from mercurial buyers and heralds the effective end of auction house transparency, such as it is. Private auctions facilitated by the big three have already been on the rise for years. The '80s boom did give way to '90s austerity, after all, and while recessions past have never managed to topple the tower, gatekeepers are starting to wonder… what happens now?
A historical analysis of art auctions reveals their developmental trajectory. Auctions have been around since at least 500 B.C., and started as a way to liquidate assets accrued in battle; human, more often than not. The first important art collection to come under public hammer was the Earl of Oxford's in 1742, followed by Dr. Richard Mead's pictures, coins, and engraved gems sold through Abraham Langford in 1754. Both were anomalies for the time; regular practice involved private invitations and individually priced objects. The explosion of Dutch still-lives in the 17th century led to the first market for art objects, but the salient Protestant attitudes of the time prevented luxury goods from entering fully into open trade. It wasn't until the first half of the 1800s that a growing European merchant class transformed the auction into a form of pageantry unto itself, centralizing in Paris, Rome, and London. The French Revolution solidified London's ascent over Paris, for obvious reasons, only giving way to the United States after its own Civil War, thanks to the appetites of early American industrialists.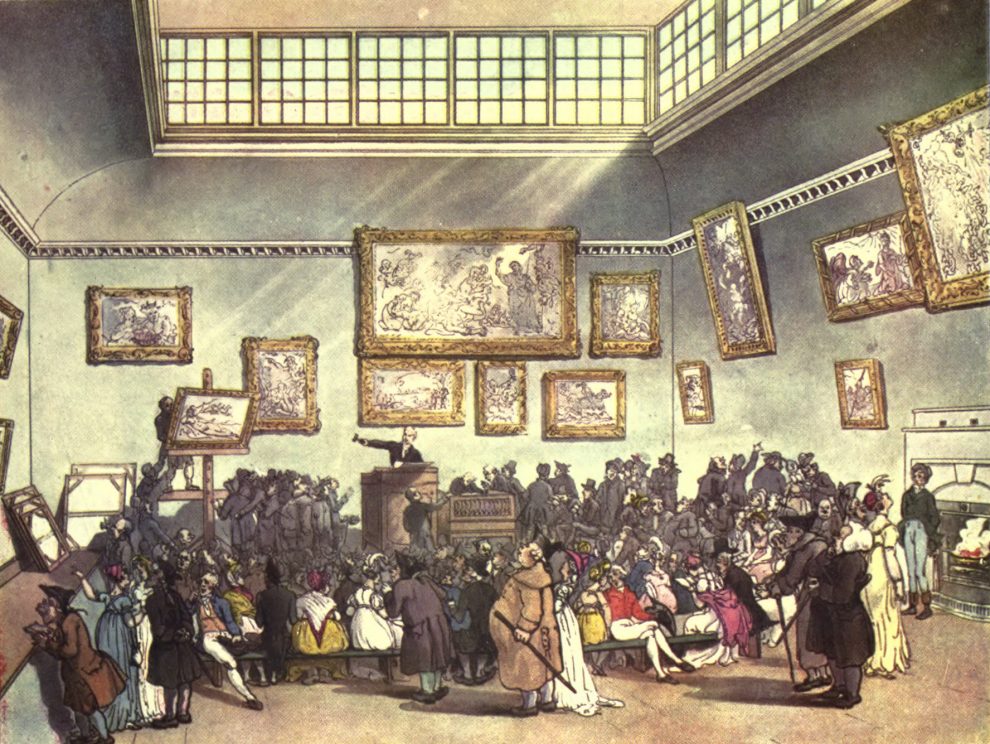 via ArtFrankly
However, it wasn't until after the Second World War that contemporary fare would fetch prices comparable to Renaissance work, a shift that helped ensconce names like Pollock and Warhol in the art historical canon. The interconnected nature of the art market coalesced not just with the expansion of the internet, but the collapse of the Japanese bubble economy in 1991, which precipitated the meteoric ascent of Chinese art markets. There's a pattern, here. Social rupture and geopolitical shifts do not deter the auction system, but bolster it; the art market actually booms at the beginning of recessions, for instance, as billionaires divest and auction houses consolidate. Other luxury markets can provide insight, but not necessarily predictions—take wine or whiskey, for instance. The fine/vintage wine boom tanked in the latter half of 2011 after a decade of skyrocketing prices, a decrease precipitated by the intersection of an economic downturn and a spate of high-profile counterfeits through multiple trusted suppliers. While this sector has regained some of its former glory, the voracity for wines amongst the ultra-wealthy has plateaued, which, due to the market's inelastic supply, spells trouble. Like art, hard-to-get booze boasts low correlations to mainstream assets, holds up well during economic dips, and operates as a rarified status symbol, making it a better bet than luxury cars, for instance, with all the associated "zing." In that vein, we're in the midst of a whiskey boom at present—sales are up by 24% in Asia, and American markets have hit a 52% growth over the last five years, leading to hyper-inflated secondary markets, a reported 25% future spike in EU tariffs, and a glut of auxiliary industries, like festivals and tastings, cropping up in support of the boom. The beginning of this bubble could be evidence of what economists call the Cantillon effect, which refers to the change in relative prices resulting from a change in supply based on a specific injection point. The first recipient of the new supply of money is able to spend before prices increase, which instigates further inflation.
And who loves talking about Austrian economics and money neutrality? Blockchain enthusiasts.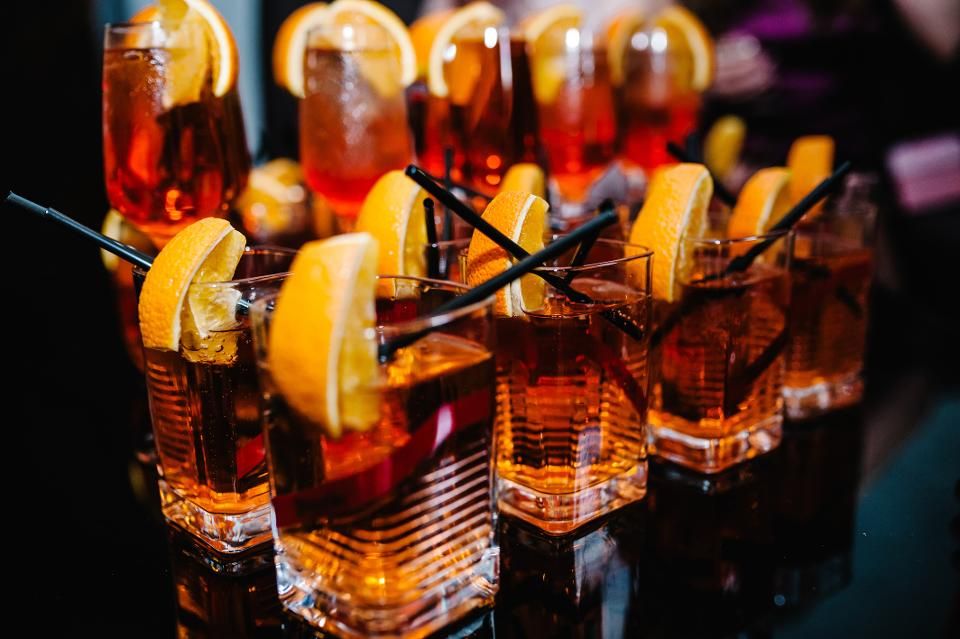 via Forbes
Now, cryptocurrency is notoriously boring and difficult to conceptualize for outsiders, but in the course of his reporting on Bulgarian scammer Ruja Ignatova for the BBC, journalist Jamie Bartlett came up with a pretty sterling description, as least by my lights:
"... Money is only valuable because other people think it's valuable. Whether it's Bank of England notes and coins, shells, precious stones or matchsticks - all of which have historically been used as money - it only works when everyone trusts it.
For a long time, people have tried to create a form of digital money independent of state-backed currencies. But they have always failed because no-one could trust them. They would always need someone in charge who could manipulate the supply, and forgery was too easy.
The reason so many people are excited by Bitcoin is that it solves that problem. It depends upon a special type of database called a blockchain, which is like a huge book - one that Bitcoin owners have independent but identical copies of. Every time a Bitcoin is sent from me to someone else, a record of that transaction goes into everyone's book. Nobody - not banks, not governments, or the person who invents it - is in charge or can change it. There is some very clever maths behind all this, but this means that Bitcoins can't be faked, they can't be hacked and can't be double-spent.
The key point is that these special blockchain databases are what make cryptocurrencies like Bitcoin work. For its fans this is a revolutionary new form of currency, with the potential to sideline the banks and national currencies, and provide banking for anyone with a mobile phone. And if you get in early, there's the chance to make a fortune."
Basically, blockchains operate on the same hype-based money neutrality belief system that auction houses depend upon to artificially inflate and influence the market. They both utilize an identical premise: resources are finite, liquid money is dangerous, and alternative assets can help propel a merely rich person into a wildly rich stratosphere if deployed correctly. As such, there was quite an uproar when new blockchain-powered platform Maecenas created its own auction in late 2018, successfully tokenizing and distributing Andy Warhol's 14 Small Electric Chairs to willing buyers in a multi-million dollar sale. This peer-to-peer trading model has the potential to revolutionize the art market, as it cuts out additional fees like buyer's premiums and house cuts. However, issues of trustworthiness, valuation, and expertise still remain problematic for most auction house traditionalists, and for good reasons. It bears mentioning, though, that buying art even through the most reputable sources has its pitfalls. For a trade approximating $70 billion a year, there are no proofs of title that establish ownership for artworks, apart from individual invoices. Hacking is rife, invoices are late, and the auxiliary industries that crop up around auctions, like art-finance firms, are not required to have any real knowledge of fine art as a base for their services, often losing clients more money than they were slated to profit in the first place. Now that Christie's and Sotheby's are both private, disclosures of yesteryear will fly out the window, and at the end of the "third party guarantee" era, commissions are slated to decrease as collectors become more conservative in keeping with upcoming economic trends.

via Christie's
Of course, the auction house model is in no immediate danger of being subsumed by blockchain platforms, but, just like collectors are clearly hungry for the next big movement, so too are they awaiting a seismic shift in the way art is bought and sold. The art market bubble is about to burst, but how will it recover, and through what means? It seems like a new technological fusion is afoot; the art market is as vulnerable to the psychological shifts in its participants as it is to the structural boundaries of trade, and there's no telling what exactly comes next.